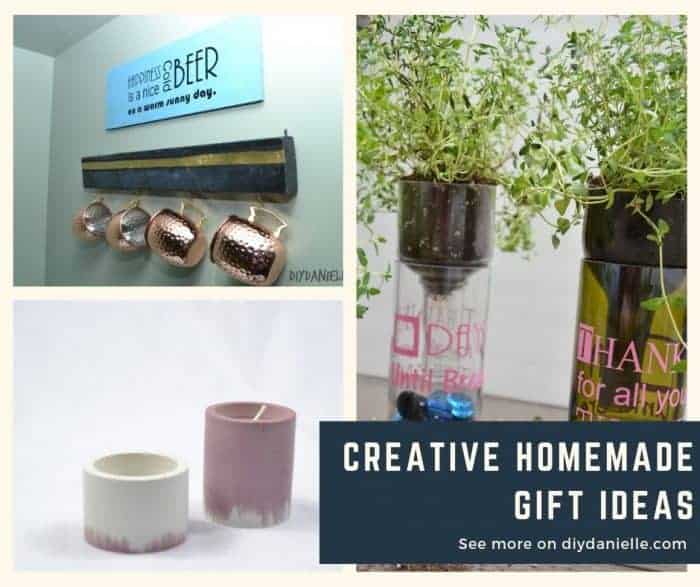 Get easy creative homemade gift ideas. Start preparing for the holidays, birthdays, and more so you won't be scrambling to make something last minute.
Gifts are one of my favorite things to make, simply because my house would burst if I crafted only for me. Plus I consider it a fun challenge to make handmade gifts that make people go, "Oooo!" I love giving personalized gifts that I hand crafted with love.
Some of these are easy handmade gifts and others are more complicated builds or sewing projects. I hope this post has a little for everyone in terms of gift ideas.
If there's not a link, do a quick search on my site to see if I have a tutorial or pattern for the item you want to make. I am still updating this list to include links to all sorts of fun ideas. Leave me a comment if I left out any great ideas!
Creative Homemade Gifts for Her
Sewing
Woodworking
Birdhouse
Wine storage shelf
Photo frame
Custom furniture piece
Jewelry box
Headboard for the bed
Raised garden beds
Custom clock
Shoe rack
Storage chest
Carvings, ie. carved Nativity set
Crafting
Bath bombs
Lotion
Soap or felted soap
Shower bombs
Coffee mugs
DIY kits for a new hobby she'd like to learn (ie. Wine making kit)
Hand Sewing kit in a jar
Jewelry
Homemade journal/notebook
Brownies/cookies in a jar
Stick on nail art with Cricut/Silhouette
Custom shirt
Custom mug
Custom hangers
Command center
Day by Day calendar
Bookmarks
Gardening
Terrarium
Herbs in a planter
Lemon tree in custom planter
Flower bouquet
Planter with custom floral arrangement within
Fairy garden planter
DIY mason bee house
Herbs, vegetables, fruit, or mushrooms from the garden
Succulent wall garden
Creative Homemade Gifts for Him
Sometimes the hardest person to buy for, finding creative homemade gift ideas is even harder.
Sewing
Dopp Kit (Bag for travel supplies like shampoo, shaving stuff, etc.)
Winter hats
Winter mittens
Beer cozy
Custom clothes and underwear
Weighted blanket
Heating pad
Wallet
Custom fabric book cover
Messenger bag
Fanny pack
Laptop bag
Bath apron (we use these for bathing pets or young kids to keep our clothes dry)
Reusable grocery bags
Luggage tags
Car garbage can (reusable/fabric)
Woodworking
Cages for pets: Ie. a chicken coop or dog house
Life sized/Outdoor board games: Chess, checkers, Battleship, etc.
Hunting targets or archery stand
Collection display for whatever they collect- rocks, baseball cards, etc.
Bean bag toss / corn hole
Gaming or card table
Coasters
Remote control holder
Custom furniture piece
Customized tools
Ring box
Gun rack
Wood 6-pack holder
Crafting
Bath bombs / soaps / bath salts
DIY kits for a new hobby he'd like to learn (ie. Beer making kit)
Coasters
Coffee mugs
Beard oil
Brownies/cookies in a jar
Lotion
Hand sewing kit in a jar
Homemade journal
Shaving cream
Hunting targets
Custom shirt (using a Cricut/Silhouette machine)
Customized clipboard (particularly for a teacher or coach)
Paper boxes customized with candy or other treats inside
Frame to insert tickets from travel, sports, or other types of events. Customized for the event.
Mason jar cocktails
Cell phone holder
Gardening
Herbs in a custom planter
Homemade wine or beer
Coffee tree in a custom planter
Customize and create a small golf course in the yard
Fruits or vegetables from the garden, or products made from your harvest (jelly, etc.)
Creative Homemade Gifts for Kids
Over 140 homemade gift ideas for kids. From babies to teens, these gift ideas are sure to please. Customize them with names, photos, and more.
Some of these are perfect baby shower gifts too!
Sewing
Baby Muse Playsuit
T Shirt- Mario Star
Puff pillow blanket
Picnic Blanket (particularly from teens or college age children)
Sleeping bag
Travel caddy for back of car seat
Grow with Me Pants (pants that fit longer)
Winter hats
Winter mittens
Pillow portable bed
Kid sized hammock
Puff blanket
Toy mail bag and mail
Set of cloth napkins and table cloth for a play kitchen
Felt food
Felt garden setup
I Spy Bags
Fabric alphabet
Fabric "Memory" game
Fleece pocket pillow with a book
Car seat poncho
Tooth Fairy Pillow
Super hero cape
Ryder's Vest from Paw Patrol
Doll
Stuffed animal
Frozen Popsicle holders
Art portfolio
Toolbelt
Learn to sew kit
Wet bag
Book slings
Nursing shawl
Easter or Halloween baskets
Toy car roll
Puppets
Barbie/Doll clothing & linens
Reversible baby romper
Weighted blanket
Nerf gun vests
Stuffed animal chair
Floor pillow
Archery quiver
Toddler (or other size) backpacks
Busy book
Boo Boo Bags
Hair ties or bows
Change purse
Pillow shields
Woodworking
Gem mining sluice
Climbing wall
Arcade machine
Growth chart
Wood shield
DIY Water table
DIY Step stool
Toy box
Book storage
Farmhouse baby gate
DIY play kitchen
DIY play workbench
DIY ant farm
Busy board
Lego furniture/desk/organization
Playing card holder
Barbie/Doll furniture
Toy horse stable
Toy cars/vehicles
Doll house (or themed for boys to- I saw a Mario themed house!)
Cages for pets
Life sized/Outdoor board games: Chess, checkers, Battleship, etc.
Nerf targets
Outdoor playhouse or swingset
Collection display for whatever they collect- rocks, baseball cards, etc.
DIY bed that matches their bedroom theme
TeePee
Toy car garage
Wood ride on car
Bean bag toss / corn hole
Rocking horse (or other animal)
Custom blocks
Wood stacking rings/blocks on dowel
Stuffed toy zoo storage bin
Wood electric car (if you have the computer skills to pull this off)
Teeter totter
Sandbox
Crafting
Update old plastic ride-on toys
Updated plastic playhouse
Favorite things DIY board book
I Spy Bags
Book jacket wall art
No Sew Superhero Cape
DIY Audiobooks of family reading their favorite books
Family Jenga game
Take along toy kits for Legos and Magnatiles
Baby wallet
Play store from bookshelves
Art Displays with Colors/Scrapbook Stickers
Plain Art Displays
Bingo game for the car windows
Lego desk from a piece of furniture (like a folding tv stand)
Sensory paths
Sensory boards
Cardboard playhouse
DIY stomp rocket
Pretend play farm stand
Nerf gun targets
Bath bombs / soaps / bath salts with special prizes inside them
Busy book
Sensory bottles
Piggy bank/ something to store money in
Hair bows
Play food for the toy kitchen
Accessories for dollhouse
Rock painting kit
Slime or make your own slime kits
Wood and rope swing
Tire swing
Gardening
Playhouse flower box
Put together a learn to garden kit with a tiny bag of soil, a container or two (or a garden bed with edging), and some tools.
Felt garden kit
Create personalized Santa bags for the kids to leave for Santa to fill!
Creative Homemade Gifts for the Home
These gifts are focused on the home… they can be given to him or her, and customized to their interests, for holidays or as a house warming gift. There are over 30 gift ideas for this week, and I'm always looking for more to add!
Sewing
Oven mitts
Tablecloth
Table runner
Kitchen Wet bag
Floor pillow
Bowl cozy
Braided baskets
Heat pads
Banners made with cloth
Bedroom sheets
Curtains
Mug cozy
Coupon cozy
Woodworking
Wood spoons, bowls and other utensils
Mug rack
Arcade machine
Book storage
Cages for pets
Life sized/Outdoor board games: Chess, checkers, Battleship, etc.
Collection display for whatever they collect- rocks, baseball cards, etc.
Bean bag toss / corn hole
Crafting
Candles
Glassware etched with last name or personalized saying
Soaps
Bath salts
Recipe book with a few favorite recipes included
Scrabble name signs
Homemade Poppourri
Gardening
Homemade cooking products made with gardening products: Jelly, butter, lemon/mint/vanilla extract
Homemade beer or wine
Planters of plants that the new homeowner can add to their garden
Creative Homemade Gifts for the Pets
Don't forget about your favorite pup, the kitty, or other members of the furry side of your family.
Sewing
Floor pillow
Bandana
Coat
Bed
TuTu
Bag for holding nail clippers or other supplies
Treat bag
Halloween costume
Woodworking
DIY Steps or Ramp for car/bed/couch
Dog Toy box
Farmhouse pet gate
Storage bin for underneath a pet cage
Chicken or duck coop
Outdoor or indoor guinea pig hutch
Crafting
Homemade dog or other pet treats
Pet specific command center for hanging leashes, holding treats, etc.
Gardening
Small garden area with plants that are edible for your pet. For example, grow catnip for your cats, sunflowers for your chickens, or dandelions for your guinea pig.
Or just give them a special treat that's on the "okay and healthy" treat list by growing these things in your own garden
I have lots and lots of free patterns, printables, and more available in my resource library. Sign up for access below by joining our newsletter.
More Gift Ideas
Want more gift ideas? Here's some more gift guides from DIYDanielle.com.
Please share and pin this so others can get these creative gift ideas too!