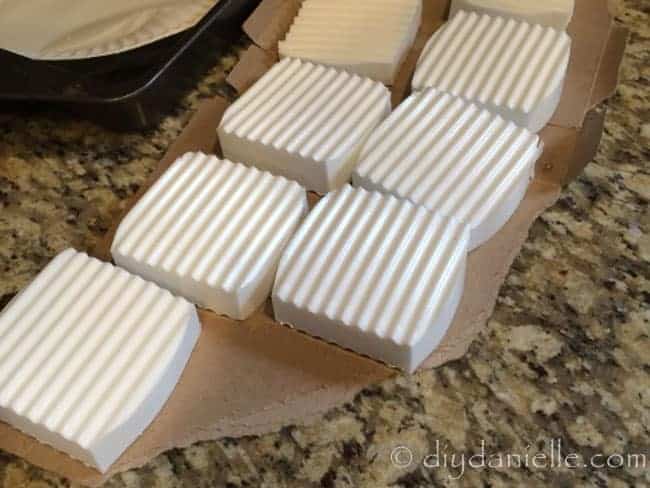 How to make your own vanilla lavender soap easily and safely.
This year I made soap for family and friends for Christmas. It was so much fun.
First, I attempted some soap with my friend Sara who does the WHOLE process with lye and such. I wasn't keen on repeating it, mostly because she had a ton of supplies as well as safety equipment that she kept for soap making. I just didn't want it to be that much of a commitment. I have wayyyyy more crafting supplies than a person needs and I didn't want a huge amount of stuff to store for soap making. I really just wanted fun and easy gifts… I didn't want a new hobby.
Also, I don't love working with dangerous chemicals- I'm a bit of a klutz and sometimes it's just better to err on the safe side for me.
I discovered you can "make" your own soap by using a soap base and essential oils of your choice. This made it more fun for me and it was very simple. I love how it came out. After I finished making the soap, I even felted it which was a lot of fun- make sure to keep an eye out for my post on that!
Supplies
Supplies listed below may include affiliate links to the products.
Soap Mold and Cutter (I used a big mold, but you can find smaller molds that come in pretty designs. There are so many options)
Newspaper
Optional: Scrapbook Paper, Glue, Scissors
Optional: You can upcycle old containers to use as a soap mold. I made one mold out of a Styrofoam cup and my friend use clean Pringles containers.
Tutorial for Vanilla Lavender Soap
Before we get started, I want to mention that I got a really good deal (I think) on soap base by purchasing it at the craft store with a coupon. I found the 5 lb goat milk soap base there and used either a 40 or 50% off coupon which made it so much more affordable.
This is super easy. You just need to melt your soap base- I cut mine up into much smaller pieces and melted them in a disposable microwavable container (I used an old clean take out container that could be microwaved) in the microwave. Melt in 15-30 second increments, stopping to stir as it melts.
Once it's all melted, add the essential oils that you desire. For a 5 lb batch, you're really using quite a bit of essential oil. I used a bit of tea tree (don't go crazy or the scent will take over), then added maybe 1-3 oz of lavender and vanilla essential oils. I mostly eyeballed this and evaluated how strong the scent was as I added it all. Stir in.
Pour into mold. Let sit for 45 min or longer, until firm. Remove from mold. Silicone molds are really easy to get the soap out of so I highly recommend using one. The mold I linked is the one I purchased- it did NOT hold the whole 5 lbs of soap base so just a warning that you either need to make less than the whole batch or have additional options for molds available.Cut soap in desired width. If you plan to felt the soap, I recommend making it a big piece of soap as the felting process seemed to really make my soap smaller… and you probably want more than a sliver left when you're done!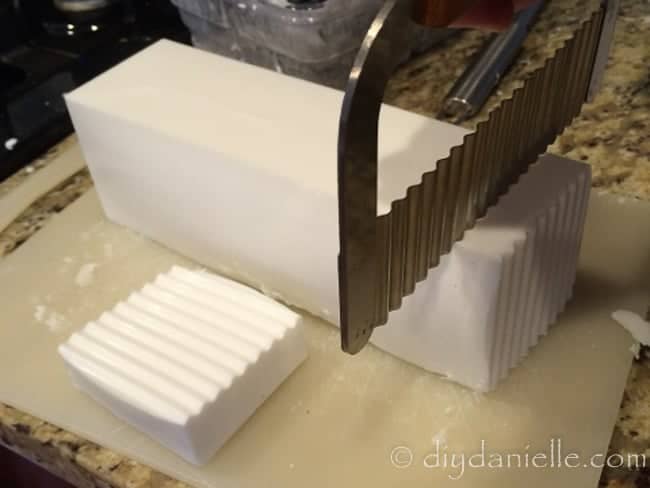 Lay your soap on newspaper (I used cardboard) to dry.
Once dry, you can felt your soap or just use as is. I made these little envelopes from scrapbook paper to give mine away as gifts. The felted soap didn't fit in these but the smaller bars that I made in small molds did.
To make, cut a piece of 8×11 scrapbook paper in half and fold each piece like the picture below. Then I used glue along the folded portions to glue it together (just fold it over so folds touch).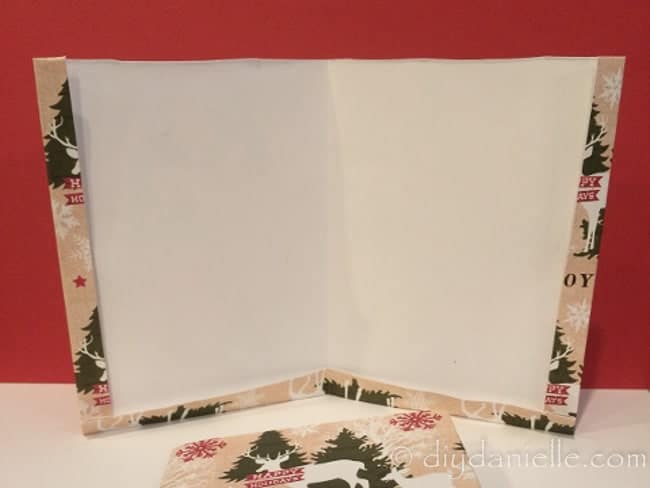 The best part of this is making felted soap with it all after. Felted soap, if you haven't heard of it, is soap with felt surrounding it. Sort of like using a washcloth with a piece of soap inside. It's AMAZING. Felted soap makes great gifts. If you prefer a soap bag, I have a sewing tutorial for how to make those too.
Thanks for taking the time to read this post! I really appreciate the time you've taken. Please share, like, and pin my post if you enjoyed it. Follow me on social media and subscribe to my email list to keep up to date on all of my latest projects!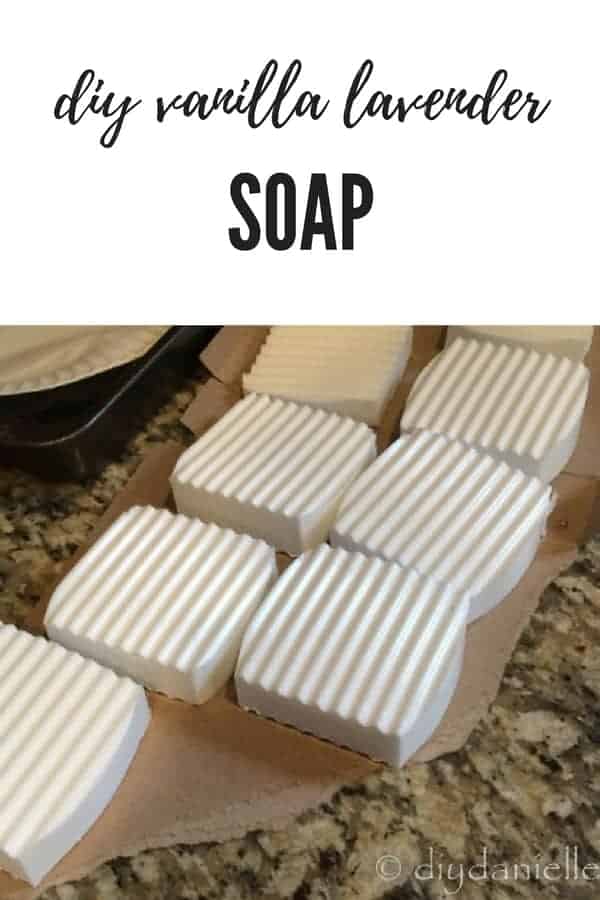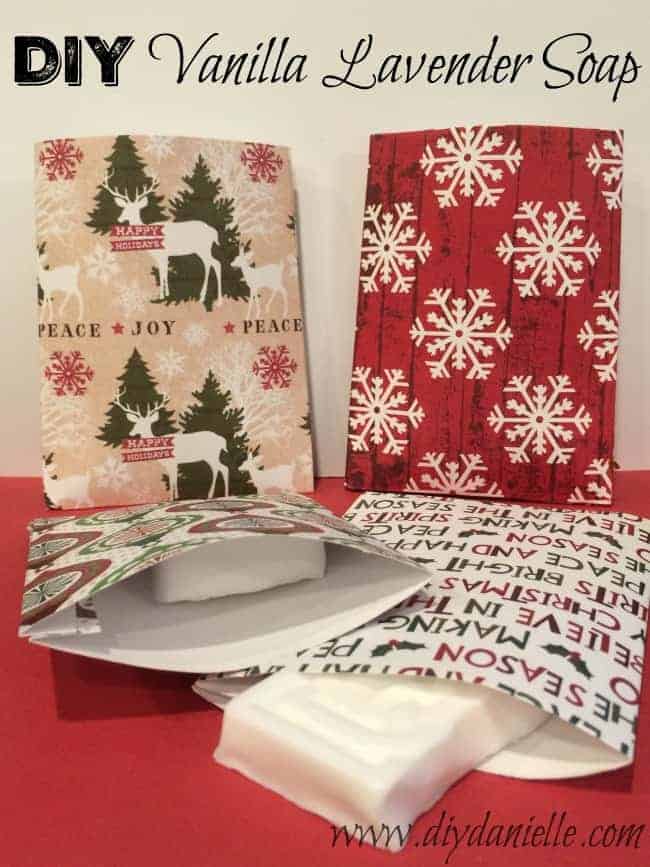 Disclosure of Material Connection: Some of the links in the post above are "affiliate links." This means if you click on the link and purchase the item, I will receive an affiliate commission. Regardless, I only recommend products or services I use personally and believe will add value to my readers. I am disclosing this in accordance with the Federal Trade Commission's 16 CFR, Part 255: "Guides Concerning the Use of Endorsements and Testimonials in Advertising."