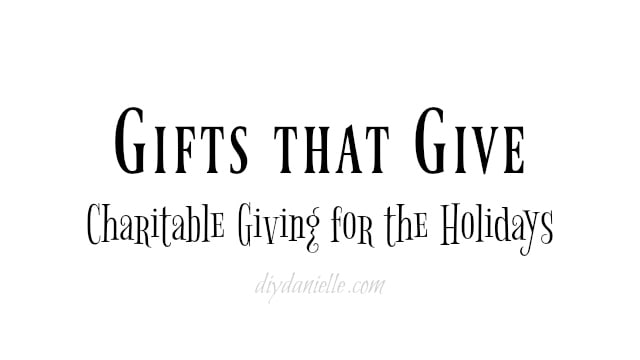 Gift ideas that give to others: Charitable Giving for the Holidays
No affiliate links in my post here, just hoping to help support our communities. My ad network does insert ads though. Thank you for your support!
This year I've been thinking about giving some charitable gifts to family in their name. So many of us already have everything we need and we are tired of clutter. What better gift than a donation to a cause they feel is important?
So I started looking up organizations that people I know might care about. Before I donate, I made sure to check out https://www.charitywatch.org to see if the charity was rated well. I wanted to make sure any money donated was being put to good use.
This is not a list of ALL the wonderful non profits. Not even close. I started writing and felt so bad because there just wasn't an easy way to list them all.
Leave a comment at the bottom if you have any other great non profits you want to bring attention to. I'll try to keep up!
Charitable Giving Gift Ideas
1. Memberships to the Zoo, Aquarium, Science Centers, and the Smithsonian: These membership fees all help support those facilities and the service they provide to the community. I HIGHLY recommend buying these memberships because they're a lot of fun to have- we use our Science Center membership all the time and I'm always happy to support a non profit. Also, your membership is tax deductible as charitable giving. You just need to do a quick search to find non profit facilities like this near you.
I'm in the Baltimore, MD area so we have the Maryland Science Center / Maryland Zoo / National Aquarium. We haven't gone into D.C. much, but you can also get a Smithsonian Membership (although I believe admission is free to all of their museums).
2. Adopt an Animal: My son is obsessed with bats. I did a quick search and found that Defenders.org offers specific animal adoptions and they have an A- rating on Charity Watch. For $30, they'll send us a plush bat and a certificate for the adoption, as well as some educational info. I believe the donations go to address issues with that particular animal… so for bats, the money goes to educate about white nose syndrome which has decimated much of the bat population. I paid the $8 extra for the reusable gift bag (because yay!) and used the code GIVE to get 10% off. The code popped up for me on their website and in the search description on Google. Hopefully it'll still work for y'all.
You can also donate more and join the "Animal of the Month Club." Your child receives a new animal each month if you do this.
If you're scared of bats, remember that bats help control the mosquito population. They're an important part of naturally protecting against viruses spread by mosquitoes! Just needed to take a moment to advocate for bats… my son's obsession has become a family obsession, haha.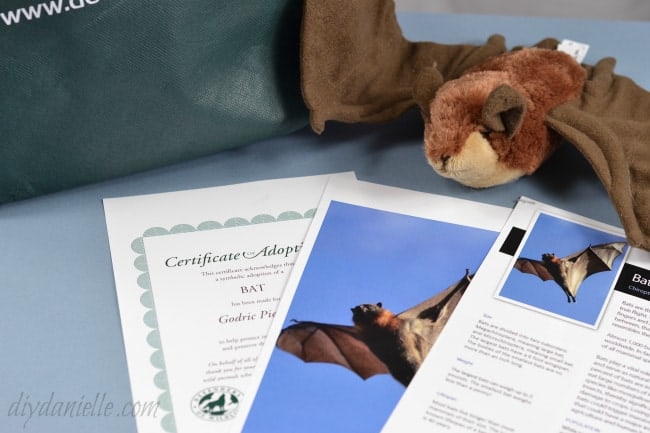 3. Donate to Veterans: Here are a couple of organizations that help support veterans that you can donate to.
Veteran's Count- NH: This isn't a huge organization, although it's part of Easter Seals. My dad and step mother help with this group though so I plan to donate to the organization in their name.
Wounded Warriors: Helping military members who were injured or killed in Iraq or Afghanistan.
Homes for Our Troops: To build homes for severely injured veterans that are adapted to their needs.
4. Donate for the Environment:
Environmental Defense Fund: This group focuses on helping stabilize the climate, air, water, and wildlife population while still allowing people to thrive. They want to find solutions to common environmental issues that carry economic benefits as well. You can give a gift membership by clicking the link.
Water.org: This organization helps get people access to clean water. You can make a donation, although I don't see how to put someone else's name on the donation.
Arbor Day Foundation: Helps encourage others to plant trees. You can even get 10 trees with this membership.

5. Civil Rights Support:
ACLU: Defending our rights in court.
NAACP: They provide legal support in the areas of poverty and justice, education, voting rights, fair employment, capital punishment, administration of criminal justice, and to increase educational opportunities through scholarships.
6. Children:
Children's Defense Fund: Focused on children getting a healthy, safe start to life.
Child Find of America: This organization helps find children who are missing.
Child Sponsorship:
Foster Care: This cause is near and dear to my heart as I used to be a social worker in the foster care system. Lots of kids come to the system with nothing. No toothbrush, no suitcase, nothing.
Together We Rise
allows you to donate directly or you can host a drive where you raise money, decorate, and pack bags for kids coming into foster care.
7. World Builders
: Geeks Doing Good. One of my favorite authors, Patrick Rothfuss, started this cause so I'm a fan. They raise money for charities such as Heifer International, Mercy Corps, and First Book.
From the World Builders' Site:
Heifer plays the long game, bringing education, materials, and a passing-the-gift philosophy that ensures generations of self-sufficiency down the road. Mercy Corps jumps into action as crisises arise, bringing food, clothing, shelter, and education to people caught in dire situations like natural disasters and war. First Book promotes literacy around the world by providing books for educators and administrators, bringing much-needed educational materials to disadvantaged youth.
When you donate to World Builders, you're entered into a lottery to win prizes too. I keep hoping an early glimpse of his next book will be on the list of prizes because GOSH I can't wait to read it.
8. Gifts that Cost Nothing: It's hard to give a non monetary donation in someone's name, but you can always create your own gift certificate. Donate your time to an organization they care about, donate blood or platelets to the Red Cross, and more. You have lots of options. You can also donate clothes, toys, and other items to Salvation Army or Goodwill.
You can also purchase pet food for the local dog shelter if you want to pick stuff up yourself. I've been hearing that food banks are looking for turkeys this Thanksgiving as they haven't been getting as many donations.
Charity Suggestions from Fans
Now I Lay Me Down To Sleep: An organization that provides professional photos for those who have lost their baby. -Jenni
PRIDE Industries is the largest employer of people with disabilities in the country. Over 3000 people with severe disabilities earning a living wage instead of being on social security. Check them out on YouTube for some employee highlights and info on PRIDE. -Shannon
The United Nations Refugee Agency, NPR, PBS, Heifer International, the MS Society, Chromosome 18 Research and Registry Society are a few that we've donated to over the years. I think we may add ProPublica. -Trish

Doctors without Borders. -Jerry


Military Mama Network supports troops from all branches of the military, with care packages while deployed, letters and cards to both those deployed and going through training. Also supports family member with cards during deployments. Plus helping Veterans. MilitaryMamaNetwork.org, the main page, is public so military personnel and their families can find it, but there are also several private pages for support of family members. -Mary


Heifer International or World Vision! Each have a variety of donations that you can pick from. We always give these World Vision gifts in honor of our friends and family for Christmas gifts! -Danielle
Alzheimer's Association or ALS are my favorites. More of the proceeds go straight to the charity. -Desiree
Samaritan's Purse, Vietnam Vets of America, Dogs on Deployment, and the USO, and my local fire and police. -Thamara



Love it? Pin It!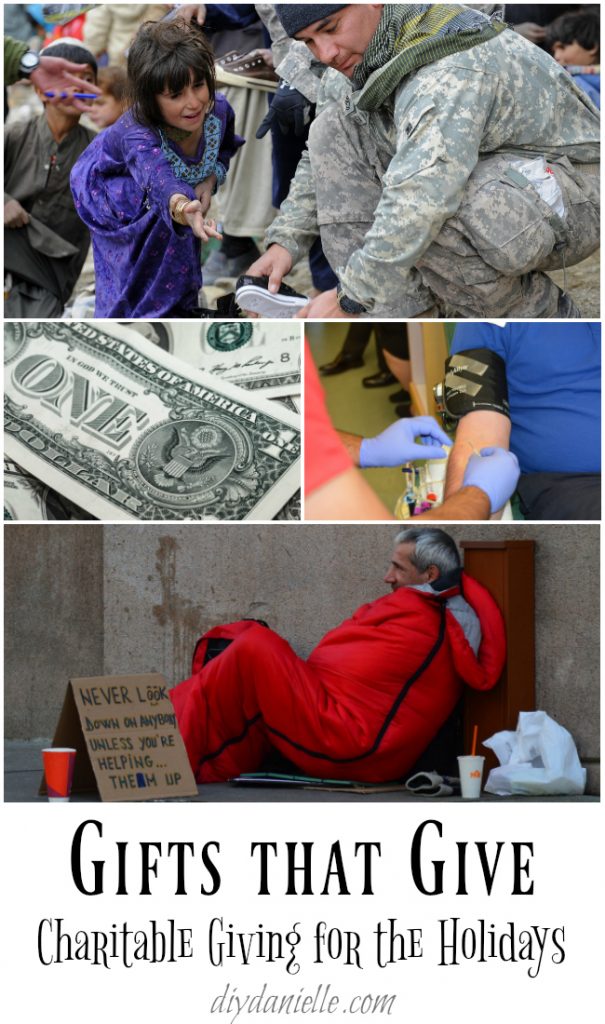 Thanks for taking the time to read this post! I really appreciate the time you've taken. Please share, like, and pin my post if you enjoyed it. Follow me on social media and subscribe to my email list to keep up to date on all of my latest projects!

Disclosure of Material Connection: Some of the links in the post above are "affiliate links." This means if you click on the link and purchase the item, I will receive an affiliate commission. Regardless, I only recommend products or services I use personally and believe will add value to my readers. I am disclosing this in accordance with the Federal Trade Commission's 16 CFR, Part 255: "Guides Concerning the Use of Endorsements and Testimonials in Advertising."