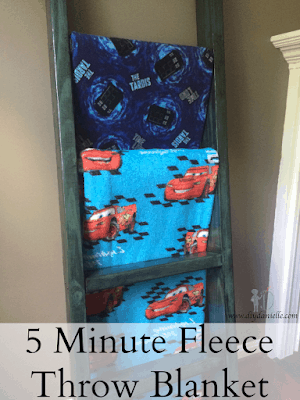 How to make a fleece throw blanket in 5 minutes or less using a serger.
This is the easiest project ever if you have a serger. I love serging everything and I like how the edges look with a serger.

All I did was find some great fleece fabric from my local craft store, ask them to cut 2 yards worth, and serge around it.
They're super soft, they're warm, and my oldest son LOVES his Cars blanket. Make sure you get a coupon for the fabric if it's not already on sale- usually I find one for 30-50% off one item which brings the cost of my blanket down SUBSTANTIALLY.
Don't have a serger? If you can, buy one. It is so nice to have, even if it's a bit difficult to thread, because it sews FAST and very pretty. Below is an affiliate link to the one I own and love. That said, I think a zig zag stitch on a regular sewing machine would do the trick.
You probably don't need a video to demonstrate this, but I made one anyways.
Here are my boys enjoying the blankets…