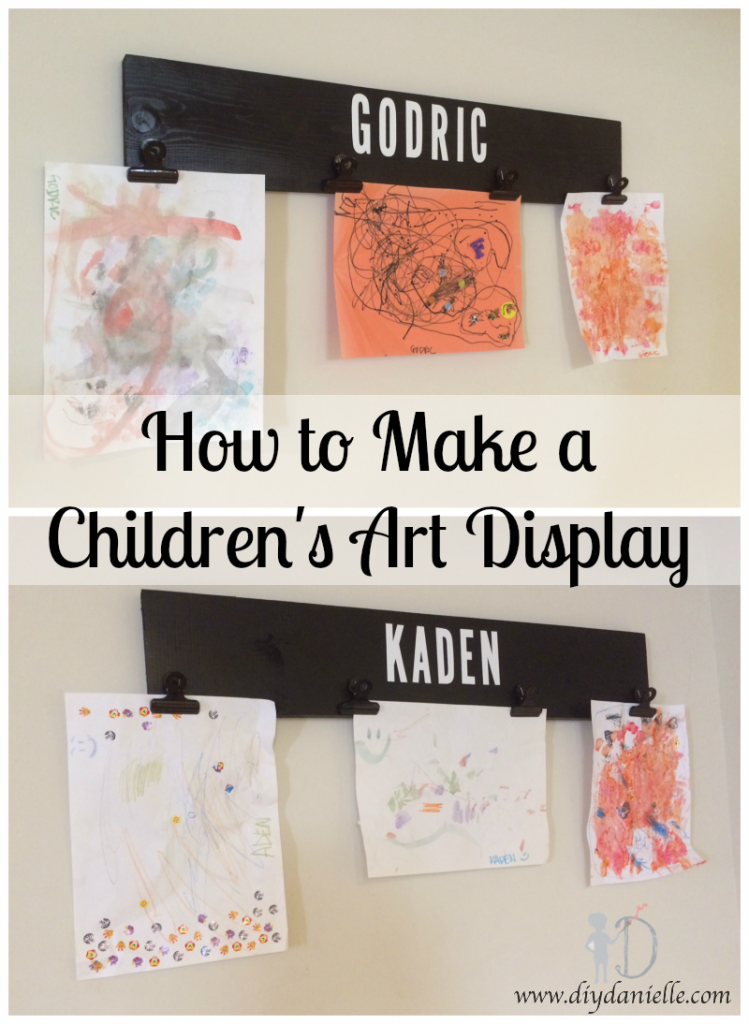 Instructions on how to make your own children's art display to showcase you child's artwork. With a little spray paint, some wood, glue, and clips, you can make one too!
My sons are now 1.5 and 3.5 years old. We're starting to get a LOT of artwork, especially from our gym daycare, and I wanted somewhere nice to display them. Our fridge is already a hot mess with all of the random magnets that I put on there… I don't even know why I save all of these? They don't even hold anything up there.
This is a pretty simple and affordable project to complete. I actually had most of the supplies already- although I think I have a quarter of Joann's and Lowes' inventories in my sewing area.

Supplies Needed (with affiliate links):
To create these, I took my wood boards and spray painted them black.
Mark out where you want to place your picture hangers (brackets?) on the back of the wood. I put one on each end. Screw them on.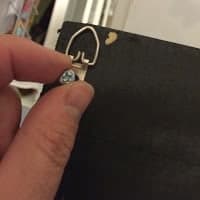 I marked out where I wanted my magnetic clips. Then I used Gorilla Super Glue to glue the flat magnet part of the clips to the wood board. Let dry. One thing to note is that I accidentally knocked one of these off after the glue had dried. The glue HOLDS… so the clip came off without the magnet. Not a big deal because I just used the super glue to replace it back onto the magnet. I love this glue.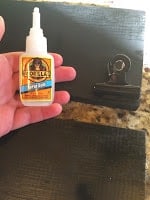 All you have to do now is add your name letters. I used vinyl stickers that I picked up on Amazon because they were easy and I'm not impressed with my writing. You could easily paint the child's name on though or use a Cricut (Maybe? I'm not super familiar with Cricut machines).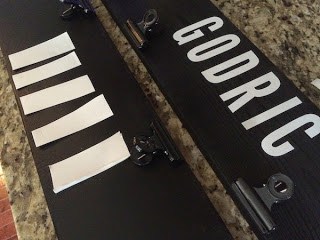 Very simple project and it's fun! I hung them with two small nails. Depending on what you use to hang them, you may want the brackets to be a bit lower on the back of art display.
Disclosure of Material Connection: Some of the links in the post above are "affiliate links." This means if you click on the link and purchase the item, I will receive an affiliate commission. Regardless, I only recommend products or services I use personally and believe will add value to my readers. I am disclosing this in accordance with the Federal Trade Commission's 16 CFR, Part 255: "Guides Concerning the Use of Endorsements and Testimonials in Advertising."
Use the Discount Code DIYDANIELLE on cricut.com for 10% off any cutting machine or heatpress (no minimum). Excludes: materials/accessories/mystery boxes/etc. Applies to US/CA only, code expires 12/31/23.