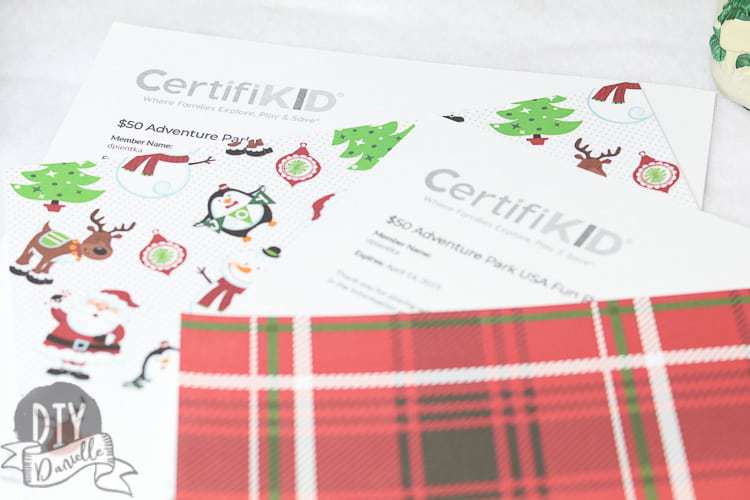 Do your kids have TOO MANY TOYS!?! Mine do! Here are 7 Fun Experience Gifts for Kids and how to wrap them.
This post contains affiliate links. If you make a purchase using those links, I may receive a commission from the purchase, at no additional cost to you. Thank you.
Experience gifts are my favorite gift ideas because they don't create clutter and they're super fun to look forward to using. They also are perfect last minute gifts because you generally don't need to plan super far in advance for them… you can buy and print a certificate the day of gift giving, kind of like an IOU. Except the item is already paid for so there's no guilt or worry about when the person will cash it in.
These type of gifts are also perfect if you're visiting family by plane because it's difficult to take physical presents back and forth. It's much easier to print certificates or even photos of gifts that await at home so they can 'open' something without feeling like they didn't have a Christmas.
Here's some of my favorite experience gift ideas for kids and tips for wrapping them!
7 Fun Experience Gift Ideas for Kids
A membership to a local museum, zoo, or science center.

Often tax deductible. We've tax deducted our memberships each year. In Maryland, the Maryland Science Center, the Maryland Zoo, and the National Aquarium are all tax deductible, I believe. There's another place (probably lots more actually) that are not.
Often reciprocal when the family travels to other areas. We use our Maryland Science Center membership to get in free to museums in San Antonio, Austin, and New Hampshire, places we travel frequently. This saves us a lot of money.

Tickets for a local event or place.

Keep an eye out on TicketMaster and for other local events on Facebook's "Local" app. Disney on Ice, the circus, dinner theatres, etc. are all fun for kids and something they can look forward to.
This year we got the boys a gift certificate for the local indoor amusement park which we'll use over winter and/or spring break. It's like Chuck E Cheese… but Chuck E Cheese would be another great option. I think you could load arcade money on a card for the kids pretty easily! Also Chuck E Cheese's new stuffed crust pizza is THA BOMB. I was not paid to say this, but they have my favorite pizza ever and the new version with stuffed crust has me drooling, just thinking about it. You could gift mini hand sanitizer bottles to go with this gift, just clip the card with the wrist band to the hand sanitizer, hahaha (but I'm also serious- it's a germ factory in there, no matter how hard they try to clean).

Vacation

This one is pretty expensive, depending on where you go, but it's also a WONDERFUL gift and it comes with lots of fun memories and a 'gift' for you too (assuming you go along).
Here's some fun resorts for kids and grownups that I've visited and written about:

Visit San Antonio, TX and go to Morgan's Wonderland (not open year round so keep an eye on the season), the DoSeum, Sea World, and more
Coming soon: We're visiting Florida to check out Club Med soon and I'll be sure to write about my experience!
Other ideas: Disney, a cruise, a ski resort, an indoor waterpark

Summer Camp

Sign them up for summer camp or get them a gift certificate to the county Parks & Rec department that can be used towards summer camp.

An After School Activity

Are they interested in a new sport or activity? Swim lessons? Karate? Gift them a period of time doing that activity- although remember they may fall in love so you will want to make sure their parents/caregivers (whether that be you or someone else) can afford to keep them in the activity long term if they decide they love it. Stay away from the big H's… hockey and horseback riding, lol.

A Pen Pal Program or Sponsor a Child

We donate money monthly to help support a child in another country. Through the year, we receive letters from him (actually, he's a bit young so his aunt writes us and he draws us pictures) and it's been a fun experience for the kids. We used the company UnBound because it had good charity ratings.

A "Date" with You

You can plan a 'date' (or whatever you want to call it) between you and child where you can dress up, make reservations, and go out to eat or to a movie together. This is exciting for them and gives them special 1:1 with you… this is particularly valuable if you're a parent with many kids and 1:1 time is rare. We have 3 kids and my kids LIVE for 1:1 time with us.
Check Certifikid for ideas if you want. They have frequent deals on activities, camps, and more for kids.
How to Wrap Experience Gifts
One thing a lot of people struggle with about experience gifts is HOW to make them FUN to receive on the day of the holiday (birthday, Christmas, whatever). Because generally you're not able to bring the person immediately to enjoy their gift.
Buy or Make a Small Relevant Item to Attach a Card
It could be a shirt for their favorite musician/band to attach to the tickets for the concert. Or get a small Disney toy to attach to tickets for Disney on Ice. Buy ice skates for a trip to the ice skating arena. Some people make shirts to let the kids know they're going to Disney on vacation.
Print a Coupon or Certificate or Photo
This is what I generally opt to do. It's affordable. You could use regular printer paper or you could be extra like me and print it on scrapbook paper (8.5×11). This is how I did this…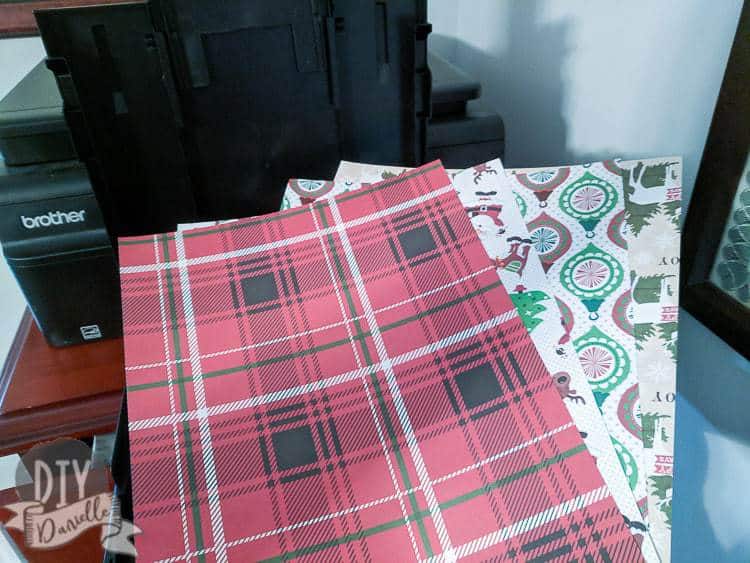 Start by putting your paper in. In my case, the printer tells me that the side on the BOTTOM will be the side that the text prints on. So I put my scrapbook paper in DESIGN SIDE UP so the stuff will print on the white side.
Then I hit print and make sure it's 'fit to page' (or in this case, I just printed the first page of the Certifikid voucher because the 2nd page was just text about how to use it etc).
Now you can fold the scrapbook paper in half like a card. Glue a white piece of scrapbook paper to the front or use a tag to add the 'to' and 'from' information! I used the tags that I made with my Cricut.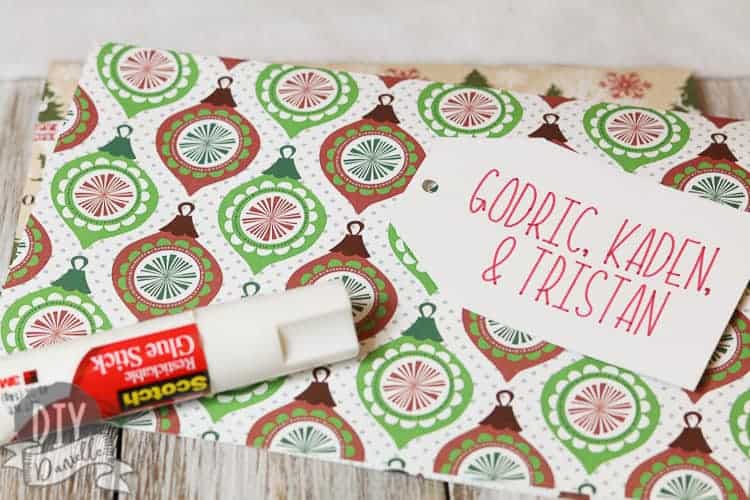 I added a ribbon and tied it at the top.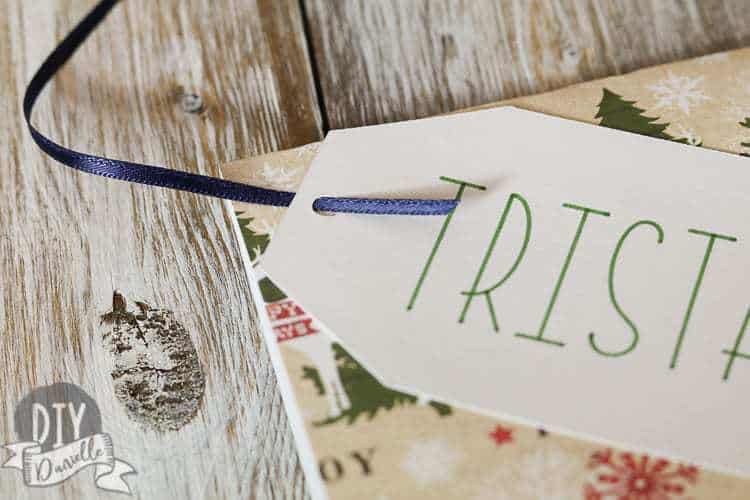 Now I can hang the entire card on my tree. These are pretty big, as you might expect.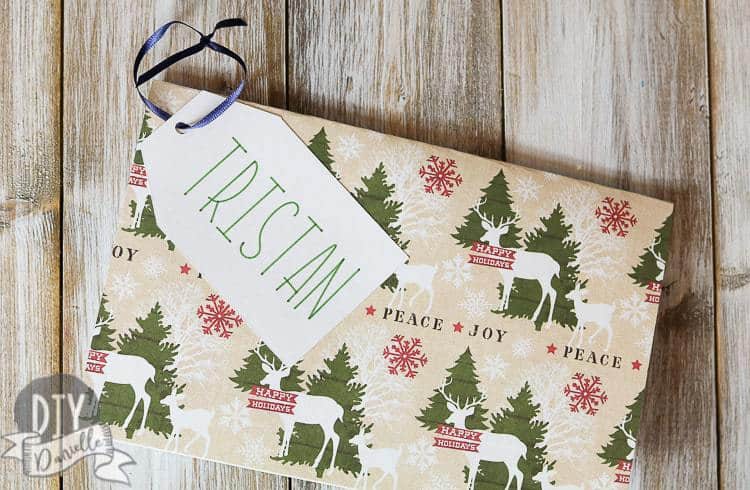 You could also just make the tags with your Cricut machine and add the gift's information, and hang them from the tree. Those would be a bit more space-friendly and attractive on the tree than mine.
It's not an 'experience' but my dad and stepmother got the kids a swingset for our new house for Christmas. I put together a certificate to gift the kids on Christmas. It has photos of the gift on one side and the scrapbook paper on the other side. You can make your own using my template if you want! You may need to edit a bit so it will fit your images better.
Take Them Right Away
You could always take the kids to enjoy their gift immediately. Get them in the car, tell them they'll get their gift when they get there, and go for it!
Surprise Them Later
If you can't give the experience immediately, then consider giving them a little certificate with the date and time so they can clear their calendar. Let them know how to dress. Then go ahead and drive to the surprise on the date of the event.
Setup a Scavenger Hunt
Give them a scavenger hunt to find clues to what their gift is. This is SO much fun. It's perfect for a cooperative Easter egg hunt if you put them inside plastic eggs for Easter. Or for Christmas you can hide them all over the house with clues to find the next item. Also it will give you time to make some coffee in the morning if you start with this!
Hope this helps! If you love to sew, you can sew fabric gift bags for any physical gifts.
I'd love to see what you decided to do! Share it in the Stuff Mama Makes Facebook group or even ask for scavenger hunt ideas on there, specific to your gift. We have monthly giveaways for gift cards to craft stores too!
Please pin this post!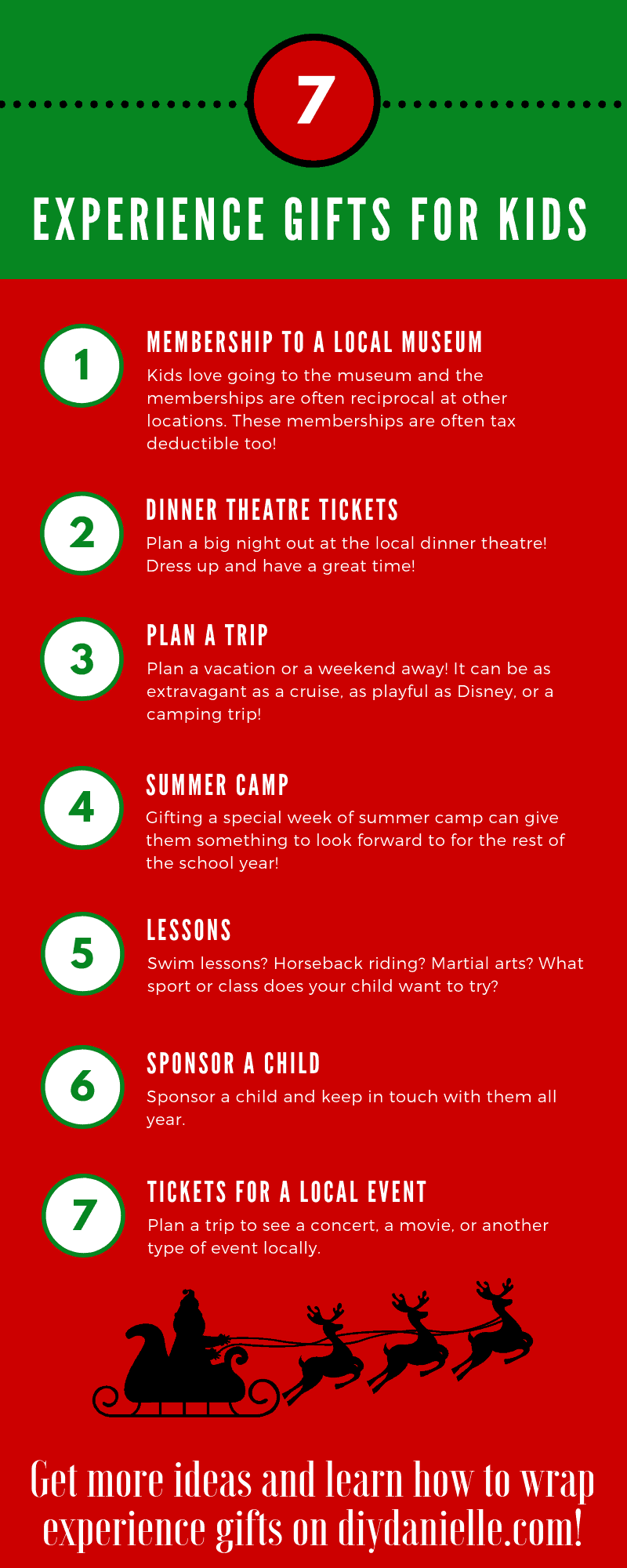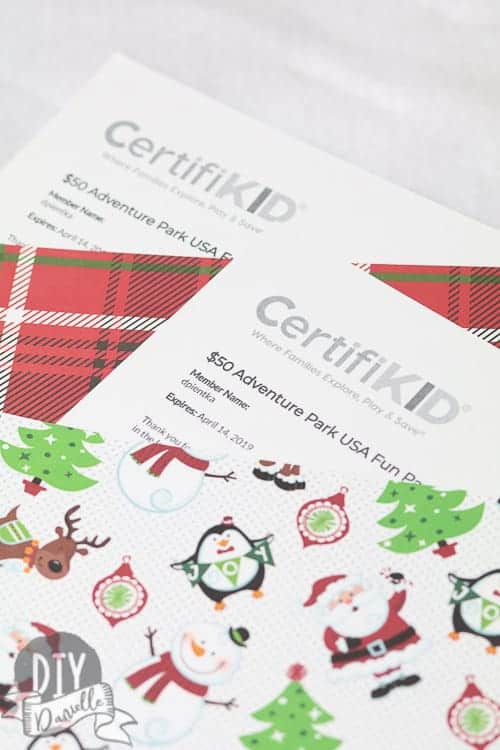 Non material gift ideas | Non toy gifts