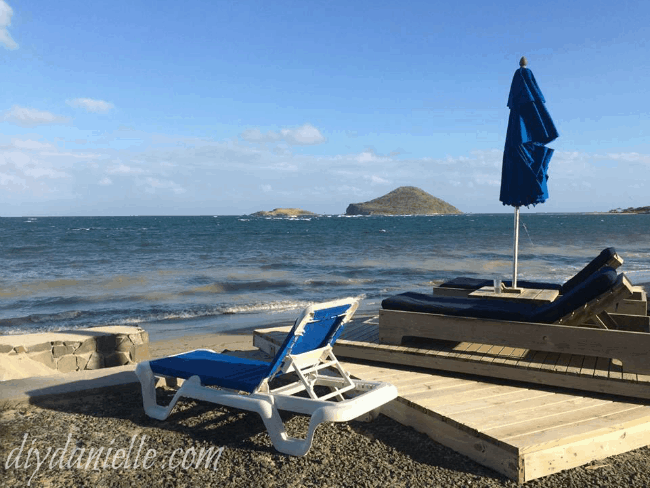 Review on a family vacation at Coconut Bay Resort in St. Lucia with kids. This is the perfect vacation spot if you need a little extra support with your kids so you can enjoy some time with your spouse.
This post may contain affiliate links which may earn me commissions should you click through them and take certain actions. As an affiliate for Amazon, Cricut, xTool, Home Depot, and other sites, I earn from qualifying purchases. Please DIY carefully. View my full legal disclosures here.
Please read the whole post so you don't miss any important information!
I love traveling with my children. We try to go somewhere fun with my sons at least once a year, preferably to resorts with a kids camp, so my husband and I can have some time alone together to eat meals or relax by the pool without worrying about a child getting a sun burn or drowning. We don't get a lot of time together at home so this gives us a nice chance to reconnect with each other.
Resorts with some form of kids camp make family vacation feel like a vacation. Instead of being stressed out, we can take occasional breaks and enjoy a meal, then have lots of time left to enjoy time with our children.
We traveled to the all-inclusive resort in March 2016 when my sons were 2 and 4 years old. I cannot say enough good things about Coconut Bay Beach Resort in Vieux Fort, St. Lucia. Coconut Bay Beach Resort has an on site kidzclub, lots of kid-friendly activities, and it is well designed to support children AND parents having a good time.
St. Lucia Airport: 5 Minutes from Coconut Bay
Traveling to St. Lucia was pretty easy. We drove to Philadelphia to fly direct because there were no direct flights from Baltimore or D.C./Dulles. There are VERY few flights into St. Lucia. It's a tiny airport. But getting through security was a breeze, coming and going, because there weren't a lot of other people. It was nice.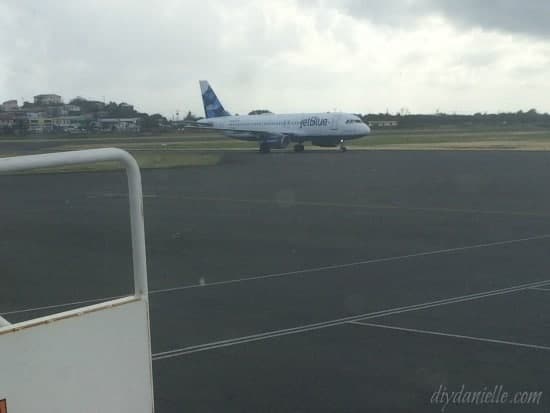 Coconut Bay Resort is about 5 minutes from the airport. Because it is so close, we could watch the planes come and go from the pool and beach which the kids LOVED. When we left St. Lucia, we arrived 1.5 hours before our flight left, as the hotel suggested. Check in and security were fast, but the airport was packed when we left. Lots of people were standing because some flights were delayed. And the airport was hot.There wasn't anything for the kids to do at the airport either which made the wait difficult… we didn't want them to move around because it was so packed so we sat them down with the iPad. I don't believe they had WiFi at the airport.
That said, I'm hoping this wasn't a typical experience and I would do it again in a heartbeat because the rest of the trip and the incoming flight was so simple. Maybe I'd feel differently if I was flying into a city that had a lot of bad delays.
Oh- and they don't have ramps to the planes. You load and unload the plane using the big stairways.
Nonstop Flights to Vieux Fort, St. Lucia
Airlines to fly into Vieux Fort, St. Lucia: We strongly prefer direct flights when we travel with our kids. As such, we did a lot of searching to figure out who had direct flights and from where. I'm going to give you some ideas for what we found (for March 2016- obviously this could change). We couldn't fly direct from BWI, Dulles, or Washington-Reagan. All the flights with layovers meant 8-10+ hours in airports over the day. We opted to drive to Philadelphia the night prior and fly out in the morning via a direct flight on American Airlines. We stayed at the airport hotel (not particularly convenient so you could likely save money and stay at a different hotel).Looking at the hotel list for the day we left, I *believe* these are some other options for direct flights. There were likely different options on different days. The way it looked when I was booking, there were direct flights some days but not others so it made the most sense for us to do exactly a week so we could fly in and out on the same day (the day with the direct flight):
Boston: JetBlue
Atlanta: Delta, Virgin Atlantic
NYC/JFK: Jet Blue
Chicago/ORD: United
Miami: American Airlines
Charlotte: American Airlines
Newark/EWR: United
London/LGW: British Airways, Virgin Atlantic
Philadelphia, PA: American Airlines
St. Georges: British Airways
Tobago: Virgin Atlantic
Toronto: Air Canada
Family Friendly Hotel Rooms at Coconut Bay Resort
The rooms were perfect. I haven't seen a better setup for the price, in terms of what is available for families. The rooms on the family side have a king size bed, and a trundle bed. Perfect for two kids. There's a thin divider that blocks the trundle bed and the king bed which is nice for the illusion of privacy- something that's nice when you put your kids to bed at 8pm and want to stay up a little longer to read, watch tv, etc.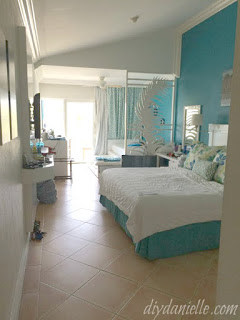 The lighting is right so that you can keep a light on by your bed without the kids fussing about it being too bright on the other side. At the same time, the divider isn't very big and you CAN see through it so you can tell if your kids are messing around at bedtime. The rooms are big enough that you don't feel cramped, but not *too* big. There was plenty of storage space for all four of us.
The rooms have a refrigerator which they keep stocked with your choice of items- including a bottle of champagne and beer, juice, water, and soda. No extra fees for these as it's an all-inclusive resort. They do deliver a light snack in the evenings. I felt a bit guilty because we were so stuffed from our other meals that we just didn't eat them, except on the last evening.The hotel was full occupancy when we went, and you would have NEVER known it. I always felt that we had plenty of room for whatever activity we choose to do. We didn't have any issues with noise from neighbors.
No bed bugs… for some reason, Google is telling people that my post has something about bed bugs in it. But we had no issues with them at all.
The Pools, Slides, and Lazy River at CBay Resort
The pools are great. The big pool has a beach entrance which is great for the little kids. There's a small island with a bubbler for the kids to play with. My husband and I loved that we didn't need to be holding them up in the water all of the time- which was an issue we had at Beaches Resort- Negril and FDR Resort in Jamaica.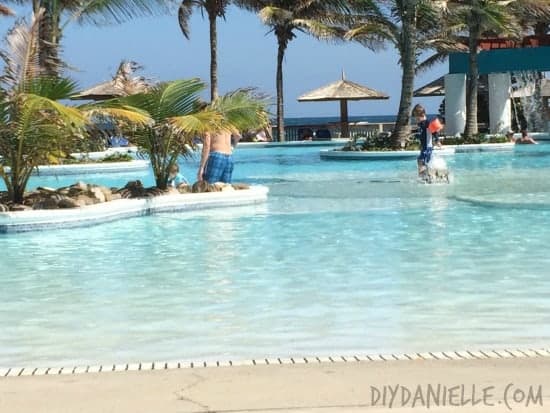 There's also a swim up bar with an adult and children's side. They're in the shade which is nice for staying out of the sun, but you can move back into the sun if you get chilly.
The Lazy River is a lot of fun! My kids enjoyed this, although I think the pool held more appeal because sitting and relaxing isn't on their agenda at 2 and 4 years old.
The slides are AWESOME. I liked that they had lifeguards ensuring you practiced good safety, but that they weren't as strict as they are in the USA. The kids weren't allowed to wear swimmies down the slides, but we were able to go down with them between our legs. Once my oldest was comfortable, I would go down first and then he'd go down next. I would wait for him at the bottom of the slide and catch him once he was in the water (he's not a super confident swimmer yet). SO much FUN! We went down that slide approximately a million times.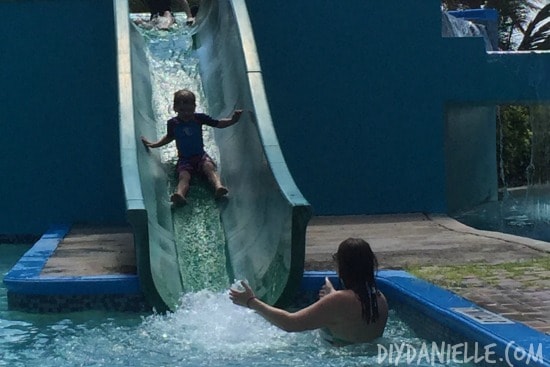 The Beach at Coconut Bay Resort in Vieux Fort
The beach was emptier than I expected, although they have such a long stretch of beach that it's pretty easy to spread out. The beach gets a lot of kelp due to the side of the island the resort is on. They had a tractor constantly going up and down the beach to pick up all the seaweed. The kids loved the tractor.
We didn't do much in the water because our kids are pretty young and the waves were strong. I wasn't worried about walking into the water as there are some areas with a line of rock to break up the waves, but my kids got nervous in the kayak with us. I think this is one of the downfalls of this side of the island- but the BENEFIT is that the resort gets an amazing breeze that cools you down! I loved it.
My kids loved playing in the sand. We brought a few sand toys for them. We found a shady spot with some seating for us and it was very, very comfortable. And it kept the kids out of the sun so we didn't need to worry as much about sunburns.
The man running the little shed to sign out equipment was awesome. My husband wanted to snorkel and the man went out in the kayak with my husband to show him the buried plane.
There's snorkeling, kayaks, and stand up paddle boards to use for free.
And the view from the beach is GORGEOUS.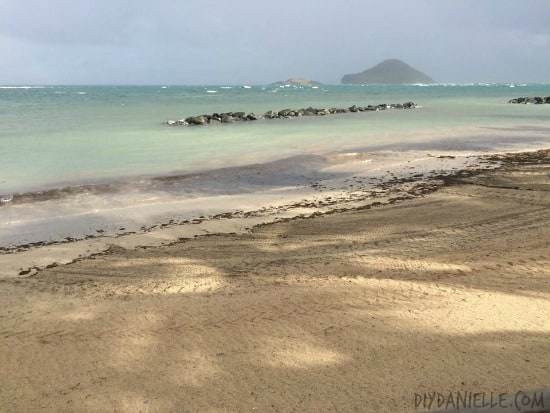 The Food at CBay Resort
The food was great. They book you for each restaurant for dinner (as appropriate) and you can adjust if you want. It seemed like they setup families with kids for earlier times, and folks not traveling with kids for the later times.The main buffet area always had a small area setup with "kids food," although my kids ate food from many of the other areas of the buffet as well.
Activities Available at the Resort
On Site
Paint ball. We didn't do it and it's something I regret. We kept talking about it and just never signed up. Whoops! We'll do it next time. I think there was some horseback riding available- I also wanted to do that and never got around to it. I really want to take advantage of some of these opportunities more on our next trip.
Off Site
There are quite a few excursions I would have enjoyed going on, but many weren't appropriate for young kids and we were perfectly happy on site. We did go on an AWESOME boat and snorkeling trip. We had a big group with our family so we paid to rent the boat for just our group of 7 adults and 4 children. It was nice to have the boat to ourselves. They offered alcoholic and non alcoholic beverages on the boat, as well as a nice amount of food and snacks.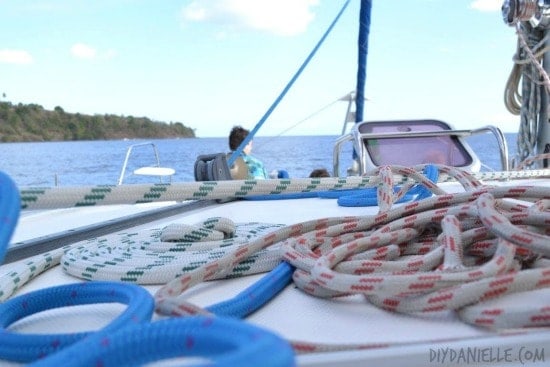 For the Kids
As mentioned before, the resort is well setup for kids. Between the beach, the rooms, the kid friendly food, the pools, the child care, the splash pad, the pirate ship playground, and the petting zoo, it's really a great place for them.We did naps in our room initially, but discovered that there's some nice shaded hammocks and my kiddo would fall asleep on me in one of them while I read my book. I just tried to cover him up a bit more to protect him from any sun that peeked through. It was pleasant.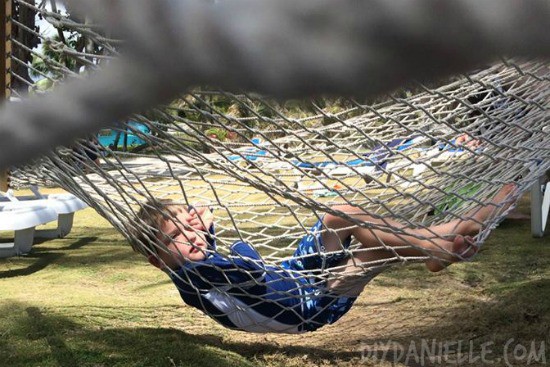 My only suggestion would be for them to add more things for children (and adults) to do indoors for rainy days or to just take a break from the sun. We liked the video game room at Beaches- Negril when we went the year prior. With our kids being so young, we really tried to take lots of little mini breaks from the sun. The resort has lots of shaded areas which we utilized, but we would sometimes go back to the hotel room to put on the tv for an hour to get into some A/C and out of the sun completely.
We often went into the lobby to sit at the tables for a while. They have a couple of small sets of blocks which the kids liked. It worked, but there were usually a lot of people in there with the same idea.
Petting Zoo
The petting zoo is small, but it's a cute place to visit. You can put quarters in to get food for the animals. The horses and donkeys are often tied up to a tree on site, and I saw the goats running free through the field a few times.My kids still talk about their animal friends.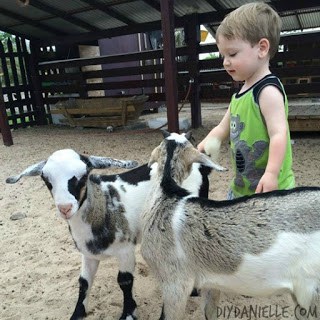 Playground
This was definitely the coolest resort playground I've ever seen. There's a big pirate ship, mini zipline, and lots of shade.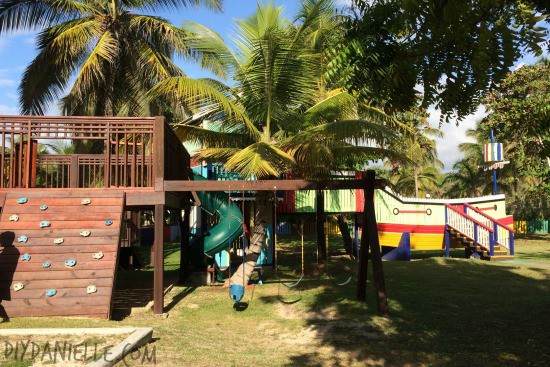 Child Care at the Resort
The 9-5 child care option seemed under utilized. We definitely didn't use it as much as we could have, but I think they have their resort setup so well for kids that it wasn't as much of a necessity as it was at other resorts. But it's SUCH a great option for dropping the kids off to get a spa treatment, to sit at the swim up bar, or to head over to the adults-only area.The child care area has a set schedule of activities for their days that includes play time at the splash pad (which is only open certain hours)… the splash pad seems to be on specifically and exclusively for the child care kids which is a nice way to convince the kids they want to go to the child care area.
The cutest thing was that at the end of the trip, the staff and kids created a little booklet with printed photos of the different things they did at daycare. We got it at the end of the trip. Super awesome touch. .
Daycare closes at 5, but they have some activities for older kids (3+) in the evening that are there and free if you sign up.
You'll want to put together a small bag for each child with a change of clothes, a swim suit, some sunscreen, and diapers/wipes.
For Adults Only
I can't attest too much to what the adult portion of the resort is like, but we did drop the kids off at the daycare a couple times and head over to the separate 18+ only side. It has its own pool and way cushier seating. It's quieter. There's a tiny bar setup over there. I believe many of the restaurants have adults-only times much later in the evening… and there might be an adults-only restaurant. I'm not 100% because we did have our children in the evenings.The wedding pavilion and spa are over there, both of which are attractive, quiet buildings. I saw a couple of wedding parties. There's a few photos of the area in the video below.
Video Tour of Coconut Bay Resort
Booking Your Trip to St. Lucia
If you decide to book, please give our Member #00001510 and Danielle Pientka/DIYDanielle.com as your referral source. If you book a trip with our code, we earn points towards our next vacation. Thank youuuuu because we really want to go back. Wink.
You can also book through RoomonGo which I'm an affiliate for and using the link helps me earn a little bit of money to put towards vacations or to help support my family. Thank you!
Quick Review from the Kids
I asked my kids what their favorite part of the trip was…
Godric (4): The slide, the bus from the airport, the lazy river, the boat, and the elevator.
Kaden (2): The goats, the boat!
It's been a few years since our trip (updating this 2019) and my kids still talk about St. Lucia and what a great time they had there!
What to Pack for St. Lucia
Many of these items can be purchased at the shop there, of course, but these are some things that might be nice to have in your suitcase. I'm putting together a free printable for another post on packing for international trips so that list will have a lot more on it, but these are a few things we wished we brought or were happy we'd brought.
Swimmies for the kids if they need a little extra help in the pool.
A clothesline or short pieces of rope for hanging wet bathing suits.
Small toys to play with in the sand. My kids loved having some toy monster trucks.
Laundry bag and a travel container of detergent if you want to do some laundry during the trip.
Sunscreen. Lots of it. Bug spray. Small first aid kit (they have a nurse, but eh… we often get "boo boos" that don't need a nurse's intervention).
Have you ever been to St. Lucia or Coconut Bay? What was your favorite activity be there?
Love traveling with kids? Here are some more reviews that I've done on traveling with my children: Traveling to Jamaica with Children | Club Med Florida Sandpiper Bay | Review of Beaches Negril | Morgan's Wonderland in San Antonio | Resorts with Kids Camps | FDR Resort Jamaica | Coconut Bay St. Lucia

And don't forget to check out my Tips for Air Travel with Children!
Please share and pin this post!