Tips for traveling on an airplane with kids. Air travel with children doesn't need to be difficult and this post will discuss ways to keep your child happy and entertained on the plane. Be prepared for your trip with these great ideas.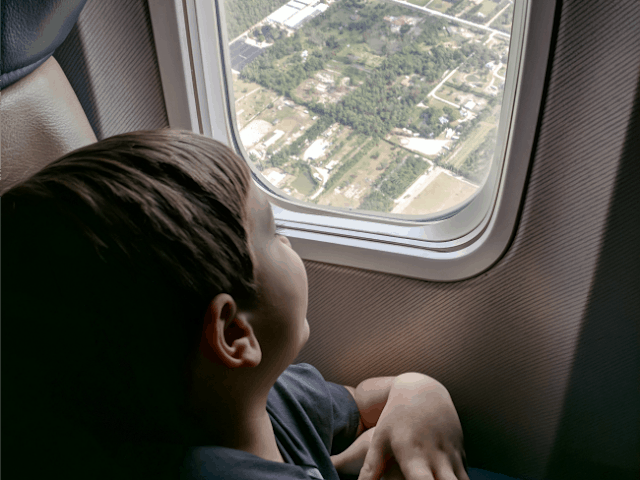 We travel a lot. We've got family that aren't close enough to visit by car, and we like to get out of town. As a result, we have really had to get things together to make traveling easier. I consider us to be pros and my kids have been on a lot of planes. Our travels have taken us to California, Texas, Florida, New Hampshire, and Jamaica so far.
Once they get older, I'm hoping to take some longer flights, but we stick to shorter flights now and I try to always get non stop flights. If we can't do nonstop or if the day seems like it will be terribly longer (layovers and such), then we tend to avoid traveling to the place. I try to make traveling as pleasant as possible so the kids learn to behave properly on flights, and so we don't get burnt out by traveling with them.
My sons are now 1.5 years old and 3.5 years old. So far, so good.
So far it seems to be working. We LOVE the airplane. My son even loves packing… he's hilarious. The video below is how he likes to pack his clothes….
I wanted to share some tips that work for us for traveling. I know it can be nerve wracking to take that first flight with your child, but it can be manageable if you plan for it.
Tips for Air Travel with Children
1. BE fascinated. My kids LOVE being at the airport. We don't pull out any of the cool toys or electronics until we are on the plane. Prior to boarding, we let them watch the airplanes come and go. They run up and down the moving sidewalks. They press their little noses to the big glass windows. They are so happy and amazed. Let them run around as much as possible before you board.Then you're on the airplane. Flying through the air. You have an entirely new and unique view of the world. It's really amazing when you think about it. Talk to your child about what they see out the window. Ask them to find things on the ground. This will keep them busy for quite some time.
2. Seat Kicking Solutions: Sit your wiggly toddler behind another toddler if possible. Take your child's shoes off so if they kick the seat, it isn't as harsh.
Give them somewhere to put their feet, like your lap. I think they tend to kick because their little feet are just hanging there. It's like sitting on a bar stool. I hate that so I get why they wiggle.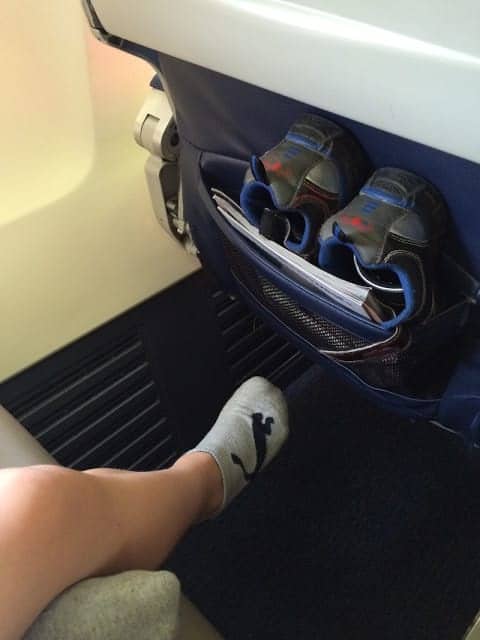 3. Bring empty sippy cups and water bottles: Fill with water from water fountain. Beware: Depending on the type of bottle, if you keep it closed then open it during flight the pressure may cause the water to create a geyser and spray everywhere when you open it. My 1 year old discovered that effect on our recent flight. Use a bottle that allows airs to escape as you ascend and descend so this will be prevented.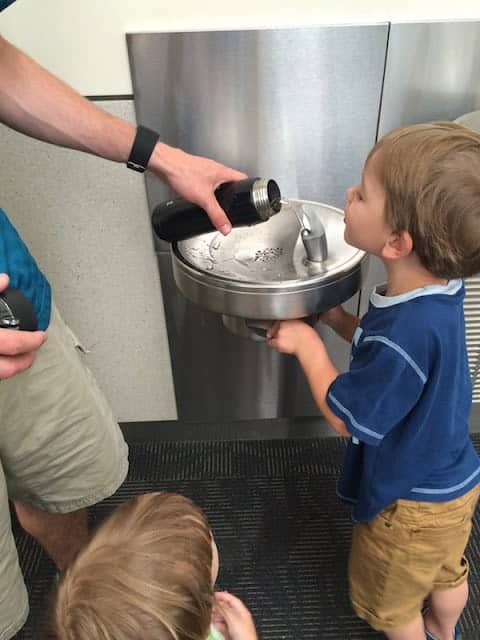 4. Don't haul tons of baby gear: You have a couple of options here.Rent equipment at destination. I've had great luck with renting car seats when we have traveled. Most of the rental places also offer strollers, toys, bouncers, etc. You can get an entire household worth of equipment and they'll deliver it to you. It's amazing. Search "baby equipment rental" and the location you're traveling to.
Some items you won't need to rent. Check with your hotel to see what they have for you to borrow. I've always been able to get a crib or pack n play for free- although I recommend bringing your own bedding because I've gotten some seriously threadbare sheets in the past.
For kids 3 years old and older, you can actually use a special harness instead of a car seat (affiliate link: RideSafer vest). It's easy to pack and we had good luck with it. I wouldn't use this at home much because it's a lot of work to use properly compared to a car seat, but it was excellent to use for a week on vacation. We also use it if I want my husband to pick up my oldest son and we don't want to switch the car seats over to his car.
5. Pack a variety of snacks: You'll save a ton of money. Make them really appealing snacks too- you can even let your child pick the snacks before you go. Do not let them enjoy these snacks before the trip. These are "special" airplane snacks.6. Cleanliness: Keep hand sanitizer and baby wipes for wiping down seat, tray, and anywhere your child will lick or touch. Because… They're kids and this is an airplane.
7. Spread out activities and snacks: Always save your high entertainment items and snacks for last. These are what you pull out at the end of the trip when you're too exhausted for anything else. In the meantime, open the window shade and let the excitement of being on an airplane do the work for you. Point out details of the plane, the land/sea below, and the clouds. Ask older toddlers questions to keep them talking- what do you see? Check out the map in the airplane magazine and show child where you're going and flight path.
8. Use Technology Wisely: iPad, Kindle Fire, etc.: Bring them. Make sure to load them with movies and games that work without an internet connection (unless you plan to pay for WiFi). Do NOT let the kids play those electronics for about a week or more before the trip if you want to really make it appealing.
9. Laundry and Packing: Sew yourself a laundry bag that fits perfectly in your suitcase. It'll save a lot of room when you pack to leave.
10. Flight Time: We took a 5:30 am flight on our last trip home. It worked out REALLY well. How did we manage this? We turned in our rental car the night before, and got a room at a hotel near the airport. The hotel offered a free airport shuttle starting at 4am. We put kids to bed at 7:30 the night prior and immediately went to bed ourselves. At 3:30am we got up, got all of our things together, and got down to the lobby by 3:55am. We were on the shuttle at 4, at the airport by 4:15, and got our luggage on for the 1 hour cut off. Flight left at 5:30am, and by that time the kids were ready to snooze some more. They probably slept 1-2 hours on the flight (and so did we), then we had less time left to entertain them than if we'd taken a flight during their awake time. We do not take flights after their bedtime because when they stay up too late my kids get hyper and grumpy.Know your kids and schedule flights accordingly.
11. Bring a Baby Carrier: We don't bring a stroller through the airport. It's a pain and bulky to get through security, as well as to worry about checking at the gate. We baby wear in a good quality carrier at the airport. It leaves both of your hands free to hold baggage or food. It's easy to roll up into your carry on. Many airports will allow you to wear your child through the scanners at security, although they do scan your hands as added security.You can't wear it with your baby in it during your flight for safety reasons, but it's really amazing tool to have if you need to run from point A to point B fast.
12. Pack Smart Activities: If you bring it, there's a 95% chance the item will get dropped on the floor. So bringing a huge box of crayons is a crisis waiting to happen. Bring a 3 pack of crayons and a coloring book. Bring electronics. Bring some fun worksheets to do with your child. Think about toys that are light to carry, easy to store in your bags, and have a high entertainment value.
13. Use a cloth diaper cover over your disposable diaper.
We love to cloth diaper at home, but usually travel with disposables because they're smaller to pack (plus I don't love doing laundry when I travel). But disposables have a nasty habit of leaking poop up the back of them… and it never fails that my kids have a 'poopsplosion' on flights. Never. Fails. I've found that using a cloth diaper cover over the disposable is really helpful. Cloth diapers have an elastic on the back so it prevents (usually) poop from going up the back of baby. Cloth diaper covers are usually wipable plastic on the inside so I can toss the disposable, then wipe the inside of the diaper down with a wipe. If I bring two, that usually works for the trip. If I need to, I can hand wash the cover at the hotel, line dry it, and have it to use for the trip home.
You can buy covers or you can learn how to make them in my book, How to Sew, Use, and Clean Cloth Diapers. But if you don't plan to make an entire cloth diaper stash, it probably makes more sense to just buy a couple of covers.
14. Bring a wet bag.
Speaking of poop and diapers exploding, bring a wet bag. These bags zip up and contain smell/mess. You can throw baby's outfit in there or the dirty cloth diaper cover. Total life saver. I'll link some wet bags in the products link, but you can also learn how to sew a wet bag here.
15. Fly Non Stop: I save myself a lot of headaches by flying nonstop whenever possible. Actually, we try not to go anywhere that would require a layover. We are heading to St. Lucia this year and there were no nonstop flights from the three major airports local to us (Baltimore, Dulles, and D.C.). We decided to drive to Philadelphia so we could fly nonstop. We will drive to Philly the day before our flight, go to a museum and hang out, spend the night in the hotel, then fly to St. Lucia the next morning. Best part? The nonstop flight from Philly was cheaper (by a lot) than a truly miserable flight path from Baltimore.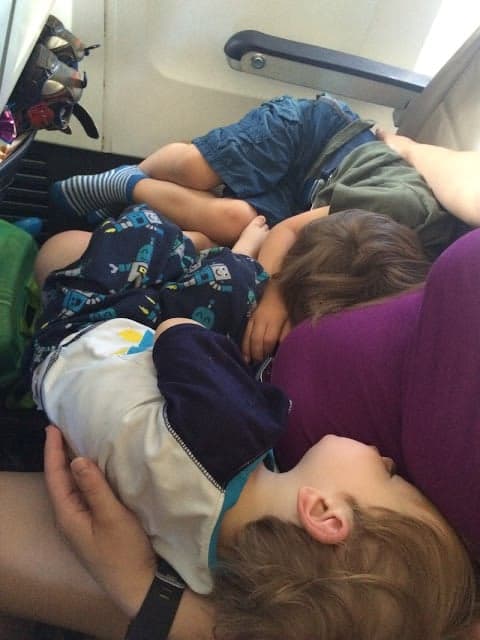 Tired guys on a 5:30am flight.
Great Products for Traveling with Children
This list may contain affiliate links. I get a small commission if you use these links to make a purchase. I only recommend products that I believe in.
Organizing for Travel and a Free Packing Checklist
Want a free packing checklist? Read my organizing for travel with kids post and get the free checklist by signing up below.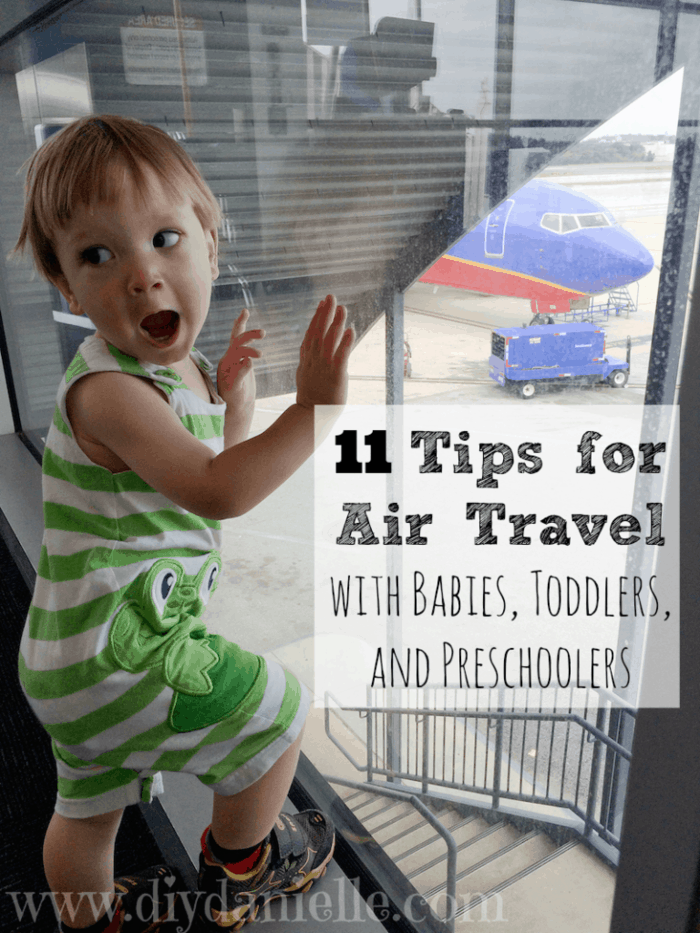 Thanks for taking the time to read this post! I really appreciate the time you've taken. Please share, like, and pin my post if you enjoyed it. Follow me on social media and subscribe to my email list to keep up to date on all of my latest projects!



Disclosure of Material Connection: Some of the links in the post above are "affiliate links." This means if you click on the link and purchase the item, I will receive an affiliate commission. Regardless, I only recommend products or services I use personally and believe will add value to my readers. I am disclosing this in accordance with the Federal Trade Commission's 16 CFR, Part 255: "Guides Concerning the Use of Endorsements and Testimonials in Advertising."
// ]]>