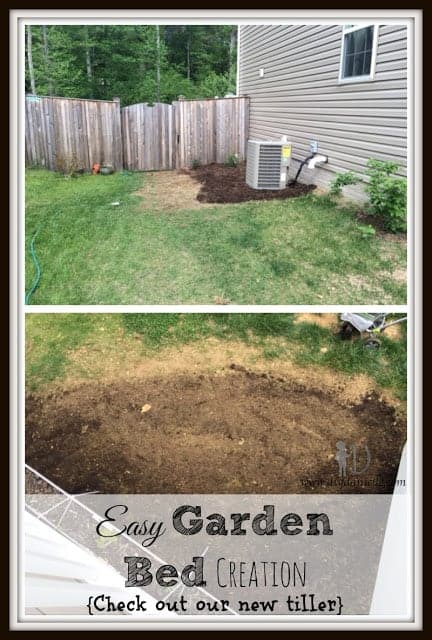 We needed to create some garden beds and digging them by hand was taking FOREVER… and nothing is okay when it takes forever to do something if you've got two toddlers. No no no. I was looking into renting a tiller, but the place offered 4 hour increments for approximately $65. And limited hours on the weekends. SIXTY FIVE!! Gosh.
I was concerned that the affordable tillers wouldn't be able to handle our yard… we've got rocks, heavy clay, and really sturdy sod. My husband found this Earthwise Tiller though which has great reviews. We decided to give it a try. We ended up getting it at the store and having them price match Amazon because we needed it immediately, but I recommend trying Amazon because the store almost wouldn't match an online retailer. Despite the fact that the only remaining tiller had a box that was almost completely torn up. I kid you not.

My husband got it home and it only took him about 10 minutes to put the tiller together. He was out creating some garden beds before we knew it. The tiller cut through our sod which was SOLID, as well as our clay soil and the rocks that were in the soil. A heavier duty machine might do it all faster, but this definitely worked. We used protective goggles to prevent injuries, but I didn't have anything pop up while using it.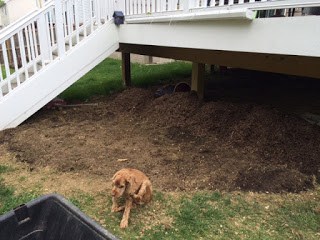 My dog, having a little scratch. He likes the garden bed.
To use it, you push the button while holding the lever down. You need to continue to hold the lever to keep it going. Great safety feature to keep little ones from "helping" and getting hurt. It does get tiring after a while. My sod had this mesh left that did get stuck in the tiller… I made sure to frequently clean the mesh out to keep the tiller from getting jammed… I'm assuming it would be a problem in the long term to leave it in there.
Here's an affiliate link to the product we purchased:
Here's a demo of my tiller in action… it's a view from above and the side as well.
Disclosure of Material Connection: Some of the links in the post above are "affiliate links." This means if you click on the link and purchase the item, I will receive an affiliate commission. Regardless, I only recommend products or services I use personally and believe will add value to my readers. I am disclosing this in accordance with the Federal Trade Commission's 16 CFR, Part 255: "Guides Concerning the Use of Endorsements and Testimonials in Advertising."