Instructions on how to create a beautiful red, white, and blue decoration for your front door in honor of Memorial Day, Veterans Day, or Fourth of July!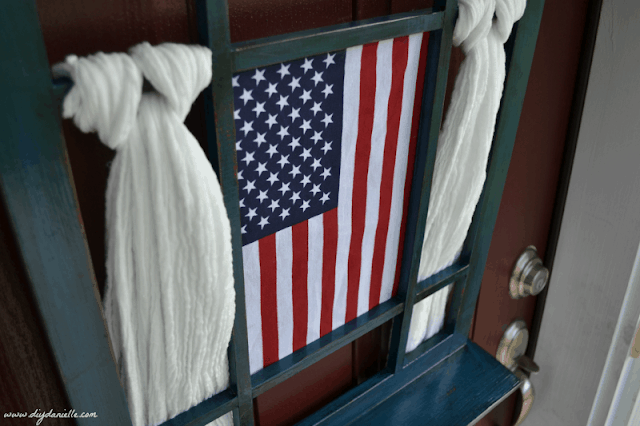 Is this a wreath? A window wreath? But for the door? I have no idea. I just know that I'm pretty excited about it.
I was at a yard sale the other weekend and this decor window was available for $3. I loved it, even with the prior paint job, but I wanted to update it. I ended up painting and distressing it, then toyed with how to use it. It was pure coincidence that I painted this blue. I have been experimenting with different color combos for distressing paint and the next paint on my list was this one: Shimmering Sea, Satin Enamel from Olympic. It was a sample I got in the cheap shelves at Lowes for $0.50. Total cost of project: $3.50! How's that for a steal?!
If you love this, you will also love my other porch decor for the 4th of July. Check out my post, How to Upcycle a Watering Can into Patriotic Decor.
Supplies:
Window (this isn't an actual real window, this was a decorating item)
Shimmering Sea, Satin Enamel from Olympic (Lowes, sample size): $0.50
Ebony Wood Stain
Polyurethane
Paint brushes
Sand paper or sander
Children's flag: I upcycled one that had a broken stick… we got this at Lowes around Veteran's Day, I believe, for a couple dollars.
36″ Wide Grade 90 Cheesecloth from Burlapfabric.com: I washed this fabric first and it shrinks into nice thing strips when you do this. You don't need this large of a quantity, and I'm guessing you could just cut thin strips from a wider cut too.
Instructions for Creating Your Own American Door Decor:
This wasn't a complicated project at all… I took my old piece, sanded it a bit, and painted it the color I wanted.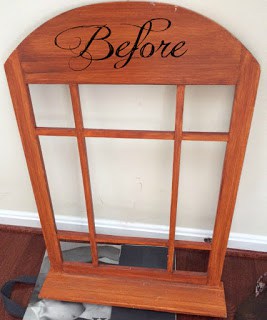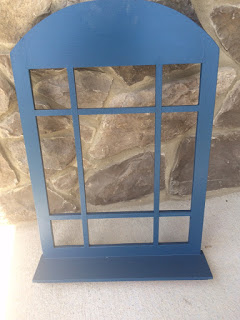 I created a video on distressing furniture a while back so I don't want to get into great detail on how to get the effect that I have on my final product. But essentially I painted it, sanded it here and there to scuff it up, stained it, then wiped the stain off. I let that dry and then used polyurethane to seal it. I love how distressed wood looks so I do it to EVERYTHING. I'm really not joking. You should follow my blog if you don't already- you WILL believe. In the meantime if you need more details about distressing, check out this link to my video: Easy Distressing for Wood Furniture: Drab to Dreamy Lego Desk.
Once you're done fixing up the wood itself, you need to decorate.
The cheesecloth is tied on by folding your strip of fabric in half and pulling the end pieces through the loop around the wood. I hope that made sense. I love how they look being tied this way.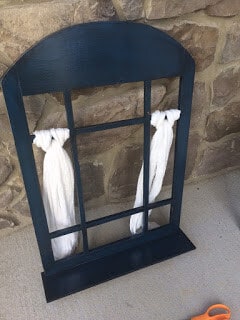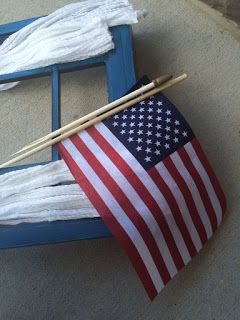 Next I took my flag, removed it from the stick (it was attached with staples), and laid it across the back of my window. I fit it onto the middle of the window and used a staple gun to attach the flag. Make sure you show the side of the flag that you want- to me, both sides looked good but I wanted the stars on the left.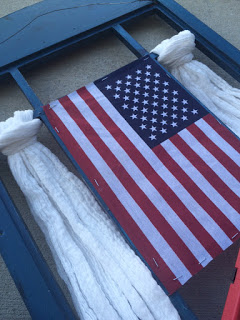 Then I flipped it around and hung it on my door. The person who had this before had a nice strong wire on there to hang it from.
Here's some more pictures for you!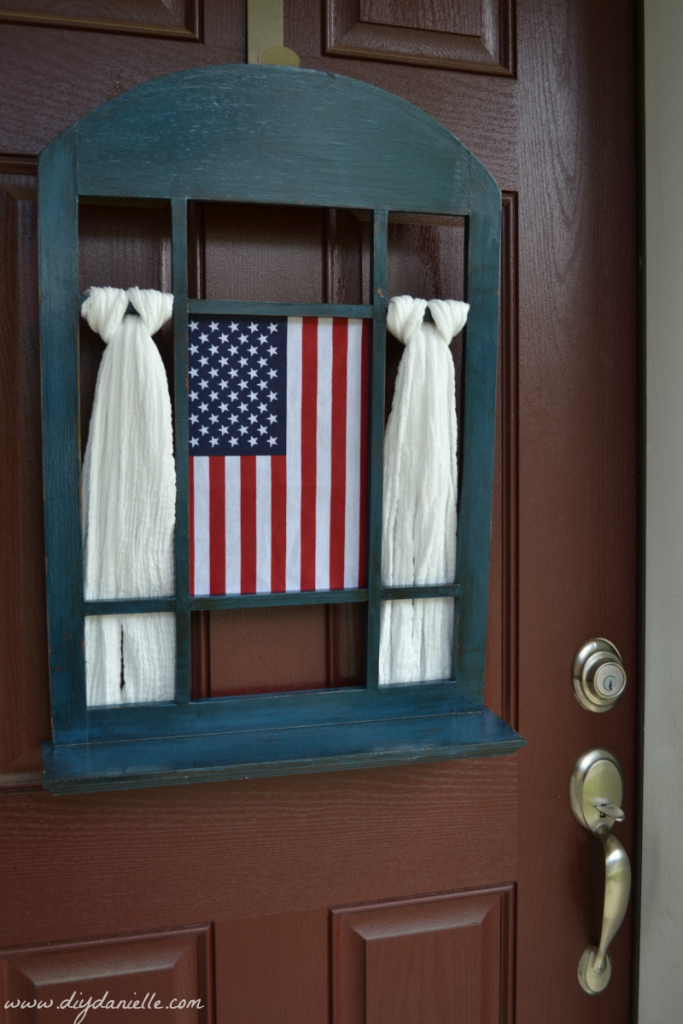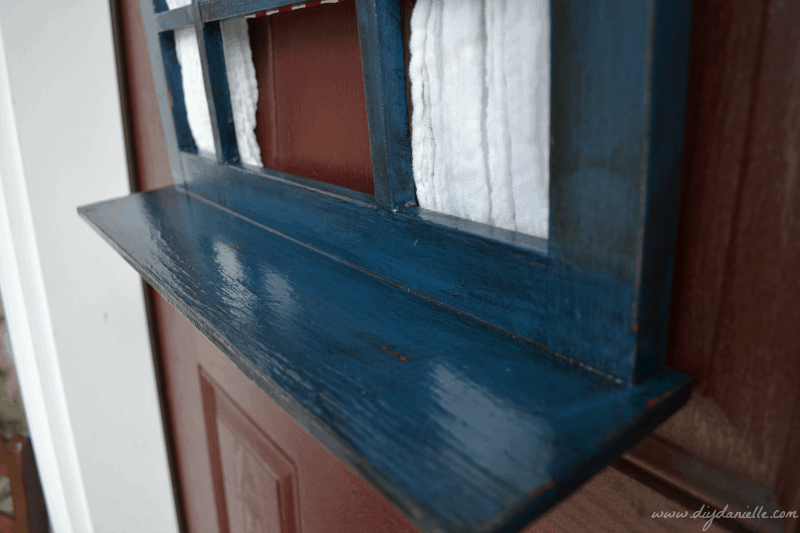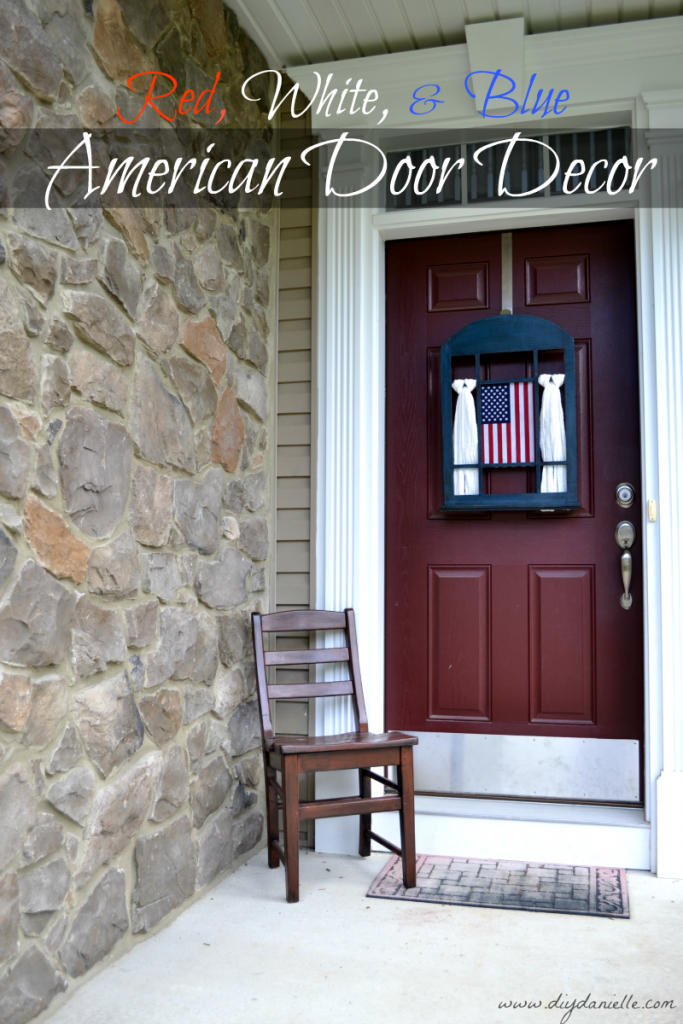 Disclosure of Material Connection: I received one or more of the products or services mentioned above for free in the hope that I would mention it on my blog. Also, some of the links in the post above are "affiliate links." This means if you click on the link and purchase the item, I will receive an affiliate commission. Regardless, I only recommend products or services I use personally and believe will be good for my readers. I am disclosing this in accordance with the Federal Trade Commission's 16 CFR, Part 255: "Guides Concerning the Use of Endorsements and Testimonials in Advertising."