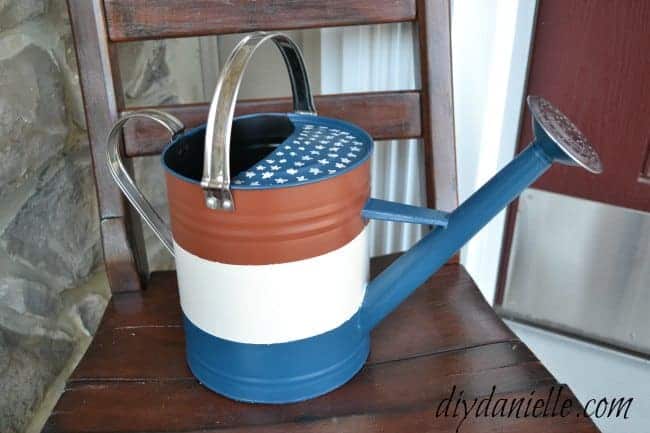 How to upcycle a watering can into patriotic porch decor for the 4th of July, Memorial Day, or Veteran's Day (or just because!).
I've been working on decorating my front porch for the 4th of July. I'm not really much of a decorator, but I'm getting excited about it this year, even though I'm a bit late to the game. I wanted to upcycle the watering can that has been sitting on the porch. I could have tossed it as it isn't in great shape, but I love to upcycle so it made sense to turn it into matching decor for the holidays.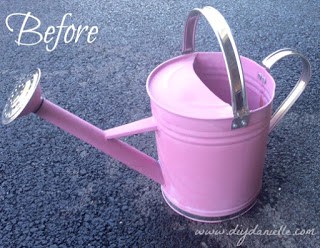 I hope you saw my prior post, Red White and Blue: American Door Decor? It is such a cute decoration for the front door as an alternative to a wreath.
Supplies to Upcycle a Watering Can
The supply links are affiliate links, thank you for supporting my blog!
I had all the supplies so this project cost me nothing (my favorite kind of project!).
How to Upcycle a Watering Can into 4th of July Decor
Begin with your old watering can.
Spray paint the inside of the can black. Harder than it sounds, but pink doesn't look good with red, white, and blue. Ever.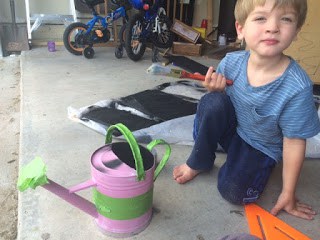 Tape the can: I covered the handles and the spout. I taped off the section for the white paint. To get the right measurements, I divided the height of the can by 3 and marked off where each stripe would need to be.
Paint the top stripe red. Paint the bottom stripe blue. I also painted the top of the can blue. It took me two coats of paint.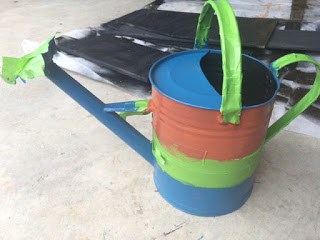 Once dried, remove the tape for the middle stripe.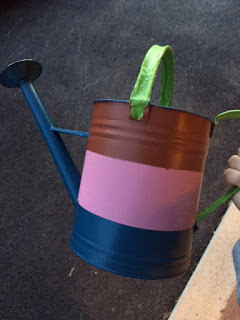 Tape the red and blue sections so you won't get white paint on them. Paint the white middle stripe.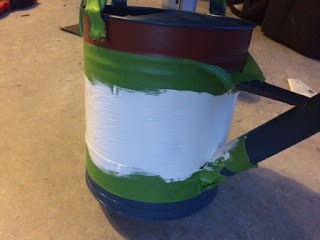 Using a small paint brush, paint 50 stars on the top of your watering can. Wait for it to dry, then remove the tape. You're done!
I hope you enjoyed! I'm looking forward to having a festive front porch this year… finally! Now if I can only get it together the rest of the year.
Please pin this!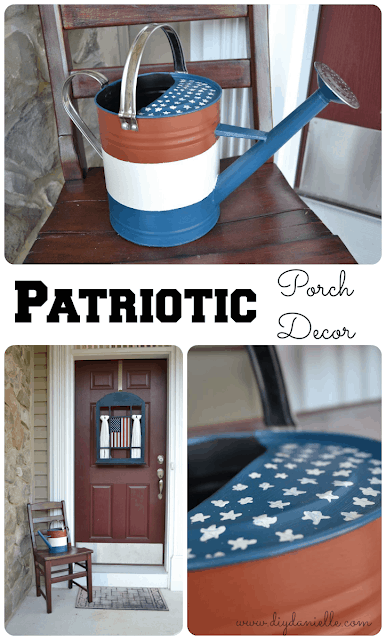 Originally published July 1, 2015