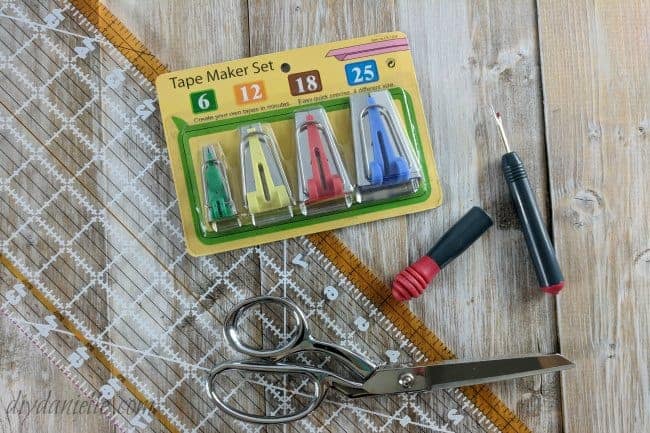 The best sewing tools for beginners. These sewing accessories will make learning to sew easier and more fun!
If you're new to sewing, you'll soon discover that there are a lot of tools available to make your life easier. I wanted to dedicate a post to getting the right tools for the job. These are the items that I love having in my sewing room. Not all of them are necessary, of course, but I'll try to mention which are a 'must have' and which are just nice to have.
New to sewing? Make sure to check out my other 'How to Sew' posts.
---
This post may contain affiliate links which may earn me commissions should you click through them and take certain actions. As an affiliate for Amazon, Cricut, xTool, Home Depot, and other sites, I earn from qualifying purchases. Please DIY carefully. View my full legal disclosures here.
Please read the whole post so you don't miss any important information!
---
Sewing Tools to Make Sewing Easier
Scissors
Scissors are a basic and necessary sewing tool, but you can't underestimate how important it is to have an exclusive, sharp pair of scissors for cutting fabric. If you use worn scissors, you'll find it difficult to cut fabric easily.
I recommend Gingher scissors.
Some sewing and craft stores offer scissor sharpening if you have an old pair that needs to be fixed up.
Rotary Cutter
A rotary cutter allows you to cut fabric similar to how a pizza cutter cuts pizza. You need a cutting mat underneath it to protect your surface, but it allows you to cut things a bit quicker than if you used scissors. Rotary cutters are really helpful if you cut squares for quilts.
Keep your old rotary cutter blades, mark them, and use them for cutting out paper. You'll want sharp blade for use with fabric.
Cutting Mat
If you're using a rotary cutter to cut fabric, then you need a cutting mat underneath to protect your table or other surface. These self healing mats are a wonderful addition to the sewing room. I recommend getting a large one if you plan to sew large items like clothes. A smaller cutting mat is sufficient if you just cut squares for quilts.
Bias Tape Maker
Bias tape makers are absolutely unnecessary, but I love mine. They're easy to use when I want to make my own bias tape. While you can buy bias tape premade, these allow you to make your own bias tape using matching fabric for your project. They're lovely and they're cheap.
Measuring Tape
You need a soft measuring tape if you plan to take body measurements.
Seam Ripper
You probably got a seam ripper with your sewing machine. You can definitely purchase a new one that is more comfortable. You can get away without a seam ripper if you have a small pair of scissors, but they really are a staple in the sewing room. You'll be spending a lot of time seam ripping as it's pretty typical to make mistakes sewing. Being able to rip out the stitches easily is important.
Bodkin
A bodkin is a tool you can use to feed elastic through a casing. They're useful and some people love them. I use a safety pin though as an alternative. I've found I prefer the safety pin method over using a bodkin.
Iron and Ironing Board
You probably already have an iron and ironing board. If you're like me, they might have been gathering dust. It's time to brush off the dust and take them out. Your sewing is much neater looking when you use your iron to press your project and if you iron your fabric beforehand.
I still don't iron my clothing though. Just my sewing projects.
Pattern Weights
Ahhh pattern weights really aren't necessary. I've been using anything I can find in my sewing room. Some people use canned food. But pattern weights help hold your sewing pattern on your fabric as you cut. They're nice to have.
If you don't want to buy them, make them with this easy tutorial!
Quilting Ruler
I think these quilting rulers are intended for quilting specifically, but I love them to cut a straight line with my rotary cutter. You could also use a regular ruler if you're not cutting quilting blocks, of course, and I've made my own templates from wood for items like cloth wipes.
Snap Pliers
Snap pliers are a nice addition to the sewing room if you plan to apply snaps to bags, cloth diapers, clothing, etc. I love my snap pliers, but I also make cloth diapers for my children so it's an item that I get a lot of use out of.
Pins or Wonderclips
When you sew, you'll need something to hold layers of fabric together. I like to use both wonderclips and pins, but the clips are much safer.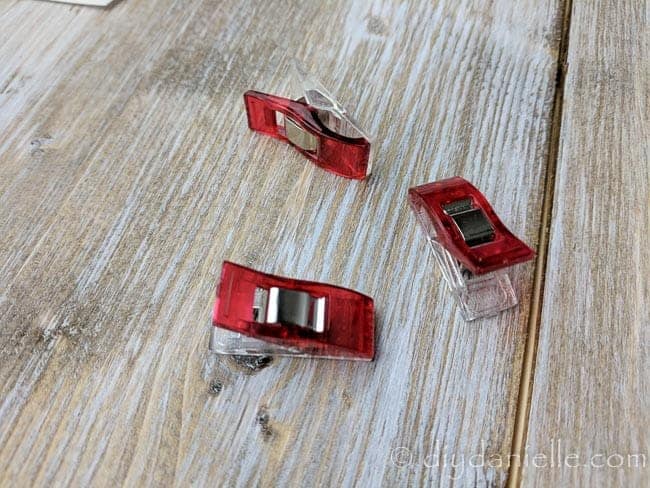 Walking Foot
There aren't too many sewing feet that I consider 'must haves,' but I love my walking foot. You need one that is compatible with your sewing machine. These replace your normal sewing foot and are great when sewing fabric like Polyurethane Laminate or knits. It just helps some fabrics feed through the machine better.
Small Scissors
I like to have some small scissors for cutting threads. I have a couple small pairs that came with my machines, but these super cute tiny scissors are on my wishlist. Obviously your large scissors will cut just fine, but small scissors are nice to keep by your machine and they're lighter weight.
Tailor's Chalk
You'll want something for marking your fabric. This is nice when you want to trace your pattern on your fabric, then cut it out with scissors after. You can use tailor's chalk, but I believe some people use children's washable markers too (make sure to test a spot).
Serger Mat
If you own a serger, a serger mat is a great way to reduce noise and vibration. Learn how to make one here.
I hope this post was helpful. What's your favorite sewing tool? Did I forget anything?
Love sewing and need some project ideas?
Please share and pin this post! If you make this project, share it in our Stuff Mama Makes Facebook Group. We have regular giveaways for gift cards to craft stores. You can also tag me on Instagram @doityourselfdanielle; I love seeing everything you make!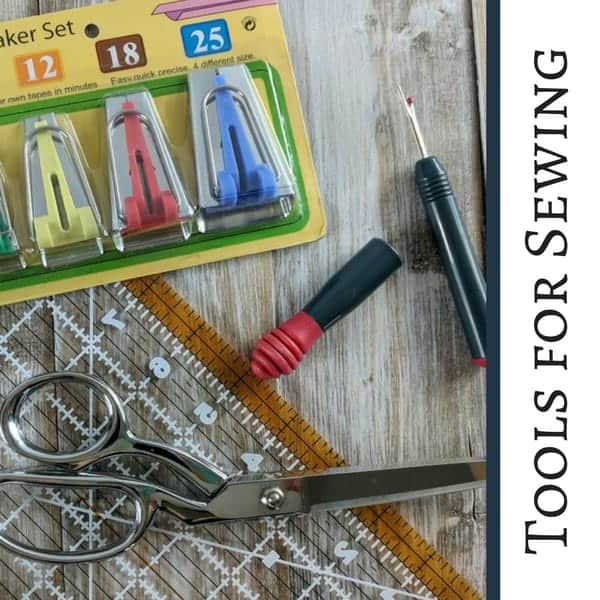 Web Story: Sewing Tools for Beginners