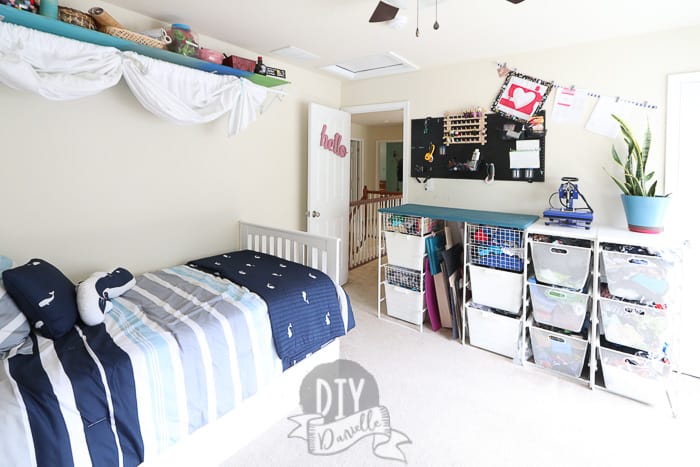 Tips to create a room that functions as a craft room and a guest room WITHOUT looking cramped.
This post may contain affiliate links which may earn me commissions should you click through them and take certain actions. As an affiliate for Amazon, Cricut, xTool, Home Depot, and other sites, I earn from qualifying purchases. Please DIY carefully. View my full legal disclosures here.
Please read the whole post so you don't miss any important information!
Right before we moved, I decided to stage my craft room as a guest room. It worked really well. I wanted to show you the setup and how I made the best use of the space.
Size Matters
The main thing to remember is that I used my brightest and largest (non master) room for this project. This allowed me the OPTION to have it be dual purpose.
I think the thing people forget with craft spaces is that it's a heck of a lot easier to organize a LARGE space than a small one. Yes, you can squeeze a bed and craft items into a smaller room, but it's prone to look cramped.
Two of my sons shared a smaller bedroom and my third son was in a darker nursery. We like to keep the youngest kiddos in the darkest rooms of our home in hopes they'll sleep better. Pipe dreams as my kids are THE WORST sleepers, but we can dream.
I imagine that many thought I was being selfish to not give the kids the larger room, but they had a cozy Minecraft room that they loved sharing. They spend a lot less time in their bedroom than I spend in my craft room, given that they have a huge basement playroom. We don't really store toys in their room.
The other thing you should consider if you own a sewing or craft business is that you can tax deduct the space as a home office (with some potential adjustments if you use it as a guest room often). This is worth talking to an accountant about. The larger the space, the more you can deduct. This is important if your stuff will otherwise migrate out into other spaces of the home and be difficult to account for on your yearly taxes.
Use the Closet
The nice thing about using a bedroom for this purpose is that you'll have a closet to use. Guests usually don't need a closet so this is sort of a nice freebie. You can use large plastic storage bins to store fabric, organizing them strategically.
I recommend using a phone app like Sew Organized to track which fabrics are in which bins. This will allow you to review your stash without digging through a million bins.
You can also opt to hang patterns or fabric with hangers.
Storage Bins
Storage bins, particularly when labeled, work really well to hide items I need frequently, but that aren't pretty to look at. You can make your own fabric storage baskets using scrap fabric (or sew solid baskets with larger cuts of fabric if you prefer) or buy cubes.
I love using the square shelves for bins and for fabric wrapped around comic boards. The wire bins from IKEA work well for smaller bits of fabric.
I stored my cutting mats between the bins. The top of the IKEA wire bins serves a dual purpose as a cutting table (with the mats on top) or an ironing station.
Pegboard Storage
The pegboard is a great option to store rotary cutters, scissors, thread, and other smaller items that you need frequently. It looks nicer if you paint it before hanging it!
High Shelves
I think high shelves are often overlooked as a potential storage option. We added this shelf high up near the ceiling and your eye doesn't necessarily get drawn to it… despite the colors. I was able to store some bins on top of it and I hung a white curtain. This curtain was used as a backdrop for photography for my blog posts. It's easy to drop it down when I needed it, then roll it back up when we had a showing on our house.
The Guest Bed
We opted for a trundle bed for the guest bedroom, but I would have LOVED a murphy bed too. My priority was to provide a sleeping space without sacrificing floor space in the room. You could also opt for a couch with a pull out sofa if you wanted a larger sleep area.
I did the trundle bed because I wanted two twins beds. We also have a queen blow up mattress for couples who visit.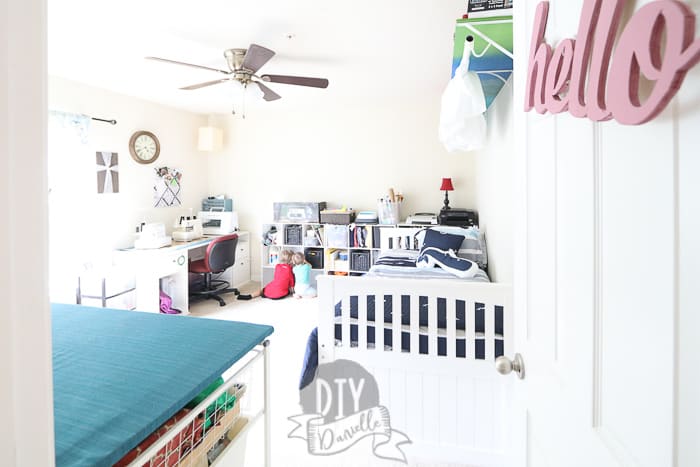 Lighting
One thing that really made this room feel more open was the lighting! I LOVE the three windows. There were three blinds that I kept open most of the time. The light didn't blind me because I had my sewing equipment in the corner.
If you have light like this, add plants! My snake plant and the window plant (basil) went NUTS in this room. It has fantastic light and stayed warm (a little too warm in the summer).
Video Tour
Please share and pin this post! If you make this project, share it in our Stuff Mama Makes Facebook Group. We have regular giveaways for gift cards to craft stores. You can also tag me on Instagram @doityourselfdanielle; I love seeing everything you make!