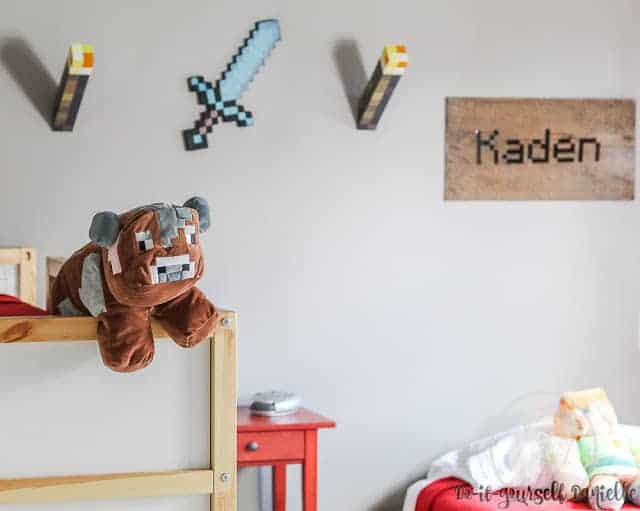 How to create a simple and easy Minecraft bedroom without a lot of permanent changes to the children's room. Tutorials on Minecraft themed windows, a Minecraft chest, and more.
This post may contain affiliate links which may earn me commissions should you click through them and take certain actions. As an affiliate for Amazon, Cricut, xTool, Home Depot, and other sites, I earn from qualifying purchases. Please DIY carefully. View my full legal disclosures here.
Please read the whole post so you don't miss any important information!
My 3 and 5 year old are really into Minecraft. Like. A lot. I've even started playing with them and I'm starting to see the appeal, seeing the game is all about creating things. My 5 year old makes these really elaborate buildings and has fantastic ideas. He definitely is better at designing homes than I am!
Last year I started making them an outerspace bedroom. And it fell flat. We got part of it done, but I just didn't feel very inspired. We made this really neat spaceship thing to go next to their bed, but it took up wayyyyy too much space and made it even darker in their room. It also relied on their bed being a bunk bed. We tried the bunk bed and it was giving me a lot of anxiety. My 5 year old loves to rock the bed against the wall and he's so wiggly that it was a noise (and aggravation) issue. I was also worried about the structure of the bed withstanding that level of motion so I preferred not to have his brother sleeping directly under him.
But how could I convince them to unstack their beds?! I mean… that's a hard sell.
Enter…. the Minecraft bedroom. I decided to get rid of our huge guest bed and paint the guest bedroom a nice gray in prep for moving the kids into that room. The room is a bit smaller than their current room, but I thought the setup of the closet was more ideal for them.
The larger room is going to get the walls repaired (the 5 year old rocking the bed has not been kind to the walls) and repainted. Then we will put in a small pull out bed of some sort. Our baby is due in August and I don't want our entry to be littered with Lego pieces for the baby to eat or guests to step on. Having a contained area for them to play with them will help keep baby safe and still give them a fun zone to play Legos. We take our Lego situation very seriously.
And yes… I know… technically, I painted the walls. But they're not painted in Minecraft pixels. So. If they'd been gray to begin with, I could have kept them as is. They had the original builder's flat paint though and that needed to be covered… whatever they used is terrible and it's impossible to wipe off marks and such without taking off paint and even the drywall so I wanted to kill two birds with one stone.
Supplies
Use the Discount Code DIYDANIELLE on cricut.com for 10% off any cutting machine or heatpress (no minimum). Excludes: materials/accessories/mystery boxes/etc. Applies to US/CA only, code expires 12/31/23.
Bedroom Walls for a Minecraft Themed Room
First, I've seen some really elaborate wall painting and wallpaper for Minecraft themed rooms. Thought about it, but nope. I want something plain and that has resale value if left as is. There's nothing like a children's themed bedroom that's awkwardly painted to make a buyer scrunch up their face. I don't anticipate us selling the house soon, but just in case I wanted to keep it plain.
Also, they may eventually decide they want a different theme to the room and I hate the idea of repainting. This gives me some flexibility and freedom. The light gray is also nice because it doesn't make the room feel smaller or darker than it is. This is Sherwin Williams 9170 Acier in satin sheen. It has a paint and primer in one which is my preference.
Here's the paint before and after.
Windows and Window Treatments for a Minecraft Themed Room
We installed blinds in this room because the room gets a lot of sun which makes it very hot otherwise. I also create the Minecraft Window Decals to look like the windows in the game. This was super easy with my Cricut Air 2.
For the curtains, I purchased some long red curtains, a couple of sturdy rods, and then made my own TNT curtain tie backs. These were super easy.
Bed Setup for a Minecraft Themed Room
Twin beds were more appropriate, but we had an IKEA loft bed for G so I wanted to use that. We added a reading nook in the area under it.
The other bed is a regular IKEA twin bed that I got off Freecycle a long time ago.
I purchased red blankets and white sheet sets for the beds, but later discovered that Target was selling red and white Minecraft sets too. Wish I'd seen that, although I may have spent less money.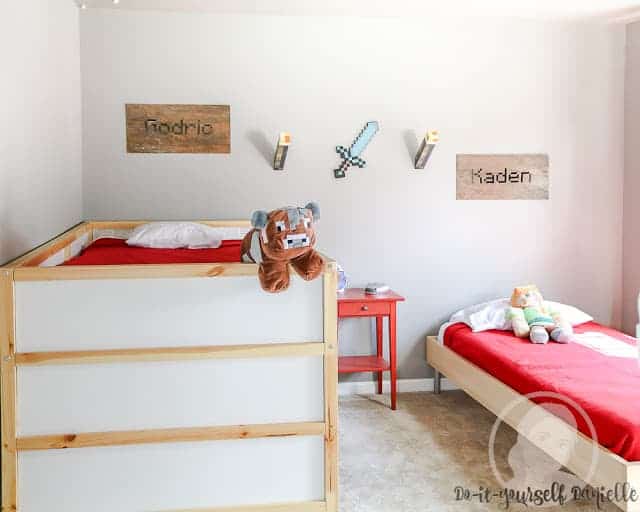 Toy Storage for a Minecraft Themed Room
The only choice for storage was- naturally- a chest like in the game. I wasn't sure if I should do two square chests or the double chest between the two beds.
Other Details
The name signs, lamps, torches, and book slings were fun and covered in other posts.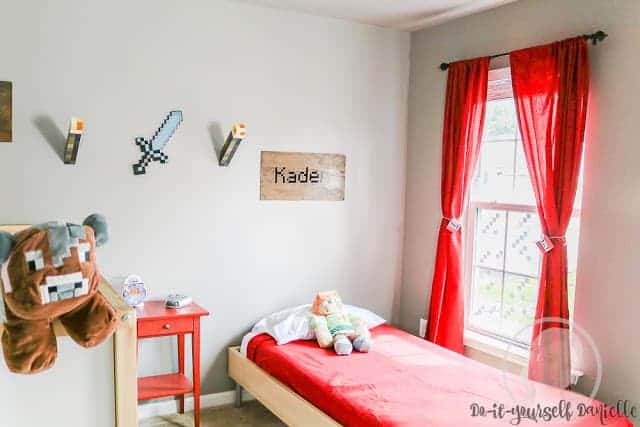 Love it? Pin it!

Google Web Story: Simple Minecraft Bedroom
Thanks for taking the time to read this post! I really appreciate the time you've taken. Please share, like, and pin my post if you enjoyed it. Follow me on social media and subscribe to my email list to keep up to date on all of my latest projects!