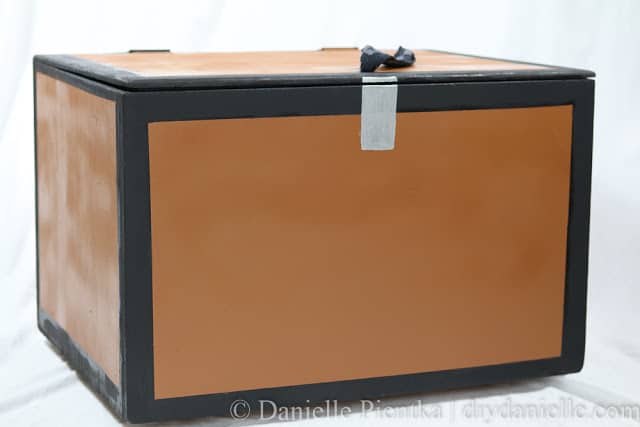 How to make a toy box into a Minecraft themed chest for storage in a children's bedroom.
This post may contain affiliate links. Using these links helps support my blog. Homeright provided the spray shelter used for this project. Thank you!
My sons needed some toy storage in their Minecraft themed room so I decided to put together an easy Minecraft chest.
I previously had decorated this chest for the outer space room that never really happened so I just decided to repaint it. This made the project a bit easier. Overall it was simple, but I wince a bit to paint a piece of furniture to make it look ugly… haha. I usually take such pride in my furniture redos, but an authentic Minecraft chest isn't really Feng shui.
Supplies
Supplies listed below may include affiliate links to the products.
Chest
Painter's tape
Spray Paint: Rustoleum 2x Satin Warm Caramel
Black paint for touch ups
Silver paint, a silver paint pen, or you could use duct tape
Tutorial
My chest was black so I decided to save myself a step by taping off the areas that I wanted to be black when I was done. Ideally, I'd be able to remove the tape and be mostly finished with the project. Unfortunately, this tape didn't work super well due to the humidity outside where I was painting. I think green frog tape would have stuck better. I also didn't paint immediately which didn't help. I've been feeling poorly (pregnancy fun) off and on so I usually do things in stages.
I also cut off the braided piece that we use to open the chest.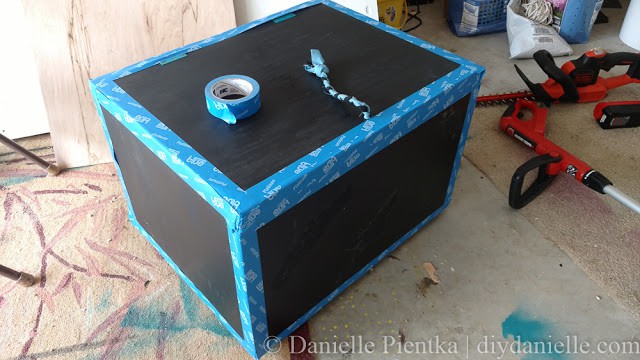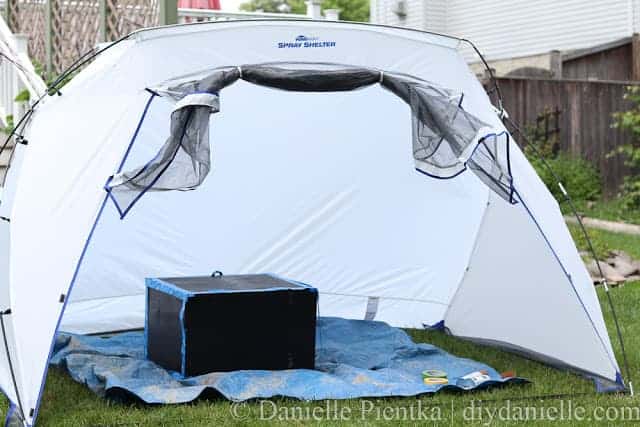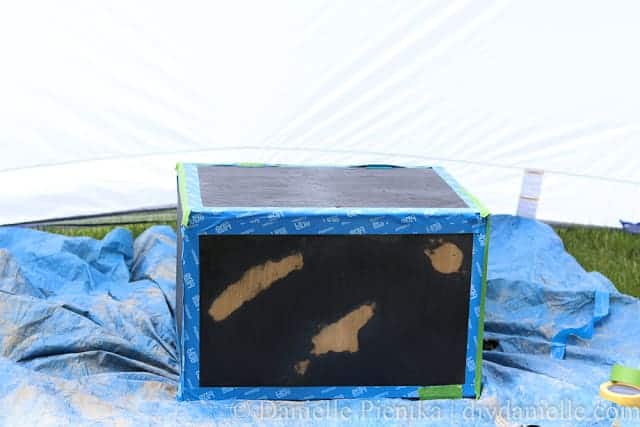 I setup a tarp and my large Homeright Spray Shelter in the backyard to paint. The shelter allows me to paint outdoors without the wind blowing grass and other stuff all over my furniture. It's a nice perk! Thanks Homeright for sending me a shelter to try out!

As you can see, the stickers caused some paint to peel off from the original piece so we sanded that area down. I should have done a slightly better job but it ended up looking fine after I did a couple layers of my spray paint.

I did a couple layers of the Warm Caramel spray paint. This was after one coat.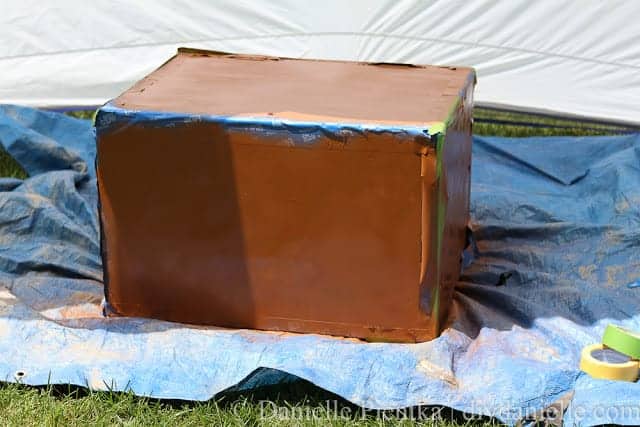 Once dried, I peeled off the painter's tape and had my husband haul it upstairs for me to my crafting room for touch ups.
I needed to do more touch up than I would have liked because my tape didn't stay on well. I made sure to clean up any black spots, leaving clean straight lines. A ruler, some black paint, and a black paint marker worked well for this.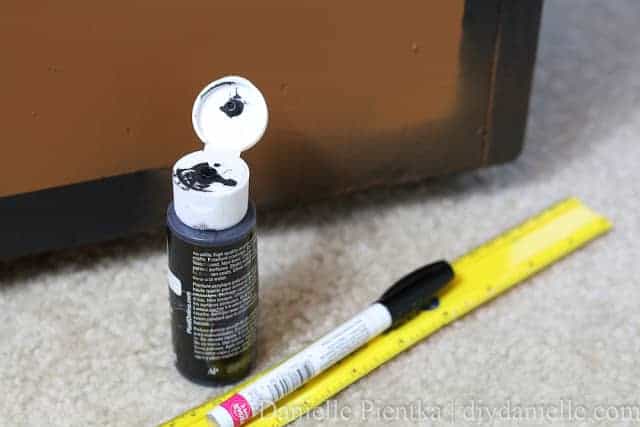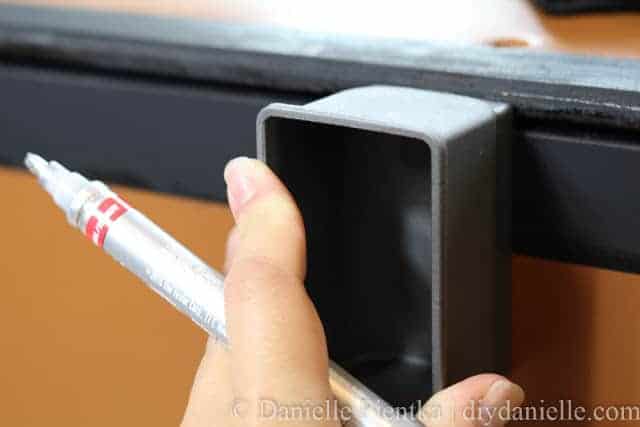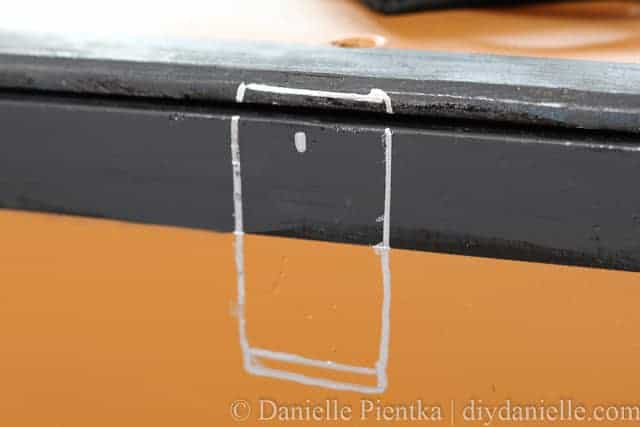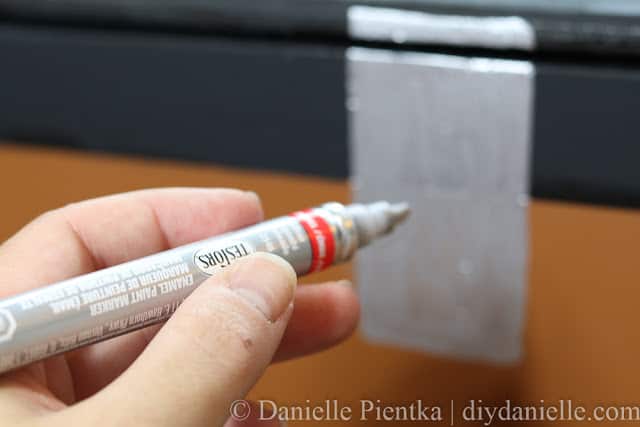 Once that was done, I wanted to add a faux silver latch like the game chests have. I think duct tape or silver paint might work. Or you can use a rectangular cut of permanent vinyl. I used a paint pen in silver. I found the midpoint of the chest and marked it, then I used a rectangle item to trace.

There's my outline.

I filled in the rectangle with my silver paint marker.

I let that dry and I was finished!
Love it? Pin it!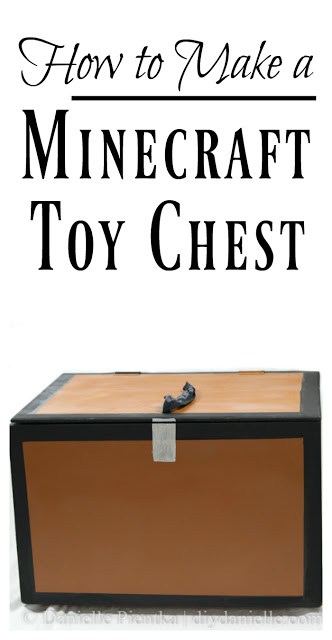 Thanks for taking the time to read this post! I really appreciate the time you've taken. Please share, like, and pin my post if you enjoyed it. Follow me on social media and subscribe to my email list to keep up to date on all of my latest projects!