How to sew a post partum wardrobe.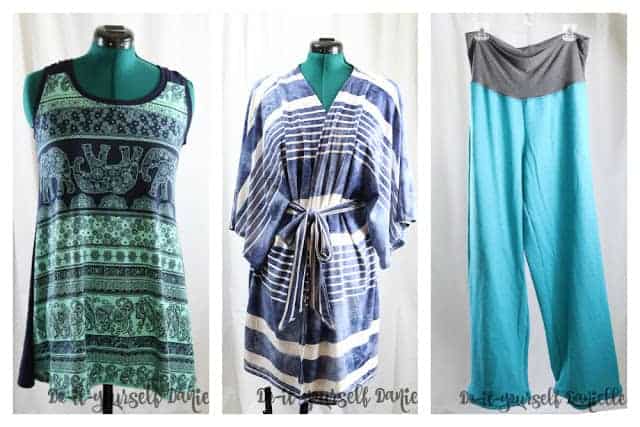 This post may contain affiliate links. Using these links helps support my blog. Thank you!
I'm pretty new to sewing clothing, but I like to challenge myself. I've been part of a few Facebook groups for online pattern companies and this month a favorite group was having a Fall Capsule sewing contest. I wanted to show you what I've sewn. I was focusing on creating clothing that would fit me post partum, seeing the baby is due on the 18th. I needed items that made sense for my post partum body and were forgiving if my sizes were a bit off.
What is a Clothing "Capsule?"
You have a short period of time to sew 9 items for your closet for that season. There are no set rules about what type of items you need to sew (you could sew all shirts or all pants, whatever), but they all need to be from that company's patterns. It gave me something to focus on during my last stretch of pregnancy which was nice and there are prizes like free fabric and patterns and gift cards!
It seems like these companies try to do them seasonally which is nice. I wanted to sew one for each of the boys too, but I just wasn't able to do ALL of that. Although I still have until tomorrow night, haha.
Supplies
Supplies listed below may include affiliate links to the products.
Sewing machine
Brother 1034D Serger: The serger creates a nice finish to all of your sewing and is great for sewing with knits
Brother 2340 CV Coverstitch: This machine finishes your hems neatly. I found one used in a sales group and it is a GAME CHANGER for working through a lot of clothing fast.
Patterns from Patterns for Pirates: Free Spirit Tank, Summer Kimono, Straight Palazzo Pants, Favorite Tee. This company offers a free Peg Leg pattern which I *highly* recommend too. I didn't have the right fabric to make pegs with my capsule, but I'll be doing some soon.
Clothing Choices for a Post Partum Fall Wardrobe
So my choices were made pretty strategically, even though ideally I would have had more variety in my patterns.
I'm hot all the time so I went with lighter weight fabrics and patterns, even though this is for the Fall.
Baby #3 is being born this coming Friday *at the latest* so I needed patterns that will fit my post partum body. As I have no idea what that will look like, I went with more forgiving patterns. I wanted to make a dress for October, but I decided to hold off until I could get some decent measurements
I LOVE the peg leg pattern and wanted to make a bunch of those with a bell bottom to them… but I realized too late that the fabric I ordered for them didn't have the necessary four way stretch. Whomp whomp. But the palazzos are pretty awesome too.
I owned a few patterns and I bought a couple more, but I didn't really want to buy tons of patterns all at once so I stuck to the ones I had. Next capsule, I'll expand. I'm not as adverse to buying new patterns as I am to printing them all, taping them together, then cutting them all out. NOT my favorite thing to do.
All of the patterns I used were from Patterns for Pirates. If you click the link to their site (an affiliate link), you'll be able to search for the patterns and I'll get a small commission… this helps me justify my fabric and pattern expenses to my husband so I appreciate it! (wink)


The company has some GREAT options. I really like the boys' boxers too. I'll probably post about those eventually, but I'm still trying to put together a stash of them.
1, 2, 3: Free Spirit Tanks
4. 5: Favorite Tee
6: Summer Kimono (I wanted something light weight and comfortable to wear at the hospital and at home post partum, seeing I'll likely be recovering for several weeks).
7, 8, 9: Straight palazzo pants.
I'm really excited I finished these. My next project may be a cover for this green dress form though because *shudder*… the color isn't very attractive next to some colors of fabric.
Which is your favorite? I'm a HUGE fan of the elephant shirt. But I think I'll adore wearing the palazzo pants. I'm trying to decide on my coming home from the hospital outfit- I *think* the palazzo pants and any of the shirts will fit post partum (they fit somewhat now except I get some serious breeze, haha).
Love it? Pin it!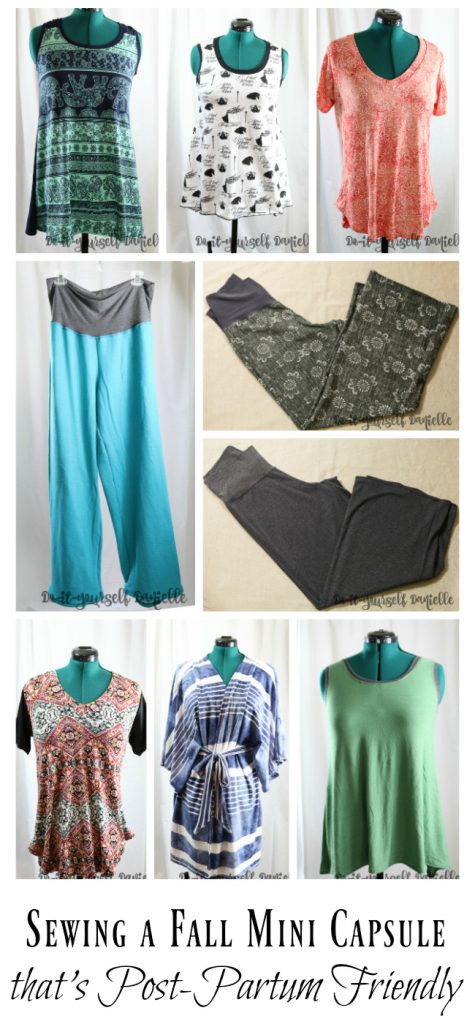 Thanks for taking the time to read this post! I really appreciate the time you've taken. Please share, like, and pin my post if you enjoyed it. Follow me on social media and subscribe to my email list to keep up to date on all of my latest projects!

Disclosure of Material Connection: Some of the links in the post above are "affiliate links." This means if you click on the link and purchase the item, I will receive an affiliate commission. Regardless, I only recommend products or services I use personally and believe will add value to my readers. I am disclosing this in accordance with the Federal Trade Commission's 16 CFR, Part 255: "Guides Concerning the Use of Endorsements and Testimonials in Advertising."