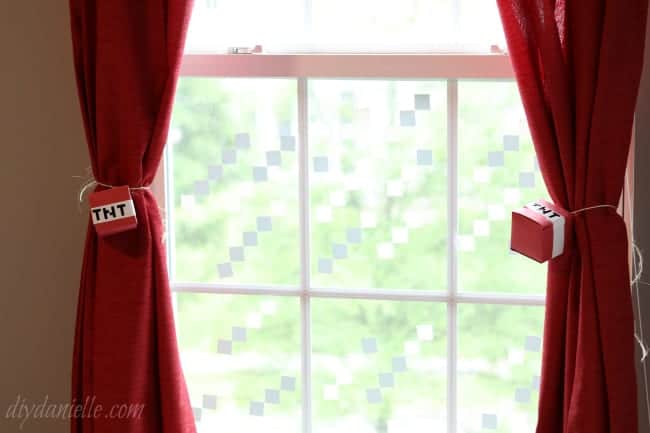 How to make simple Minecraft blocks to use as curtain tie backs in a Minecraft themed children's bedroom. These would also work well as decorations for a Minecraft themed birthday party!
This post may contain affiliate links. Using these links helps support my blog. I am part of the Cricut blogger program and am often compensated for supplies for related posts. Thank you!
When I was working on my DIY Minecraft windows and curtains, I realized that I would need some curtain tie backs. Like I mentioned in my other post, I was hoping to get away with a valence because the kids tend to pull on curtains and I hatesssss it. But they needed their room darker at night which means curtains and I needed two curtains for each rods to make them even, but then there was so much curtain and you couldn't see the beautiful windows I decorated to look like Minecraft windows! ALAS!
Tie backs. I needed some. ASAP.
Now… I made these with what I had on hand. I would actually do wood blocks if I had them. I didn't want to run to the store. I may eventually replace them with a more durable option, but these were fine for now. You could tailor this tutorial to use to make Minecraft type blocks for Minecraft themed birthday party decorations too.
Supplies Supplies listed below may include affiliate links to the products.
Thick red card stock
White tape (I used white dry erase tape)
Tape or glue
Elastic, ribbon, or twine
Black Vinyl: I used permanent, but you could opt for removable vinyl.
Curtains in Red x4 from Target
Tutorial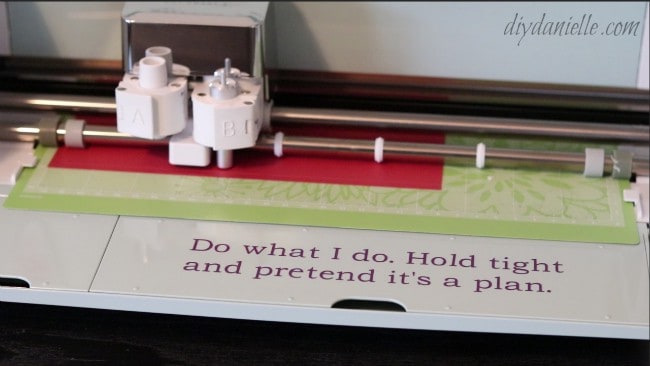 I started by finding a pattern for printable block folding templates online. I took this pattern, converted it in the Cricut software, then cut it on the cardstock setting (some look rough- I accidentally cut a few on the "paper" setting). My cardstock was 8.5″x11″ so I had to size my template down to that size.You could easily use a regular printer to make the box too.

Once printed, I weeded the excess cardboard off and folded up my template into a cube. You could use tape or glue to close it. I found glue easier.
Now I cut my white board tape in half and cut a strip long enough to go around the whole block. I applied it.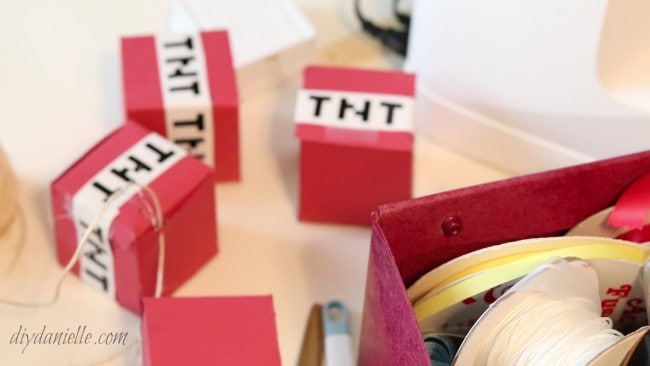 I cut and weeded my "TNT" words on my Cricut machine, then used transfer paper to transfer it to the blocks.Once that was done, I just threaded some jute thread through the blocks so I could use the thread for the tie back.

Here's a video of how I made these:
Curtains
Curtains. bleh.
I am so bad at hanging them and getting them to look beautiful. I was going to just do some type of valence, but the morning and evening sun really hits those windows and going into summer, it just wasn't feasible to not have something blocking the sun in the boys' rooms. They were going to bed wayyyyy too late and waking wayyyyyyy too early. Overtired kids are no fun!
I did a bit of research on tips for hanging curtains because I didn't want to follow up on my prior curtain mistakes.
Then I purchased two sets of 84″ long curtains in red. I hung the curtains high enough so they'd "kiss" the floor and extended the rod out as much as I could, given the space constraints on the right window.
Love it? Pin it!

Thanks for taking the time to read this post! I really appreciate the time you've taken. Please share, like, and pin my post if you enjoyed it. Follow me on social media and subscribe to my email list to keep up to date on all of my latest projects!