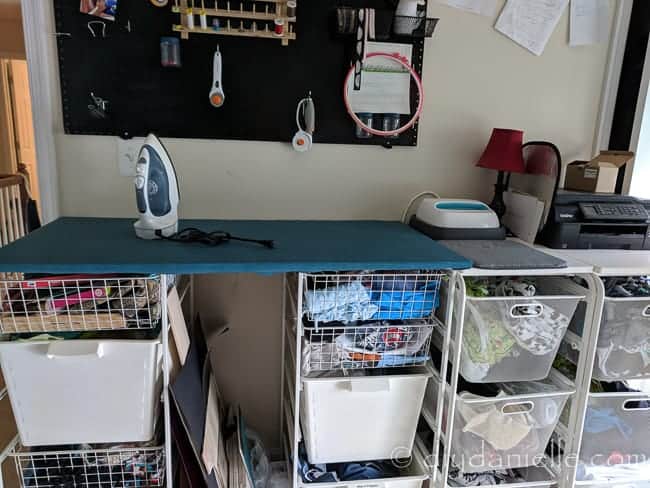 How to make an ironing station for sewing. Learn how to make an easy pressing board to iron your sewing projects.
With little children around, ironing boards are so hard to have around. They can be tipped over and fall on the kids. They like to put weight on them which can break the ironing board. And they're hard to get unfolded and folded when you're also trying to keep an eye on the littles. I decided to create a kid-safe ironing station for my sewing room so I could safely iron and sew while the kids played nearby. I wrote another post about baby proofing your sewing room so I won't get into all the details here, but my main focus was setting up a sewing area that was high enough to be out of reach for them, but comfortable for me. I also wanted to block the plug where my iron goes and run the cord behind the station- preventing the boys from pulling an iron on top of themselves.
It's not great for everything- an ironing board is still better for ironing pant legs and such. But it works great for most of my ironing and the slight inconveniences are worth the safety, particularly as I used to trip over my iron cord myself.
The best part of the ironing station is that it has fabric bins underneath it. Read more of my tips on organizing fabric here.
Supplies for an Ironing Station
This post may contain affiliate links. If you make a purchase with these links, I'll receive a small commission.
Antonius Wire Shelves
24×48″ plywood board. I think mine is 3/4″ thick
Spare fabric, bigger in both directions that the plywood board. You want it to be able to wrap around the board to the underneath so if you have a 3/4″ board then you probably want it to be 26″ x 50″ or thereabouts.
Stapler: Something like this heavy duty one would be great, but I'm guessing I used a regular stapler. It's been a while
Cotton batting, the same size as the fabric (26×50″). I used Insul-Bright which is made for stuff like hot pads. I couldn't find Insul-Bright in the size I wanted so needless to say, my Insul-Bright doesn't cover the very ends. No big deal.
How to Make an Ironing Station
I used two of the Antonius Wire Shelves from IKEA for this ironing setup. I placed them a bit aways from each other. This gives me area between them to store cutting mats, a garbage can, or whatever else I desire. I store a few wood patterns under there for items I sew a lot.
These shelves are my favorite organizer… I bought them a really long time ago so I'm not sure what the latest versions look like, but I like the plastic tubs best. The wire shelves are also nice and let things breath, but I like the nice depth of the plastic bins I have.
First you'll want to cut your board. I recommend having the store do this- you need a store that has a machine to 'rip' the plywood. 'Rip' is a bit of a confusing word- it means that they can cut in either direction. It's this big machine that is vertical. The other machine at the stores can cut thin planks and just does short cuts…. I hope that makes sense.
Once you have the board cut, sanding would probably be wise. I didn't invest a lot of time in this though because I was covering the board with fabric.
You need to cut your batting. I used Insul-Brite. It wasn't big enough to fit all the way across my 48″ but I just centered it so it would cover the main portion of the pressing board. It hasn't shifted.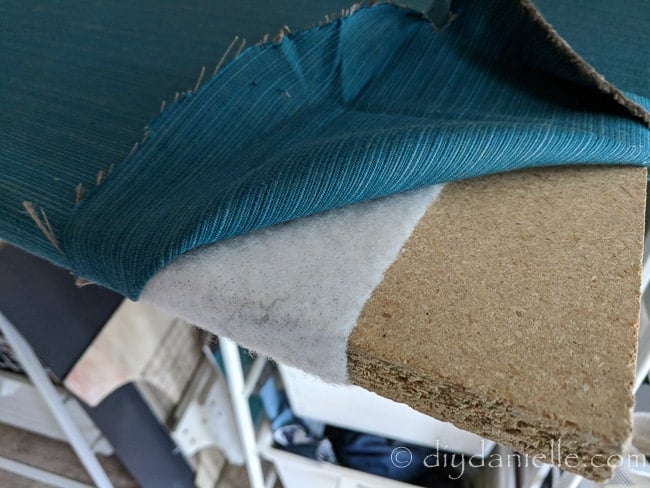 I just pulled it tight and stapled it underneath on each board.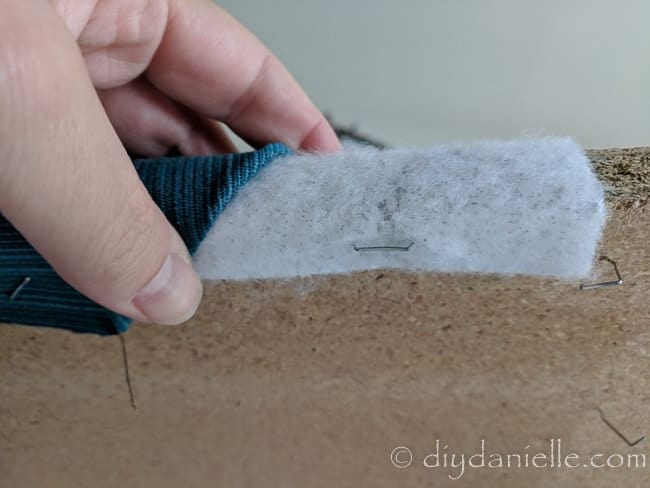 For fabric, you want to use something that isn't going to be problematic when heated. So… don't use silk to cover it. I used a cheap cut of upholstery fabric that I got from a fabric yard sale. I also chose a plain fabric because I wanted something that would be easy and appealing to photograph against.
I stapled this on, stretching it as well so it was tight.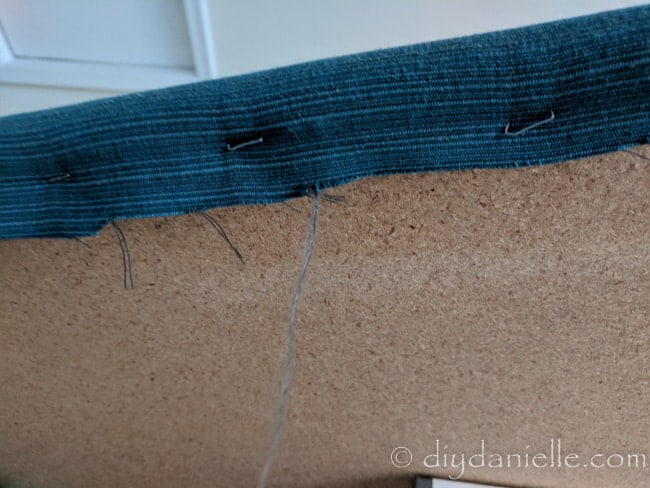 Here's a photo I took of some fabric against the pressing board. The teal really works for a backdrop in most cases. This fabric also repels water when I drip water from my iron on it which is convenient. Not sure if it's a good or bad thing.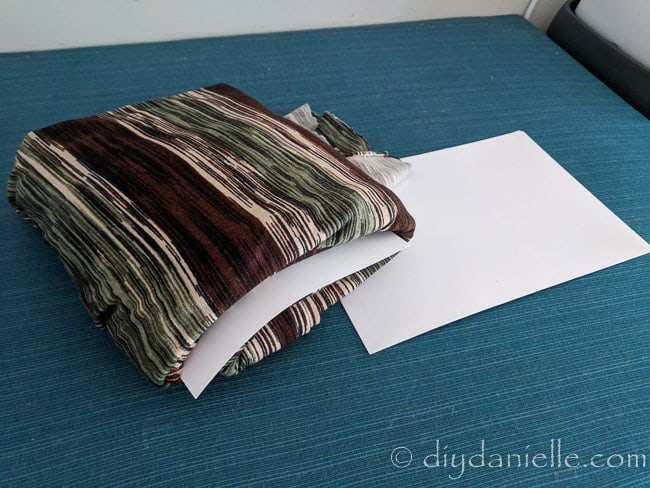 When I want to cut fabric, I can throw a cutting mat up on top of it to do my cutting too.
This has been super convenient to have in my sewing room. The one thing you might want to consider if you have children is to screw the wood into the shelves. I believe it's possible to do that. I have not, but I planned to if I ever saw there was an issue with them pulling the wood off. This has NOT been an issue. They leave things alone up there because they can't easily see what's on top of the board.
I hung a pegboard above it and added brackets so I could hang everything sharp- my rotary cutters, my good scissors, etc. It's really convenient and easy to store everything.
I also added a few more of the Antonious bins to the right recently to put my computer printer and Cricut EasyPress on. It's been a great setup for me.
Please pin this!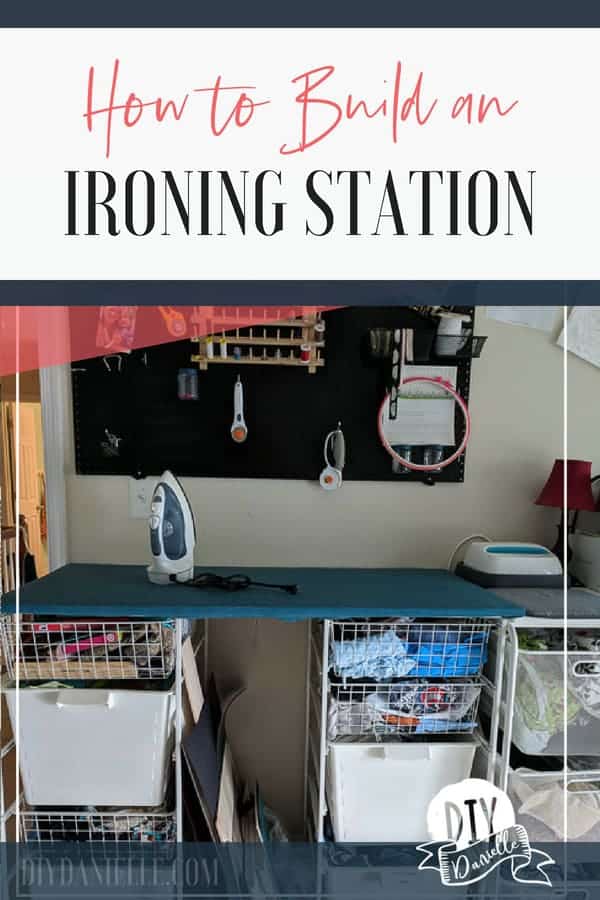 How to Make an Ironing Station