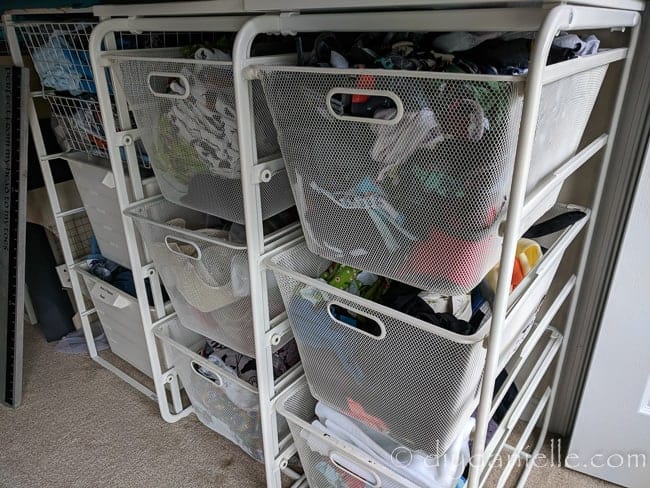 Tips for organizing fabric in your sewing room. Learn how to organize yards of fabric, fabric scraps and more so that you can find what you want quickly and easily.
Organizing fabric is one of the most difficult parts of keeping your sewing room clean, am I right? Because most of us love to buy fabric and we don't always use it right away. So we need clever ways to store it so it doesn't get damaged and so it's not in the way. There are lots of ways that people organize their stash so let's talk about some ideas. If you have a great idea that you don't see in this post, leave me a comment and maybe I'll add it to the post!
Supplies for Organizing Fabric
This post contains affiliate links. If you use the links, I may get a small commission. Thank you.
Bins, bookshelves, or something to store them in (more ideas below)
I also love small boxes for organizing hook and loop, elastic, bias tape, and other items.
Sew Organized Phone App if you want to track your fabric electronically
Organizing Fabric with Comic Book Boards
A lot of people love folding their fabric around comic book boards. I have a bunch of these and definitely use them. You can even write the information for your fabric on the top of the board that peeks out from under the fabric.
The benefit to this is that it keeps your fabric nice and tightly wrapped around the board. I find that the comic book boards don't work as well for knits, however, particularly if I had 3+ yards of the knit. When I have a lot of yardage for the fabric, I generally just fold it neatly and skip the comic book board.
If I had any rolls of fabric, I would probably mount some bars on my wall to hang them up. But I don't generally get that much fabric.
Organizing Fabric Scraps
I keep a lot of smaller scraps of fabric because they're useful for some projects such as pieces for sewing underwear and boxers. I also sometimes braid long scraps together to make baskets. Any really small pieces get tossed in a bin. I try to keep the knit pieces together.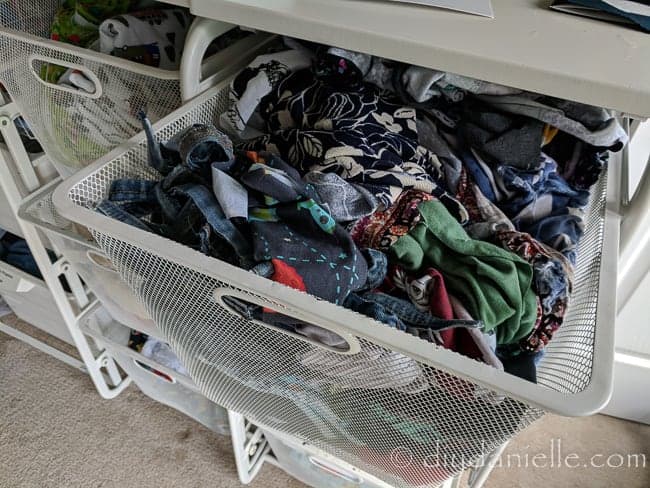 As I don't quilt, woven fabrics generally get tossed in another bin to donate to someone who quilts or does applique.
This is the paper bag that I keep under my sewing table. I use this for small scraps of fabric. Preschools and elementary schools love scraps for class projects so I usually donate them to one of the kids' schools.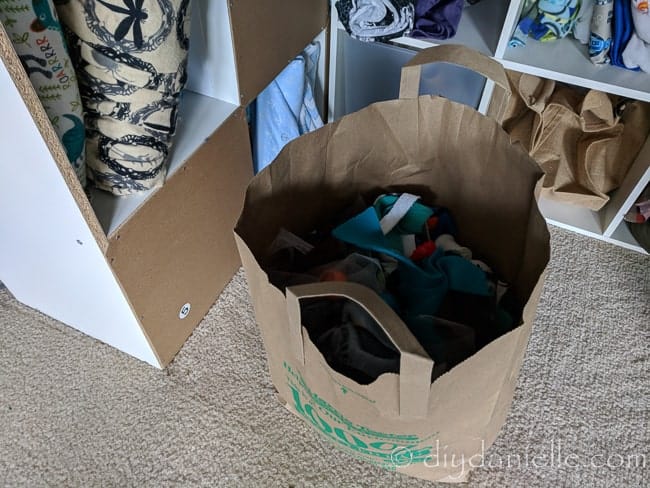 Furniture for Organizing Fabric
There are a lot of different ways that people organize their fabric. Some people prefer their fabric on open shelves where they can enjoy seeing the fabric. Others prefer to protect their fabric from dust with a closed cabinet, bins, or bookshelves with doors.
Filing cabinet: Some people file their fabric in a filing cabinet.
Clear storage bins
Open bookshelves
Bookshelves with doors
Some favorite furniture storage items I've seen include the IKEA Billy Bookshelves with glass doors (they actually have a few bookshelves with glass doors to choose from) and the square block sized shelves that you can get from IKEA or other big stores. I have three of these square bookshelves that I put my backdrop on top of… I use them for photographing finished items and cutting fabric.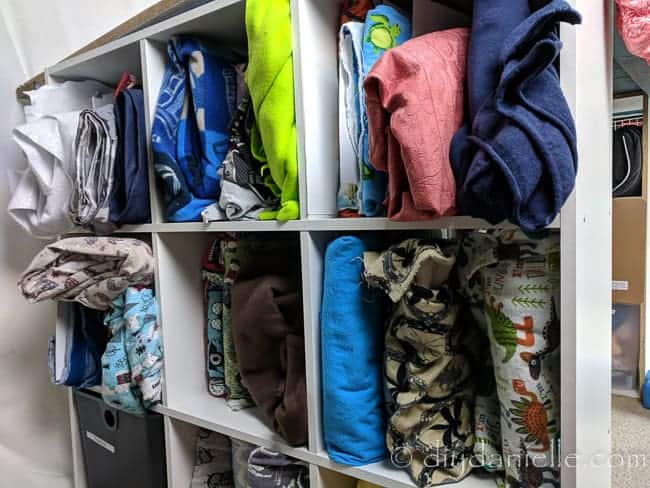 Personally, I own the Antonius wire shelves with the wire or plastic bins you can slide in. I put two a distance away from each other, put a piece of plywood over them, then covered the plywood so it can function as an ironing station. It's a really good height- tall enough that I can iron comfortably and tall enough that my kids can't reach up there easily. I talk a little about how I baby proofed that area too in my baby proofing your sewing room post.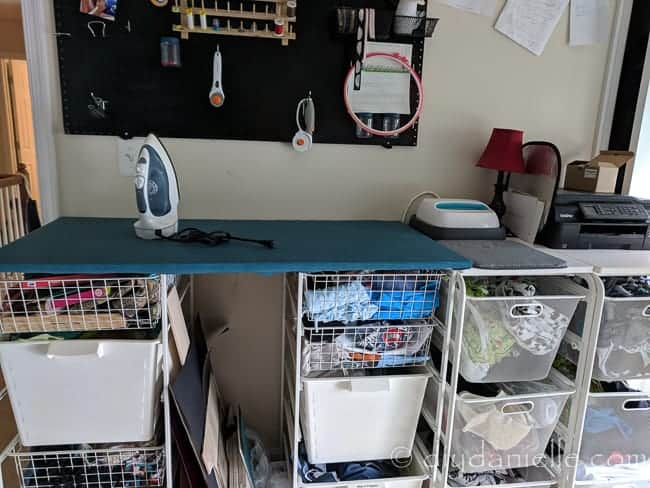 Tracking Fabric Electronically
One of my most recent projects has been working with my husband to develop a sewing organization app. It's about more than just fabric organization, of course, but I really wanted a good resource for keeping track of what I have for fabric. I tend to forget. I bought 15 yards or something nuts of the same Christmas Doodles fabric last holiday season because I forgot I'd already ordered that print. All I know is that I have a ton left and zero ideas for it, haha. Maybe I'll make some Christmas grow with me pants to sell in October-December.
Honestly, I had a lot of cool ideas for the app, but my husband made it absolutely outstanding because he's a programmer and he knew we could do even cooler things than I'd thought up… we've really enjoyed having a project to work on together.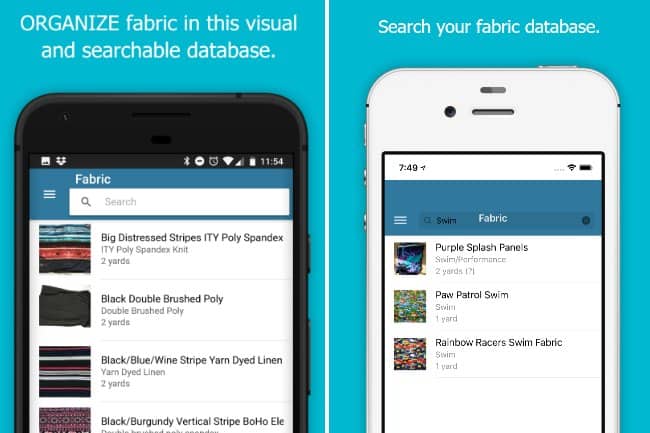 In the fabric organization section, you can add:
A photo of the fabric
Name for the fabric
A link to where you purchased it
How many yards of it you have
What you intended the fabric for (I always forget!)
How much you paid for it
The type of fabric it is
Wash instructions for the fabric
And a whole lot more.
It's a bit of work to organize it all electronically, but I focused on doing my apparel fabrics because those were the ones I was struggling with the most. I can easily identify flannel and remember the wash instructions, but I have many different types of apparel fabric and it's hard to remember what is what. My husband made the database of fabric searchable so I can say, "Oh gosh I need double brushed poly for this project, let me search and see if I have enough." I use the search, it pulls up all my double brushed poly, then I can identify if I have 2 yards of any of it to make a shirt.
Or I can search for my Christmas Doodles fabric and make sure I didn't already order 10 yards before I impulse buy another 9 yards at the store.
Prewashing Fabric Before Storing
My personal preference is to prewash all of my fabric before they get placed on a shelf. That way, I'm always ready to make something and I don't need to wonder what has been prewashed and what hasn't. You could, however, just write down what has and has not been prewashed.
New to sewing? Get these tips and tricks from top sewing bloggers!
Please pin this!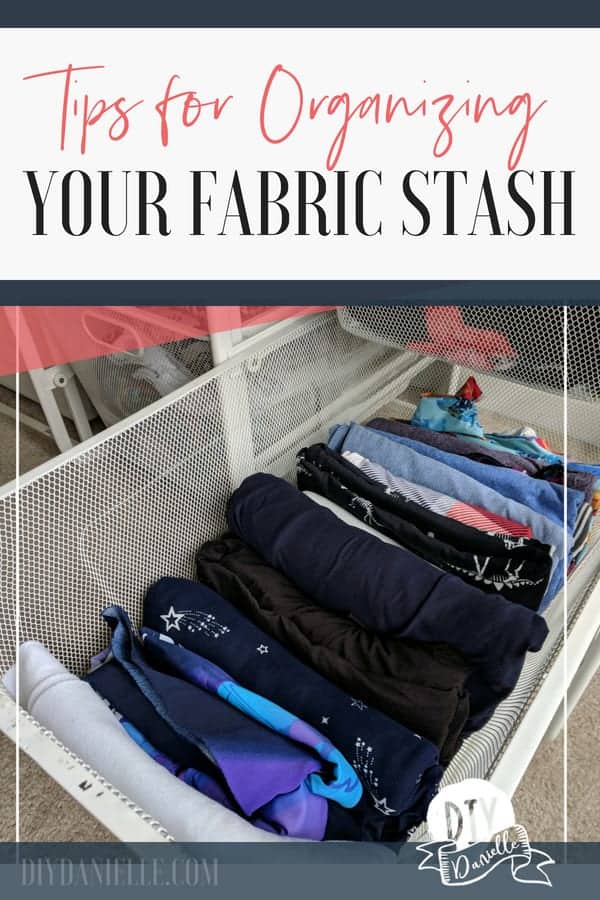 Tips for Organizing Fabric