Looking for organization? Inspiration? This sewing phone app allows you to organize and get inspiration that will make your sewing projects better, faster, and more fun. Get Sew Organized, the app that works for both iOS and Android devices.
Stop struggling with notepads and scrawled sticky notes. Track all of your projects in this one app. Keep track of everything from fabric care instructions to your cost for a particular sewing project on this easy to use sewing phone app, Sew Organized. Or check out some of these other sewing apps available for iOS or Android devices.
Sewing Phone Apps
There are many sewing phone apps available. We run the Sew Organized phone app, but I want to give you a list of current sewing apps available for iOS and Android devices too (current as of Jan 1, 2019). This is not a complete list, but a list of some of the top apps on those app stores. As you can see, Sew Organized is one of the few apps available for both devices. We designed the app to be compatible with both types of devices and because the photos and information is stored on "the cloud," you're able to access that information from any iOS or Android device. In other words, you can enter the information on your Android phone, but then switch to your iPad if you want to charge your phone in the other room or see the information on a larger screen.
Sewing Apps for Android
Sew Organized

How to Sew: Free Guide
Sewing and Patterns
Sew Awesome: Sewing Tracker
Singer Sewing Assistant
Sewing Classes
How to Cut and Sew
Sewing Pattern Buddy
Sewing Classes: Sewing for Beginners
How to Use a Sewing Machine
Sewing Machine
Sewing Patterns
Sewing Patterns and Tips
Clothes Sewing Pattern
Craftsy
Sewing Machine Doctor
Sewing Apps for iOS
Sew Organized

Creativebug
Singer Sewing Assistant
Dress Measurement
Sewing Patterns Lite / Sewing Patterns
How to Sew: Sewing Patterns
Simply Sewing Magazine (magazine)
All About Fabrics
Couture Sewing Handbook
Sewing and Patterns
Cora: Sew Your Fabric Stash
Love Sewing (magazine)
Sew Buddy
Sew Now (magazine)
Sew Your Own Blue Jean Bag
Seams So Lo
Sew News (magazine)
Craftsy
iSewMe
How to Sew: DIY Sewing Tutorials

Sew Organized is available FREE on the Android Play Store and the Apple App Store.
The Sew Organized Phone App
The Sew Organized phone app helps users organize their fabric, their projects, and their measurements, as well as to see inspiration ideas for future projects.
Organize Fabric
This app allows you to keep track of your fabric. Take a photo of each fabric and enter the fabric content, yardage, wash instructions, and more. This easy to search database will allow you to find the fabric you need in your stash quickly.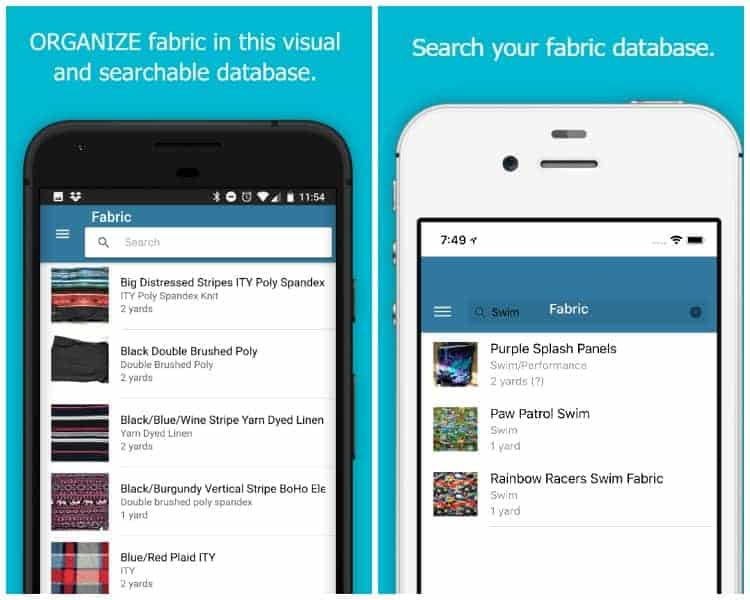 Here's a video of the fabric organization feature in the app.
Organize Projects
The project planning aspect of the sewing app helps sewists manage all of their works in progress. Make notes about projects, keep a list of the supplies you need for the projects, manage measurements, photos, and links to inspiration posts for those projects. No more open tabs on your browsers with 20 different sewing projects.
The best part is that you can set deadlines for your project and setup reminders so you don't fall behind. No more unfinished projects laying around!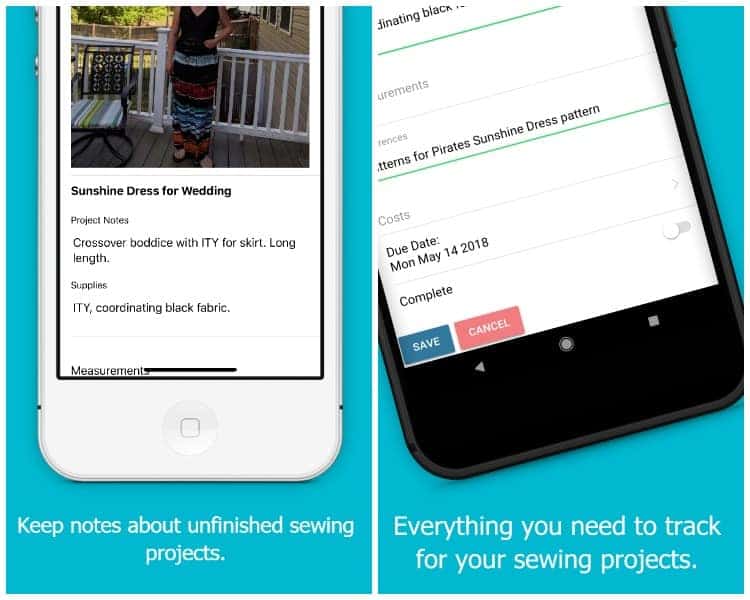 Here's how the project planning feature works:
Track Measurements and Keep a Shopping List
Keep track of everyone's measurements in the measurements tab of the app. This will allow you to record each person's height, chest, hips, waist, inseam, and other measurements in one easy place. You can also record when you last measured the person which is useful if you sew for children.
The shopping list feature is a quick place to track what you need to order for your sewing projects. Often it's cheaper and easier to just make one trip to the store (or one big purchase online) so it's nice to keep a list of items you're running out of. Make sure you aren't making last minute trips to the store for white thread.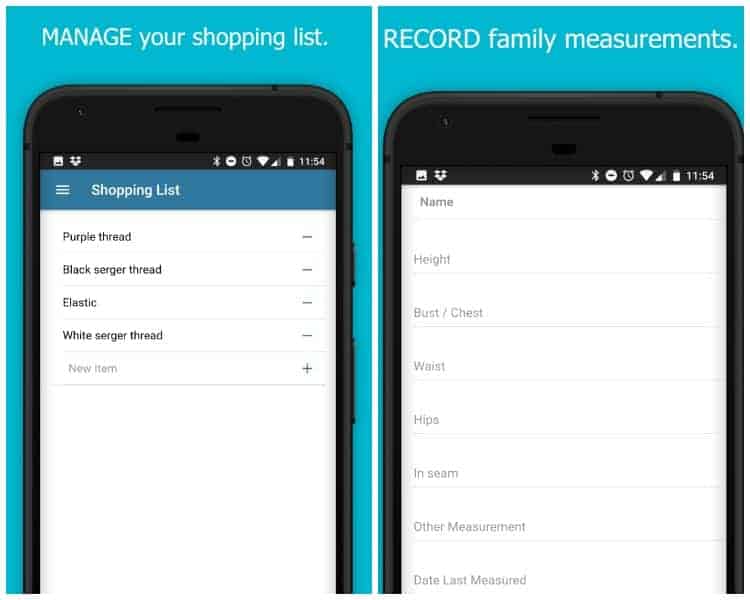 Offer Inspiration Posts
The inspirations part of this app offers sewing tutorials, fun fabrics for sale, and new patterns to try out. Find the posts and products that inspire you and add them to your favorites list. Want to make one of them your next project? Click 'make it' and you'll start a new project in the projects section of the app.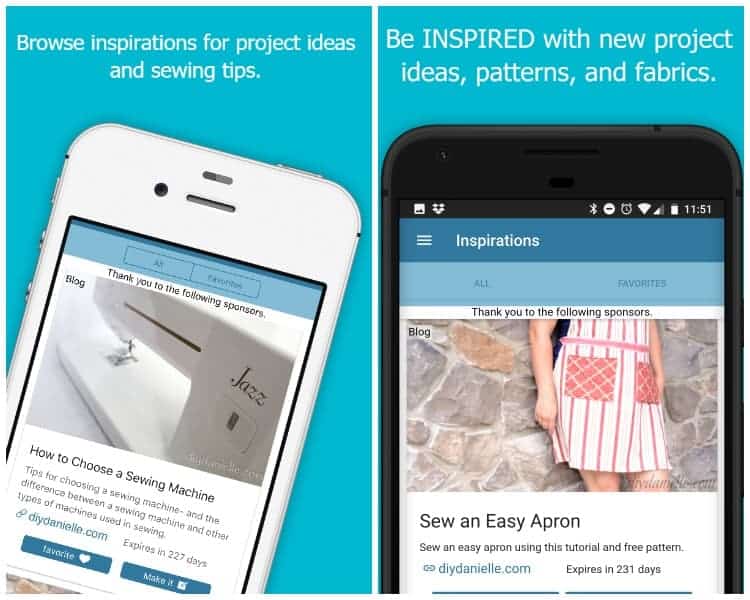 How Much Does Sew Organized App Cost?
The app is free with the option to upgrade the app if you need additional cloud storage space.
The subscription plan is $1/month. That price gets rid of the ad banner and allows you up to 1 gb of space. This allows you to store approximately 10,000 images on your plan. Learn more about the subscription plan here.
What Devices Does Sew Organized Run On?
This sewing app is available on iPhone and Android devices. Information stored in your app is linked to your account- not your phone- so you can use your account on different devices without losing your information. In other words, you can view your app information on your Android phone, as well as your iPad.
Eventually, we would like to make the app available on your computer so you can easily access your information in a web browser as well.
Features Coming Soon to Sew Organized!
We've been hearing your feedback! We have a couple of new features in the works, including adding a section so you can track your patterns.
Download the Sew Organized App
The Sew Organized app is currently available on both the Google Play Store and the Apple App Store.

Download it on the Android Play Store | Apple App Store
Legal
Advertising Opportunities with the Sew Organized App
We're looking for sewing bloggers, and fabric or pattern companies to partner with on advertising opportunities for the Sew Organized Phone App. We're looking to provide targeted, helpful advertising on the app that will be unobtrusive and tailored (no pun intended) to products loved by amateur and experienced sewists.
For more information, email dan[email protected]. Ready to buy an ad now? You can purchase one month's worth of advertising, or purchase one year at a discount.