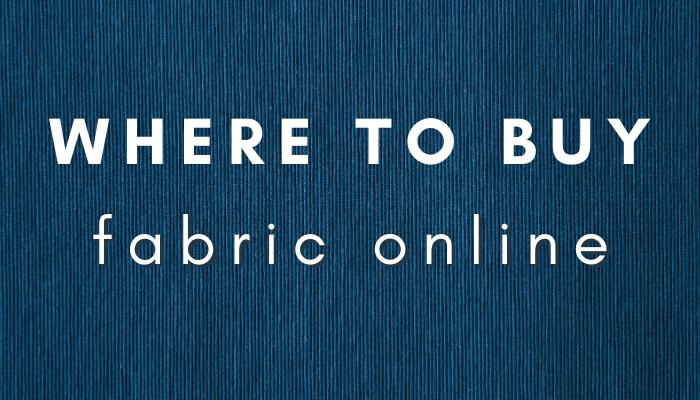 Wondering where to get fabric when stores are closed? Are you an introvert and homebody? Here are some options that might have EXACTLY what you need!
This post may contain affiliate links which may earn me commissions should you click through them and take certain actions. As an affiliate for Amazon, Cricut, xTool, Home Depot, and other sites, I earn from qualifying purchases. Please DIY carefully. View my full legal disclosures here.
Please read the whole post so you don't miss any important information!
I am the queen of social distancing. I've been doing it before it was cool, simply because I don't find long shopping trips to the craft store with three kids relaxing. While I enjoy feeling fabric, I love shopping online so I can get EXACTLY what I want without spending a ton of time trying to work my way through 100s of fabric bins.
Here are some of my favorite places for purchasing fabric online. With COVID-19 and the closure of many stores across the USA, you'll find the shipping speeds slower than normal on many of the big box stores. I'm not sure how smaller businesses are doing, but I imagine it might be easier to order from them right now.
While I love going to the store, I've found that Joann's is touch and go for online orders. Often you'll get an email telling you something got cancelled because as they take tons of online orders, inventory disappears for some of the best fabric designs.
Right now? It's a disaster. And I get it. I don't BLAME them, but they are primarily an "in person" type of business… not an online business. But you can't rely on getting your fabric from them right now.
I placed an order on April 4th for 8 different cuts of fabric. On April 9th, I received an email saying only 3 of those fabrics had shipped. I have received other emails between those dates telling me one fabric or another was no longer available.
So it's worth giving it a try, but just be prepared for some disappointment if you're ordering during the mask making frenzy of April 2020.
I anticipate that online-only retailers may have better control of their inventory. I'd guess they might be easier to order from and actually expect you'll get the products.
With this store, in particular, it might not be as well known.
They sell some clear vinyl that might be good for face protection, for greenhouses, and replacing broken windows. I order some to try to make a new indoor guinea pig cage.
Here's another online retailer that's a possible option. I just put in an order through them as well. Order went through April 11, estimated delivery is May 12.
I ordered some cotton for making more masks and some hospital gowns.
YES! Don't forget Walmart. Their selection of fabric tends to be much more slim than other fabric retailers, but it might be worth doing some browsing online.
You might not consider Etsy as an option, but people sometimes destash their fabric collections on there. You can buy fabric by the yard on there or look for fat quarters.
Small Online Fabric Stores
I have a few small online fabric stores that I love ordering from. The main company I order from is So Sew English. They make FANTASTIC apparel fabric that is affordable.
Small Facebook Co-Op Groups
There are many small groups on Facebook who run co-op orders for special fabric that they have drawn up. Generally this is apparel fabric or PUL (polyurethane laminate) because it is SO difficult to find cute prints for those types of fabrics.
These groups will run a particular theme of fabric, offer them for pre-order at a lower price, then you get your fabric a couple of months after the orders close. This time gap is because they send the printer their order and the printer PRINTS THE FABRIC in that time. The printer then sends the fabric to the co-op leader who cuts it all and sends it out. Any excess fabric is sold for "retail" at slightly higher prices. Generally these apparel fabrics run $15-20/yard for pre-order and $25-30+ per yard retail. They're gorgeous though.
If you're looking for quilting cotton, you may or may not find it in their options.
A few of my favorites include Wanderlust Fabric and Rockerbyedestash.
There are probably some good groups on Facebook for destashing your fabric too. People going through their fabric stash and trying to reduce how much they have- or trying to earn a few dollars to pay their bills that month.
Ebay.com is an option and you CAN find fabric by the yard on their site. This is probably a great place to look for specific fabrics (say, if you're looking for Paw Patrol fabric and can't find it anywhere). It's also a potential place to find prints that are no longer available.
Final Thoughts
Just don't forget that fabric isn't always a print sold by the yard. You can often find sheets for sale, XXL shirts, and other items that can be used for sewing. A 100% cotton king sheet set can make a LOT of masks if that's what you're doing right now.
It's also a creative way to find a print for an outfit or other project that you can't find at the fabric stores.
Getting your fabric order soon? Read up on how to prewash fabric. Don't forget to check out our phone app, Sew Organized, and keep track of your fabric. It's a great way to track wash instructions for each fabric and where you purchased it (in case you need to order more yardage!)
Wondering what type of fabric to buy? Here are some of my guides to various types of fabrics available!
• EcoFriendly Fabrics
• What is Wool Fabric?
• What is Linen Fabric?
• What is Silk Fabric?
• What is Cotton Fabric?
• What is Hemp Fabric?
• What is PUL Fabric?
• What is Polyester Fabric?
• What is Tencel Fabric?
• What is Minky Fabric?
Please share and pin this post! If you make this project, share it in our Stuff Mama Makes Facebook Group. We have regular giveaways for gift cards to craft stores. You can also tag me on Instagram @doityourselfdanielle; I love seeing everything you make!