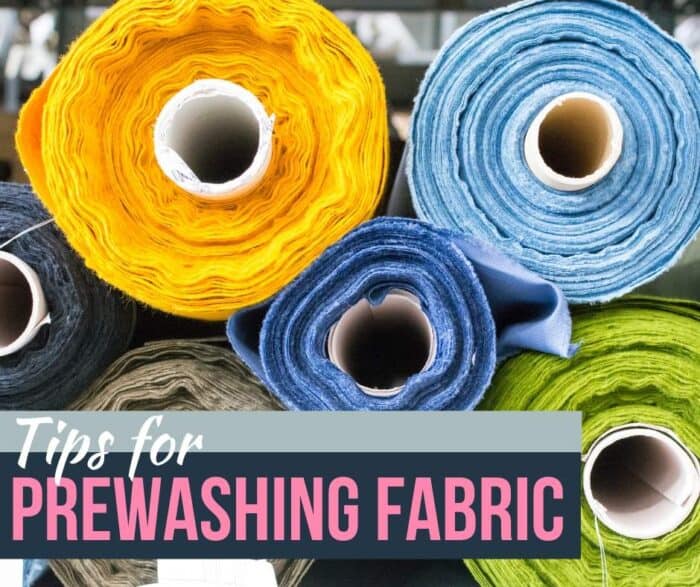 Everything you need to know about prewashing fabric. This is an important step to take before you sew to prepare your material.
This post may contain affiliate links which may earn me commissions should you click through them and take certain actions. As an affiliate for Amazon, Cricut, xTool, Home Depot, and other sites, I earn from qualifying purchases. Please DIY carefully. View my full legal disclosures here.
Please read the whole post so you don't miss any important information!
There's debate in the sewing community about whether or not fabrics need to be prewashed, and a lot of this comes down to personal preference (and, let's be honest, patience).
But there are some important things to consider when you are deciding whether to prewash your fabric. We'll walk you through the reasons for prewashing and how to get the best results.
Why do I need to prewash my fabric?
There are three main reasons to prewash your fabric:
To preshrink the fabric
To lower the risk of having the colors bleed on your finished product.
To remove any dirt or chemicals that might be on the fabric.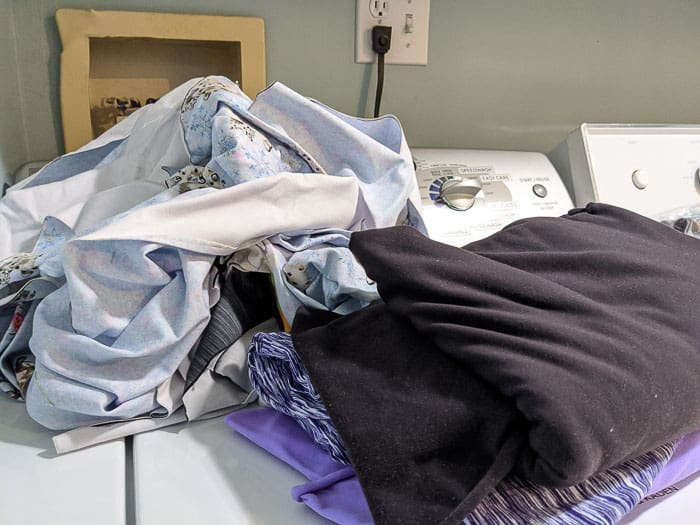 Let's review each of these reasons separately.
Preshrinking Fabric
Many natural fibers shrink in the wash, especially if you wash with warm/hot water or dry with heat. Natural fibers include cotton, wool, and rayon. This fabric is probably going to shrink at some point (depending on how you wash it); you want it to shrink before you cut it.
If you don't prewash, you run the risk of constructing a whole garment, washing it, and having it be too small to wear.
Preshrinking may be less important for craft projects if the finished size is not crucial. This is particularly true if the product will never be washed.
My mom handed me this table runner and asked me if I could fix it.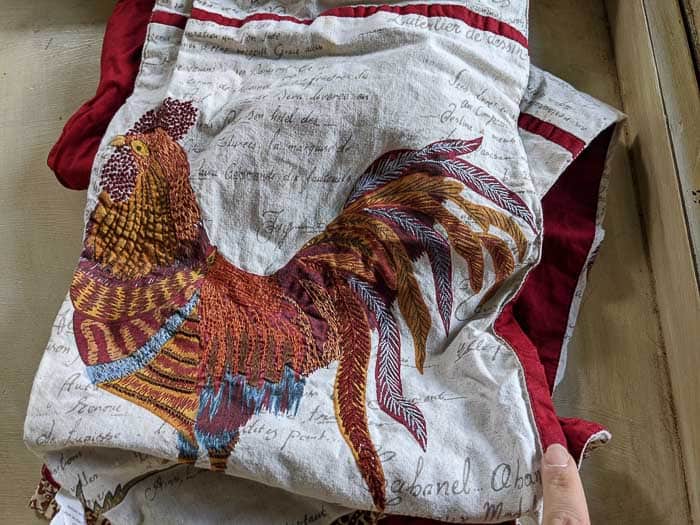 The instructions state "spot clean only" and it appears that the fabric shrunk; my mom ignored the washing instructions. It was a $35 table runner that could have lasted longer; this is what you get when you don't prewash (or wash) properly.
She says, "YOUR table runner didn't do this!" Well mom, I'm not fancy so I like to wash my table runners. I wash my fabric accordingly. Spot cleaning a table runner… pffft.
This is why homemade is just better.
I may be able to fix this for her by seam ripping, washing, then sewing it together; unfortunately, the embroidery is really close to the edge so I'm not sure I can save it.
Color Bleeding
Many times, you need to wash fabric in order to remove the extra dye. Once you've removed the extra dye, the fabric is more colorfast. Prewashing your fabric helps to reduce the risk of colors bleeding together after your garment or project is constructed. This is especially important for projects that incorporate both dark and light colors.
Removing Dirt and Chemicals
Synthetic fibers like polyester and nylon don't shrink and tend to be colorfast. These fibers hold onto dye better, so you get less bleeding when you wash it.
So does that mean you don't need to prewash synthetic fibers?
Ultimately, this is your decision, but it's probably still a good idea to prewash; you never know what kind of dirt and chemicals have gotten onto the fabric during manufacturing, storage, or shipping. Some fabrics also feel slightly different after being washed (e.g., softer), so you may want to prewash to get a better idea of how your finished product will feel.
Okay, you've convinced me I need to prewash! Now what?
How to Prewash Fabric
The specifics of how to prewash your fabric will depend on the fiber content, but a good general rule of thumb is to prewash the fabric in the same way you'll wash the finished product.
If you are sewing a dress and intend to wash it in cold and dry on low heat, then do that for your prewash.
If you intend to dry clean the blazer you're sewing, take your fabric to the dry cleaners and have it dry cleaned before you sew it.
Generally speaking, washing in cold water and drying on low heat reduces color bleeding and shrinking. If you want to be extra cautious about shrinking, hang your fabric to dry, but you'll need to do that with your finished product as well.
Flannel and knits (especially knits made of natural fibers) tend to shrink more, so if you've bought enough extra fabric, you can wash in warm water and dry on medium. This prevents additional shrinking after you've sewn it (switch to cold water and low heat for finished products).
Fabrics like silk and wool can be dry cleaned, or you can handwash them and hang to dry. Just make sure to squeeze the water out instead of wringing it.
When you purchase fabric, the end of the bolt will list the washing instructions for that fabric. This is really important. If you use the app, Sew Organized, you can add that information to your fabric database (or just add it to the "wash instructions" section).
Should I use soap?
Opinions on this differ, but if part of your reason for prewashing is to remove dirt and chemicals, then you'll want to use soap.
Again, use the same soap you'll use on the finished products. For most fabric, this can be regular laundry detergent.
For more delicate fabrics like silk and wool, use a gentle soap meant for handwashing or baby shampoo.
What about fabric for quilting and appliques?
Quilting cotton is the same as other fabric in that it shrinks and colors may bleed, but there are some cons to prewashing quilt fabric.
Quilting cotton that hasn't been washed is easier to cut and piece because it's smooth, flat, and crisp. Prewashed quilting cotton is softer, so cuts aren't going to be quite as exact.
Keep in mind that if you do plan to wash your quilt after it's constructed, you'll get a bit of softer, puckered look instead of one that's very flat and crisp. This is a matter of personal preference, though.
The same goes for appliques as you may want to prewash for reasons of shrinkage and color fastness; you may want to skip it so that you have very crisp, clean edges.
How do I stop fabric from unraveling or fraying in the wash?
Woven fabrics and some looser sweater knits have a tendency to fray or unravel in the wash. This creates a mess of tangled threads and reduces the amount of usable fabric you have.
For woven fabrics, you can pink the edges of the fabric using pinking shears or a pinking blade for your rotary cutter, or you can serge the edges.
Another option is to sew a zig zag stitch close to the edge on your regular sewing machine. You can do the same with loose sweater knits, though serging is probably your best bet to stop the knit stitches from coming undone.
I forgot to prewash my fabric! What do I do?
Don't panic! This likely means you're just going to have to wash your finished product more carefully, especially if it's a natural fiber like cotton, linen, rayon, or wool.
This means you will need to wash your product in cold water, and you may want to consider hand washing.
You can use a Shout Color Catcher in the washing machine to help prevent the colors from bleeding. You will also probably want to air dry, either hang to dry, or dry flat.
Personally, I always prewash my fabric (except when I forget) and I try to do it the minute it comes in the house. The rare exception is fabric that I plan to use for a decor project, such as this candy cane wreath which will NEVER be washed.
What do you do?
Please share and pin this post! If you make this project, share it in our Stuff Mama Makes Facebook Group. We have regular giveaways for gift cards to craft stores. You can also tag me on Instagram @doityourselfdanielle; I love seeing everything you make!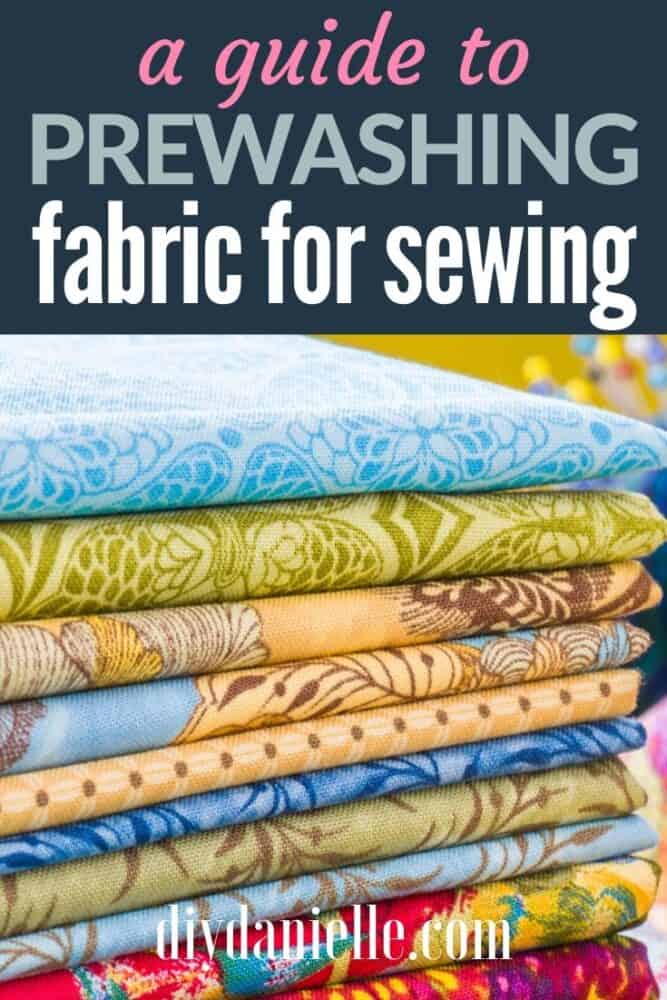 This post was written for DIYDanielle by Becky McGill-Wilkinson.
Google Web Story: Prewashing Fabric Before You Sew