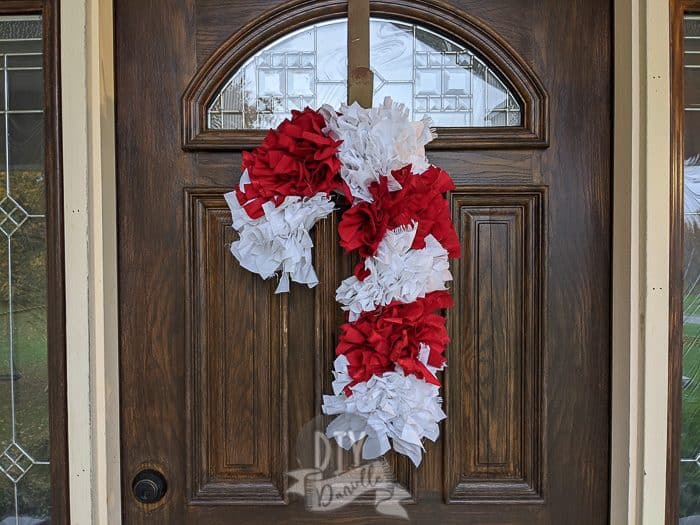 How to make a quick Candy Cane wreath for your front door. This Christmas decoration is EASY to make and your kids can help!
This post may contain affiliate links which may earn me commissions should you click through them and take certain actions. As an affiliate for Amazon, Cricut, xTool, Home Depot, and other sites, I earn from qualifying purchases. Please DIY carefully. View my full legal disclosures here.
Please read the whole post so you don't miss any important information!
Wreaths aren't really my thing. My mom makes glorious wreaths. I make door signs. I sew things. I don't play with floral arrangements. I like to leave that to the professionals.
But when I saw this wire candy cane wreath frame at The Dollar Tree, I decided to give it a try for this week's Deck the Home Challenge. This week's theme is "Door Decor."
And BOY was this an easy project! Totally worth it.
The best part is that my 5 year old picked up some of the pieces and helped me tie them on. It was nice doing a craft with him, and he got some practice on tying "knots."
Supplies for a Fabric Wreath
Candy Cane Shaped wire wreath form (found mine at Dollar Tree, highly recommend that route)
Cotton Fabric: Red and White… I bought about 4 yards of each, but probably used around 2 yards with plenty leftover.
Learn all about rotary cutters and how to use them!
Quick note on the fabric. I found THE CHEAPEST red and white cotton fabric that I could pull off the shelf at the store. I think the red was on sale for under $5/yard and the white was $1.99/yard or something crazy. I usually don't work with inexpensive fabric because you get what you pay for- it frays, it looks bad after washing, etc. but this project has a lot of forgiveness for bad fabric. You don't need to wash it. It'll be under cover and away from the elements at my house. I did not prewash it. I didn't even cut off the selvage or the fraying ends because I wanted it to be super scruffy looking.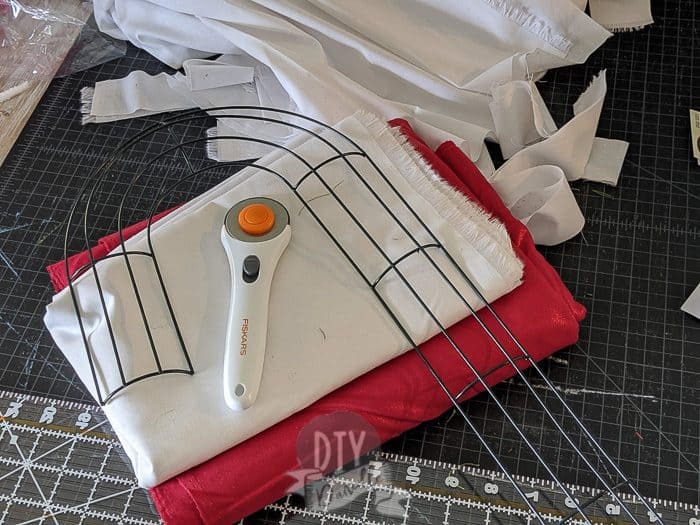 Again. This project is super forgiving. I love fabric wreaths.
DIY Fabric Candy Cane Wreath
You'll start by cutting your fabric. The best way to do this is by using a quilting ruler, cutting mat, and rotary cutter to zip down the fabric. Don't cut off any body parts… make sure your fingers are out of the way of the rotary cutter!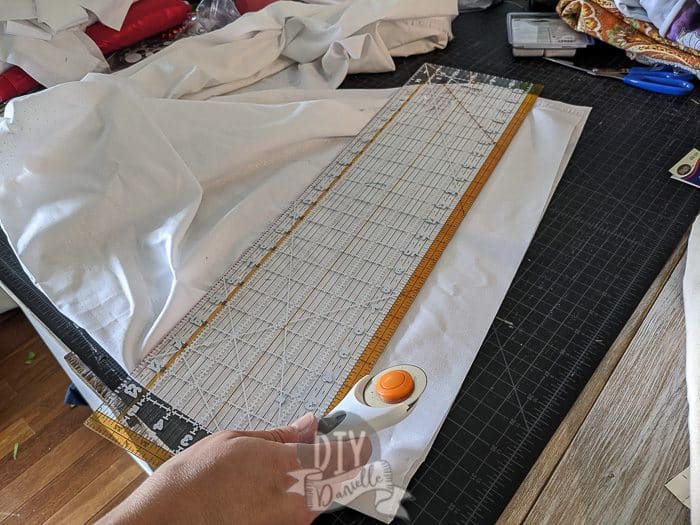 I folded over the fabric once and cut 2″ strips. They can be approximate. They don't have to be perfect. Once I cut a bunch of strips, I unfolded them all, then cut the length every 7″.
Essentially I cut a bunch of white fabric 2″x 7″ and a bunch of red fabric the same size.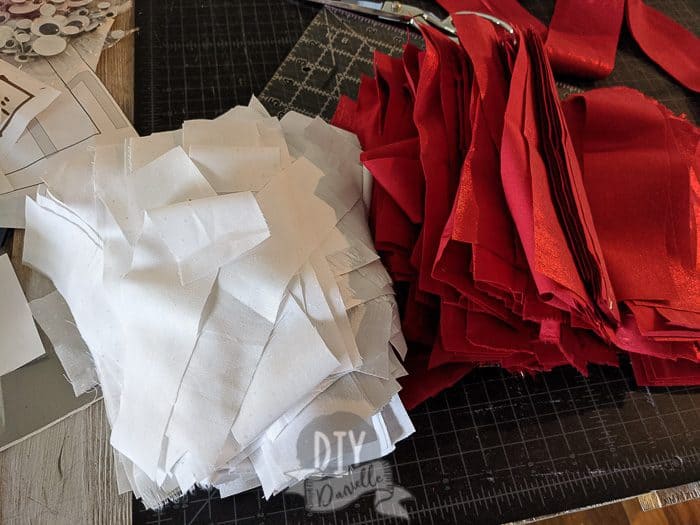 Separate the white and red strips into piles.
Get your wreath form out.
The wreath form is segmented. Each segment should alternate colors. Start with white.
Tie your strips on. You only need to tie it once. The ends will stick up. It's going to look realllllly bare at first, but you just keep adding more strips.
This is a picture of the back of the wreath. You can see all the single knot/ties.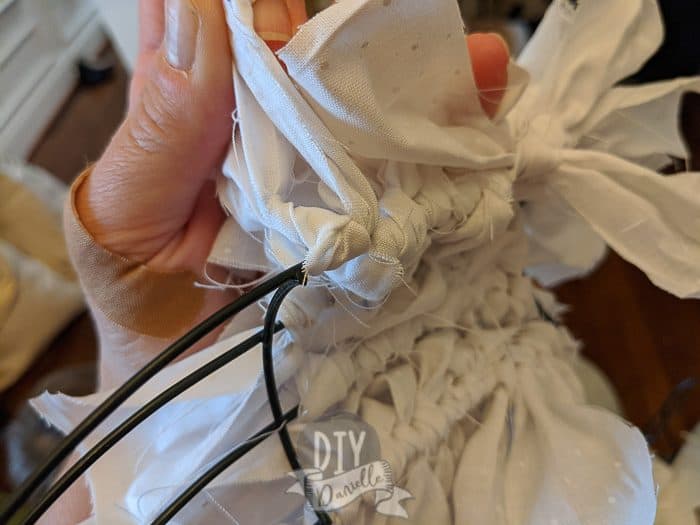 You want to make sure you really maximize each row and fill it up. Keep sliding them to the end until you don't have any more space in that segment. Then move onto the next section.
You can use less if you want your wreath to be a bit less full, but I love the full look and don't like any part of the metal frame showing.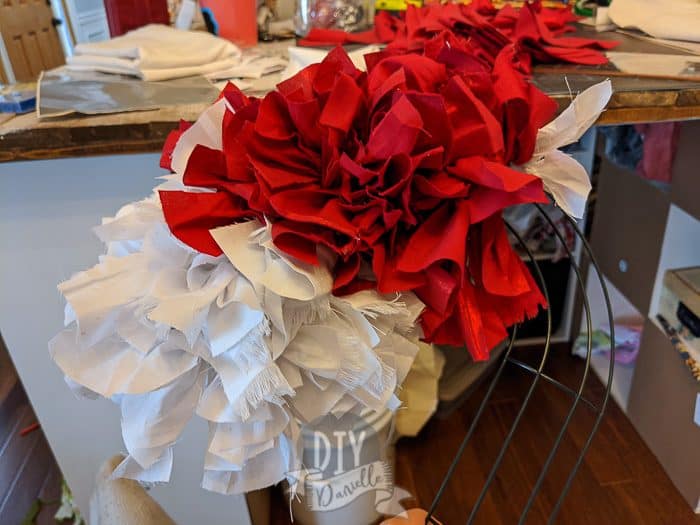 You can use a longer strip of fabric tied to the back as a loop to hang the wreath from.
Here's a YouTube video of the process:
Please share and pin this post! If you make this project, share it in our Stuff Mama Makes Facebook Group. We have regular giveaways for gift cards to craft stores. You can also tag me on Instagram @doityourselfdanielle; I love seeing everything you make!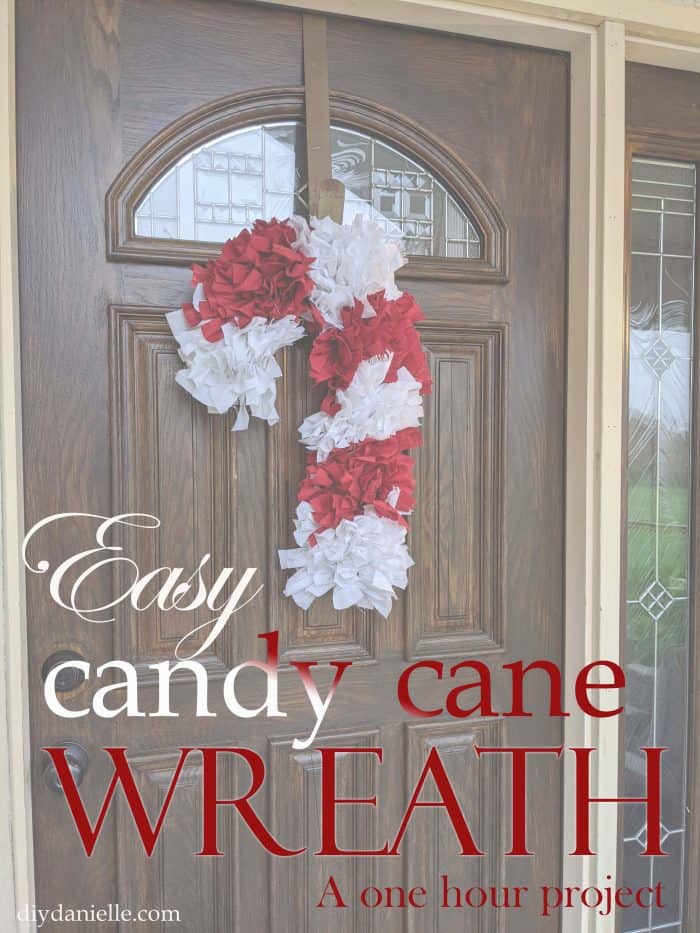 See More Holiday Door Decor Projects