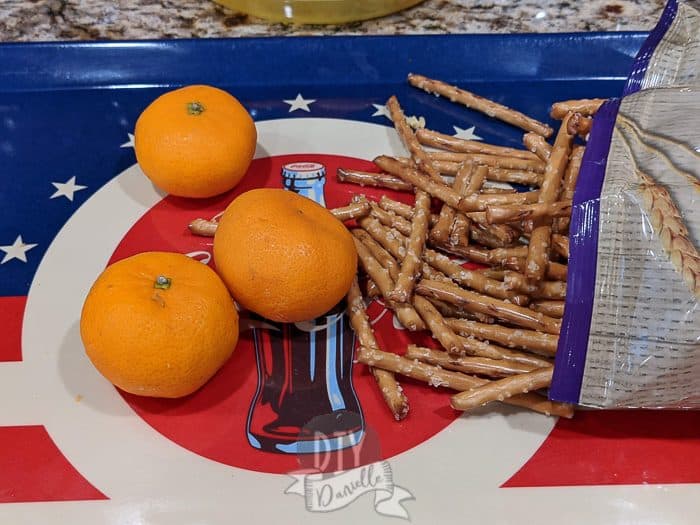 How to make pumpkins from oranges- without using celery. This super easy project is perfect for a healthy Halloween snack.
This post may contain affiliate links which may earn me commissions should you click through them and take certain actions. As an affiliate for Amazon, Cricut, xTool, Home Depot, and other sites, I earn from qualifying purchases. Please DIY carefully. View my full legal disclosures here.
Please read the whole post so you don't miss any important information!
Usually I'm not "the Pinterest mom"… I'm definitely a Pinterest person, but I try to keep it bare minimum for school stuff. Ie. A bag of treats is just as good as a Pinterest-perfect snack. But I made an exception today because this was too easy.
I saw this idea floating around on Pinterest, but my GOSH… so many bloggers were using celery. Yikes. I winced. I don't love raw celery and I feel like the taste bleeds into other foods when they're mixed.
Somehow I doubt that the kids at school would love it either… and I didn't want there to be a ton of food waste.
Also, y'all pumpkins don't have green stems… (yes, I know, the vine is green initially but by the time you pick them, they're brown).
Supplies
Pretzel sticks: Get the good kind with the thicker sticks
Easy peel oranges like Cuties
A sharp knife
How to Make Pumpkin Oranges
Option 1: Peel & Use a Pretzel Stick
This option is good for younger classes who might not be able to peel the oranges. I REALLY wanted to do Option 2 per my friend's suggestion, but I didn't want my son's kindergarten teacher to have to peel 18 oranges during their class party.
I made a quick slice with a knife in the peel, then peeled the orange as quick as possible. Forty oranges peeled in the 30 minutes before my kids left for school. Yikes.
Then I just popped a pretzel in. I could have made the stem shorter but it's fine as is!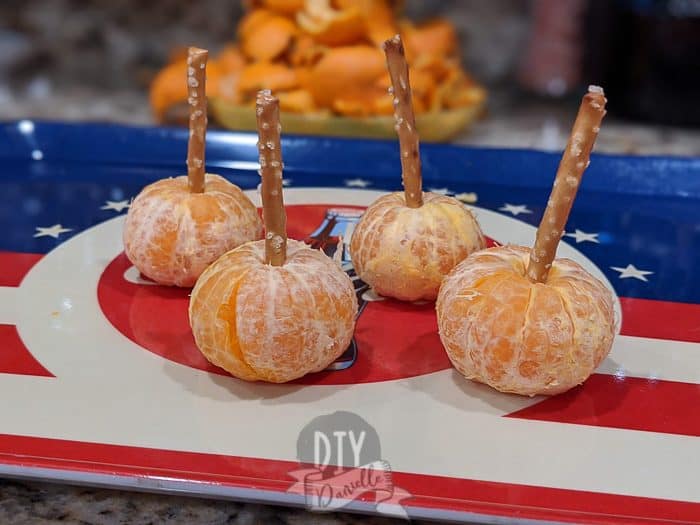 Option 2: Decorate the Peel
I liked this option best because there's no "hands on" the actual inside fruit. Also, I wouldn't have had to peel 40 oranges.
My friend used a black marker to decorate the peel like a pumpkin. I'd probably want to pick up something that would be food safe or kid safe, although the peel should provide enough protection.
You could also use a Cricut to cut the face pieces (y'all that's a lot of pumpkins) with vinyl, then stick them on.
How to pack them for school
Option 2 is no problem to pack for school. They can go inside a zippered bag.
But I didn't want the pretzel sticks to break. Here's how I packed them. The kindergartner had a covered container and I gave the 2nd grader a container with a reusable bowl cover because I didn't have enough covered container that was large enough.
I put in a few peeled oranges without any pretzel in case a child didn't like pretzel sticks.
Initially, I lay the oranges on the bottom, stem up. Then I tucked oranges in between side ways. Then I put a few loose oranges inside to add extra cushion. Hopefully this will keep them from jostling around too much on the way to school.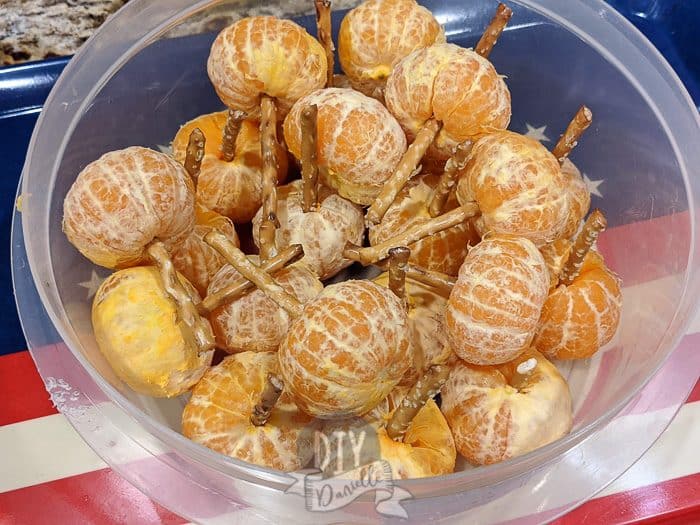 Other Halloween posts you'll love:
Please share and pin this post! If you make this project, share it in our Stuff Mama Makes Facebook Group. We have regular giveaways for gift cards to craft stores. You can also tag me on Instagram @doityourselfdanielle; I love seeing everything you make!