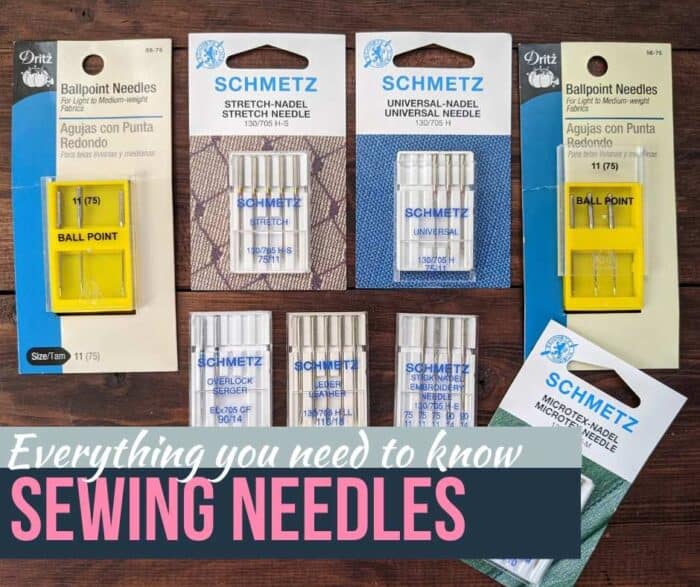 Everything you need to know about sewing needles for hand sewing and for your machine. Learn about how to choose their right needle for your project.
This post may contain affiliate links which may earn me commissions should you click through them and take certain actions. As an affiliate for Amazon, Cricut, xTool, Home Depot, and other sites, I earn from qualifying purchases. Please DIY carefully. View my full legal disclosures here.
Please read the whole post so you don't miss any important information!
Your sewing machine likely came with a needle installed, which is great because you can get right to work sewing! But you may want to use different needles for different projects to get the best results.
Don't be intimidated by the number of needle of choices – we're here to answer all your questions about sewing machine needles!
Will all sewing machine needles fit my machine?
As long as you have a relatively modern machine, yes. Sewing machine needles are standardized, so you should be able to buy any brand you like for your machine.
Note that not all serger and coverstitch machines use standard sewing machine needles, so make sure you read your manual before buying needles for those machines.
What are the different types of sewing machine needles?
It's important to use the correct needle for your project, and the correct needle is largely determined by the type of fabric you are choosing to sew.
Woven fabrics need sharp needle points. These needles will pierce through the fibers of a woven fabric.
Knits need more rounded needle points so that the needle slips between the stitches instead of piercing through them.
Universal needles
As the name implies, universal needles can be used on many different projects. The tip of the needle is sharp enough to pierce through woven fabric, but slightly rounded to slip through the fibers of a knit.
While this needle will probably work on most fabrics, it's often better to choose a more specialized needle for your project.
Ballpoint needles
A ballpoint needle is rounded slightly so it can pass between the fibers of knit fabrics. Knits get a bad reputation for being difficult to sew, but using the correct needle can make a huge difference. If you're getting skipped stitches using a ballpoint needle, switch to a stretch needle.
Stretch needles
These needles are designed for lighter-weight knits or anything with a high spandex content. I personally use stretch needles for all of my knit fabric, whether it has spandex or not, because I have never gotten skipped stitches with stretch needles and ballpoint needles are more hit or miss for me.
Microtex or Sharps needles
These needles have an extra sharp point and are used for wovens, especially tightly woven ones. Also, you'll want to use these on things like microfiber, silk, or faux/vegan leather as it pierces cleanly.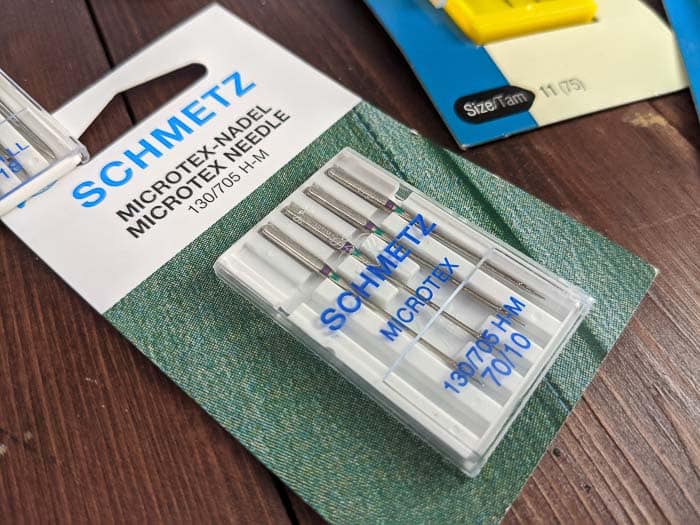 Some people love to use Microtex for PUL fabric, but that's a debated topic in the cloth diaper sewing community.
Quilting needles
Quilting needles are extra tapered to help sew through multiple thick layers of fabric and batting, and through intersecting seams. This is a great choice for machine quilting, and also works well for piecing.
Denim needles
These needles are sharp and strong to sew through many layers of thick fabrics like denim, canvas, or duck.
Leather needles
If you're sewing through leather, suede, vinyl, or another very thick non-woven fabric, a leather needle is a good choice. The tip of the needle is shaped like a wedge to cut a very small hole in the fabric.
Be careful where you sew with a leather needle for this reason, though, as the holes it makes are permanent.
Don't backstitch with a leather needle – tie off your threads instead. If you're sewing faux/vegan leather, use a microtext needle to avoid the fabric tearing.
Embroidery needles
These needles have a less sharp point and a large, elongated eye to accommodate thicker embroidery and decorative threads. This is the needle you should use for machine embroidery.
Topstitch needles
Like embroidery needles, topstitch needles have a larger eye to accommodate topstitching thread, but these are sharper in order to pierce woven fabrics.
Twin needles
A twin needle is a special kind of needle that has two needles attached to one shaft. This is used primarily for topstitching knit fabrics. It produces two straight, parallel lines of stitching on the top side of your fabric, and one zig zag line of stitching on the underside.
You will need a second spool of your top thread.
Read your sewing machine manual to determine how to thread a twin needle, and make sure you use a straight stitch setting on your machine.
Twin needles come in universal or stretch, so make sure you choose the correct one for your fabric. Twin needles also come with different distances between the needles, but this is largely a matter of preference.
What size needle should I use?
The majority of the needles listed above come in different sizes, and while the type of needle you use should be determined by the fabric type you're using, the size of needle you buy should be determined by the thickness of your fabric.
The size of the needle refers to the shaft, not the length, so bigger needles create bigger holes and are better for thicker fabrics.
Americans and Europeans use different sizing systems, but most sewing machine packages list both sizes separated by a "/".
European sizes range from 60 to 120 and American sizes range from 8 to 19.
For the most delicate, lightweight fabrics like chiffon or organza, use the smallest size: 60/8. The most commonly used size is probably 80/12, which you can use on cotton, rayon, and various blends. You should use a 90/14 heavier fabrics like corduroy or bottom weight fabrics, and a 110/18 for upholstery, tapestry, or heavy canvas.
What brand of sewing machine needles do you recommend?
A number of different companies manufacture sewing machine needles. Schmetz is a popular brand because they are reliable and good quality.
Schmetz color codes their needles with little stripes on the shaft. The top stripe represents the type of needle and the bottom stripe represents the size.
Also, the needles come in multi-packs in a little plastic case which is great for storage and disposal of needles. You tend to save money if you buy in bulk.
How often should I change my needle?
It's important to change your needle frequently. They dull with use and can be bent slightly or develop small burrs that could damage your fabric.
Most manufacturers recommend changing your needle after you've gone through three full bobbins. I usually also change my needle between projects.
How do I dispose of a broken needle?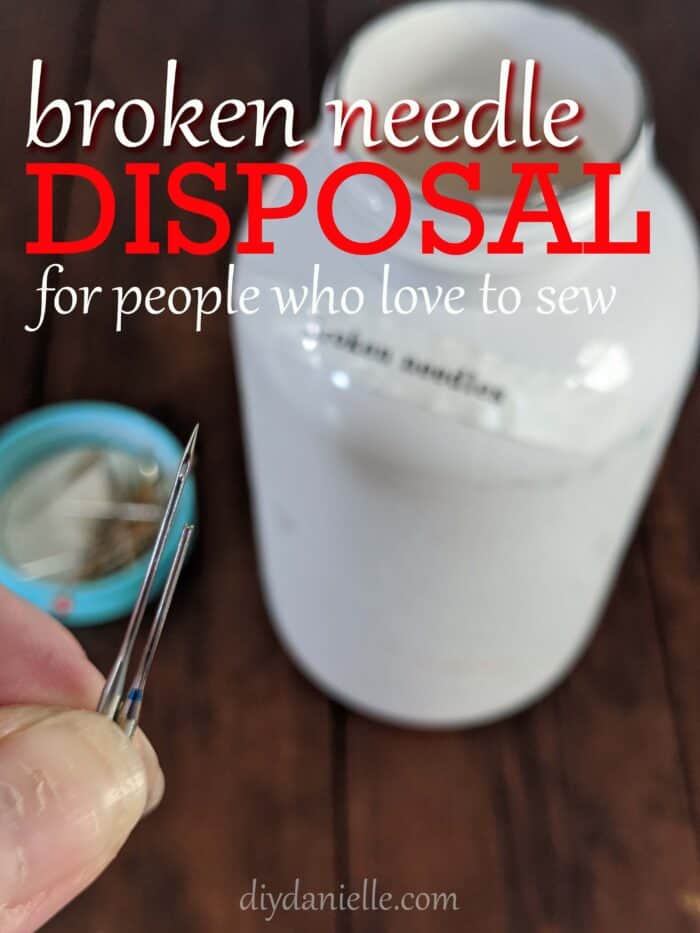 Since needles are sharp, it's important to dispose of them properly so that the people who handle your trash are not poked by them. You can put used needles back into the little plastic cases they came in, just make sure you label them as used.
Other good options are old medicine bottles, or mint tins. When the container is full, throw the container away.
Sewing needles can be recycled in recycling facilities that take scrap metal, but not all scrap metal recycling facilities will take sewing needles, so make sure you call ahead.
Use one of the methods above to store your needles until it's time to take them for recycling.
Can sewing machine needles be sharpened?
Technically, the answer is probably yes, though I wouldn't recommend it for machine needles. As you read above, sewing machine needles have different shaped points and some needles are sharper than others.
It would be near impossible to replicate the exact point and sharpness of a sewing machine needle.
If you do want to sharpen a hand sewing needle, though, you can use an emery board or sand paper and rub the tip of the needle on the rough surface, rotating so the point stays round.
Also, here's a fun fact: that little strawberry attached by a string to the traditional tomato pin cushion is filled with coarse material meant to clean and sharpen needles and pins, so you can also stick your needle in there a few times to sharpen it a bit.
What about hand sewing needles?
Just like machine needles, hand sewing needles come in a variety of types and sizes for different purposes.
Sharps hand sewing needles are general purpose needles and come in different sizes and lengths. Choose the size works best for your fabric.
Quilting needles are like sharps but are shorter.
Millners' needles are like sharps but longer and are typically used for delicate pleating, stitching, and beadwork.
Tapestry or cross-stitch needles are larger, blunt-tipped, and have large eyes so that larger thread can easily slip through.
Darners are made for mending and darning and are long and sharp.
Finally, just like with machine sewing needles, there are leather and embroidery hand sewing needles made for these specific purposes.
Other Beginner Sewing Posts
Please share and pin this post! If you make this project, share it in our Stuff Mama Makes Facebook Group. We have regular giveaways for gift cards to craft stores. You can also tag me on Instagram @doityourselfdanielle; I love seeing everything you make!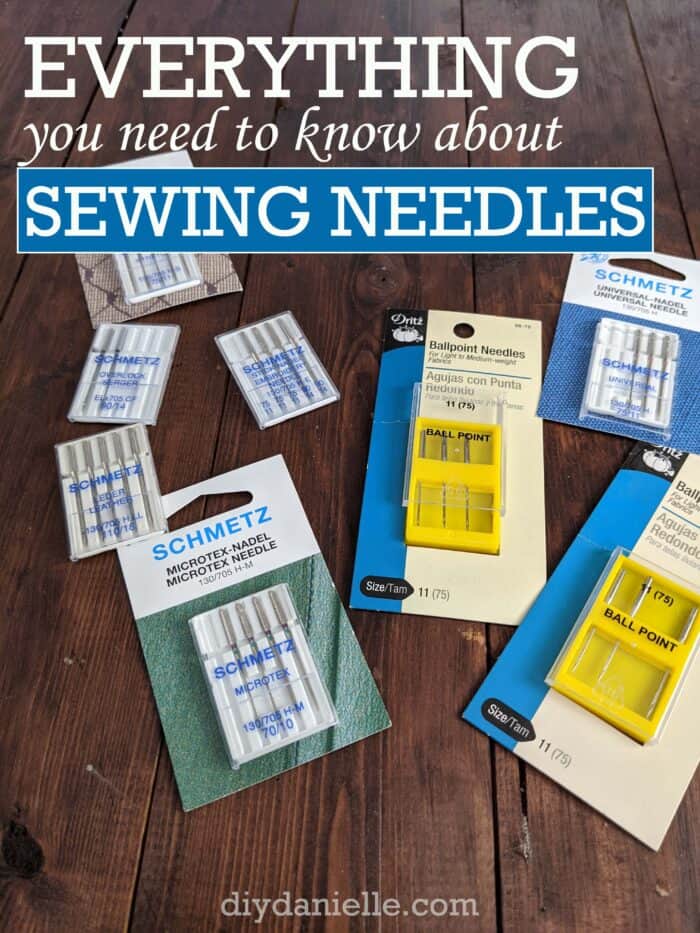 This post was written for DIYDanielle by Becky McGill-Wilkinson.
Google Web Story: Sewing Needles