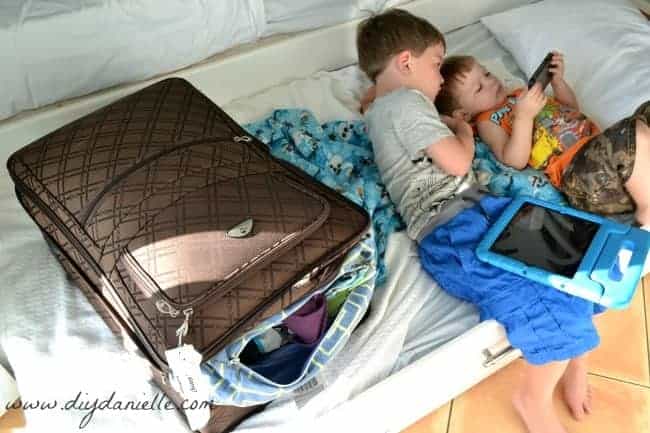 How to sew a laundry bag that fits perfectly in your suitcase for your dirty clothes when you are traveling.

Every time we go on vacation we end up with these super neatly packed bags until we're headed home and then I'm scrambling to find somewhere to put all our dirty laundry, such as the plastic bags the hotels SOMETIMES have. I just don't like dirty laundry touching my suitcase. That sounds really particular of me, but dirty laundry smells bad and sometimes is wet (if you have a toddler or baby, you almost certainly have some wet laundry).
I decided to make a reusable laundry bag to take with us and because it's fabric, it will fold up neatly in the suitcase. I wanted it to fit perfectly into the suitcase that we have so I measured the inner dimensions of our suitcase. The dimensions on ours was 24″ long x 14.5″ wide x 8″ deep.
I opted to use a cotton outer and a PUL inner. PUL holds in wet a bit better so that was my preference. The slick side of the PUL is the side that you want touching the dirty clothes. So that's the "right" side of the fabric. I made that mistake while sewing and did it opposite. It's not a huge issue because I still kept the slick side faced towards the dirty laundry BUT my stitching was facing dirty laundry too which isn't as attractive.
With seam allowances added, my final cuts of fabric were as follows:
(2 of each fabric) 25 x 15.5″… these are for the top and bottom of the bag
(2 of each fabric) 9 x 25″… long side
(2 of each fabric) 9 x 15.5″ … short side
Then I took my outer fabric and sewed all the sides together. I did long side, short side, long side, short side. I right faced the two I was sewing at the time, stitched, then continued to add pieces on. Once done, I sewed the ends together so I had one big circle. Repeat with inner fabric.
Once finished that, I pinned one of my big pieces onto the "circle" of side fabrics. I pinned all the way around, right sides facing. Then I sewed it all around. Repeat with the other big piece for the bottom- except leave one side open (I did a short side so I didn't need a super long zipper). Repeat with inner fabric.
Bad picture… but this is the sides and bottom sewn together with the
PUL inner. Note that I sewed the PUL wrong sides together
rather than right sides together- yours should be opposite for most ideal finish.
Okay to close up this all, I added my zipper. There are probably better times to add this but I saved it for last. I inserted the PUL inner inside my cotton outer fabric EXACTLY as I want it to be when the product is finished. Then I turned the edges over for the cotton and PUL (so there were no raw edges showing) and pinned the zipper in between. I sewed along the edge to finish it up. I did one side, then did the other side. It actually worked out pretty well considering it's not a very high tech way to do zippers.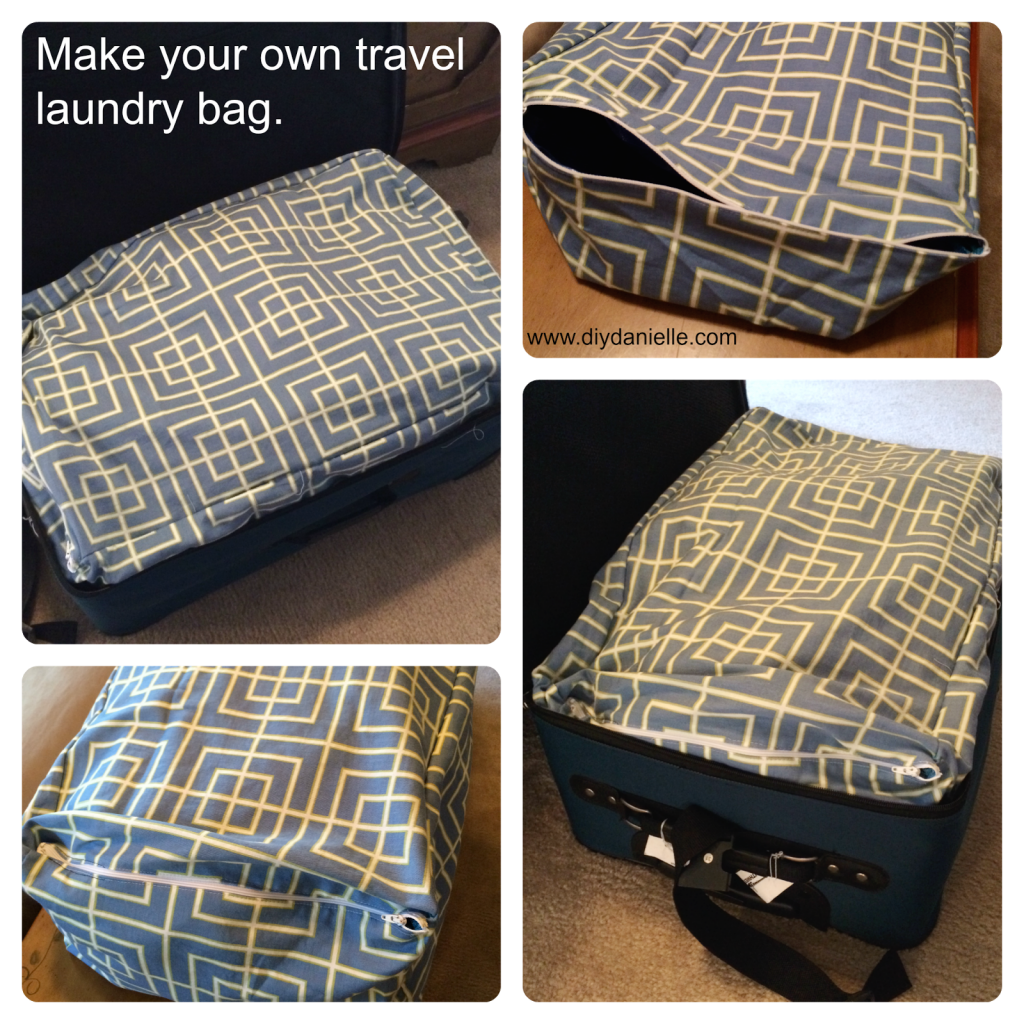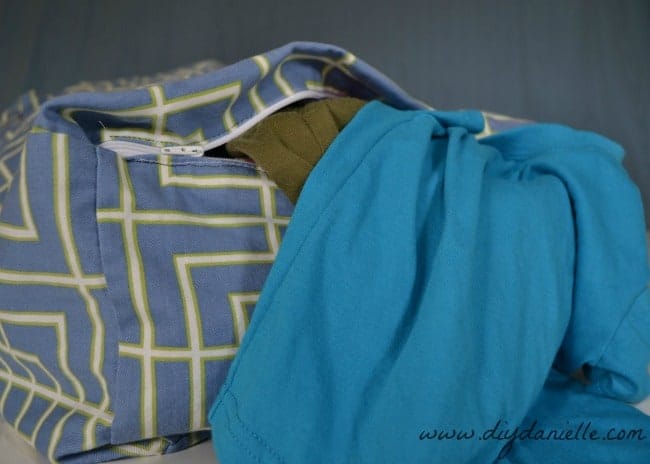 The bag fit perfectly in our suitcase so yay! Best part- way more attractive (and reliable) than hotel plastic bags that fit about one pair of jeans in them.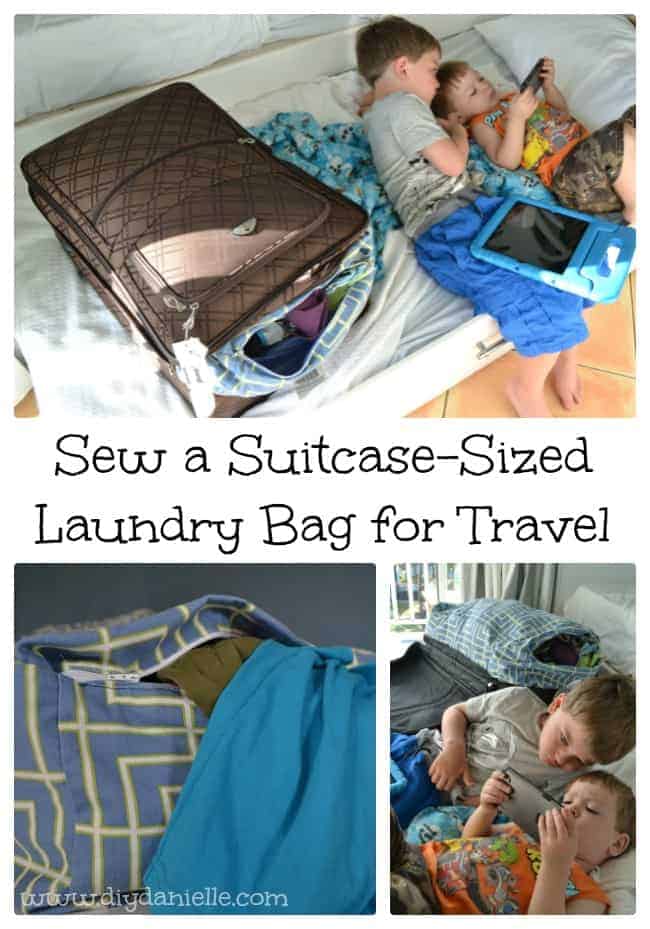 Disclosure of Material Connection: Some of the links in the post above are "affiliate links." This means if you click on the link and purchase the item, I will receive an affiliate commission. Regardless, I only recommend products or services I use personally and believe will add value to my readers. I am disclosing this in accordance with the Federal Trade Commission's 16 CFR, Part 255: "Guides Concerning the Use of Endorsements and Testimonials in Advertising."
Google Web Story: How to Make a Travel Laundry Bag