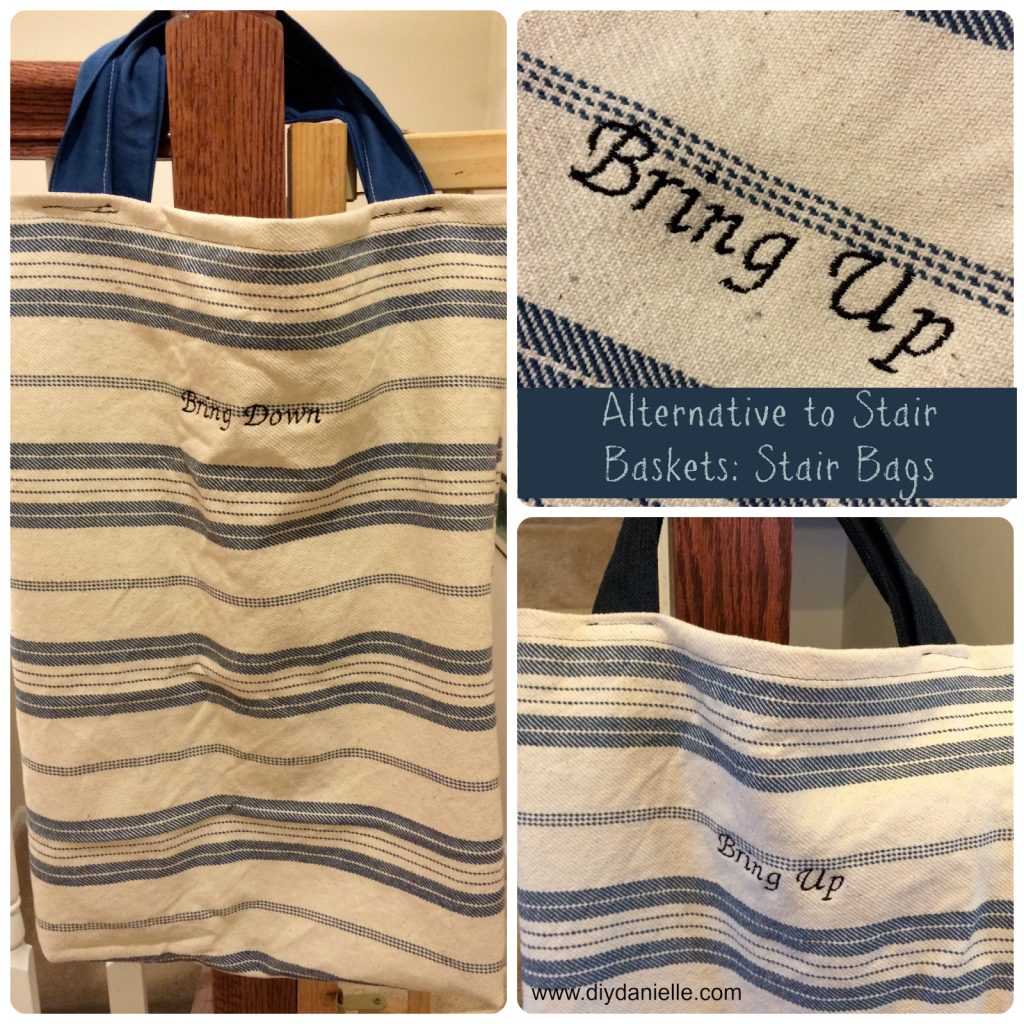 I'm horrible about bringing things back to where they belong after I use them. I've been looking at stair baskets for a while, but they're super expensive, especially as I have two floors and a basement level that I need to move items between. I started looking at alternatives.
I ended up deciding to try fabric bags because I have lots of fabric to use and it made a lot more sense than leaving baskets on the stairs to trip over (or for kids to get into).
These were pretty simple and I used heavy home decorator fabric that I purchased at a big fabric yard sale.
For size, I honestly have no idea how big they are because I didn't measure. I took my fabric, folded it in half with the fold being the bottom of the bag, then I estimated the width for three bags from the width of fabric that I had. I cut out all three bags. Once I'd done that, I folded over the top edges on all of them and sewed to finish the edge off.
Next I made some straps from coordinating fabric. I sewed them onto each side of the bags.
Next I serged down both sides of each bag with the fabric right sides together. If you're using a sewing machine then you can do a straight stitch, then use a zig zag to finish the edge instead if you're concerned about fraying. You can stop here if you want.
BLOCK CORNER BOTTOM: Then to make a block corner (no idea what this is called normally), I pinched the bottom of the bag up a bit and the side down to create a little triangle… I sewed that and cut it off (serged it and my serger cut it, but a sewing machine would work fine too). I hope that makes sense.
Here's some more pictures of what the blocked corner will look like. I did that for both sides of each bag bottom. It's not necessary.
Overall I'm pleased with how they turned out and I'm hoping it will help me stay more organized in the future and not forget to put things away… particularly sewing things as my sewing scissors and thread and fabric all seem to migrate around my house.
Disclosure of Material Connection: Some of the links in the post above are "affiliate links." This means if you click on the link and purchase the item, I will receive an affiliate commission. Regardless, I only recommend products or services I use personally and believe will add value to my readers. I am disclosing this in accordance with the Federal Trade Commission's 16 CFR, Part 255: "Guides Concerning the Use of Endorsements and Testimonials in Advertising."