How to organize for traveling with kids. Get the FREE packing checklist!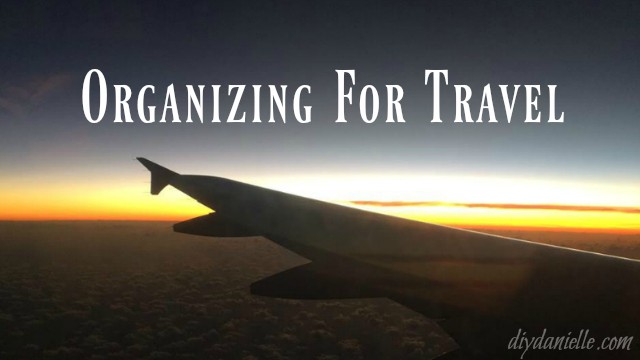 This post may contain affiliate links. Using these links helps support my blog. Thank you!
Is anyone else traveling this winter? We are going to Texas for a week to see family and friends, then we'll also be going to Punta Cana. I love traveling with my kids (and alone too). My kids have become old pros, given how much of our family is long distance. If you're traveling with a baby or toddler, make sure to check out my post, 11 Tips for Air Travel with Children.
If you know me, you likely know that I can be… intense… about my organization of some things. Travel is one of those things. Organization keeps me from losing my mind.
Tips for Organizing to Travel with Children
Children, particularly young ones, produce some extra difficulties when traveling. Car seats, a necessity for safety, can be a pain to haul, as can pack n plays and strollers.
I travel light. I don't bring any of these things. I will sometimes bring a sound machine, but otherwise we leave most everything at home. You can call your hotel ahead to see if they have a rollaway crib or pack n play, then bring your own sheet if you're concerned.
We leave the stroller at home and use an Ergobaby Carrier when the kids are younger to carry them. It's easier to pull suitcases with our hands free. You can often rent a stroller or borrow one wherever you go.
For car seats, I will rent them. I haven't had great luck renting them from the car rental place, but I've found that you can find baby equipment rental services in most areas of the USA. They'll bring you car seats, strollers, pack n plays and more. It's really amazing. Once my kids hit 3 years old and the size minimums for the vest, we carry the RideSafer Vest for them to use in lieu of a car seat. Just make sure to check the state's laws to make sure they're allowed.
Make sure to bring any necessary safety items for your kids… I like to bring swimmies, but you can often buy them.
I let the kids pick out a special coloring book to take with them at the store. This gives them a special item to bring. It's also great to bring a small, entertaining toy… you can put them in ziplock bags. My sister Jackie brings a few Magnatiles or similar magnetic toys. Just a few, not the whole set.
I also like small cars or monster trucks. Learn how to make small Lego and Magnatile take along kits on my blog tomorrow. And I packed a couple of lightweight books for the kids' bedtime. Deflated beach balls are easy to pack.
Ah yes- and if your kids love toy cars, make an easy toy car clutch.
Don't forget to pack diapers, swim diapers, and wipes if needed.
Organizing your Luggage and Trip: Tips for Everyone
Sew a laundry bag to fit inside your suitcase. It'll roll up small on the way, then you can use it through your trip and zip up all the dirty laundry for the way home. You should consider a portable laundry line for trips where you'll need to hang bathing suits up.
Bring empty refillable water bottles for once you get through airport security. You can refill at the fountain. Just keep in mind that some bottles aren't great to use on the airplane because pressure builds up, then you open spout and it squirts everywhere. Ask me how I know. If you use a bottle with a spout and keep the lid open, you shouldn't have issues. But still be careful.
I make a special run to the grocery store to pick up GREAT snacks. It keeps me from making impulse purchases at the airport.
Baby wipes and/or hand sanitizer is great for the airplane. I like to wipe down the stuff my kids will be likely to lick, haha. Preemptive strike.
Remember a small first aid kit. They come in useful. Pack sunscreen and bug spray if necessary. A week vacation is going to require a couple of cans of sunscreen for four people going somewhere tropical. You might be able to save money by packing your own.
Make sure to bring cash for tips. I like to have some $1's for tipping the people who drive the bus to and from the airport. For resorts or cruises, I check to see if people tip there. If so, I will sort tips in advance so I make sure to have them available. I've found it difficult to get cash once I'm at a resort (depending on if they have ATMs on site) or expensive due to ATM fees.
Ah yes… and don't forget any prescription eye wear and the cases.
Don't Panic!

Whenever I get that "I forgot something" panic, I like to repeat to myself, "I have the children, my passports, and anything else can be purchased when we got there if I forgot it." So the short list to double check is— HUMANS, Necessary Medications, Money, and ID's/passports.
Nothing else is panic worthy… except maybe a favorite toy if the kids left it at a hotel.
But I made a checklist just for you! Sign up below to get my FREE Printable with a Packing List.
For each item, write how many of each you need (ie. 5 shirts). Then cross off the items as you pack them.
I also included a place to write your flight info. Write in other items you'll need on the top right.
Here are 19 Great Organization Ideas for Your Home!
Love it? Pin it!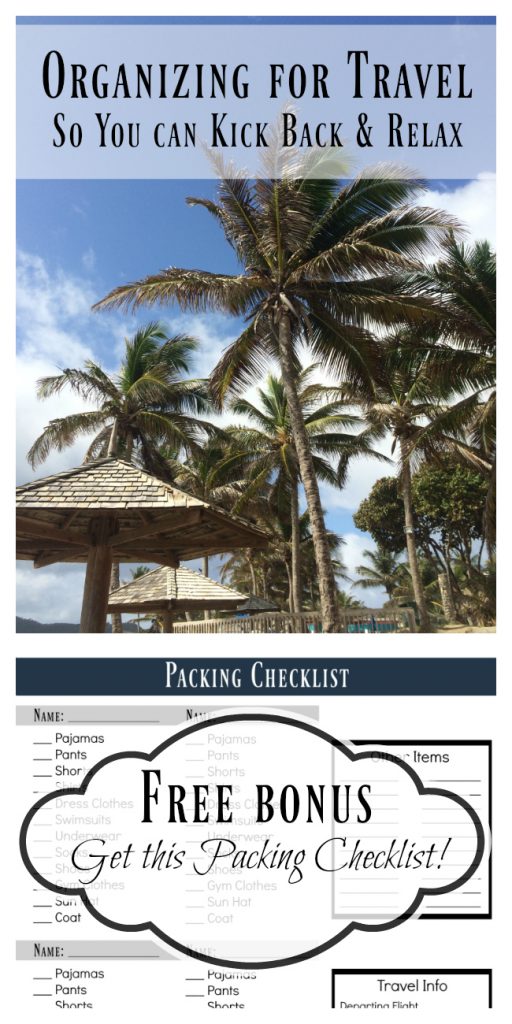 Thanks for taking the time to read this post! I really appreciate the time you've taken. Please share, like, and pin my post if you enjoyed it. Follow me on social media and subscribe to my email list to keep up to date on all of my latest projects!