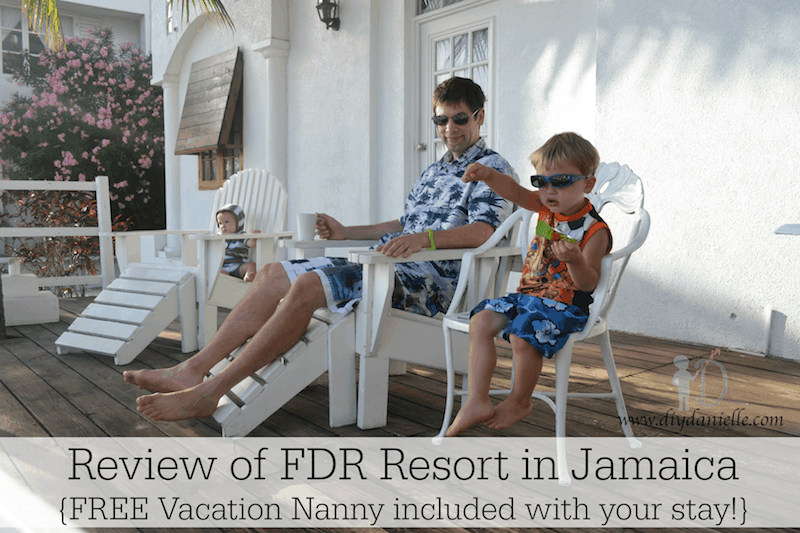 We decided to take a trip to Jamaica with the kids after discovering Southwest was flying there now (we went the first day!) and finding an all-inclusive resort that was very child-friendly. We decided to plan our trip on our anniversary (we actually honeymooned in Jamaica) so we went the first week in July 2014. If you're interested in how traveling went with the two kids, I detailed the experience of the travel itself in my Traveling to Jamaica with Children blog post.

I'm going to hop right in here. We got to FDR Resort around 4:30 or 5pm by the time we got through customs and the long bus ride, which meant we didn't get to meet our nanny until the next day. FYI, dinner starts at 6:30 for the Veranda and we did that instead of the 5:30 kids dinner. Nightmare. Godric (2.5 years old) hadn't napped at all and was exhausted… He was awful at dinner. Awful. It was a bad start. Avoid this… Grab food from the kids dinner area and just take it back to your room if necessary. Trust me. I saw this phenomenon repeated with other newcomers through the week. If you're landing late like we did and your kids usually go to bed early, it might be worth seeing if you can request during booking that your nanny stay to babysit a couple hours after you get there (it's $7/hour I think)… It will give you some time to decompress after that flight with the kids. I know most kids aren't going to do well with a new person the first night, but if you put the children to sleep then the nanny can at least supervise to make sure no one wakes upset while you grab dinner with your significant other.
During our trip, my baby was teething (3 top teeth, ugh) and recently started the separation anxiety phase so he was not excited about going with the nanny (or daddy for that matter), and my toddler just has issues with going with other people when we're around so it wasn't the Godsend I'd hoped in terms of getting a break, but it was VERY helpful to have an extra set of hands. I think most children are going to be better with the nanny than ours were- at least from what I observed. If you have children who are a bit more high needs, I think it's a good idea to consider beforehand how you'd like to introduce your children to the nanny… this might help you make the transition a bit smoother. We didn't even think about it. Next time, we know.
About the Nannies


Our nanny, Michelle, was great about working with us, even though our toddler was difficult and the baby was just a mess. She also cleaned our room so she had a big job throughout the day. Because we were having difficulty getting the toddler and baby to go to her, a bulk of the help she provided was staying at the room with them during naps and after bedtime (we had her stay most of the nights we were there). Neither child sleeps well so if needed, she'd call for us (small resort) so we could put them back down. She spent a lot of time transferring the crying baby into the stroller and wheeling him back and forth in front of our beachfront room to help calm him. I think she may have even strapped our Ergo Baby Carrier on one night. One day, we brought G (toddler) to the play room and left him there with her (sneaked out)… we let her know we'd be at pool if she needed us. I saw her walking around the resort with G "looking for us" and I assume she did that to extend the amount of time we had. My toddler stays happy and doesn't get too upset as long as he is busy looking so I thought that was pretty genius.
By the last day, he actually stayed with her at the play area for a good 2-3 hours and they did a craft (bookmark) and he did the flower parade with her. Super cute and he brought me back a flower. I wish we'd done the drop and run routine a bit more. It seemed to be the best way to go, as the play room was pretty appealing to the kids AND in the shade. The nannies don't go in the water (dressed in uniforms) so they'll play with the kids by the water or watch older kids who are in the pool, but there's not as much to distract younger kids who are struggling… and you'll probably want to be at either the pool or beach so obviously the kids will see you. Again- might not be an issue with some kids, but if our kids see us, chaos happens.
There are tons of activities and crafts planned with the kids so your nanny will do those with them. Bring a plain shirt or other item and they'll tie dye it.

We were there over the Fourth of July and I was surprised to see that they made a pretty big deal about it in terms of activities. Pretty cool. Apparently the 4th of July and Thanksgiving are celebrated pretty actively at the resort.
Oh and the first night we had our nanny stay to babysit, we'd mentioned to her that it was our anniversary. She let the restaurant know and they brought us a bottle of champagne and a cake that said "happy anniversary." She even put rose petals on our bed and a bottle of wine. TOO awesome. Especially seeing as my husband never thinks of stuff like that, haha. It was very thoughtful and I really appreciated it!
About the Hotel
Room #37, LOVED it!
This place isn't the fanciest, but you can tell they put a lot of effort and time into cleanliness and upkeep. I don't think I ever saw the community restrooms dirty, despite that they're by the pool and beach. We never got sick on the water or food, despite much of it being buffet. I always felt like it was fresh.
This is a small resort. I knew the faces of all the other people staying here, for the most part, which I thought was pretty cool. The staff are all very welcoming and seem to all love the kids- which is awesome in my world.
The beach is small, but from what I saw it was appropriate for the number of people staying here. But you can go next door and use the beach at Jewel too. We didn't.There are hammocks around the resort, mostly near the beaches. It's nice to lay in them in the shade and read.
There don't seem to be a lot of rooms (less than 100), and they are quite large compared to a typical hotel room. Lots of windows so don't forget to draw the curtains at night, haha. In July, the resort wasn't very full from what I could tell. We got upgraded to a beach front room (2 bedrooms)- #37. It has a beautiful porch that looks right out over the beach. I think it's a nice location. All of the rooms have a nice porch from what I saw and I think it's nice to crack the door when the kids are sleeping, and sit on the porch with your significant other to enjoy some drinks or bring some plates of food back to the room. I know some rooms had a kitchen which I think is unnecessary. Your nanny will bring your stuff for your minifridge (in every room, I believe) so you have some snacks for the morning if you've got early risers like we do. She was able to stock ours with juice, beer, cheese, crackers, Cheerios, and fruit (per our request- fill out the form for yours).


About the Food
The food was good. It's not fine dining… you don't need to dress up, but you can if you want. You'll be eating outside and it'll likely be warm and humid so keep that in mind. They have fans and dining on the pier involves quite a bit of ocean breeze. It's really beautiful and romantic. I know a lot of people in reviews mentioned that the food isn't the best food ever… But I think it's right on par with what you get at any other all-inclusive resort. It's not quite as fancy as some places, but I don't really care what the "presentation" is of my food.
I like to cook and I tend to like my cooking better than any resort or restaurant that I go to… mostly because over time I've collected a ton of recipes that I absolutely love and if I had my perfect world, everyone would cook those recipes when I went out. But everyone and every restaurant is going to have their really good food options- and their less than awesome selections as well. This place is no different.
So here's my food and beverage tips:
You may have a choice between steak or chicken… Don't get the steak. The chicken here is really great. I wasn't too impressed with the steak I tried.
For some reason, I was never given a steak knife and I didn't realize I was missing one until the last day when I was trying to cut pork chops. Haha. I was struggling the whole trip to cut meat. You don't need a knife for the chicken, but with the steak and pork chops it would've been useful. I don't know if they have them if you ask, but you may want to ask if you just HAVE to have a steak. As I said above, you may want to stick with the chicken anyways.
Get a breakfast smoothy every morning. They're very good. So are the croissants at breakfast. I usually had them make some scrambled eggs for us every morning too as that's my baby's favorite food.
Get the the chicken wrap at the grill. My husband also liked the jerk chicken (which was pretty spicy).
The bar doesn't go light on alcohol so if you're not big into liquor you may want to ask for less.
There were some meals that would've been better warm for the Italian restaurant, but were served cold (ie. Tomatoes with melted mozzarella- a great fix would be to serve the tomatoes caprese style cold instead).
Again, I've got to mention that we never got sick on the food. If you haven't traveled to the Caribbean before, you're going to think, "So?" But we got sick on our last trip to Jamaica despite being at a fancier resort (very minor, but still) AND our whole party was pretty violently sick when we went to the Dominican Republic. The problem is that it's hot out and there's lots of buffets at these resorts because it's all inclusive and people like to wander in through day to eat. We did eat at the beginning of each meal time which I'm sure helped- our kids are up so early that it was just a necessity. But I think it probably says something positive about the resort that we didn't get sick at all.
About the Activities

Do the activities. They're fun. Do them from the beginning. It's silly, but this is a small resort and it's awesome to meet up with other people in the same position as you (parents!). You'll make your stay so much more pleasant for knowing other adults to chat with and just feel a sense of companionship. I wish we'd done more of them from the start. They do have prizes for some of the games which is cool… we won two bags of coffee and a small container of hot sauce. I lassoed a bottle of Vodka for one bag of coffee— the trick to this game is to squat down as much as you can, stick your butt out, and gently toss the lasso over it. Only women won this game, haha.
We also played the couples gameshow… only one other couple was there and there's some of the typical embarrassing "where's the craziest place you've made love" sort of questions so if your parents are traveling with you, then you may want to reconsider participating if they're going to be watching.
One thing I noticed with the schedule of activities was that some stuff was really late… most of us with kids were going to bed fairly early so it made it difficult to participate. We didn't really want to keep the nanny too late because she still has to travel home after she leaves (I think ours said she lives 30 minutes away). It'd be ideal if they'd shift the activities a little earlier in the evening- 8 or 9pm at the latest. I know… we're such party animals, going to bed at 10. But our sons wake at 6am on the dot and the nanny gets there at 9 am so there's no sleeping in after a rough night out. And my baby still wakes through the night.
The hosts for the activities are fun and energetic. I loved the goat races, but racing the kayaks was fun too.
For the Kids

There's an indoor area for the kids, a playground, the beaches, the slides… there's a small pool near the bar for the little kids (it's a little too deep for our 8 month old, but perfect for the 2.5 yr old). Each of the pools has a slide. The biggest slide is AWESOME and that one is on the ocean (but goes into a small pool used just for the slide). Older kids and their nannies seemed to park here for a good part of the day. We went down with my 2.5 yr old/39″ son and no one had a problem with it- he LOVED it and it really made his trip a great experience. There's no life guard directing kids when to go, but the kids all seemed to be watching and there were many parents and nannies sitting below so there were always adults around. LOVED the slide. LOVED LOVED LOVED.
My big complaint with the pools was that none of the pools were shallow enough for my 2.5 yr old except the one really small pool by the bar and that one seems a bit small for his age. He liked that, but we were a bit nervous because he was biggest kid there (he's 99% for his age). For the other pools we needed to be there to catch him or hold him. We ended up finding a life preserver for him though that he would wear which helped… We still had to be there but it gave us a lot more freedom (ie not all his weight on us all the time). The nannies don't go in the water, but they will watch from sidelines so she watched him while he was at the very small kids pool.

The playground has a lot of Little Tykes toys for 1-2 range. Wish it'd had more for older kids as my 2.5 year old was just too big for most of it. There were a few things for older kids, but not as much in my opinion. Also some equipment is in the sun more than other equipment so it's not all usable throughout the day as it gets hot.
The indoor area has a couple computers, TVs with video games, big bean bag chairs, a ball pit (my 8 month old loved it), some kitchen toys, etc. It's nice to have this area for the kids so they're not in the sun all day. They could probably expand this area into the adult computer lab if needed… I don't know that anyone goes there where WiFi is free and easily accessible from the hotel room. I think they had a teen area, but I never checked it out. I didn't notice it until the last day.

Tips for Your Visit
Tipping: At checkout we left tips in envelopes for each set of people – an envelope for bar, etc. We were going to tip in hand but some of employees appeared to be off on the day we left (Monday). Carrying cash the whole week was just a daunting task and I felt we were treated well despite not constantly tipping. We tipped our nanny the night before when she left… They only work when they're called in for a family so my understanding is that in a slower season, they can be off for a few weeks without work. We did pay her to stay late and watch the boys once they went to bed (6:30pm) every night so we could get dinner together in peace.
Departure: We left at 12pm on Monday which meant taking the bus at 8am. Squeezed breakfast in at 7:30. The bus was very promptly there at 8.
The shower has drains that flip around… If your water appears clogged, it's possible your toddler locked the drain. I may have called maintenance and they had to explain the drain to me, oops.
The TVs are pretty small if you care. We didn't. But there's one in each bedroom so our rooms had two altogether. We probably turned one on in the morning here and there, but really didn't watch it much.
There are lots of little fish to see, particularly along the pier (next to the Overproof)… We brought them a little bread and tossed it in. There's also small sand crabs that dig holes in the sand and tiny geckos running around. They have goat races on Fridays and there's bunnies to pet.
Tie dying is a big thing so bring something white to tie dye.
Load of laundry is $10… There's a "laundromat" over by kids playground (drop off).
WiFi worked fine inside room and main areas of hotel. It did not work on porch very well. We were hoping to watch some of our shows via Amazon Prime (on iPad), but because we were out of country it wasn't allowed… What the heck Amazon?! My husband says he could've found a workaround if he'd planned ahead.
Bring lots of sunscreen. I read to bring bug spray too, but we didn't ever use ours. I didn't see any need as there really weren't any bugs that I noticed. Bees here and there. Ants. But don't think I saw any Mosquitos. It's possible other seasons are worse. For a week, we used two big spray cans of sunscreen and one small container of face cream.
Bring a sippy cup for the kid and an empty water bottle for yourself… They have plastic kids cups but it's nice to have a water bottle to fill up and bring around with you. The staff at the restaurants would fill up the sippy cups for us which was nice to avoid spills. EVERY time we gave my toddler a regular cup he spilled it everywhere. Every time.
I was pretty excited about the nanny… But a little disappointed the first and second day because kids weren't having it. It gets better and the nannies really go out of their way to make it easier for you.
Kids with earlier mornings/days might be tough, especially if there's a time change. Normal wakeup for my boys was 6am EST and 6:30/7pm EST bedtime. Jamaica is a 1 hr difference (so 6am is their 5am). The kids managed to not wake until 6am Jamaican time thank goodness, but around 6pm Jamaican time, they were really crashing. For my oldest, he goes from being a typically decent kid to bring out to a complete monster. Trying to make it through dinner, which starts at 6:30 Jamaican time, was rough. The resort starts a kid's dinner at 5:30, however, with lots of great kid foods. If your kids are like mine, I think it's worthwhile to go to that, then have nanny watch them after bedtime so you can go grab dinner at one of the "nicer" restaurants (in fairness, the grill where the kids diner is has amazing chicken wraps which may have been my favorite food this trip).
Nannies aren't always employed every week so it's helpful to them if you give them the extra income from babysitting. Ours took a break at 4:40 and came back (she stayed on resort) to watch the kids from 7-9 or 6:30-8:30pm.
On that same note, 6am (or 5 if you're unlucky) is really effing early and the Veranda doesn't open for breakfast until 7:30… There's a couple forms to fill out in your room- medical info for your children and then a form for what the nanny should stock your fridge with. Fill that out so if your children are up and starving at 6am you have something to hold them (and you) over.
We found this souvenir for my son at the
airport. There's also a place for souvenirs on
resort (two gift shops) and then I've heard
you can walk down the beach at the
neighboring resort to get to more shops.
I cannot recommend this resort enough. I really can't think of too many vacations we've been able to take since my first son was born where we actually get a bit of a break and this really gave us some opportunities to spend time together without being completely away from our kids. We love having time together, but we also like spending time with our kids so leaving our kids with family when we go on vacation isn't really our style. Actually, it's technically not an option right now seeing I'm still breastfeeding, but I think I'd feel this way regardless.
Additional tip (added May 30, 2015): I updated my traveling post about this as well, but I wanted to mention the option of adding Club Mobay. When we went to FDR, we managed the 3+ hour flight fine with the kids, but the wait at customs was rough. We may have been in line an hour, they were hungry and they wanted to run around. They also wanted to eat something besides the snacks we brought. Club Mobay has a waiting area for adults and another for families… the family area has items for the kids to play with. Both areas offer drinks and food as you wait. It does cost extra, but I think it's a worthwhile expense. We are scheduled to go back to Jamaica in October 2015 and we are definitely using this service. They wait right before customs with signs to direct you to their separate area. Most resorts are a bit of a hike from the airport so it's nice to give the kids something pleasant in between the plane ride and the bus ride. I signed up as an affiliate with Club Mobay so if you use my link, you help support my blog (at no cost to you).
Purchase your tickets for Club Mobay
Disclosure of Material Connection: Some of the links in the post above are "affiliate links." This means if you click on the link and purchase the item, I will receive an affiliate commission. Regardless, I only recommend products or services I use personally and believe will add value to my readers. I am disclosing this in accordance with the Federal Trade Commission's 16 CFR, Part 255: "Guides Concerning the Use of Endorsements and Testimonials in Advertising."