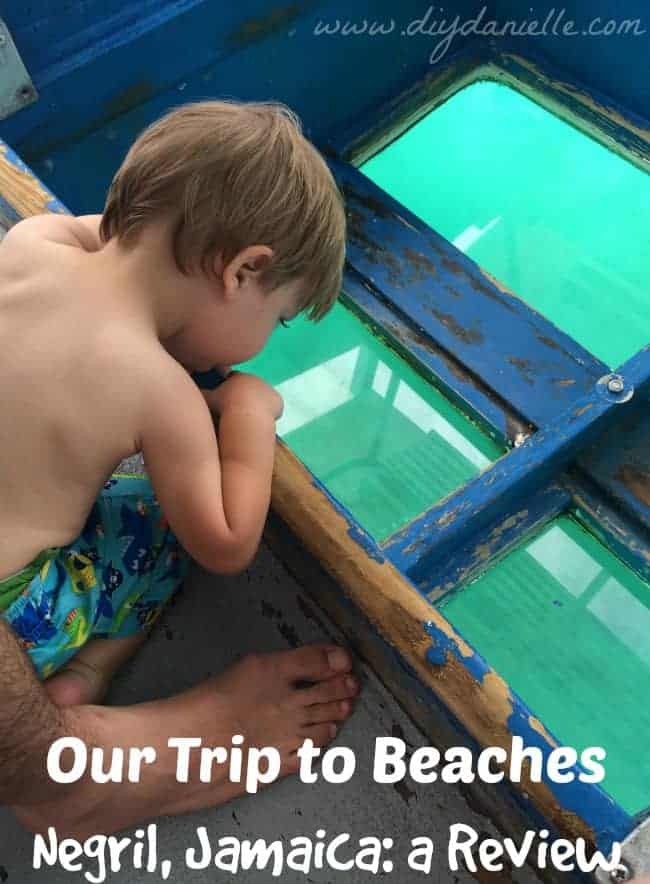 An amazing experience on a vacation with kids at Beaches- Negril and some tips for traveling to Jamaica with children. This resort offers a Sesame Street program for kids, and a kids camp for young children. There are so many fun activities to do here!This post may contain affiliate links. Using these links to book your vacation helps support my blog. Thanks you!
Back in October 2015, we went to Beaches- Negril and I finally sat down to write a post about our experience. Sorry for the wicked delay but time has gotten away from me with the holidays, being sick REPEATEDLY, and trying to put together some DIY projects.
With the exception of some issues with billing at the end, it was really a fabulous trip and we really enjoyed ourselves. I'm going to get into detail here about some of the good and bad about the resort. I did not get compensated in any way for writing this post (but if you book through my links, I'll be given a small commission. I'd love if you could help me out by using them!). Regardless, I want to give you a realistic idea about the resort so you can make an educated decision about if the resort is the right choice for you.
This is going to be very… thorough… and long. Sorry? Or you're welcome? One of those.
Other Posts about Jamaica or Traveling with Kids
Airport and Transfer
I really have had pretty good luck with MBJ. Never had too many issues, although we did hit a wicked line in customs last year when we went to FDR. To avoid that issue this year, I signed us up for Club Mobay… their representatives meet you as you leave the terminal to go to customs and they get you through customs MUCH faster.
We didn't wait at all with their help. Now the nice benefit to Club Mobay is they have their own lounge with a kids area… we didn't get to enjoy that because we were directed to the Beaches/Sandals lounge instead and honestly we were on a bus very quickly. Beaches/Sandals and Couples Resorts are the only resorts with their own lounges at MBJ (if I recall correctly) so the special lounge would be REALLY nice if you were staying at another resort. I'm a bit up in the air on if it was worth the money… I think for sure I'd do it again if I was staying at FDR or a non Beaches/Sandals/Couples resort. Their lounge looks like it has a kid's play area which is nice.
This resort wasn't as super close to the airport as I would've liked, but our kids were quiet and cooperative for the ride as there's a lot to see. Beaches and Sandals are pretty big in Jamaica so they have their own sitting room and buses. As a result, the wait to get on a bus seemed a lot shorter than when we came last year and went to FDR.
Rooms
The smallest rooms are SMALL.
They offer a crib and we got that for our youngest- who mostly ended up in our bed anyways.
This was one of my BIGGEST complaints… the next level up was pretty expensive and we just didn't feel like it was in our budget. Not only that, but the resort seemed pretty empty when we went and I wondered why they didn't upgrade people when they had better rooms sitting empty. No, it's not what we paid for and they weren't obligated to do it, but many resorts will do that when they can. We got a fabulous room upgrade at FDR Resort when we went during a less busy season.
Our room was on the edge of the property and we apparently let in a ton of mosquitoes when we went out on porch because I was covered in mosquito bites by the time I left. So bring bug spray- and maybe an organic bug spray for inside the room too. You may want to ask where your room is on the property when you book so you'll have an idea if this will be an issue. We didn't have issues with mosquitoes in other areas of the resort.
Also due to being close to the road, there was some noise from the street. I didn't mind it- Jamaica traffic is pretty quiet.
Pools and Beach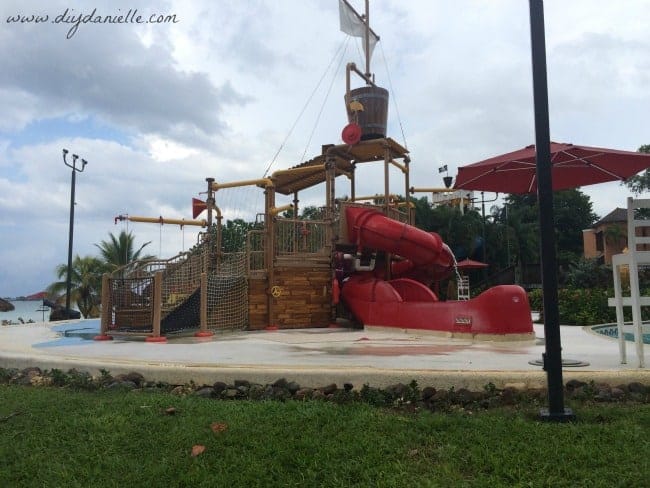 I loved the pool situation. There's one pool that didn't seem to see as much traffic for the kids if you prefer that. All of the regular pools have a swim up bar. We were able to get special smoothies for the kids so they could look like they had grown up drinks too… they were so excited and the bartenders were so nice about how often we were there.
I absolutely loved the small, but enjoyable Pirate cove area. The splash pad was neat, but the force of the water was a bit too strong for the age of kids it was intended for.
LOVE LOVE LOVE the lazy river. We spent a lot of time on it.
There's a small kiddy pool near the gym with a cover over it and a fence around it that's great if you want to take your kids to play.
The beach was great. Lots of area to walk up and down without leaving the resort. Lots of area to swim and they do a great job keeping the beach clean. There's a guy who walks up and down the beach offering horse rides, and another who offers parasailing for what I felt was a reasonable price.
There's several options for activities along the beach, including the water bicycle, the kayaks, and paddle boarding. We tried those, but didn't try water skiing, scuba diving, or snorkeling (all available). I don't think snorkeling near shore would have produced much for results… it was mostly sand. The kids seemed to enjoy kayaking with us and the water bicycle.
Kid's Camp
I loved the daycare- very casual and open late (until 9pm). It meant we could go get dinner and the kids would go see a Sesame Street show with the daycare. They had so many planned activities.
They have certain hours they close so they can eat their food and clean. It's mostly open all day though so it's not a big issue. They have cribs in the center if your child will nap for someone else- do other people's kids nap for strangers? Mine will not. You'll need to bring a bag for your child with a bathing suit, sunscreen, wipes, diapers, etc. for them. They'll change their diapers and change them into bathing suits and such if they bring them to the tiny kiddy pool. I always felt my kids were safe with them and I don't think I ever saw less than 2-3 staff members with the kids at once.
For activities at the camp, they had Elmo or Big Bird come by, they played with toys, they did art, they went to the kiddy pool, etc. Of course, my kids decided the Sesame Street characters were petrifying. I really liked having the kids camp option because I didn't want my kids in the sun all day. We'd do something with the kids for a while, then bring them to camp when they needed a break from the sun (or we needed a break from them). It was nice and casual in that we could pop back and forth. There is a special sign in and out process so it's not super fast to do, but it's nice to know it's safe.
If you drop your kids off at night to go to dinner, they bring the kids to some of the shows… I think there was a Sesame Street show every night. They let the kids dance and such in front of the stage.
Restaurants
All awesome. The food people, the food. You will be happy.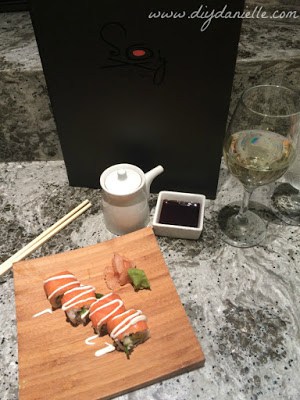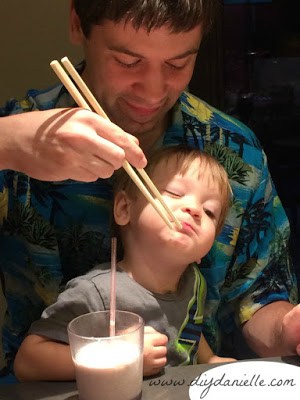 Soy Sushi Bar: Fabulous. No RSVP needed.
Kimonos: Hibachi style and this restaurant required an RSVP. We went twice. It was amazing and so much fun. We tried to bring our young kids the first time and it wasn't as much fun with them… the second time we dropped the kids at the camp and went there.
The Venetian: Excellent ambiance and friendly staff, but probably not the best Italian food I've ever had. Make sure you RSVP.
Arizona's: Closed when we went.
Dino's Pizzeria: Ahhhh I LOVED the head chef here (or at least I think he was head chef). He was super friendly to us and the kids. Oh and the pizza was freaking AMAZING. We ate pizza many, many days because it was just so good. You do need to wait for the pizzas to get cooked but there's a bar right next to it so no problem!
Cafe de Paris: Crepes. They have crepes with LIQUOR on them. OMG. If you love crepes, I recommend not missing this. They also have excellent hot chocolate. Or you can get coffee and croissants. This is lighter fare so you won't want to eat only here. But the woman who worked there a few nights (I apologize, but I am SO bad with names) was SO amazing and friendly.
BBQ: This is a little place beside the pool and has light fare. Hot dogs and some BBQ and french fries and such. It's next to the bar. The wait can be longer at busy times as there's only one guy working there. The kids ate here a lot before we dropped them off at the kids camp so we could eat real dinner. Also, it's beside the bar. Everything here is beside a bar actually. Haha.
The Mill: This is where you'll go for your buffet style food. We ate here at breakfast a lot. The Sesame Street characters are often near here, or the clown making balloons. There's some kids activities and toys in one corner if you need to distract the kids while you wait for it to open or while the other parent eats. I liked buffet style for the kids because it was quick and easy.
Stewfish: This was the only restaurant I didn't love. It was good, but it was setup in the sand and I discovered I don't enjoy eating with my feet in the sand. It felt like it was meant to be more formal, but it was on a beach so it didn't feel very formal. Also… a nightmare if you bring the kids. Because…. sand.
Bars and alcoholic service: Excellent service, excellent specials, and I always felt like I was getting decent stuff. We went to an all inclusive in the Dominican Republic about 5 years ago and it seemed like they watered down everything quite a bit. This resort does NOT do that. If you want to order a special bottle of wine at the nice restaurants, they do offer the option for an additional charge. But I was mostly satisfied with what I was getting… although I'm not exactly picky when it comes to wine.
Activities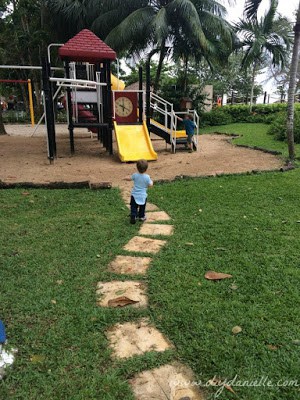 The glass bottom boat ride was awesome. We enjoyed trying paddle boarding, taking out the water bicycle, and taking out the kayaks.
The kids loved mini golf and the XBOX room. There's also a basketball arcade game outside of the XBOX lounge that my kids LOVED. It's free. There's giant board games in one area and if you look around, you'll find fun things to do around the resort.There's a DJ area for older kids but I think there was an additional fee.
There's a very nice small gym if you want to do weights or cardio… most of the time it was empty. I wish there had been a yoga class for the grownups.
There's also a small playground… we went a few times, but there were definitely things we liked more.
We did not go off site. I know there were excursions available, but I figured the travel to them (mostly in Ocho Rios I think) would be long and I didn't want to sit on a bus that much. If I didn't have kids with me, maybe it'd be a different story. If you want to do a lot of excursions, you may prefer to stay at the Ocho Rios Beaches.
Entertainment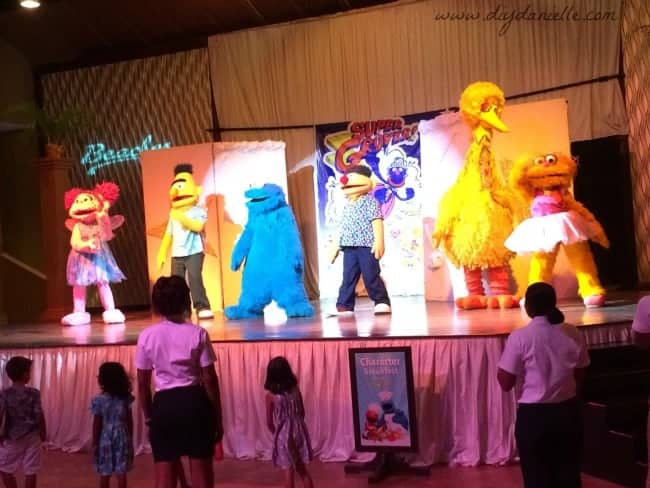 The steel drum band was AMAZING. I highly recommend trying to make it to that.
The Sesame Street shows every night are amazing. There's a Sesame Street Parade one day. I really just thought all of their activities were very well done.
The kids would often all run around in front of the stage after shows were done and the area was empty. Someone amazing up above was shining a spot light around the floor for them to chase. Best. Exercise. Ever. The kids were so happy.
Photography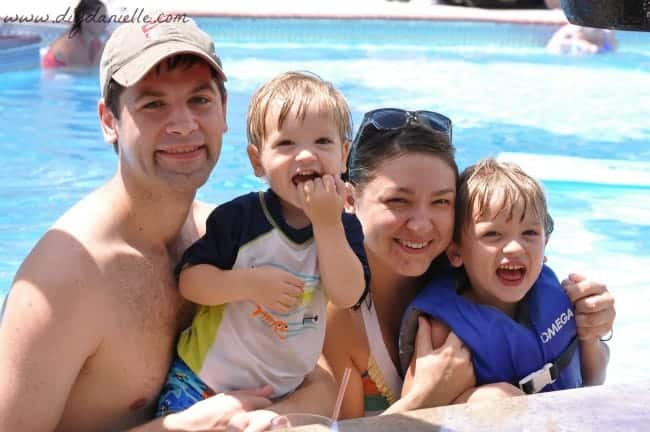 The resort has photographers popping around the corner everywhere. It's like being followed by the paparazzi, I kid you not. They hand you a water proof wristband to hold onto and then you can turn them in and connect the photos to your room at the photo center. You can also setup a free photo session on the beach.
At the end of the trip, you'll go through all of your photos and figure out which you'd like to buy. This is SUCH a slow process because the person behind the counter has to delete the ones you don't like… I wish they just let you go through them on the touchscreen. It was so aggravating I almost gave up, but I'm sort of obsessed with photos. There are just so many to go through.
I won't lie… it's not cheap. The CD with 100 photos was probably a better deal than getting only 10 photos (per photo). It's neat to get decent photos though of your trip without needing to carry your phone or camera everywhere. It's probably cheaper than accidentally dropping your iPhone 6 into the pool.
Honestly, I thought the pictures were worth it so you didn't need to take your own photos. It allows you to relax on vacation a bit more- if you're like me and want to capture all the moments. Plus I got to be in family photos for a change… usually it looks like I wasn't even on vacation with my family because I'm always the one behind the camera.
Staff
I LOVED most of the people working at Beaches… they always were friendly and there were quite a few who seemed to make it their purpose to make our vacation easier. They were always fist bumping the kids, getting down on the kids' level to talk to them about their trip, and really going above and beyond to make our vacation awesome.
My only complaint about the people working there was the front desk staff. Our check in seemed really slow and I didn't completely understand what was going on that took so. long. After the long flight and a long transfer, I wish it'd been quicker.
There was a form we had to sign when we entered… I was super annoyed about this form. We had to state that we were okay with our photos being used for advertising purposes. It wasn't optional. Now, on one hand, they had photographers going around taking photos of us all vacation which was AWESOME. We had to buy the photos if we wanted to keep them, but it was neat to get all of these action photos from our vacation. On the other hand, it sounded like they can use our photos in their advertising campaigns. And you don't even see the form or know it exists until you get there. AND it's not optional. I don't know what happens if you refuse.
Also, I signed up online to do the Sesame Street breakfast. There are different packages and I purchased the one that included a stuffed toy for each kid. I paid for it separate from the hotel as I booked in advance. We did the breakfast and I asked there, "We get a stuffed toy for each kid, right?" They had the cart out and the representative checking people off. They checked for me and said yes. We picked out two toys- and they directed us to the ones that were included… there were some bigger toys that were extra money. My kids really didn't care about the toys, but we had paid for them in the package so whatever. A day or two before checkout, we get our bill and they charged us $50 for these two toys. I went to reception and said, "These toys were included in the package and we shouldn't have been billed for them." The receptionist checked with the representative and I was told we had to pay for them. I thought perhaps I had been mistaken so decided to just check my email for the receipt later. The WiFi was VERY touchy though and I had a lot of trouble getting access to my email… finally the morning we left I found the email and sure enough, the two toys were *supposed* to be included. I went again to the front desk and talked to them. Again they called the representative and there was all this confusion about what was or wasn't included. Now…. at this point I'm showing them THEIR advertisement, receipt, and what's included. Rather than just refunding me, they gave me a hard time. Our bus was starting to pack people up so I just was whatever and went to get on it, figuring I'd just fight the bill with our credit card company when we got home. While waiting to get on the bus, I popped on social media to complain about it all and suddenly the manager is ready to help me. She's climbing into the bus to say they're going to figure it out for us. Not "hey we're going to refund you because we were wrong." She also said, "Why didn't you bring this to us sooner?!" I was steaming mad. "I DID!" Needless to say, I think we got our refund within a week. But given how little they understood about what was included in the package, I highly recommend just going with the smallest package. If you decide to buy the stuffed toy separate, it is the same extra price difference as if you had gotten the package with the stuffed toys.
Unfortunately, that put a really bad taste in my mouth about the resort. We would have left and probably come back to the resort within a year or two despite any other complaints we had, but I don't like arguing about stuff or getting overcharged. It's not a fun experience and it was unnecessarily stressful. And it was the end of our trip- instead of getting sent off with that "We've been on vacation glow," we ended up leaving after being double billed and not refunded. And besides the manager, none of the front desk staff was particularly nice about dealing with my complaint.
So… without that experience, I'd say absolutely it's a great place to visit. But it's something to keep in mind when you travel that you need to keep an eye on your bill to make sure you aren't being overcharged. When I mentioned this issue to friends, they have had the SAME issue at other resorts… so it's not just Beaches.
Here's a video I put together with some clips from around the resort… totally didn't get a good video of the pools because there were always people in it. Didn't want to video people without their permission.
Do you have any questions for me about it?! I'd love to answer them.
If you decide to book a vacation here, it would be AWESOME if you could order through the link below. It's an affiliate link which means I get a small commission for referring you to Beaches Negril. This a huge help for me because it helps justify to my husband how much time I spend on my blog posts- wink.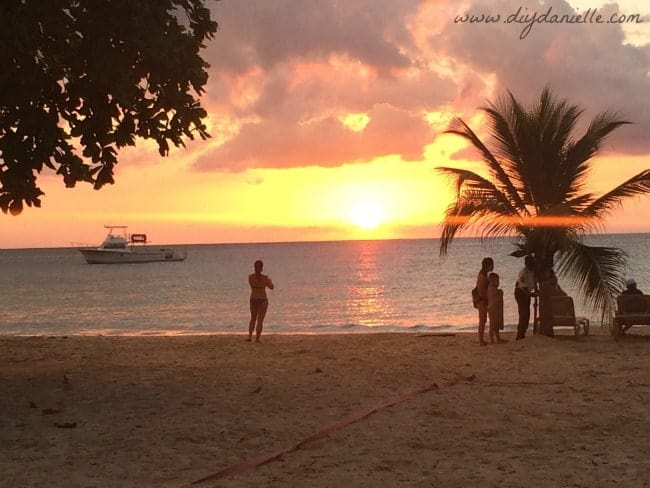 Thanks for taking the time to read this post! I really appreciate the time you've taken. Please share, like, and pin my post if you enjoyed it. Follow me on social media and subscribe to my email list to keep up to date on all of my latest projects!