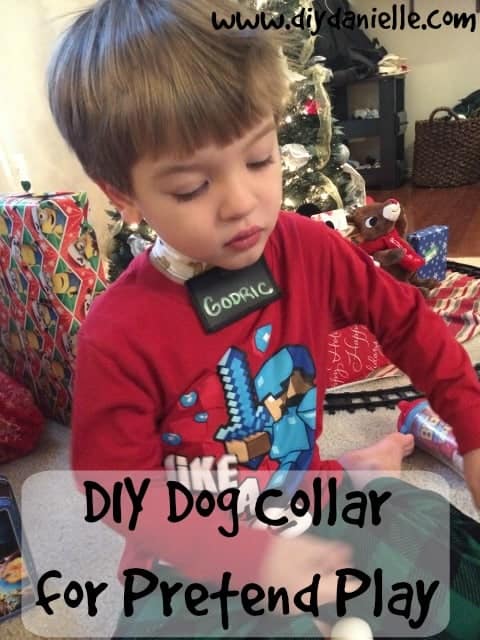 How to make a pretend play dog collar for a child. This was quick and easy to sew as a Christmas gift for my son who is obsessed with our dog's collar.
My 4 year old son is obsessed with our dog's collar. He keeps removing it and trying to put it on himself. I made the mistake of saying, "That's Rocky's collar to wear in case he gets lost. He needs to wear it so we can find him." Now… I realized my mistake immediately. But it was already said.
First problem: Did I actually just imply my child doesn't need a collar in case HE gets lost?! Lol, whoops.
Second problem: He dug through the dog stuff and found a spare collar. I told him the collar wasn't safe for him to wear, but I decided to make him a safe collar for Christmas. I figured it'd be fun and I know he will appreciate it. I used a magnet instead of velcro or snaps so that it will come off easily. I didn't want him getting hurt so this seemed like a great way to make it.
Note: This will come off super easily so don't make this for an actual dog.
Supplies
Supplies listed below may include affiliate links to the products.
Fabric
Snaps
Sewing machine
Tutorial
I cut one strip of puppy fabric, size 13″ long by 5″ tall (you may want it smaller than 5″ depending on your child's neck… I didn't even measure my son's so I just sort of eyeballed it). Make sure your fabric is facing in the right direction. I figured out the length by measuring his neck loosely and adding 1″ for a seam allowance. I wanted to give a very generous seam allowance so it wouldn't be too tight around his neck.
I folded over the strip of fabric right sides together so it went from 5″ to 2.5″ wide… I sewed along the long side and one short side.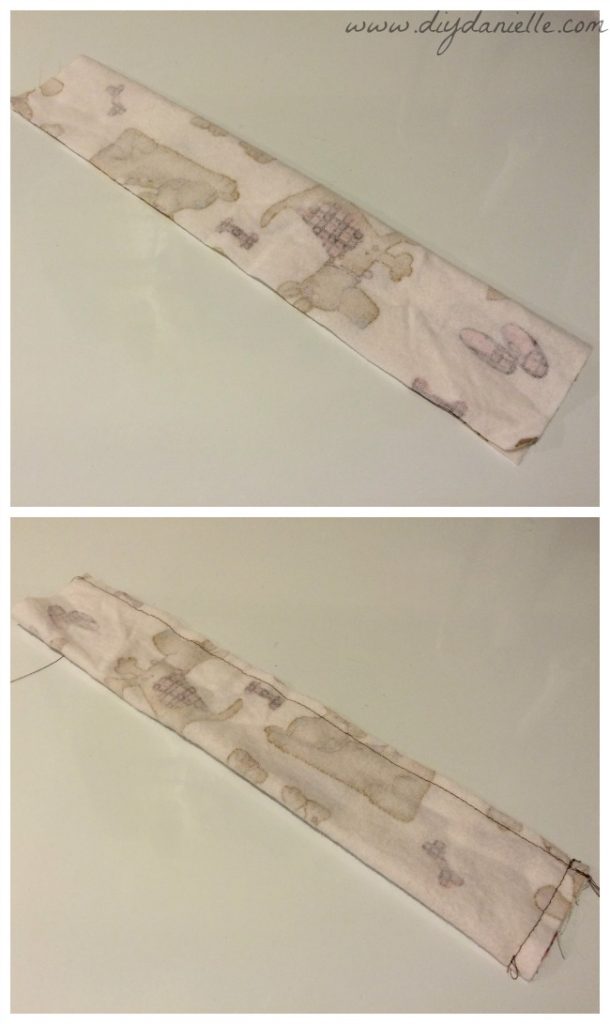 Next I needed to sew pockets for the magnet. I placed my magnets where I wanted them and used a piece of tailor chalk to mark where they'd go. First I sewed two sides for the bottom magnet- then inserted my magnet and sewed it closed.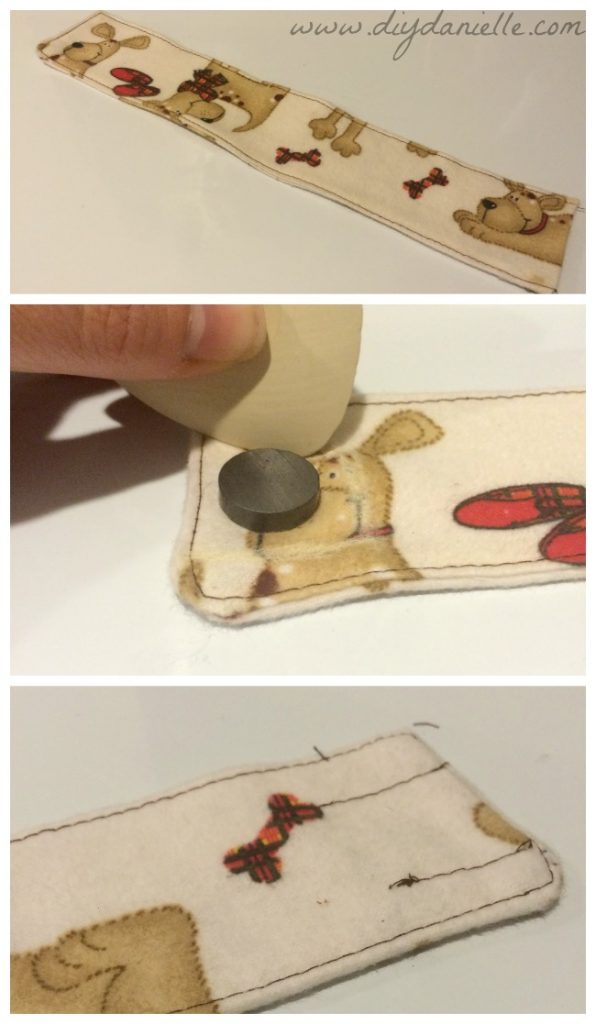 Then I sewed the three sides for the top magnet, inserted the magnet, and sewed closed the whole top of the collar. MAKE SURE your magnets are facing the right direction so they attract each other instead of repelling each other.
Now I just added a snap to attach my tag.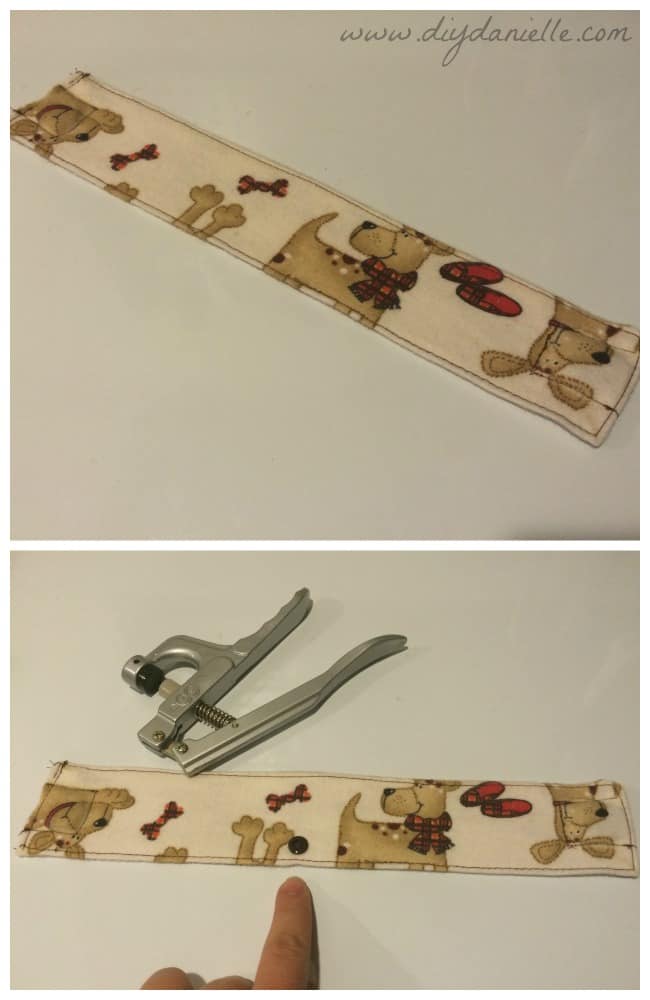 I took a piece of chalkboard fabric and serged around it for the tag. I added a snap to that so it could snap onto the collar. Finished!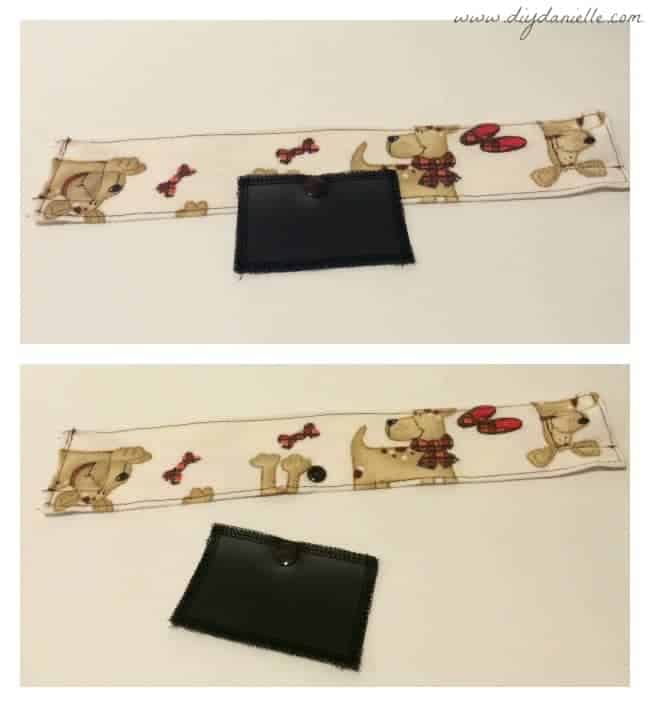 I didn't want to show my son his Christmas gift so I couldn't get a picture of it on, but here's Ernie modeling it for me…. unfortunately Ernie's neck was a lot smaller than my son's so it's hard to gauge size!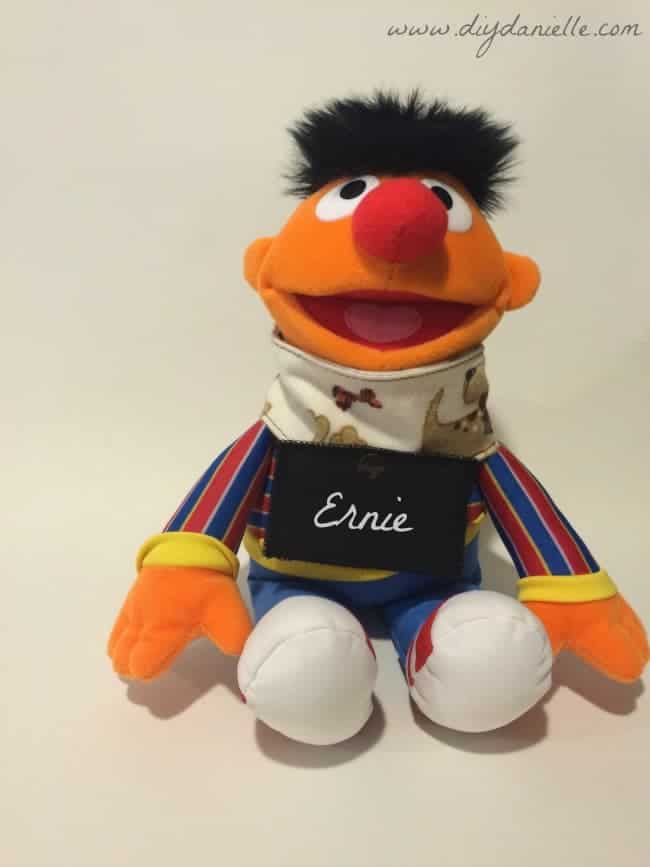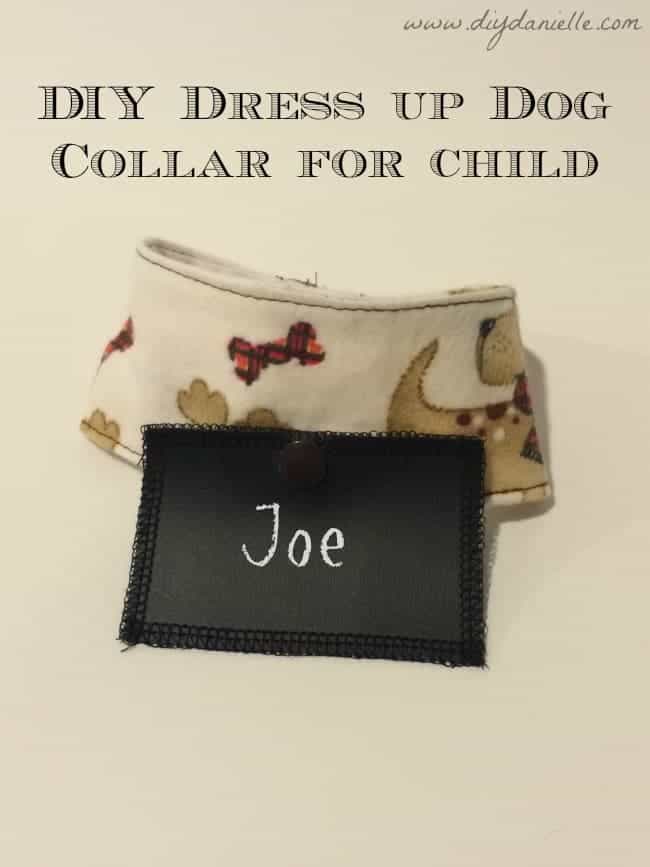 Thanks for taking the time to read this post! I really appreciate the time you've taken. Please share, like, and pin my post if you enjoyed it. Follow me on social media and subscribe to my email list to keep up to date on all of my latest projects!

Disclosure of Material Connection: Some of the links in the post above are "affiliate links." This means if you click on the link and purchase the item, I will receive an affiliate commission. Regardless, I only recommend products or services I use personally and believe will add value to my readers. I am disclosing this in accordance with the Federal Trade Commission's 16 CFR, Part 255: "Guides Concerning the Use of Endorsements and Testimonials in Advertising."