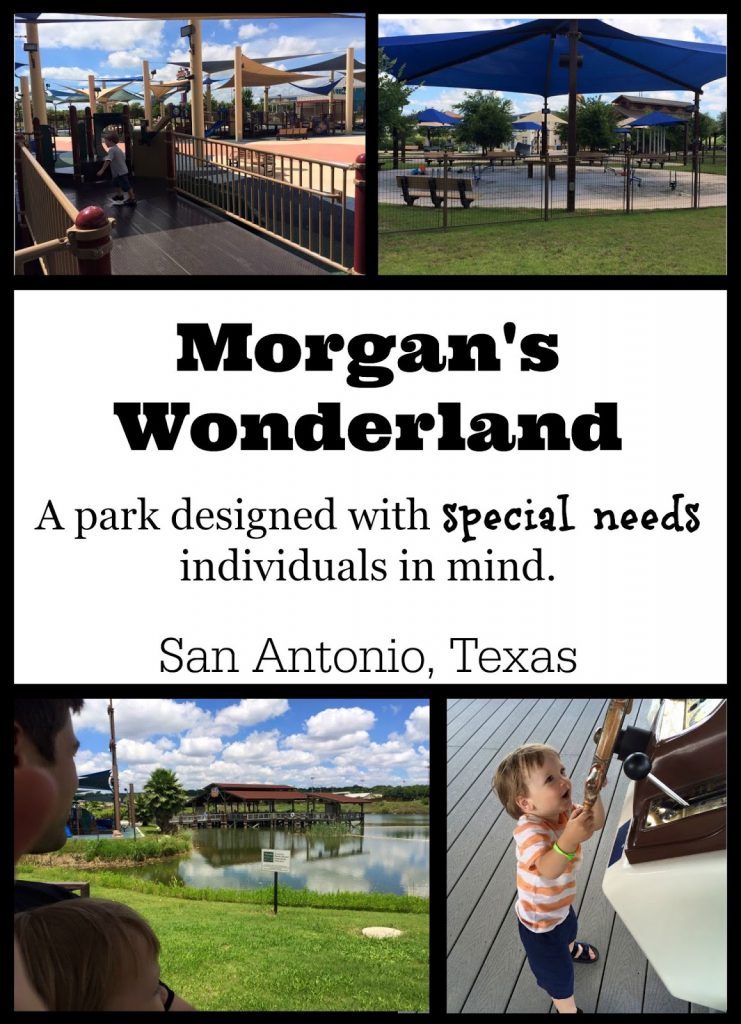 Morgan's Wonderland is a fantastic play space for kids with and without special needs. It's located in San Antonio, Texas and offers many sensory activities, train and car rides, and playgrounds that are handicap accessible.

We went to San Antonio in June this year and I kept meaning to blog about the play spaces that we visited there… and just haven't gotten around to it. It's October and I was thinking about Morgan's Wonderland today so I decided NOW was a good time to talk about how much I love this place. Morgan's and the Doseum were definitely my favorite places when we visited and I look forward to returning to both on our next trip to Texas. I don't think I can possibly explain how much I LOVE the two, except to say I wanted to move right next to them. Haha. My husband kinda likes his job though so he poo-poo'ed on that idea. If I lived in SA though, I could definitely see myself with a membership to both and regular visits. I live in Maryland and we have lots of cool options for play areas, but nothing (I can think of) so beautifully well designed. And as a social worker, I was so impressed with how well setup Morgan's Wonderland was to accommodate people with many different needs.
What makes the park special?
Beyond the fact that the park was FUN, what I most noticed is how accommodating the people who worked there were, and how cognizant they were when designing the park of people with special needs. We don't have anyone who is special needs in our family, but it was noticeable that while it was beneficial for everyone, certain features would have been even
more
beneficial if you (or your child) had special needs.
For example, there were significant amounts of shade provided in the multiple outdoor areas, as well as fans in some areas, to keep everyone cool. This is a big deal in Texas where your weather can be quite harsh in the summer. NOT all places in Texas do this. It also allows the play to continue if there's rain. It also means that you don't need to engage in power struggles with a child who doesn't want sunscreen on. It also makes waiting in line to "drive" the cars less painful if you or your child doesn't tolerate the heat well.
The areas were big and open with typical fun activities such as sand and water… which normally make a mess and are frustrating for parents at times. We have sand box type activities at a particular place near us in Maryland and we have to pull our oldest son out of that room screaming every single trip because he is either spilling the sand over the sides or trying to get into the box. Massive tantrums. But Morgan's Wonderland had a huge sand area under cover… no hot sand, plenty of toys, and no real boundaries to the sandbox (but you're not likely to travel outside of the sun shade). Did we still need to make sure our children didn't throw sand at one another? Yes. But we weren't struggling with them wanting to sit in the sandbox (because yay! They could lay in it if they really wanted) or hovering to make sure they didn't spill sand.
The amount of sensory activities built in was awesome… I don't know what to even call some of the activities, but the playground was 100% built with sensory activities in mind and was handicap accessible. You could play on certain portions of the playground in a wheelchair. Or go on a swing made for wheelchairs. I never truly understood how lacking most playgrounds are until I came here.
The activities were all available in a semi controlled environment, if that makes sense. I've got two toddlers and I just felt like "Gosh somebody gets it. I feel like I'm being setup for success here and I can enjoy my time with my kids a bit more instead of stressing over any unnecessary power struggles." For example, they have this cool area off their little lake and you can fish inside this square cut in the dock. There's a big fence and the fishing poles are pretty much setup for you. You can't run off with the fishing pole because they're attached. You can't drop it in. There's someone nearby to help if someone actually catches a fish. Most of the activities available had lots of tied down stuff… like the sand box diggers were all solidly in place.
We'd brought our reusable water bottles into the park and the staff was extremely accommodating about refilling our bottles with fresh water and ice. We'd bought a bunch of food at their concession stands, but really didn't want to keep getting soda for the kids.
Features at Park
Carousel horses
Water table area
Playground
Sand area
Driving cars
Train that tours the park
Indoor play area with play store
Fishing area
Motorboats (it wasn't working when we went, but they looked like fun!)
Water guns for a windmill type item in the water.
Food and refreshment stands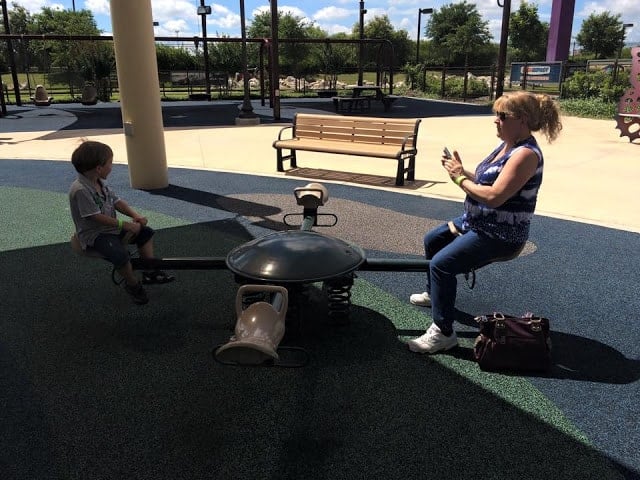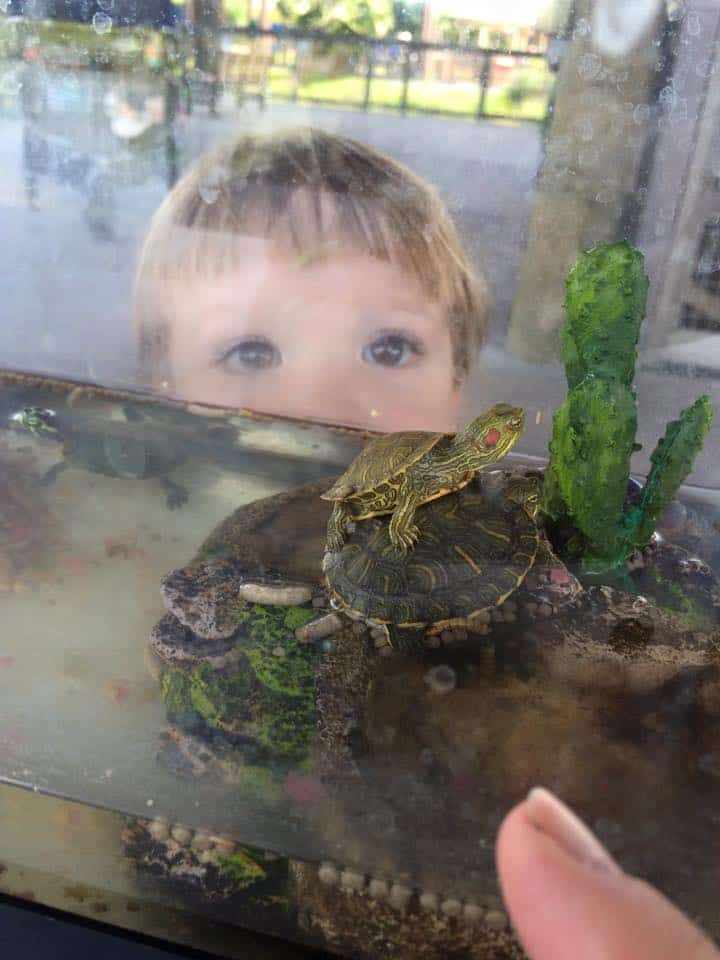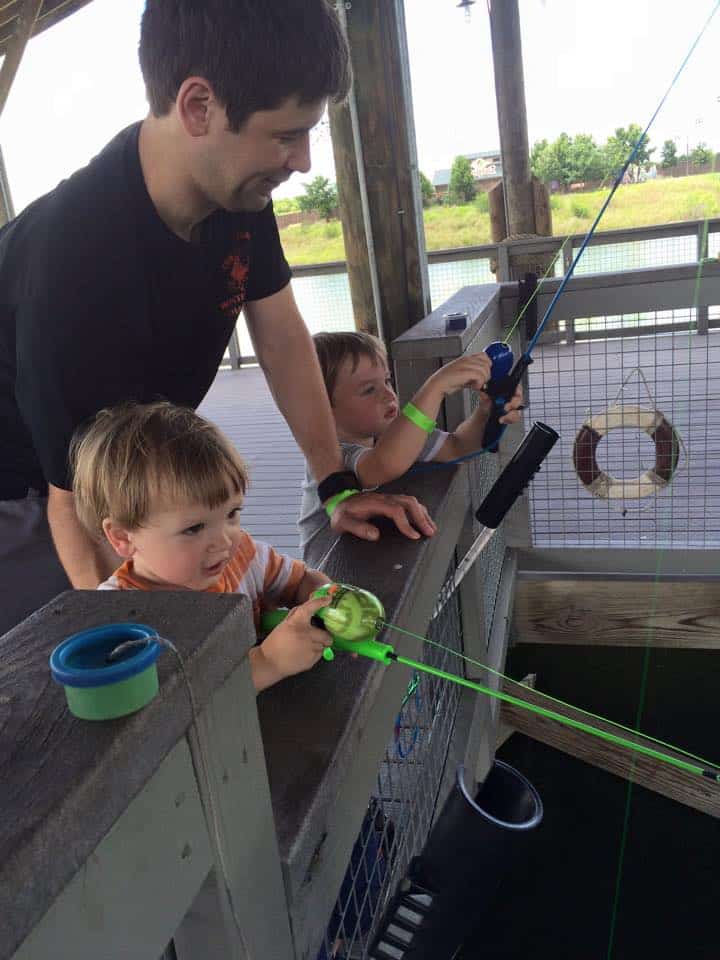 My only regret is that I didn't take more photos of this place to show you!
Have you ever been to Morgan's Wonderland?
Thanks for taking the time to read this post! I really appreciate the time you've taken. Please share, like, and pin my post if you enjoyed it. Follow me on social media and subscribe to my email list to keep up to date on all of my latest projects!