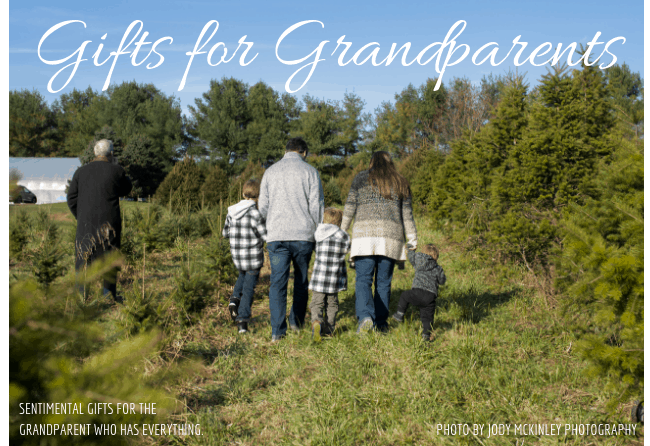 Gifts for grandparents who have everything. Ideas for gifts for grandma or grandpa for Mother's Day, Father's Day, Christmas, and more. These gifts would also be perfect for parents too!
This post may contain affiliate links which may earn me commissions should you click through them and take certain actions. As an affiliate for Amazon, Cricut, xTool, Home Depot, and other sites, I earn from qualifying purchases. Please DIY carefully. View my full legal disclosures here.
Please read the whole post so you don't miss any important information!
Do you have grandparents who have everything they could ever want? It's SO HARD to buy for them! It's tough when you want to get them something meaningful, but can't find something that won't just clutter up their homes.
I know my parents are both trying to cut down on what they have so I try to be careful to only send them things they want or can use. Every year I try to think of new and unique ideas for them. Sometimes I buy the items, sometimes I make them.
Here are some of my top pick gifts for grandparents who have everything. They're separated into different categories so you can find something you know they'll love, whether they sentimental, enjoy unique ideas, or want something to make them laugh.
Thoughtful Gifts For Grandparents
Sentimental and thoughtful gift ideas for grandma and grandpa. These are the gifts that let them know you're thinking of them.
Photo Credit: shrsl.com
The new Cricut lamps are PERFECT for reading or knitting. They provide extra light, can be pulled closer to a project, and are adjustable for both lighting color (temperature) and brightness. They're also LED, resulting in a lower electric bill!
Does grandma or grandpa love puzzles? These photo puzzles are an amazing gift that's fun to put together. I love that these are bigger sized puzzles so you can
These new digital picture frames are NOT the digital frames of the previous era. We bought my dad and in-laws both a Nixplay Smart Digital Photo Frame. It's setup so you can email photos to family members with the frame or use an app to share to their frame. I love to surprise them with new pictures to their frame.
I recently received the Iris Smart Digital Photo frame to review if you want to see how they work! They're really easy to setup and send photos to.
Pretty much the PERFECT GIFT for someone who is down sizing but still wants lots of pictures of the grandkids around! It's such a thoughtful gift to give grandparents who live far away and who love staying in touch with their grand kids.
Photo Credit: www.etsy.com
If you have a loved one who has Alzheimer's, you may worry about them being lost. These personalized ID bracelets are a great option to ease your mind and help keep grandma or grandpa from getting lost.
Turn kids artwork into gifts with Cricut Infusible Ink.
These pillow covers are perfect for grandparents. Use the "Long distance hug" SVG for a special gift.
Photo Credit: www.etsy.com
If your loved one has Dementia or Alzheimers, these fidget mats are a sweet gift. They are super soft and have lots of different items for grandma or grandpa to play with as they're sitting.
One thing that I created for myself is a neck and back pain relief kit. This is just a cute little box to pull out whenever my body hurts. This might be a sweet gift for a grandparent who has a lot of aches and pains they worry about.
Photo Credit: diydanielle.com
Grandparent Journals
These "Grandpa Tell Me Your Memories" and Grandma Tell Me Your Memories journals are really cool. They're guided journals so they give grandma or grandpa some fun questions to answer about their lives. Eventually they could be passed down to the grand kids. This is something I wish my grandma had done for us, but her sister wrote a book, which I own, about their lives growing up- so it's almost the same thing.
It's so neat to read about how another generation was raised, the trouble they got into, their joys, and their pains.
Family Portraits with the Grandparents
If you live near the grandparents, arrange to have a professional photographer take photos of them with the grand kids. This is such a special gift. You can get the photos printed or put on mugs and other items for gifts.
Live in Maryland? My friend Jody takes BEAUTIFUL photos. She runs Jody McKinley Photography in Howard County, MD (Columbia).Even though I have a camera, I love to have her take family photos at least once a year because otherwise I never get in the pictures! Really it's worth hiring someone.
You can also take your own photos and get prints made up too. Here are some pictures that I took for my husband, dad, and father-in-law one year, some information on the DSLR camera that I used for a while to make photography better/easier (although today's phones take pretty amazing photos too), and you can try Bluprint (Get 50% Off Your 1st 3 Months) and take lots of Online Photography Classes if you want to learn how to take fabulous photos.
Who doesn't look to be cooked for? Or shopped for. Eating healthy is HARD. You could send them a gift card to Blue Apron or another meal delivery service if they don't mind cooking, but want food delivered to their door with easy recipe cards to follow. A service called Real Eats delivers healthy sous vide meals that require no prep or work- you just heat up the bags of food in a pot of boiling water for 6 minutes.
You could also order them groceries delivered to their door or for pickup. Include some flowers in the order!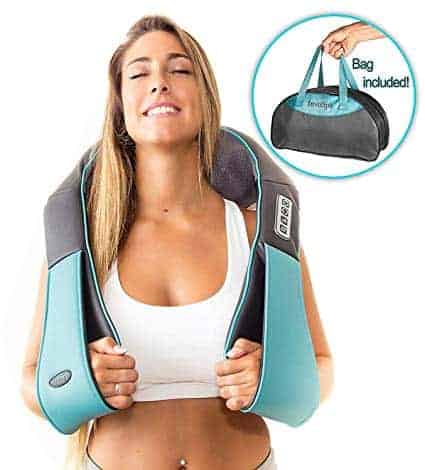 Photo Credit: www.amazon.com
This is another idea for those grandparents with a lot of aches and pains. Personal massage devices can be a good option, with the approval of their doctor, for managing stiff or sore muscles.
Unique Gift Ideas
Here are some unique gift ideas that you might not think of! These ones are perfect for the quirky grandma or grandpa who likes to be impressed by something new.
Photo Credit: embarkvet.com
Does Grandma or Grandpa adore their pup? Consider getting a DNA test. Embark Vet offers options for a breed DNA test or a Breed & Health Kit. This health test helps screen for a number of common health conditions in dogs. The test even lets you find other relatives... puppy playdate anyone?
Honestly... this is just fun. One cheek swab and they can send off for the results.
Embark DNA was generous enough to give me a $20 coupon code for y'all if you buy the Breed & Health Kit. Use the Code DIYDANIELLE, valid now until the end of January 2020.
The link goes to the Coulotte steak with red wine sauce recipe that I made for Christmas two years in a row, but the steak itself can be ordered from Snake River Farms. This is a great place for quality cuts of meat and they ship all over the country. I love that it's edible so it doesn't create clutter, and it's a luxury food for those who love good food, but can't afford to shop like this all of the time.
Visit Snake River Farms to see what meat they have available right now or buy your grandparent a gift card.
Photo Credit: www.amazon.com
Window bird feeders are FANTASTIC for those who enjoy watching birds (and squirrels). We've spent hours watching our window bird feeder and our in-laws love the one we got them too.
Photo Credit: www.amazon.com
While there's more affordable options for Roomba, this version has automatic dirt disposal. This will help keep grandpa or grandma from doing unnecessary housework so they can enjoy other things.
Do they love wine? If you think they'd love a new hobby, maybe they could learn to make wine! Get them a kit to get started.
Moving away from the photo and kid-related gifts, we use a Garden Tower 2 for fruits and vegetables. It would be perfect for a grandma or grandpa who loves to garden, but is starting to have a hard time kneeling in a garden bed to weed or who doesn't have the space for a ground garden. You can fit up to 50 plants in one tower and the best part is that it spins so you can weed or water it sitting down. Just rotate the tower toward you as you work.
Photo Credit: www.amazon.com
These frames open up so you can insert a grandchild's art! These are a fun way for grandma or grandpa to display the things the kids draw for them.
These three tier self watering planters are also lovely! They don't need as frequent watering as other planters so they're perfect for grandparents who love to grow things, but also like to travel.
If they're a beer or wine lover, you could try a subscription service for wine delivery (or beer), or just pick up a few bottles for them locally. Winc is one service that delivers wine... it's the only one I've tried, but it was easy and affordable wine. Click below for the coupon code.
Give the gift of wine. Get $22 off your first box.
Classes to Try Something New
Sign them up for a class to learn something new. Maybe dance lessons, yoga, or a chess club?
Homemade Gifts for Grandparents
Homemade gifts you can make for grandma and grandpa. These DIY and crafty gifts are lovely, personalized gift ideas that they'll adore.
Photo Frames:
Newly pregnant or just had a baby? These are cute frames for showing ultrasound scans!
Grandmas are mommies with frosting sign
I LOVE this "Grandmas are mommies with frosting" sign on Etsy.
Customized End Grain Cutting Boards
This company on Etsy makes gorgeous end grain cutting boards. I LOVE these.
Frames for Long Distance Grandparents
Are the grandparents long distance? These frames are cute if you're not in the same state as grandma and/or grandpa.
Personalized Hammer
Customize a hammer for Grandma or Grandpa.
Sound Wave Art
This Sound Wave art print can show sound waves from multiple grandchildren. It's SO pretty too.
List of Grandchildren Signs
These are fun signs for grandparents that list each grandchild and their birthday.
Air Purifier
If they have allergies or pets, you could get them an air purifier for their bedroom or pet area.
Specialized Shower Head
A specialized shower head would be a nice comfort item, particularly if you do the install for them.
Card Playing Gear
Do they play cards? My grandma used to play cards every week with her friends after she retired from her long term gig as a lunch lady. She would have loved an automatic card shuffler. Along the same lines, a card holder would be a fun gift too. You could even customize it.
A specialty coffee machine.
We LOVE our Shark Ninja coffee maker. It's NOT a single cup machine so there's no waste or extra expense, but you make coffee the old fashioned way- just fancier.
Don't Forget the Greeting Cards
Don't forget a card! I've got a couple nice cards I've made. The photo cards I made for Christmas, but you could make your own photo cards for other holidays as well.
The best cards are always the ones with a sweet handwritten message.
Cards for Everyone | Father's Day Cards | Photo Cards
Please share and pin this post! If you make this project, share it in our Stuff Mama Makes Facebook Group. We have regular giveaways for gift cards to craft stores. You can also tag me on Instagram @doityourselfdanielle; I love seeing everything you make!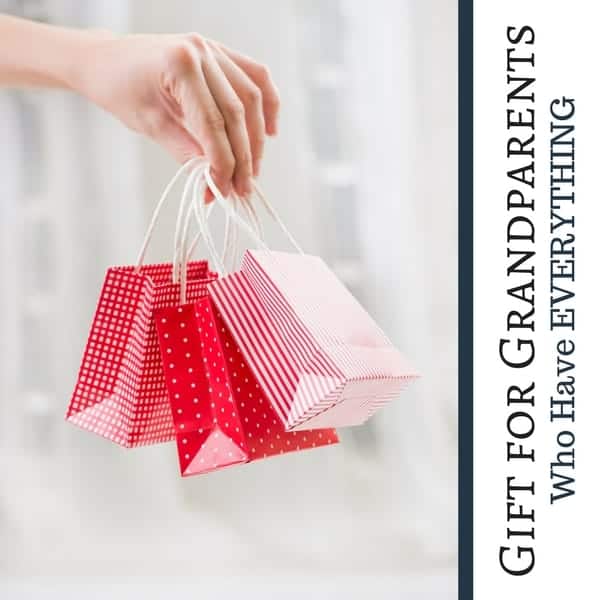 Gift ideas for seniors who have everything.