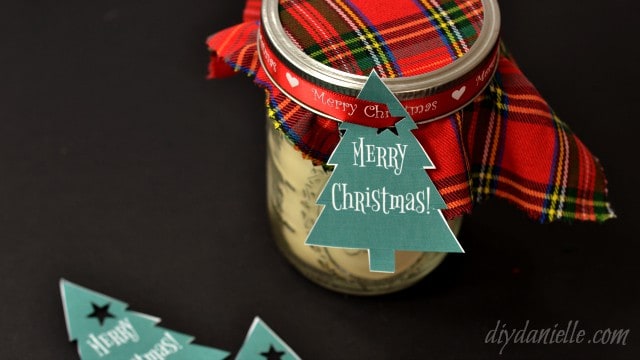 Tips for scented soy candle making. These easy candles make great DIY gifts for teachers or others in your life. And they're easy enough for the children to help with too!
I love homemade gifts, but I try to be practical because people- particularly teachers- tend to get a lot of the same type of handmade gifts. I like gifts that are consumable (I mean, use it then it's gone. Candles aren't for eating, haha). It seems like candles are the type of gifts that you can ALWAYS use: they're lovely additions to decor, and the mason jars can be reused or recycled when the candle is gone. I also liked the idea that my sons could help make their teachers' gifts, even if I needed to help during the process. Candle making with soy wax is pretty simple. Attach a gift card to each candle and these made great gifts for teachers.
---
This post may contain affiliate links which may earn me commissions should you click through them and take certain actions. As an affiliate for Amazon, Cricut, xTool, Home Depot, and other sites, I earn from qualifying purchases. Please DIY carefully. View my full legal disclosures here.
Please read the whole post so you don't miss any important information!
---
I handled the hot wax and supervised carefully, but my 5 year old was able to help add essential oils and mix everything. I'd typically have let my 3 year old help, but he was distracted by more interesting tasks.
Make sure to check out my other gift ideas for the holidays, including these neat candle holders make of concrete!
Supplies for Soy Candle Making
How to Make Scented Soy Candles for Gifts
This is a pretty simple process. I put my soy wax into a mason jar, microwave it until it's melted (keep a close eye on it), add more wax and repeat until it's full and everything is melted. Remove from microwave, using an oven mitt because it will be HOT.Kids help with scooping the wax and pushing buttons for the microwave, adults handle the hot mason jar.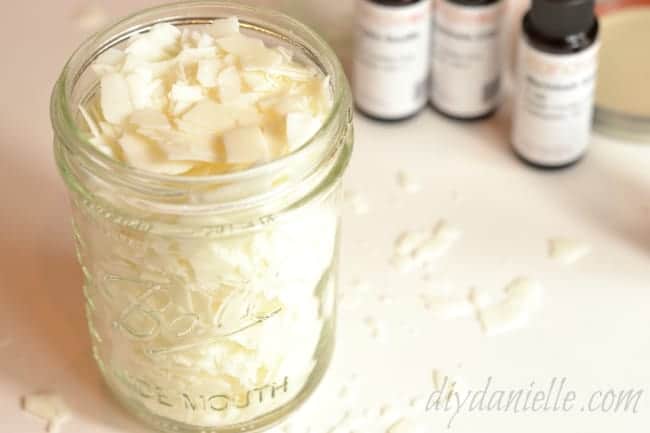 Let your wax cool a bit, but not to solidify. Apparently scents are less likely to burn off if you don't add the fragrances or essential oils immediately. I used .5 ounce of fragrance per candle of this size and it seemed like a good amount for a nice, strong candle. I think you're supposed to use 1 ounce per pound of soy wax you use… maybe I should have been more mathematical about this, haha.
Add your fragrance oils. You can apparently use essential oils, but fragrance oils are supposed to be cheaper for the amount you'll need so it might be more economical to use those. Mix. My kids were able to help with this.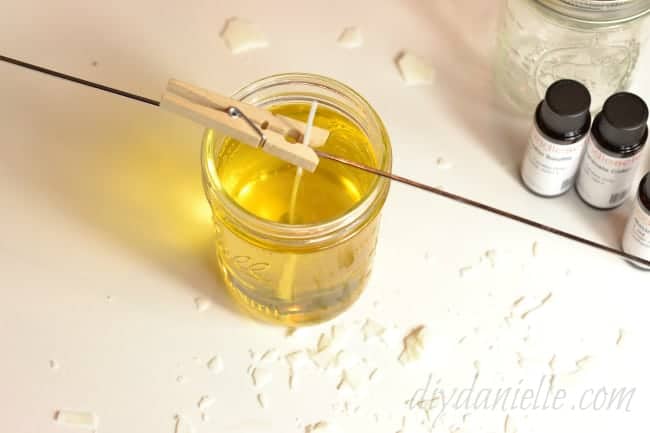 Add your wick, laying something across the top of your mason jar to wind the top of the wick around. This will help keep your wick straight up until the candle solidifies.
Let solidify. Give it time and don't mess with it.
Once completely solid and cool, you can take some scissors and cut your wick so that it's just 1″ or so above the wax.
Put the metal disc on to your jar. Cut your fabric squares with pinking scissors, then place one on top of each metal disc. Place your lid on over this and screw on.
Using your ribbon, attach your tag. You can also attach a gift card!
Scented Soy Candle Making, A Video Tutorial
This project is part of a YouTube Handmade Holiday Gift Series, created by six DIY bloggers. Join me and my friends as we share with you a new gift idea every day this week.Stay tuned and subscribe to each of our channels.
Sunday 12/11/2016 ToolBox Divas www.youtube.com/ToolBoxDivasNation
Monday 12/12/2016 Do-It-Yourself Danielle https://www.youtube.com/user/doityourselfdanielle
Tuesday 12/13/2016 Woodgrain Girls https://goo.gl/25x8FI
Wednesday 12/14/2016 Handmade with Ashley https://goo.gl/qGO171
Thursday 12/15/2016 Cowlick Studios https://goo.gl/3iqccJ
Friday 12/16/2016 Mother Daughter Projects https://www.youtube.com/MotherDaughterProjects
Looking for a gift guide for some difficult-to-buy-for people? Here's a few gift guides I've put together:
Please share and pin this post! If you make this project, share it in our Stuff Mama Makes Facebook Group. We have regular giveaways for gift cards to craft stores. You can also tag me on Instagram @doityourselfdanielle; I love seeing everything you make!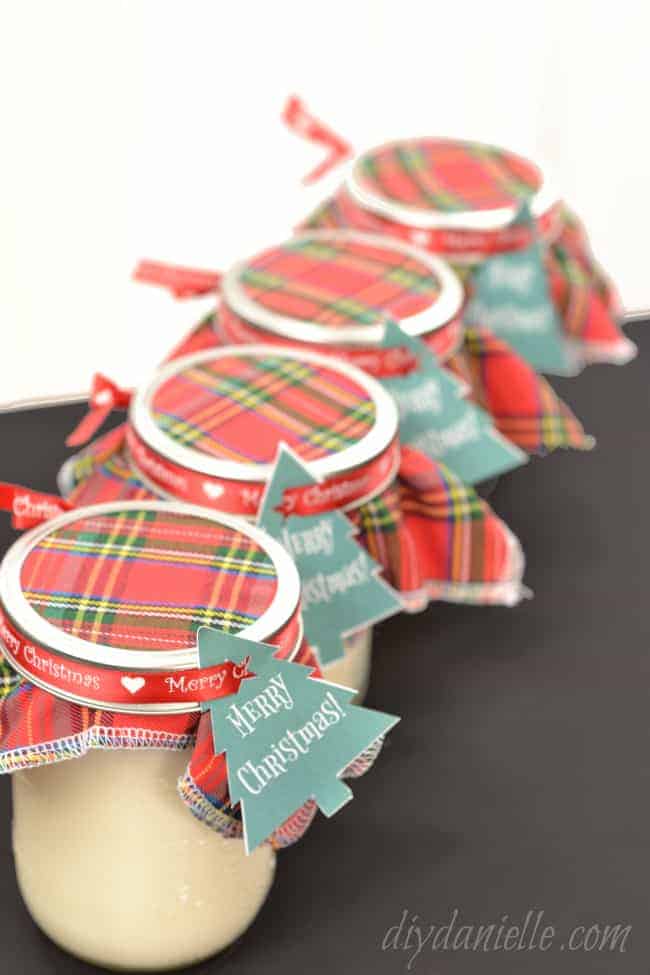 Scented Soy Candle Making