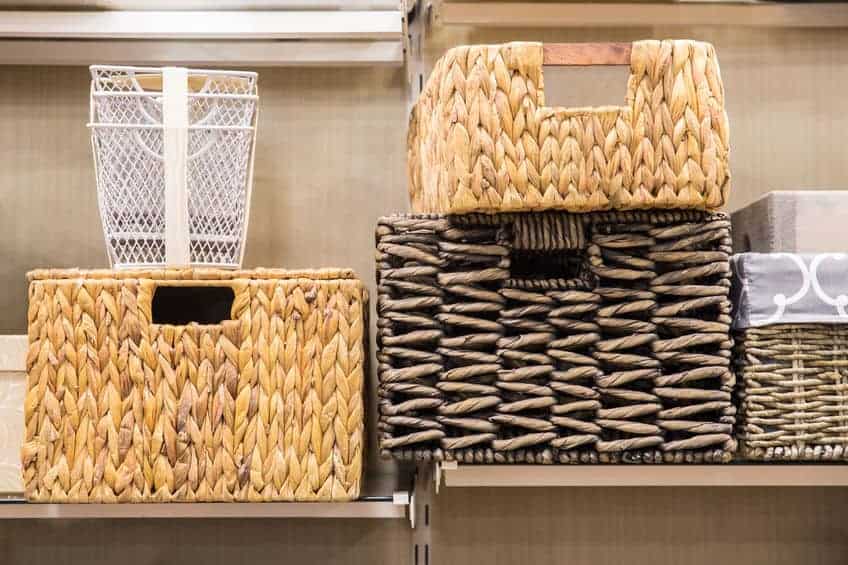 Is clutter exhausting you? Check out these Home Organization Hacks and get easy DIY ideas to clean and declutter each room of your home.
This post was originally published January 2017, but was updated in Jan 2019. Thank you!
Happy New Year! Want to guess what my New Years resolution is? ORGANIZING my home. That means organizing, decluttering, cleaning and rethinking how I want my home to look. I wrote this post back in 2017, but this year I'm ready to tackle it AGAIN after a big move! We moved from a home on a 10,000 sq ft. property to a home with 8.5 acres… but we lost about 800 sq ft in home size.
We LOVE our new home, but it's more important than ever for us to tackle home organization this year.
Home Organization Hacks
Why Choose Home Organization for Your New Years Resolution
I decided that I don't want to live in chaos- I am tired of tripping over things and worrying about where to put the latest item that the kids bring home. And really, we don't NEED all of those things that we think we need. It's absurd how much stuff can accrue over time.
When we moved to our last house in 2012, I had a 1 year old and was soon to be pregnant with my second son. We didn't make sure everything had a good place, we didn't do a great job decluttering, and over the past few years we accumulated items that just needed to go. I got things under control during that 2017 series, but found so much more to do once we moved right before Thanksgiving. Now I want to start fresh in this new house.
Eco Friendly Home Products and Organization Ideas
The biggest struggle for me has always been finding ways to be eco friendly about home organization. That means, I don't want to send lots and lots of stuff to a landfill if I can avoid it. I want to use eco friendly products in my home and try to use old items for organization bins if I can, rather than buying new ones.
Similarly, I also try to make sure that I use ecofriendly cleaning products. As I declutter each room, I make sure to deep clean them as well. All of those small spaces that irritate you through the year are much easier to clean when your rooms aren't cluttered.
I have broken down this topic into three smaller posts which you can read below. Read about my favorite eco friendly cleaning products. Find fun places to donate used clothing, toys, and other items- for example, schools LOVE accepting small McDonalds toys for their behavioral programs.
Ecofriendly Organizing / Ecofriendly Decluttering / Ecofriendly Cleaning
Steam clean the carpets- then deep clean the steam cleaner. Clean bath toys– they harbor tons of bacteria! And do a thorough job of cleaning your washing machine and dryer- don't forget to clean your lint trap because dryers are the NUMBER ONE cause of house fires.
How to Clean Poop out of the Dryer / Cleaning Bath Toys /
Cleaning a Dryer Vent
DIY Home Organization Projects
This month I'll be sharing my process and various DIY projects that I completed to help organize my home. I'll be using a mix of media options including video so not every post will be on YouTube (like I did for my Gift Series). Some of these home organization projects are specific to a particular part of the home, but many can be applied anywhere in your home. I particularly love the over the door shelves that we use in our bathroom. And shoe organizers work in closets AND the kitchen pantry.
Bathroom Organization Ideas
I'm particular about our bathroom being organized. We keep a high shelf over the door in the kid's bathroom to prevent them from reaching medication and we make sure we can find medicine, toilet paper, and other supplies when we need them.
Do you kids pull the hand towels off the towel bar? Use this quick trick to keep them on there. It will BLOW YOUR MIND and make you wish you'd done it sooner. OR, if you prefer, make a hand towel holder for the bathroom with hand towels for each day of the week!
Migraine Relief Kits / Pain Relief Kits /
Organize a Kid's Bath/ Over the Door Shelf
Not pictured, I love adding Small Bathroom Shelving over a toilet in a narrow space (such as one of those toilet rooms). You can also build an Under Sink Organizer for your bathroom sinks.
Kitchen Organization Ideas
Ugh I stress over the kitchen. I have so many fun items that I love to have on hand… and appliances! But it's important to get rid of the ones I don't need. This year I donated extra ice cream scoops (did I really need 4?), an extra set of knives, and found better places for some appliances that just didn't get used often enough to store them in our kitchen (such as my dehydrator which I use, but don't use every week).
Easy Refrigerator Cleaning / Organizing the Kitchen so Kids can Help / Kitchen Wrap Organizer / Dish Cloth Hanger
That dish cloth hanger was one of my favorite projects actually, but it doesn't fit at our new house. Super sad.
DIY Grocery Bag Holders are really awesome as well if you want somewhere to put all of those plastic bags to reuse later. Need a neat option for storing your recycling? Create this DIY Recycling Bin.
Mudroom Organization
Often one of the first rooms you enter, it's nice to have the mudroom or entryway under control. Despite keeping lots of items in our mudroom and entry, we manage to keep it neat with some of these simple projects. One of my best tips is to keep the kids socks by the front door!
DIY Coat Rack / Organizing Seasonal Clothes /
Sock Organizing Ideas / Organizing Shoes
Use Stair Bags to remind kids to bring their stuff up (and down) from their rooms.
Closet Organization
Does the closet drive you nuts?! Have a shoe 'problem?' I find that designing a closet system that I loved was immensely helpful in getting my closet back under control. I love lots of shelves in my closet because I prefer folding items to hanging them. But if you prefer to hang your clothes, something as simple as adding a second rod can give you lots of additional storage space. I love having two rods- one to hang shirts, and one underneath to hang pants and skirts.
DIY Closet System / Upcycling Clothing / Upcycled Wedding Dress
Don't forget to upcycle or donate clothing that you don't need. The angel gowns program loves to receive old wedding and bridesmaid dresses- or even better, sew the angel gowns yourself to donate to the local hospital (or your local program). These tiny 'angel gowns' are given to parents who have lost their sweet babies and need something small enough for photos and to bury them in. It's a sweet, sad gift, but it can make things easier for those who really need some kindness.
Organizing Toys
Toys are my least favorite thing to deal with because the kids are ALWAYS pulling them back out. It's a never ending battle. I'm looking forward to the baby getting a bit older so we can declutter the baby toys.
Toy Box / Lego Storage Ottoman / Decluttering after Baby / How to Sew Toy Holders that Hang from the Play Yard
Cleaning Tips
Ugh. I clean because I must, but gosh I hate dirt and germs. I'm pretty particular about cleaning so I tend to do a good job when I set my mind on getting it done. Learn how to clean a microfiber couch and how to clean a glass table.
Cleaning a Steam Cleaner / Cleaning a Water Table /
Cleaning Front Loader Mold
Craft Room Organization
As I spend a lot of time in my craft/sewing room, I have quite a few ideas about organizing that space. Learn how to make an ironing station with storage underneath, get tips for organizing fabric, and use our Sew Organized app for tracking your fabric and projects.
Paint Station / Sewing Room Organization If you have young children or grandchildren around, make sure to babyproof your sewing room.
Travel Organization
Unrelated to your home, but relevant nonetheless if you want clean up to be easy when you come home from a trip, travel organization is particularly important when you have little ones underfoot. Learn more about Organizing for Travel and get my free packing checklist.
Travel Bag / Take Along Toy Kits
Other Organization Ideas
These were a bit of some hod podge ideas that didn't really fit into any of the room options… but they're all fun ideas for organizing your home, office, car, and laundry.
Organizing Paperwork / 19 Organizing Ideas /
Car Garbage Bag / Clothespin Bag
My #1 Tip for Decluttering
The best thing I've done to declutter is to keep a bin marked for donations accessible. It allows me to toss clothing that we've outgrown in there easily or other items that just are collecting dust… if I didn't have an accessible place to put them, I might toss them back in a corner and forget about them. This has been such a huge game changer for me. I think using fabric bags might work well too if you don't want boxes hanging around.
If you're looking for a daily kick in the butt, my friend Hilda is a professional organizer and has a 31 Days of Organizing series– my focus is more on making things to declutter and how to declutter green, but she focuses on a daily tasks and rooms to attack each day.
What rooms are your goals to organize this year?
Please share and pin this!