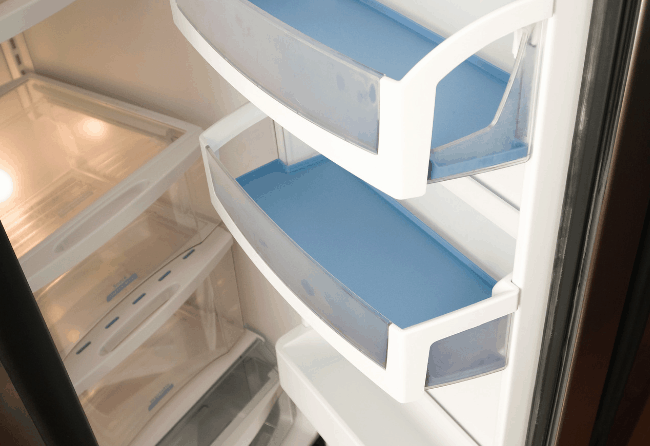 There's nothing more satisfying than a clean refrigerator. Get these quick tips for cleaning your refrigerator with less mess and aggravation, as well as a FREE printable to remind you what needs to be used before its expiration date.
This post may contain affiliate links. Using these links helps support my blog. This post was originally published January 12, 2017 and updated for 2019. Thank you!
I think a lot of people struggle with cleaning the refrigerator, am I right? I know maid services charge a lot of money to clean them for you so I anticipate that this is the case. Personally, I get a lot of satisfaction from cleaning the fridge so I want to share my process and cleaning hacks with you. I LOVE for things to be clean, but don't love wasting time cleaning so I try to be as efficient as possible.
Tips for Cleaning a Refrigerator
Whenever you clean the refrigerator, you want to look at the current contents and get rid of anything that's expired. Keep a list on your FREE refrigerator printable of items that are close to their expiration.
For expired foods, I always clean out the jars. I save some jars for upcycling and others go in recycling. Fruits and veggies that are expired go into the compost.
Learn how to remove your refrigerator trays for cleaning. It's often easier to take them to the sink to clean than to clean them in the fridge. And you won't waste electricity trying to clean the fridge while it's standing open.
If you choose not to remove trays to clean, start cleaning at the top and work your way down. That way you won't accidentally dirty levels you've already cleaned.
You can leave an open container of baking soda in your fridge to keep smells at bay, but honestly I don't have too many issues with smells because I'm able to keep things fairly clean without it. This box should be replaced every 3 months (or buy a big bag from Costco and just refill the box every few months).
Tips for Keeping a Refrigerator Clean
Tip 1: Use Liners
My DIY Refrigerator Liners can be used on the shelves, then washed when you clean out the fridge. Because they're PUL, I can put them through the wash on high heat which is great for meat spills.
The liners make cleanup easier if something spills. It doesn't absorb liquid but the texture of the PUL seem to keep spills from going onto other shelves. Also, the yuck sticks to the liner and not the refrigerator shelf. Once you remove the liner, you just spray the shelf with a cleaner and wipe down. No scrubbing.
Tip 2: Use Bins for Leaky Items
I never place meat in my refrigerator without putting it in a tupperware container first. I've found meat is the #1 source of leaks and messes. The packaging freaky leaks meat juices (barf) all over the fridge and then it leaks over every level underneath it. Gross. And probably unsafe as well.
Tip 3: Check Products for Leaks
Before I purchase milk, I always swipe my hand under the container to ensure that it's not leaking. It's not a fun method when the milk is actually leaking, haha, but it certainly makes sure that I don't accidentally introduce (or purchase) a product that will make messes.
I also check containers carefully if my children or I drop them. If they have a crack, I just transfer the product into a container that isn't leaking.
How to Clean Your Freezer
The freezer is always a bit more tricky because it's SO COLD and the cleaner always freezes as you're wiping things down. Obviously, you can save yourself some effort if you defrost the freezer first. This makes it so much easier, but it's easier to do if you don't need to store food somewhere… for example, I did this with my deep freezer when we moved. I transferred everything to my main freezer, then unplugged it, let it defrost, drained, then cleaned it.
For your refrigerator freezer though, it's hard to pull that off. The best way to clean it is to remove the shelves and clean them with warm soapy water in the sink. It keeps your freezer from defrosting while you're cleaning and saves on electricity. If you can't remove something that needs to be cleaned, use water soapy water to wipe things. You can also try cleaning wipes to see if that works better.
How to Clean the Front of Your Refrigerator
It's really hard to keep a fridge front clean if you have clutter all over the front. Frequently go through and declutter items on the fridge that aren't relevant. I also love to keep my sons' artwork on art displays rather than on the front of the fridge. These artwork displays are super easy to make… I have three different ones I've made: Decorative and Customized Art Display | Plain Black and White Art Display | Art Display Made with Extra Laminate Flooring Pieces.
Items like magnetic alphabet letters for the kids work well on magnetic white boards instead. It gives the kids a place to play school and keeps your fridge front clean.
Once you've moved that stuff over, you can easily wipe down the front of your fridge with your normal cleaners IF it's not stainless steel. For stainless steel, you can buy cleaner that is made specifically for it, either in spray form or wipes. Fingerprints are brutal for stainless steel… and if you have kids then you DEFINITELY have lots of little fingerprints on your fridge.
Quick Video on Refrigerator Cleaning Tips
For more tips, check out this video of my process!
Free Refrigerator Printable
The problem with my refrigerator organization? Food waste. My biggest struggle with being more ecofriendly and not wasting money is to eat the food we have and not let things go to waste. Everyone goes into my refrigerator, including the kids, and sometimes things fall behind other stuff in the fridge. Then they get forgotten. And not everything will fit right in front where I can see it.
So I decided to make a chart to post on my fridge. I'm going to laminate it so I can use Dry Erase Markers on it- reuse, reuse, reuse! Every time I clean my fridge, I can write what items are expiring soon so I don't forget. Or write it so my husband won't forget… I caught him eating 3 week old turkey at one point. He has a stomach of steel, I swear.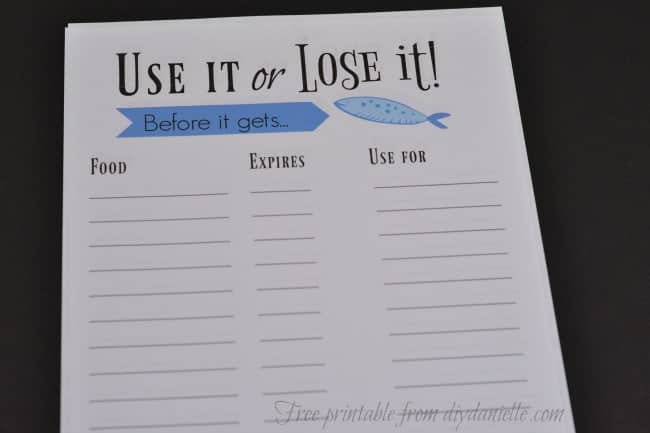 Click here to get a FREE printable to remind yourself what items in the refrigerator are about to expire.

Make sure to check out my other home organization hacks as part of the January home cleaning & organization series. You may also like these other kitchen cleaning and organization ideas!
Easy Refrigerator Cleaning / Organizing the Kitchen so Kids can Help / Kitchen Wrap Organizer / Dish Cloth Hanger | DIY Grocery Bag Holders | DIY Recycling Bin.
Please pin this post!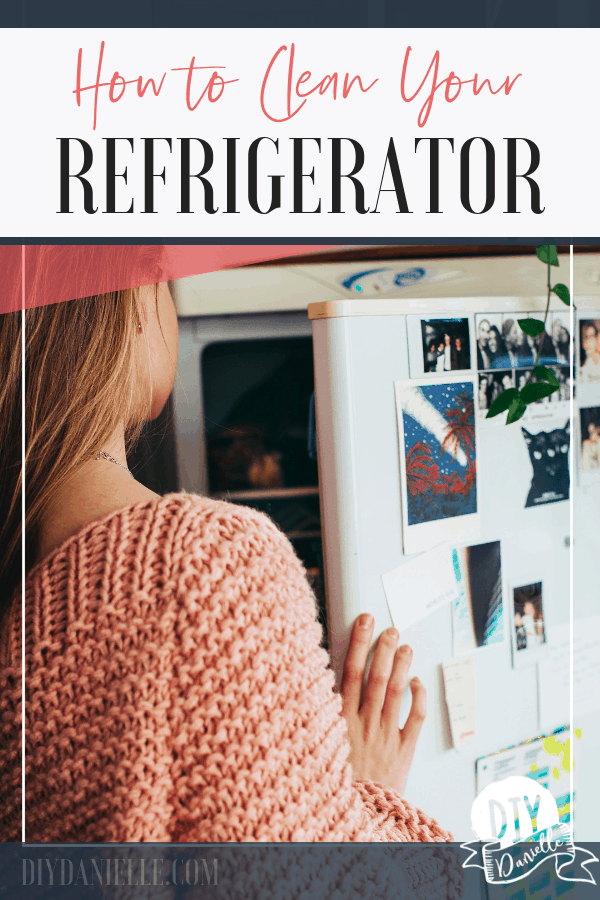 Thanks for taking the time to read this post! I really appreciate the time you've taken. Please share, like, and pin my post if you enjoyed it. Follow me on social media and subscribe to my email list to keep up to date on all of my latest projects!