How to upcycle a laundry sorter into a movable recycling bin. This is a super easy sewing and woodworking project.
I'm so excited to share my beautiful upcycle with you. This went from broken laundry sorter to indoor recycling bin. I've been saving a broken laundry sorter (broken due to toddler related wear and tear) for an undecided project for a very long time. Say some patience prayers for my husband who so nicely deals with me and my trash to treasure hoarding habits.
When I needed a recycling bin, I decided to hack this old sorter into a DIY recycling bin. It worked out pretty well, except it's now my toddler's favorite place to ride.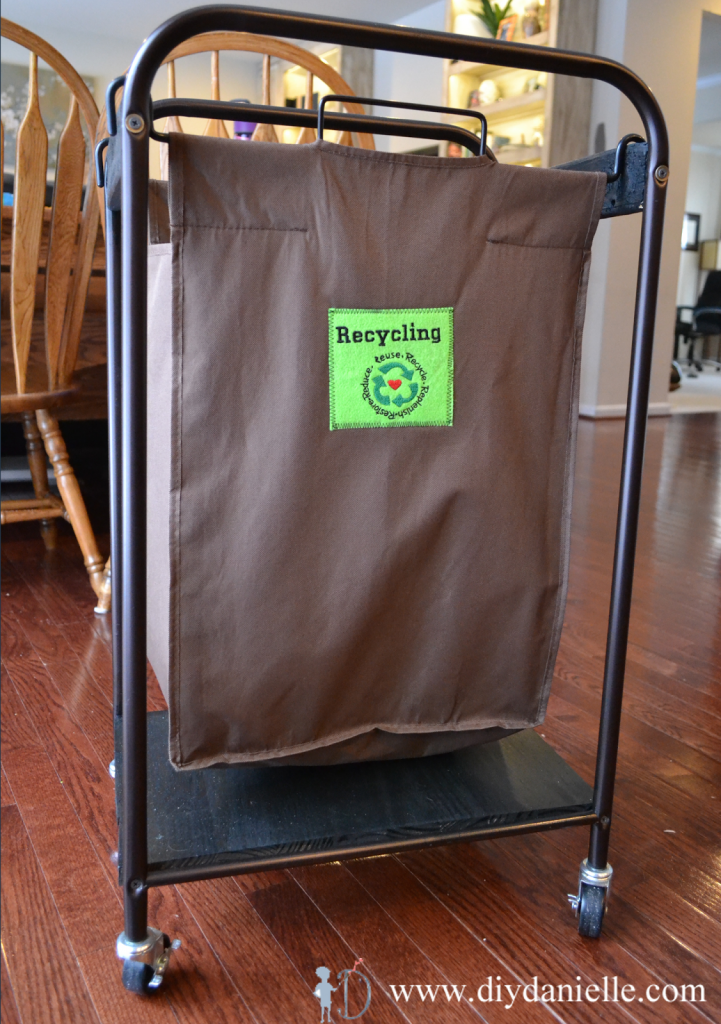 ---
This post may contain affiliate links which may earn me commissions should you click through them and take certain actions. As an affiliate for Amazon, Cricut, xTool, Home Depot, and other sites, I earn from qualifying purchases. Please DIY carefully. View my full legal disclosures here.
Please read the whole post so you don't miss any important information!
---
First, I hope you know what type of laundry sorters I'm referring to. They're the 3 bag laundry sorters that roll on wheels. They're pretty decent, but tend to wear down over time, particularly if your kids REALLY enjoy helping to push the laundry bins around. It seems like they weren't really meant to roll everywhere on carpet and they get a bit wobbly if you use them like that a lot. When I've kept them on hardwood only, or just take the bags out when I'm doing laundry instead of bringing the whole cart, they seem to survive longer.
Regardless. My people broke the bin. I was able to upcycle parts of the old bin and use some supplies around my house to update it into a recycling bin.
How to DIY an Indoor Rolling Recycling Bin
Supplies
Homemade recycling patch made with a piece of felt, some stabilizer, and my embroidery machine
Tutorial
1. Save the two ends from the laundry sorter.
2. Measure a piece of wood for the bottom, and two thin pieces for the top. Mine are: 11 5/8″ x 18 1/4″ for the bottom piece, and the two side pieces were both 11 5/8″ long. I used 3/4″ plywood for this.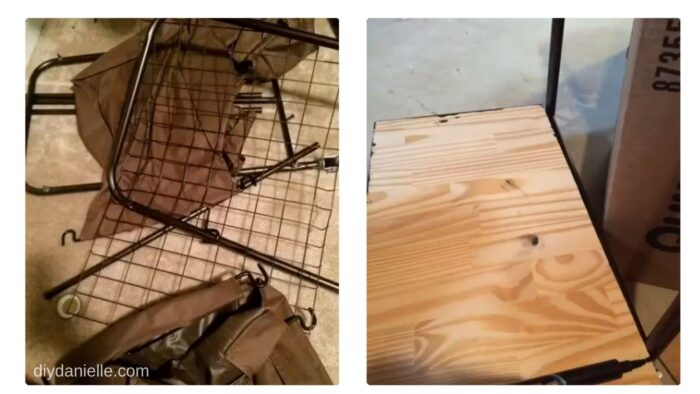 3. I used drywall screws because I had a lot left over. Mine were 1 1/4″ screws.
4. I ended up needing some washers to keep the screws from going through the holes in the metal sides of the laundry sorter.
5. Place the bottom… Screw it in. Place the sides. Screw it in.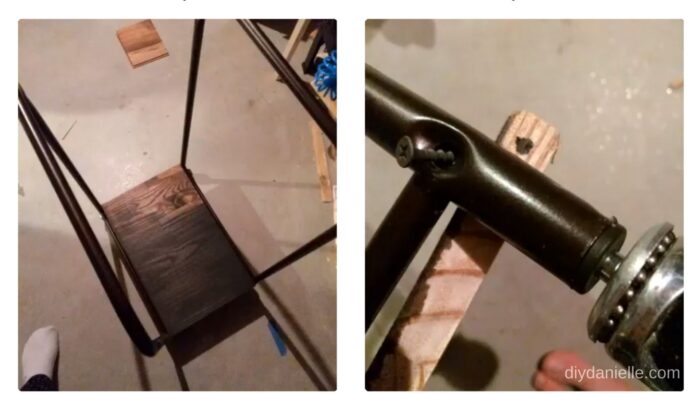 6. Measure and cut two small pieces of wood to support across the top of the bin.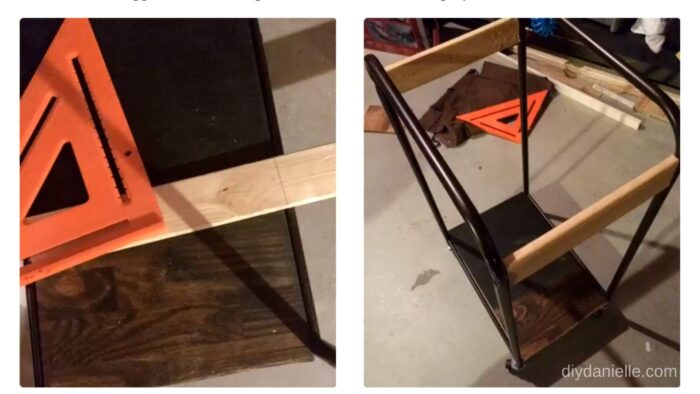 7. Stain. Poly if you want. I didn't.
8. I'm using one of the laundry sorter bags. I embroidered a patch. I used Wonderunder to attach it to the bag… it is a double sided fusible interfacing so you iron it onto your patch, then peel the backing off it and iron the patch onto your product. Love it.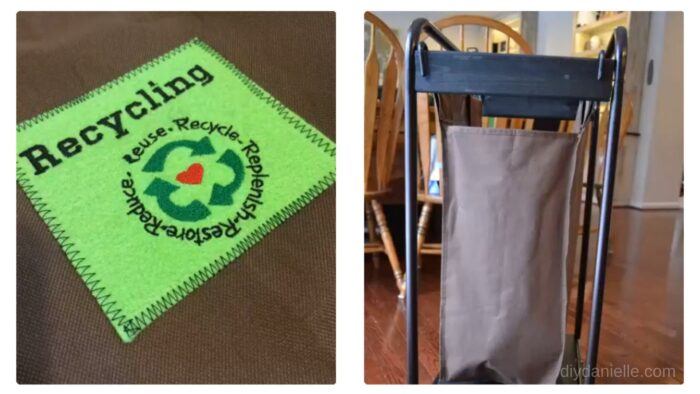 Note: For the patch, I usually used Iron on Heat and Bond to attach the patch to the bag before sewing the patch on. This just made it easier to sew on the patch. I probably could have gone without sewing it after that, but I liked the look.
Here are some products you might like from the DIYDanielle Store:
Please share and pin this post! If you make this project, share it in our Stuff Mama Makes Facebook Group. We have regular giveaways for gift cards to craft stores. You can also tag me on Instagram @doityourselfdanielle; I love seeing everything you make!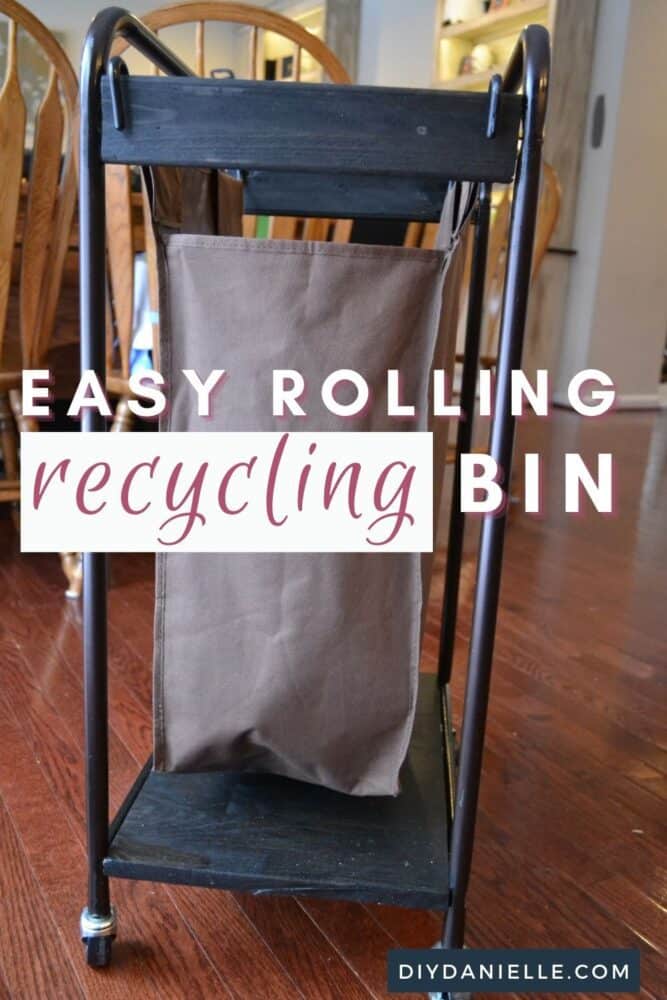 Upcycled Laundry Sorter to Recycling Bin
Turn a broken laundry sorter into a rolling recycling bin with a little scrap wood and about an hour of time. Super easy project and I love being able to roll the recycling bin into the closet.
Materials
Broken laundry sorter
Scrap Wood
Paint/Stain
Screws/Screwdriver
Instructions
Save some pieces from your broken laundry sorter.
Cut a piece of plywood for the bottom. It should be slightly larger than the bottom of your bag, and the right size to fit between the two sides.
I stained my wood. I recommend using polyurethane as well. I placed the piece of plywood between the original two sides of the laundry sorter.
I was able to attach the two sides of the laundry sorter to the plywood using the original screw holes and some 1 1/4" screws. You may need washers.
Measure and cut two small pieces of wood to support across the top of the bin.
Attach the wood pieces, and stain/polyurethane the wood.
I created a small patch for the front of the fabric bin. And I sewed it on.
When finished you can place your bag the wood braces.