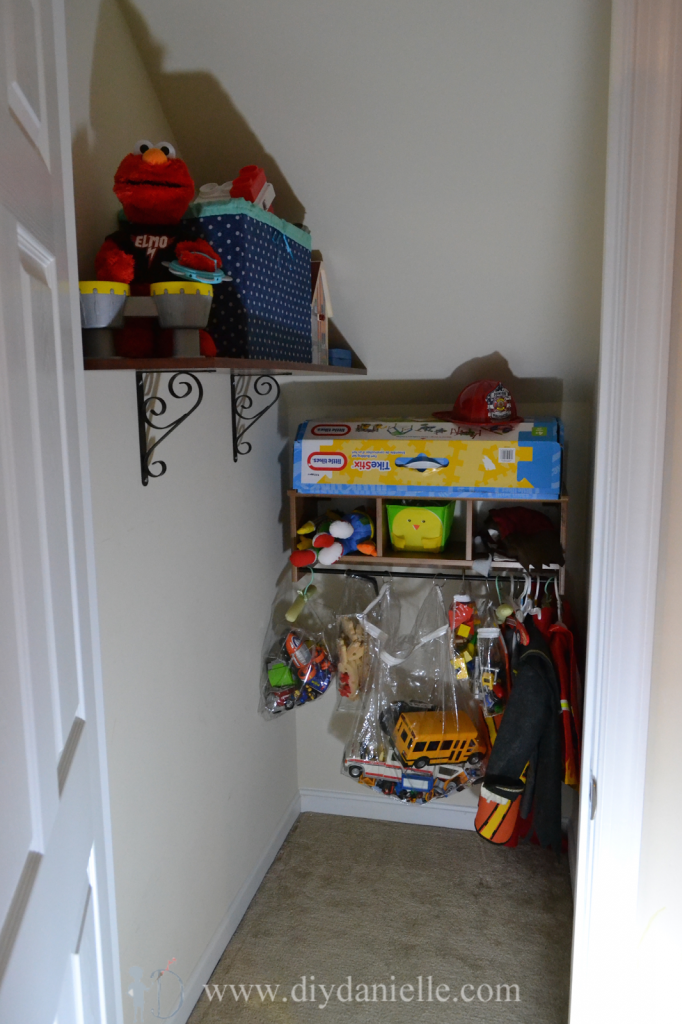 In October 2013, I posted about our basement closet makeover into toy storage. I really like this little nook to hide things away in and it's nice to be able to close the door if needed.
Now that the boys are older, they're getting more smaller size toys so I needed a good way to store them down there. We don't have tons of dress up toys so using the rod in there to hang things from sounded like a great plan. I love to save the plastic zipper bags from linens to upcycle into storage containers for toys. They are AWESOME for storage.
To make these, I just used my scissors to make a hole in one or both corners of each bag (both corners for the really big heavy bag), then I used a binder ring to slide through the hole and clip onto the rod. I think you could use shower curtain rings too, but I had a bunch of these laying around.
This is an affiliate link to a similar product as I used. You want to make sure that the rings you purchase are big enough to go around your rod. I like that the product below comes with 100 pieces because these have a lot of uses around the home.
In my ideal world, I have everything stored away in a special place and I have the kids ask for each item after picking up the last thing they played with. It happens sometimes. Not all the time, of course, because they're toddlers and I get distracted or tired.
But here's what things can look like if my kids and I are all behaving ourselves.