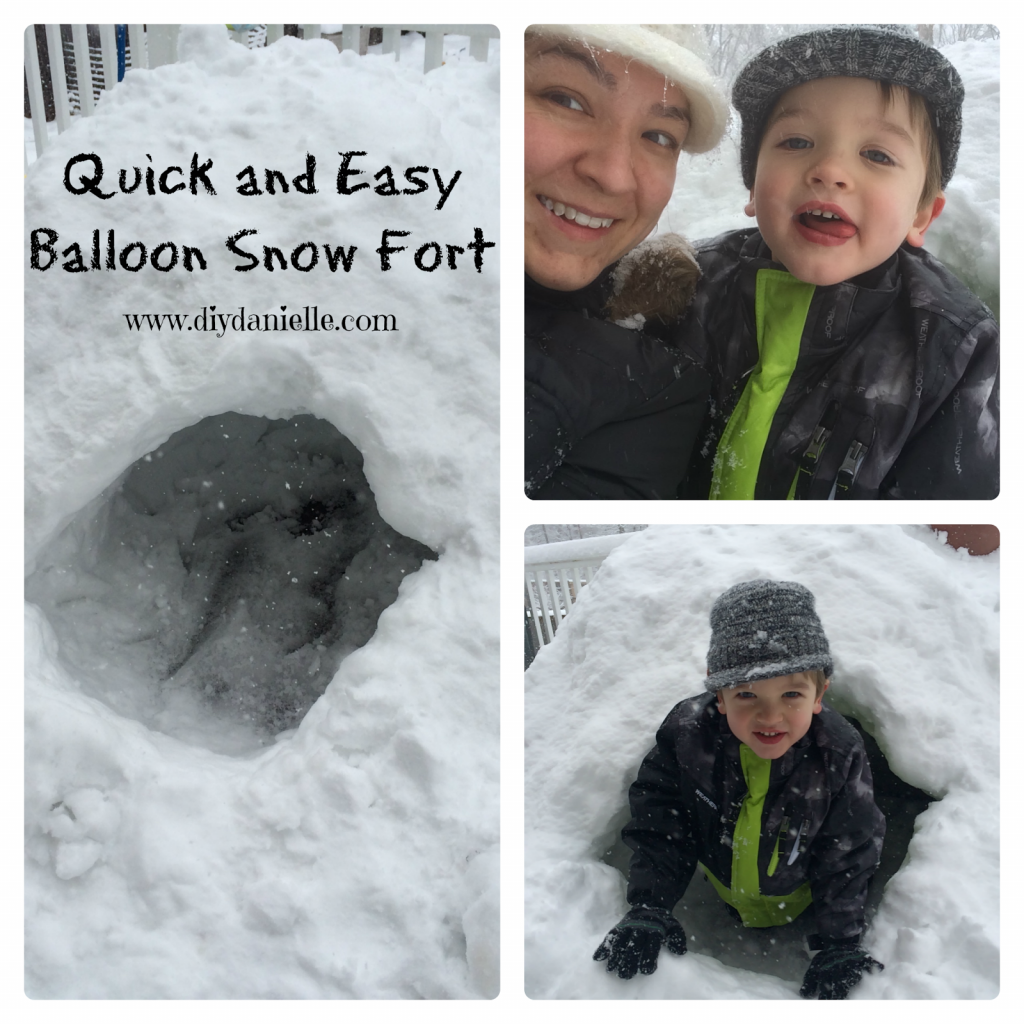 I had this fun idea when I heard Maryland would be getting 6-10″ of snow… and I drove everyone
NUTS wishing for snow! Sorry friends, but when life hands you snow… you make fun SNOW FORTS. I LOVED snow forts as a kid. We spent so many hours outside digging them out and patting them down and hiding inside them. I was wayyyyyy excited to make one with my 3 year old son.
Obligatory Disclaimer: Snow forts can be dangerous if they collapse so please supervise your children and make sure the snow fort is safe. There are lots of options if you want to try to make it safer… for example, you can dig the hole from the top instead of the side. This would allow you to make a great hiding spot for snowball fights. Definitely making two of these next storm, across from each other, and having a massive snowball fight.

This tutorial uses balloons to reduce the amount of work involved in building a snow fort. Essentially, the snow falls around the balloons and you build the fort around it. When it's packed in tight, you can dig an entrance, pop the balloons, and have an instant fort.
Supplies (affiliate links below):
Balloons (20+)
Snow Shovel
Something to pop your balloons with
An old sheet or fabric that you don't mind getting wet/snowy
Snow clothes!
Here's a video with instructions (captions) for how to make your own! I'm a total amateur for putting videos together, but I hope you enjoy my video anyways!
Instructions
Blow up balloons (I believe helium won't work, we blew them up the hard way) and have a balloon party!
Tie balloons together
Place outside, covered with an old sheet
Let it snow!
Pile more snow on top!
Pat down.
Dig a cave entrance
Pop balloons
Pull out balloons and sheet.
Pat down the inside and entrance.
Check for safety!
Enjoy with supervision!
Thanks for watching and reading! Please subscribe to my YouTube channel to see lots more fun DIY videos.
Disclosure of Material Connection: Some of the links in the post above are "affiliate links." This means if you click on the link and purchase the item, I will receive an affiliate commission. Regardless, I only recommend products or services I use personally and believe will add value to my readers. I am disclosing this in accordance with the Federal Trade Commission's 16 CFR, Part 255: "Guides Concerning the Use of Endorsements and Testimonials in Advertising."