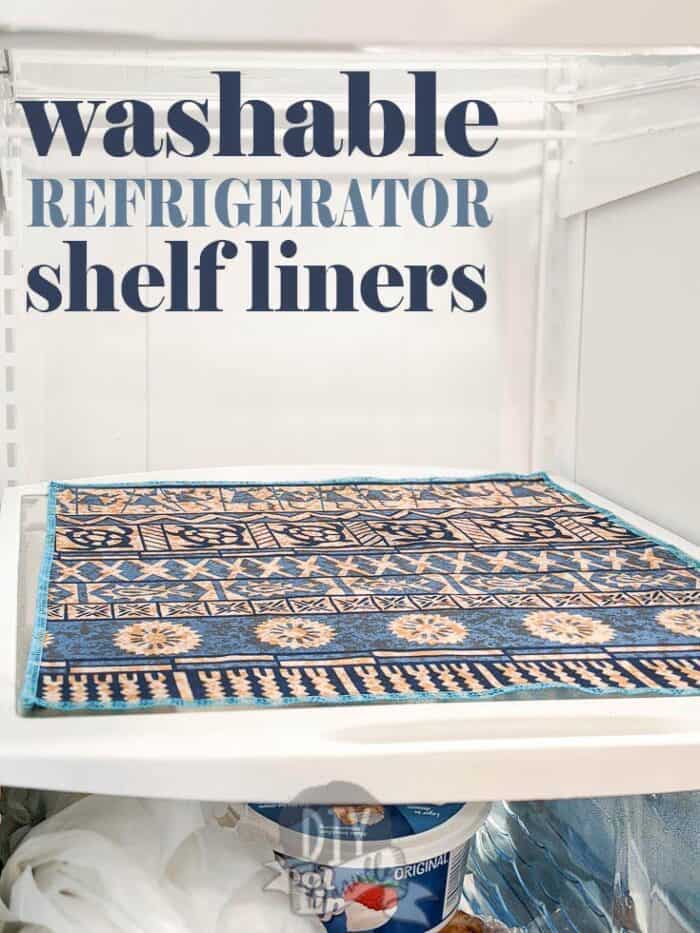 How to make fridge shelf mats. These washable liners are great to make cleaning the refrigerator fast and easy. All you need to make them is some fabric and scissors!
This post may contain affiliate links which may earn me commissions should you click through them and take certain actions. As an affiliate for Amazon, Cricut, xTool, Home Depot, and other sites, I earn from qualifying purchases. Please DIY carefully. View my full legal disclosures here.
Please read the whole post so you don't miss any important information!
I was so proud of myself the other day because my fridge was long overdue for a cleaning and I lined each shelf after with plastic wrap for easy cleanup next time around. Beautiful huh?
I did run out of plastic wrap in the process. It got me thinking that I've been using a lot of plastic wrap doing this and that a reusable option would be GREAT.
Supplies for Fridge Mats
I have a LONG post about PUL fabric (polyurthane laminate) if you're interested.
If you love organization projects, particularly for your home, here is a great product in my shop for a home renovation planner. Keep track of your home renovations, paint colors, appliance warranties and more!
How to Make Washable Refrigerator Liners
These turned out VERY cute because my PUL is adorable and I had some extra penguin PUL that seemed very appropriate for a refrigerator. I love these so much.
Here's a video showing them:
Sewing Refrigerator Shelf Liners
To make these I just measured the shelf and added a small seam allowance.
Then I serged around the edges to give them a finished look.
I only made the liner to cover the glass part of the shelf. In my case, the shelf was 13.75″ deep and 14.75″ across.
I cut a piece of fabric that was 14.25″ deep and 15.25″ across.
If you have directional fabric, make sure the fabric is facing the right direction so you design is facing you when you open fridge.
No Serger? You can just zig zag the edges.
No Sew Fridge Mats
You may not need to serge the edges as Pul doesn't really fray (to my knowledge anyways). Just don't add a seam allowance when you cut if you don't want to sew it.
Essentially, cut your fabric the exact same size as your fridge shelf and you're done.
Installing Refrigerator Mats
To put these on your shelves, just wipe down the shelves with a wet sponge and DO NOT DRY. You want it a little moist so the Pul will "stick" (same thing with plastic wrap).
Alternatively you can just lightly wet the back of the Pul like I did, seeing I was removing plastic wrap from a very clean fridge. Then you just stick your liner on the shelf! All done.
SO EASY. And way cuter than I expected. The cheapest way to do this is to get the cheaper plain Pul fabric. Pul with designs costs more. Bummer, right? But I think it's worth spending the extra money for the cute designs because it's fun and decorative, and there's not too many other ways to make a refrigerator more pleasing to the eye.
Note that not all PUL is certified to be food safe. I'm not worried about it in this case because:
I don't sell.
I personally think PUL is as safe as anything else I use… I'm not concerned.
I don't generally sit food directly on top of the shelf. It's usually in some type of container.
That said, they do sell food safe Pul if you're worried. I'll probably make another set of these eventually.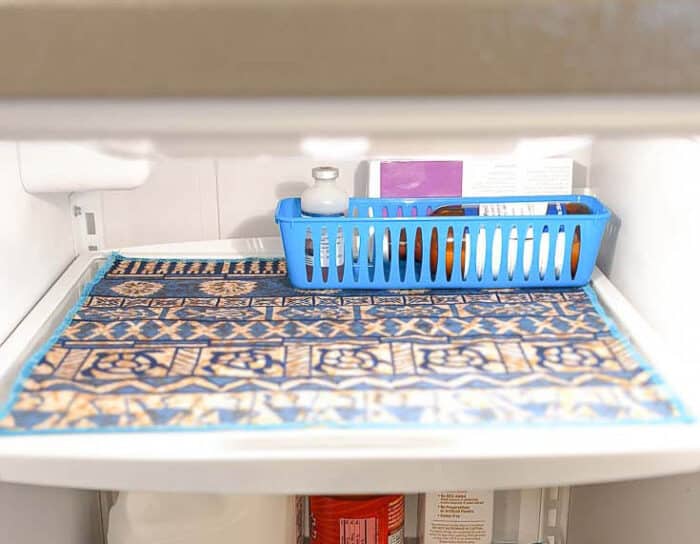 Mats for Fridge Shelves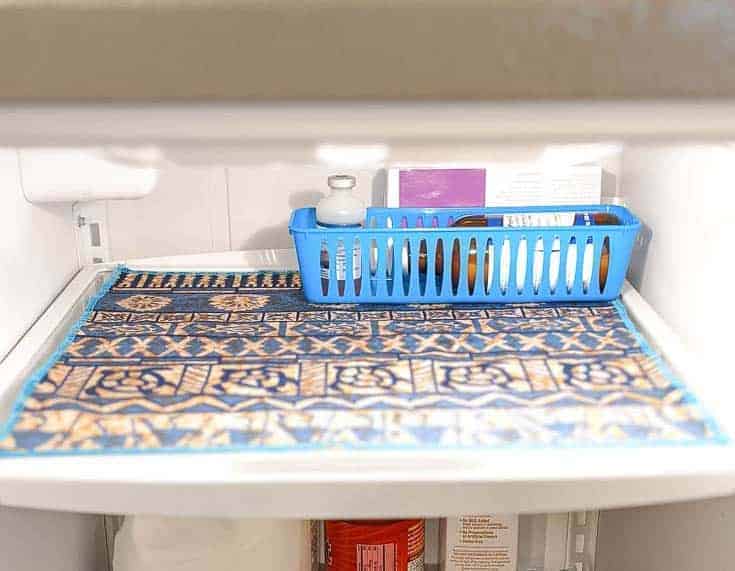 Yield:

1 Shelf Mat
How To Make Washable Mats For Fridge Shelves
All you need to make these washable liners are fabric and scissors. They are great to make cleaning the refrigerator fast and easy.
Materials
Tools
Measuring Tape
Optional: Sewing machine or serger
Instructions
Measure the fridge shelf.
Add a small seam allowance.
Serge around the edges to give them a finished look.
Recommended Products
As an Amazon Associate and member of other affiliate programs, I earn from qualifying purchases.