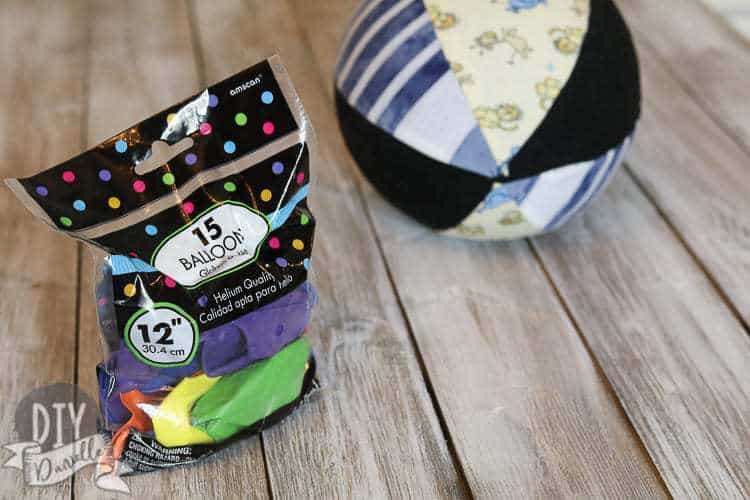 Balloons can be a choking hazard for young children. Learn how to sew a balloon cover that will help lower the risk of this type of accident. They're easy to make and fun to play with!
This post contains affiliate links. If you use an affiliate link to make a purchase, I may receive a commission on the sale. This does not impact your price for the product(s). Thank you. This post was originally published 12/17/2014 but was updated in 2019 with better photos, video, and more details.
A long time ago, I saw this tutorial for balloon covers and fell IN LOVE. My sons LOVE balloons and it breaks my heart to take them away because I'm petrified they will hurt themselves by being crazy and biting it or something. I made a few balloon covers and they have been a fun staple in our house. We take them and a pack of balloons when we go on vacation for instant ball. We play with them at home. And we play with them outside.
When the balloon breaks- which isn't often- the pieces tend to stay inside the cover which makes cleanup easier and I have fewer fears about the dog or kids accidentally inhaling a piece. While they aren't 100% guaranteed to make balloons into a safe toy for kids, I am happy with how they reduce the risks of balloons with small kids around. Often my older sons want to play with something that isn't safe for the youngest, and if I could make covers for all of those things, I'd be gold. For now, I'll be happy with my balloon covers.
Please supervise your children carefully. I cannot guarantee these are 100% safe.
The first balloon covers were made using the tutorial linked, but recently I discovered that it's really fun and easy to make them using a pattern available for the Cricut Maker on Design Space. Let me show you how to make your own.
How to Make Balloon Covers
Everything you ever needed to know about balloons and balloon covers.
Are Balloons a Choking Hazard?
Balloons can be a choking hazard, particularly for children under the age of 6, as the balloon can become lodged in their throat if swallowed, then block their breathing. Sometimes kids can choke on small pieces of broken balloons and sometimes they choke on a whole balloon.
Balloon Safety Tips
Use a balloon cover
Don't let your young children have latex balloons. If you want to give them a balloon, use mylar balloons instead.
Pick up all pieces of balloons that pop immediately.
Don't let children chew on balloons or try to blow them up.
While I know that it is safer to not let my kids have balloons at all, they LOVE balloons so I decided to try to make the balloons a little bit safer for them.
What is a Fabric Balloon Cover?
A balloon cover is a fabric sphere that has a small opening where you can insert a balloon. Once inserted, you can blow up the balloon to fill the sphere, then tie it. Tuck the tie into the opening.
The balloon seems to be a lot less prone to popping when it's inside the cover. If the balloon pops, generally the pieces all stay within the sphere. And my kids don't seem so keen to taste test the fabric cover and they leave it alone.
Supplies to Make a Balloon Cover
This is a perfect project for scrap fabric. If you don't have any pretty knit fabric on hand, you can always upcycle old teeshirts to make these! Anything that doesn't fray works PERFECTLY.
How To Sew a Balloon Cover
First, you can do this very easily without a Cricut Maker too, but I LOVE that my Maker will cut it all out for me. The instructions for sewing this apply regardless of if you use your Maker or not. But you'll need a pattern for a sphere if you don't have the machine.
I began by pulling up the "fabric ball" design on DesignSpace. I didn't need to make any adjustments to the pattern, but simply loaded my fabric mat in to cut the fabric. It requires you to load the mat three different times (two pattern pieces per mat) so I used three different fabrics. All of the fabric is a non fraying knit which is light weight. I essentially just put the fabric on the mat, loaded it and pressed the go button here.
And this is what I ended up with…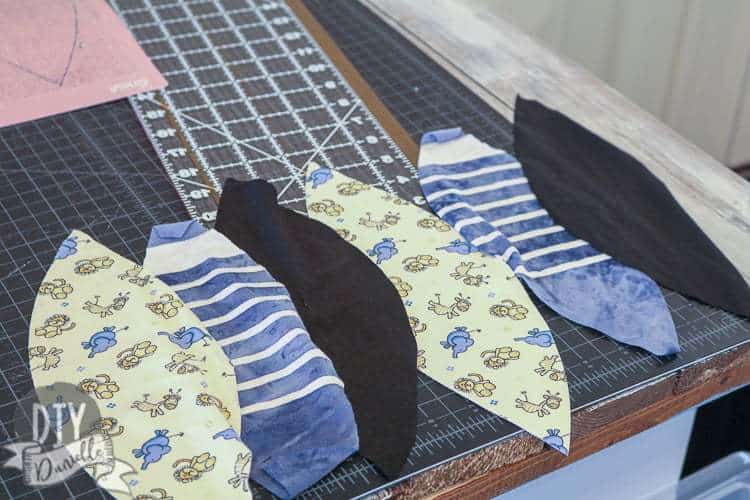 You either need to leave an opening in one of the seams or you can cut a hole like I did below in ONE of the pattern pieces. This can be pretty small… it just needs to be big enough to insert a deflated balloon through.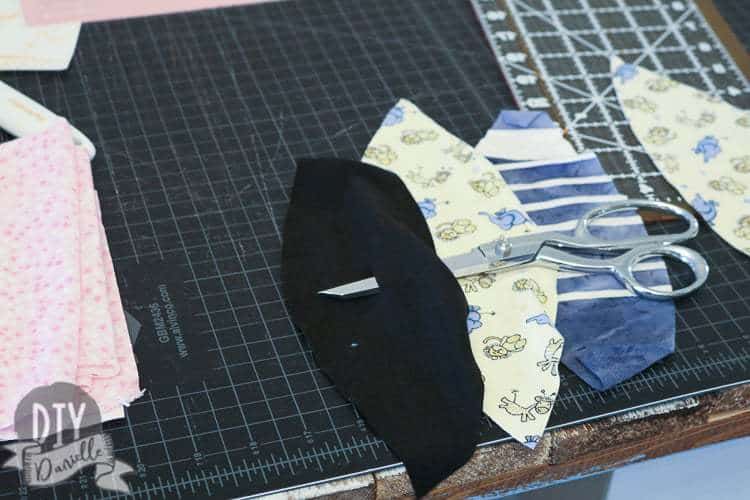 Now you just need to take your first piece and second piece and sew along one edge, right sides together. Open it up. Now take your third piece and place it right sides together with the other long edge of the second piece. Sew. Repeat all the way around. When all of your pieces are together, you can sew the first long side and the last long side right sides together.
Finally just turn the whole thing right sides out through the hole. It will look like this…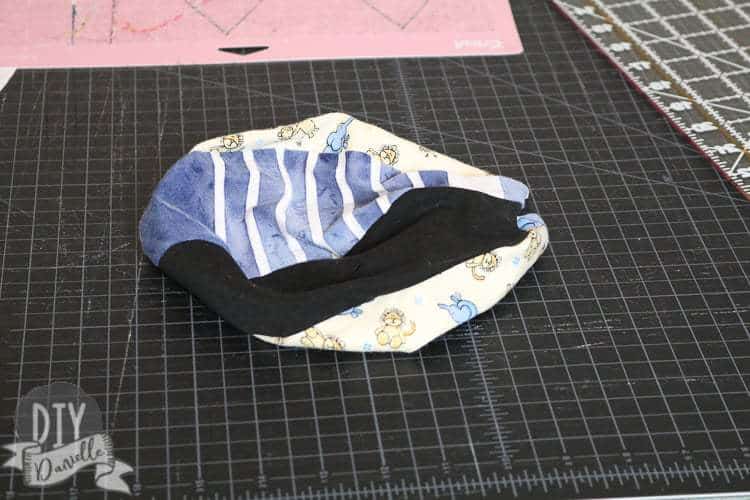 This is small enough to easily tuck with a few deflated balloons inside a purse or carry on for travel.
When you're ready to play, tuck a balloon inside and blow it up.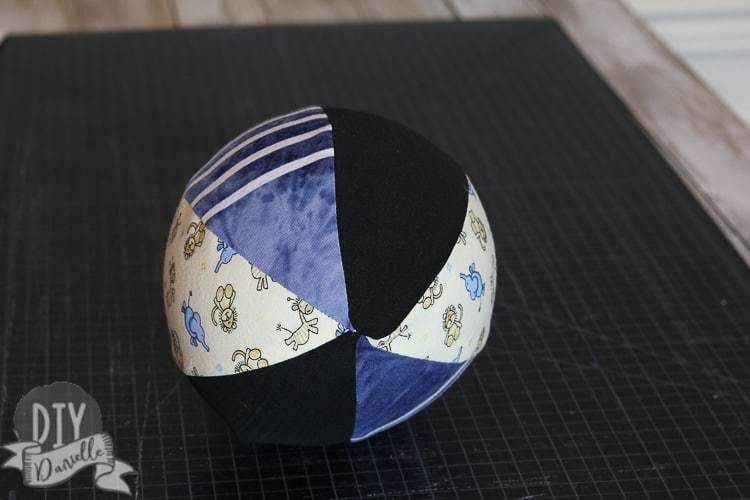 I like to tuck the tail of the balloon into the cover. You can still see a gap where the hole is, but I find the pieces tend to stay inside when/if it pops.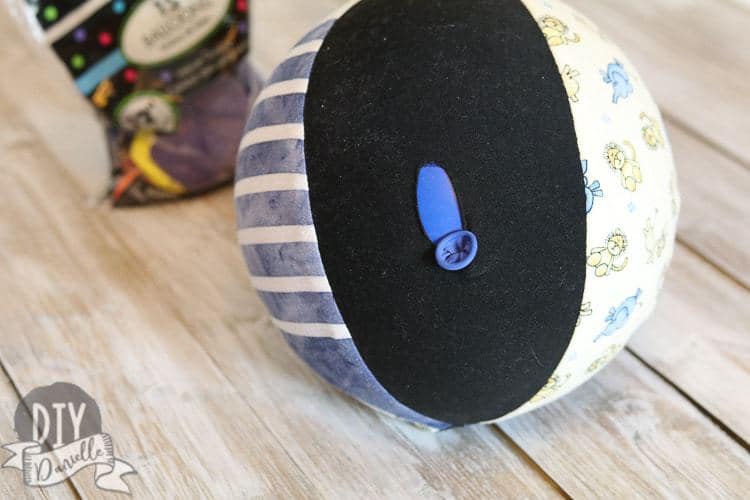 Video Tutorial for DIY Balloon Covers with the Cricut Maker
Here's a video tutorial if you prefer to watch something instead of reading/photos!
In the future this will be one of my favorite go-to gifts for a first birthday party. It doesn't take up tons of fabric, but it looks GORGEOUS and it's such a fun toy. Balloons are easy to keep on hand to fill these with.
They're very soft and light and fun to bounce around. My sons LOVED them… I was trying to blow them up and he was reaching for it all "eh eh eh eh!" and crying when I couldn't immediately hand it over. He was so thrilled.
I'd love to see all your balloon covers so please share or leave a comment!
You can always share them in our Facebook group, Stuff Mama Makes, to enter to win our monthly contest.
Please pin this post!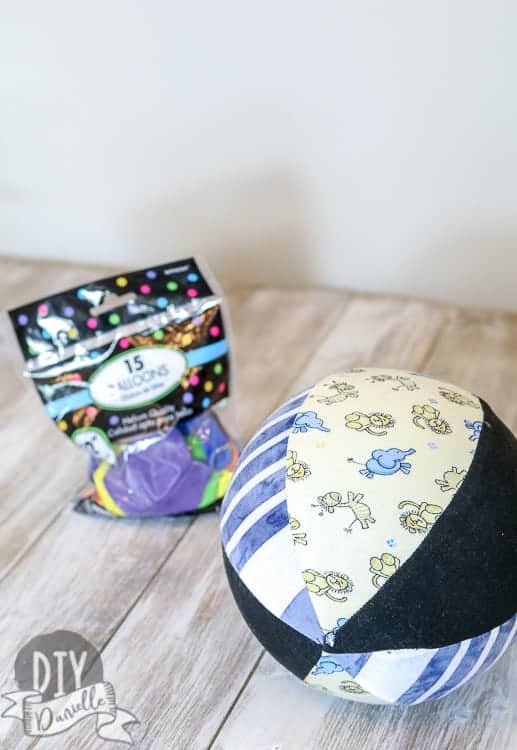 Buy Balloon Covers
No time to make one? You can buy them on Amazon by clicking one of the images below.
Disclosure of Material Connection: Some of the links in the post above are "affiliate links." This means if you click on the link and purchase the item, I will receive an affiliate commission. Regardless, I only recommend products or services I use personally and believe will add value to my readers. I am disclosing this in accordance with the Federal Trade Commission's 16 CFR, Part 255: "Guides Concerning the Use of Endorsements and Testimonials in Advertising."
Use the Discount Code DIYDANIELLE on cricut.com for 10% off any cutting machine or heatpress (no minimum). Excludes: materials/accessories/mystery boxes/etc. Applies to US/CA only, code expires 12/31/23.