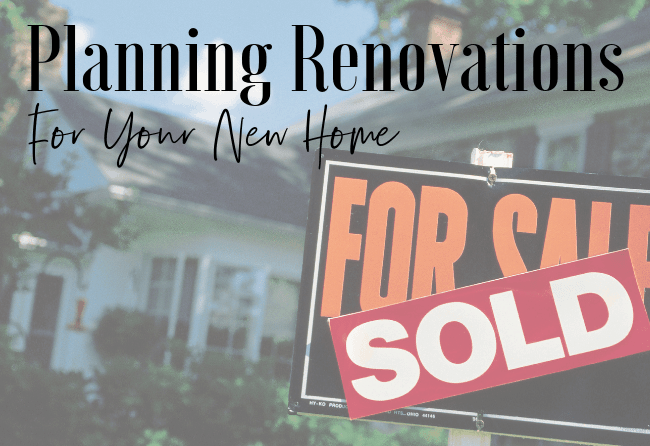 Planning renovations for your new home can be a lot of fun, but overwhelming! Get the free printable bundle that will help you track important information about renovation plans, paint colors, and more!
This post contains affiliate links. If you make a purchase with the affiliate links, I may receive a commission. This does not impact your price for the product. Thanks!
We moved into our "new" house the day before Thanksgiving… And I already have so many plans. While some may be much further down the road, I find it helpful to plan things ahead and prioritize and budget for major home expenses.
Where our home was build in the early 1990s, we know that there are things in the home that will need to be improved or replaced.
How to Budget for a Home Renovation
There's a lot that goes into renovating a home. Those who have been where you are before will tell you to stick to a budget. While that's excellent advice, there's also much more to consider.
Here are some questions to ask yourself as you begin planning:
What projects are a priority?
How much money do I want to spend on this project?
Can I realistically do this myself?
If you sense hesitations when answering these questions, it might be best to put a few projects on the back burner and choose the most important one to focus on.
If you were like me, I had a ton of ideas I wanted to get started on right away. But, patience is key! Remember, you can't do everything at once.
Also, make sure you are accounting for the hassle of living with and around a home that's under construction. Chances are you could be living without a functioning kitchen, shower, etc.
When you're planning a renovation, it's important to plan out as much as possible. I would encourage you to really consider your organization process and how you will work around the renovations.
Most importantly, when you're on a budget, you'll need to carefully plan out your home renovations to make sure that you aren't surprised by sudden expenses that leave you unable to make ends meet and projects left undone.
Tips for Saving Money for Renovations
One of the most important things about saving money is to make sure you have your goal in mind. Once you've mapped out your renovation goals and figured out how much you'll need to save, you will find that you're much more dedicated to saving the money.
Thinking about spending a little extra cash on an activity? Save it instead and spend that time dreaming of the work you plan to do.
Take classes at Home Depot, Lowes, or library that show you how to DIY some parts of your project.
Bargain shop for supplies and buy items when they're on sale. The Restore often has supplies at discounted rates if you have one nearby.
Take on a roommate or a second job so you have more money to put aside. I had roommates for my condo and my first single family home, purely so we had extra money to save and use towards home expenses.
Before you DIY, do a quick calculation for the cost of supplies and equipment necessary for the job. Sometimes the cost of DIY'ing a project exceeds the cost of hiring help.
Rent equipment if you think you won't need to have it on hand for future projects. Some libraries offer tool rental!
You may also want to consider getting a home equity loan if you have that option.
How to Plan Home Renovations
Whether you are renovating a recently purchased home or your forever home, here are some ways to get organized before the demo begins.
Review Your Inspection Report
Your first step should be to review your inspection report thoroughly and keep a list of necessary renovations and fixes. Our inspection report was very thorough about what needed to be replaced sooner and what could wait. The inspection report also indicated the ages of certain appliances such as our water heater and HVAC system, as well as for our roof.
If you are planning on selling, I recommend my home inspection checklist to make sure everything in your home passes before the inspection.
We know our roof has been replaced once and that we could likely get another ten years from it. There were some minor issues such as a few shingles that needed to be replaced and one area where there had been a leak. We immediately hired handyman to fix that area of the roof to prevent expensive long-term issues.
Our water heater has some indication that there may have been a leak at some point in the past, but it was unclear if that could have been caused by the current water heater or an old one. We know the water heater isn't- or shouldn't be- at the end of its life so hopefully we have a few more years left. In the meantime, it makes sense to buy a water sensor that will notify us if another leak occurs. Future plans include a tankless water heater.
Most of the issues with our home were things that could be fixed by a handyman and we had them come out for two days to do some repairs. Some of those repairs, such as weatherproofing doors, we saved money by doing it ourselves.
I find it helpful to make one big list. On the left, list the jobs you need to hire out, and on the right, list the jobs you're comfortable DIY'ing.
We asked for credits from the seller towards repairs, rather than have them repair the issues. This gave us the freedom to talk to contractors and get recommendations beyond what was on the inspection report. It also made things go a little more smoothly for the sale.
Make a List Your Major Appliances
It is helpful to make a list of all your current appliances and relevant information.
Appliance type
Year
Model
Life expectancy
Don't forget to include items like your roof, water filtration system, water heater and HVAC.
You should draw up a timeline for your future repairs. This will allow you to plan and budget, as much as you can (seeing there are no guarantees).
List Your Desired Cosmetic Updates
I always get stuck dreaming about cosmetic updates. There are so many in my head, but I need to compartmentalize them. Otherwise, I will kill my budget.
You should keep a list of the projects with inspiration drawings or photos, quotes from contractors, etc. in your home renovation binder.
Draw up a priority time line for these.
In our case, we know that we'd like to add some built ins for our family room. We had gorgeous built-ins in our old house that we made ourselves, and we are running into the issue of not having a place to put everything that we had stored in those. Because the cost for us to DIY that was so low, it is a feasible project for the near future. But it's 100% cosmetic, however functional. Our DVD collection will survive in a box in our basement.
I'm pretty sure we will need to replace some pipes in our sons' bathroom soon but I realllllly want to update the whole bathroom. So many dreams! I found a gorgeous farmhouse style sink with double faucets, but it was $2000 for just the sink. So that isn't happening, haha. I'll keep looking for good DIY tutorials or good deals. In the meantime, I may stick with more reasonable updates, such as the pipe repair and replacing faucets, painting the cabinet, etc.
Get Quotes and Decide Who to Hire
Most companies will give you a free quote for projects and it's good to keep a record of those quotes so you can plan for the update. Those quotes won't be valid if you wait a year or two, but you'll have a decent ballpark for savings.
We are using a handyman for a lot of updates and it was a much more affordable option- plus I only had one person coming instead of three or four.
He wasn't able to install our new ceiling fans though because there isn't a fixture there yet. As a result, we had to hire an electrician separately. By the way- adding ceiling fans is NOT a cheap update.
Outdoor Renovations
The major thing that we want to plan out is our property layout. We bought 8.5 acres so we can eventually add a barn and fields for horses. I would also like a garden and compost area. The home already has two sheds and a chicken coop with fencing.
I know instant gratification is a real thing that's hard to combat. Adding a small garden that's budget-friendly is a great way to spruce up a space that will eventually be rehauled. It's instant gratification and prevents the frustration of living with something that's "ugly". A win-win!
We'd like to eventually put an addition on the house, add a swingset, and add a pool too. This is likely years and years of dreams and saving money. We probably won't get to it all. But we want an idea of how we will lay it out because as we have an opportunity to add something, we don't want that addition to get in the way of another future project.
For example, if we were to put a pool directly behind our house, there would be nowhere for us to place an addition in the future. Some things like a swingset can be moved and other things cannot.
A few sketches of your property and possible layouts may be helpful for your binder.
Keeping Records
For all of my home renovations, I keep a neat binder with appliance information, home repairs and updates, etc. Make sure to save any inspection information if you have each project inspected by your county (a good idea).
Supplies for your binder: Binder | Binder Dividers with Pockets | 3 Hole Punch
Make sure to subscribe below to get my bundle of free printables to complete your home renovations binder. These printables will help keep you focused on your goals for your home and hopefully prevent you from over spending.
Want to get the PREMIUM bundle? The Home Renovation Printable Planner, available in my store, includes everything you need to get your home information organized. It even includes a maintenance tracking form to ensure that you don't forget to do routine tasks such as dryer vent cleaning.
Renovation Inspiration
Here are some fun projects that we've completed that can inspire you if you need ideas for your new home!
Please pin this post! It's super helpful so that other people can get this important information too!