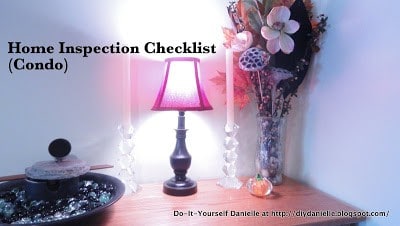 Home inspection tips for sellers, plus a home inspection checklist to make sure your home is prepared for a smooth inspection.
This post may contain affiliate links which may earn me commissions should you click through them and take certain actions. As an affiliate for Amazon, Cricut, xTool, Home Depot, and other sites, I earn from qualifying purchases. Please DIY carefully. View my full legal disclosures here.
Please read the whole post so you don't miss any important information!
We found a home and now we just need the condo to "pass" the home inspection before we start packing and planning our move. The inspection is important because most contracts have a clause allowing the buyer to back out of the contract if the home inspection doesn't go well (ie. if they find out the roof needs repairs). Most of the time the current owner repairs the problem and the sale proceeds as expected.
Home inspections are pretty useful for buyers- when I had the condo inspected when I bought it in 2006, the inspector showed me regular maintenance things to keep up on and pointed out a couple small issues that needed to be taken care of.
The previous owners replaced a small leak under one sink that I would've never noticed. He caught it by leaving the faucets running (and draining) as we checked other rooms.
Only the buyer and inspector are usually present for the inspection so we will need to leave for a few hours, and if anything needs to be repaired then they will inform us.
By "pass" the inspection I mean that all the systems (HVAC, plumbing, electric, etc.) in the condo need to be in working order. This isn't really an issue for us as they currently all work, but we made a checklist of tasks to prepare for a successful home inspection(for a condo).
I've been feeling a little panicky about the potential costs of repairs from the home inspection, but it makes me feel better when I remind myself it's all about everything working… it's easy to forget that I would likely KNOW if something expensive was wrong.
Condominium Home Inspection Checklist For a Seller
Checklist for prior to Inspection:
___ Regular cleaning tasks: Sweep, vacuum, clean the oven, microwave and refrigerator, and clean your drains. Cleanliness reflects on how well you maintained the home.
___ Get any maintenance done that is due BEFORE the inspection (ie. vent cleaning, chimney cleaning, etc). It may be ideal to do this before you get an offer on your home because the inspection is held pretty quickly after you have a ratified contract and you may not have time. You can leave the maintenance records for the inspector if you want to show off.
___ Repair any issues that you are aware of and replace burnt out light bulbs.
___ Clean and declog drains. We use baking soda and boiling water as a regular maintenance option to clear our drains instead of using any heavy duty cleaners. I've heard the heavy duty cleaners aren't good for the system.
___ Clean your air filter in the HVAC (or change it, ours is reusable)
___ Pack extra cleaning supplies from underneath the sinks (kitchen and bathroom): The inspector will need to get under the sink to see if there are leaks. Moving those extra supplies away will give him space.
___ Check your fire detectors, replace batteries if needed (you should do this regularly, not just for an inspection obviously)
___ Move items away from breaker boxes.
___ Clean glass on our pellet stove, clean up any soot, fill pellet stove with fuel so it can be tested if necessary during the home inspection.
___ Remove child proofing items as needed/desired (I used a hair dryer on hot heat to loosen the adhesive so I wouldn't ruin the cabinets)
___ Turn valves on and off to see if there's any leaking. Tighten packing nuts if there is.
Inspection Checklist for the Day Of:
___ Put remaining child proof items into an "off" position before the inspection
___ Set thermostat at an appropriate level for the season.
___ Leave keys out for locked areas so the inspector can get in.
___ Put trash out.
___ Remove items from your washer, dryer, oven, and dishwasher. These appliances will be turned on during the inspection.
___ Turn all lights on and treat it like a showing. The soon-to-be new owner will be there for the inspection.
___ If you currently have pets in the home, find a place for them during the inspection. Ideally get them out of the house. It's worth paying a few dollars to put your pets in daycare or a kennel to reduce the chances of delaying the sale of your home. I have used local kennels for their daycare programs for dogs and it's great because you drop the dogs off in the morning and pick them up at night. Plan ahead for this- most places will require your dog be evaluated individually prior to the day you want them to go in. This is to make sure your dog is friendly with other dogs and won't be a liability issue.
___ Leave for the three hour time period scheduled for the inspection.
I drew up a floor plan with some specific items highlighted on them to make them easier for the inspector to find, just I don't want the inspector to miss them, therefore delaying the completion of the inspection. Our water heater is in the world's most awkward space (under the kitchen cabinets), for example. I also labeled where the water turn offs are (we have a few).
I'm not sure if there's anything additional you should do if you have any possible pests. We've never had issues with bugs, except an occasional stowaway, so we weren't really considering that problem.
UPDATE (11-16-12):
Packing nuts… tighten them before the inspection. I guess some leaking as you turn valves on and off is normal (it's just a couple droplets) and to fix it you just need to tighten the packing nuts. Otherwise it looks like you have a "leak" and you pay $150+ to have the plumber tell you that. If you fix it yourself before the inspection then you don't have to pay a licensed professional to do it per an addendum on your contract.
Electric… when you buy a new appliance make sure that it's not too much for your breaker. Our HVAC was 25 amps, but the breaker was 20 amps. We had to get an electrician out to fix it. I think that if you mention that task during the installation/purchase of an appliance, then it'll be done as part of the install. Cost us $160 to have it fixed.
If you DIY any installs in your home then make sure you're following code. Our previous homeowner installed a pellet stove insert that's going to probably cost us more than it's worth to bring up to code. Make sure it's up to code before you buy a place too (sigh). When it IS up to code, make sure you have all that documentation… we're having someone out to clean it and look it over. It might very well be up to code (pleasant surprise, if so), but if not it'll cost us a lot to bring it up to code.
When your windows or doors start to look dirty on the inside of the pane, where you can't clean it, that means that there's a broken seal in there. Apparently if you don't replace the window or door, it eventually gets worse so you can't see out the window/door after a long time of letting it go. Realtor said it doesn't effect anything besides visibility and ours isn't bad, but it explained why I couldn't quite clean the sliding glass door well enough.
Inspection Resources
A couple websites I checked out for information on preparing for the home inspection include:
Foregoing an Inspection
We decided to forego an inspection on our new home because we found a home that was still under construction. The state/county does regular inspections through each stage as the home is built so in many ways the most thorough inspection has been done and is current. Regular home inspectors obviously can't tear open your walls to see wiring (I assume the hope is that the regular inspectors caught problems when the home was originally built), but it is useful to have the inspection done on older homes to catch any new issues (leaks, drainage issues, etc).
Also the home builder is providing us with a 1/2/10 year warranty so we aren't as stressed about having an inspection. The 10 year warranty covers all structural issues (there's a 1 year warranty on everything, 2 year on some other items). My mom bought a new build and has a similar warranty… Many people complain about the company she bought her home from, but even though she's had some serious issues, the warranty has covered the repairs for structural problems that she had.
For example, it's been several years since she bought her home, but her floors/foundation cracked and they repaired it. She had to be careful to watch them as they made a couple of mistakes- ie. replacing the floor with a downgrade from the flooring option she originally purchased, but they fixed it once she pointed it out.
It would be beneficial to have the inspector go over the maintenance tasks in a single family home, but we found these resources online to add to our electronic calendar:
Check out my post on Home Renovations on a Budget and get the free home renovations planner!
Please share and pin this post!