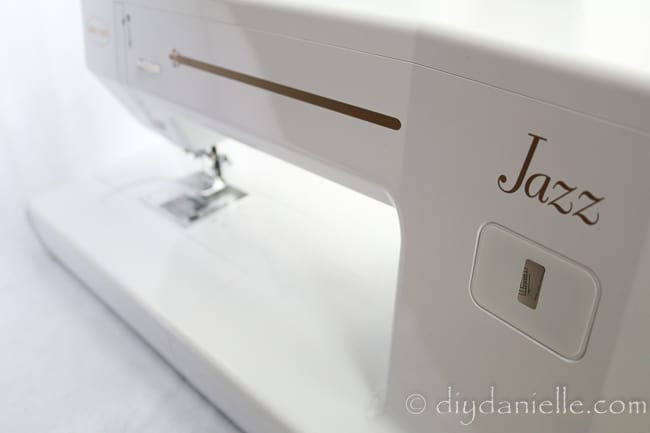 How to choose a sewing machine that will meet your needs. Information on sewing machines, sergers, coverstitch, and embroidery machines.
This post may contain affiliate links which may earn me commissions should you click through them and take certain actions. As an affiliate for Amazon, Cricut, xTool, Home Depot, and other sites, I earn from qualifying purchases. Please DIY carefully. View my full legal disclosures here.
Please read the whole post so you don't miss any important information!
When I bought my first sewing machine back in 2004 or so, I walked into the store and found a machine that I thought looked pretty, and I bought it. Then I let that sewing machine sit in a closet until 2011. It moved from Texas to Maryland with me. And when I turned my Brother XR 65 on in 2011, it worked perfectly. At least, as far as I knew.
I learned to sew on that machine and it's been a reliable workhorse for me.
In 2016, I asked for a fancy sewing machine for a holiday and my husband took me shopping (awww, isn't he sweet?). I figured that because I used my sewing machine so much, I should invest in an expensive machine. I purchased a fancy computerized machine. I took the classes that came with it. It had lots of fancy stitches and all the bells and whistles.
I hated it.
If only someone had explained to me how to choose a sewing machine that met my needs– not theirs.
Some people, particularly quilters, love the expensive computerized machines. And a computerized machine that tells you what needle to use for each fabric can be useful when you're first starting out. Being self taught, I learned a lot of sewing tips from that machine yelling at me and just not doing what I said. Frequently, my issues were user error.
But when it came down to it, I hated having a computerized machine. I didn't need all the quilting bells and whistles. I just wanted a machine that would do what I said when I said it. I needed my machine to sew through a lot of layers.
I traded my machine in.
This time, when I went to the store, I knew exactly what I wanted.
Where to Buy a Sewing Machine
You can buy a sewing machine off Amazon, Costco, or at your local Walmart. That's where my first machine was purchased and honestly, I loved my machine. When you purchase from a regular store, you get what you get with any product- the product. No customer service or lessons. That is fine if you plan to teach yourself and if you don't get intimidated by your machine.
If you plan on buying a higher end machine though, I highly recommend finding a reputable local dealer. Our local Babylock dealer offers free servicing for 5 years after you purchase a machine through them, as well as free lessons.
I self serviced my old Brother machine. My computerized could NOT be self serviced and it wouldn't work well without yearly servicing. Depending on your machine, you may not need yearly servicing, but it's good practice to get your machine serviced yearly, particularly with high end machines. Servicing seems to run around $100.
Buying a Sewing Machine on a Budget
For a budget sewing machine, I love Brother. They're affordable and I've found that they tend to be cooperative. I've been happy with the brand and have used several different machines from them. So far, I've been happy with all of them.
For their coverstitch and sergers, they have Facebook support groups and that's been really helpful for troubleshooting. I'm not sure if they have similar groups for their embroidery machines or sewing machines.
Types of Sewing Machines to Buy
Most people just want a sewing machine, but I wanted to give you an idea of the difference between machines as I've known people who accidentally picked up a coverstitch machine instead of a serger, etc. Plus it's good information for when you get addicted to sewing and buy ALL. THE. MACHINES.
Regular Sewing Machine
These are the sewing machines that will do the things you generally need to do with a sewing machine. Some machines have more capabilities than others- they might also do quilting stitches or free motion quilting, they might also have an embroidery feature, etc. If you want a regular sewing machine, I'd recommend one with at least a straight stitch and a zig zag stitch. If you want to do quilting, then you may want to consider a machine with more options for quilting.
You can sew clothing with a sewing machine, but a coverstitch and serger are additional machines that are convenient to have. I do not think they're necessary, but they're nice.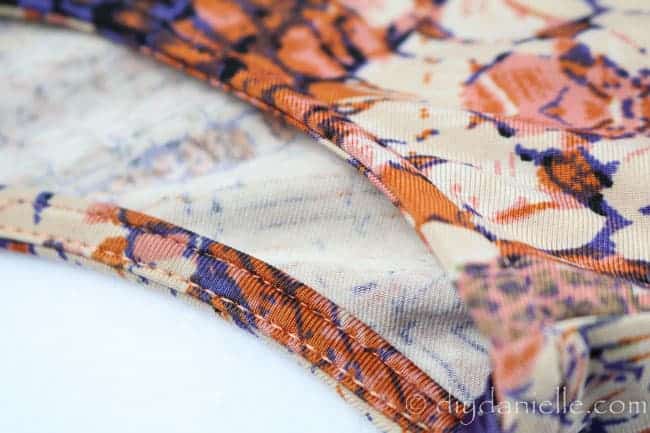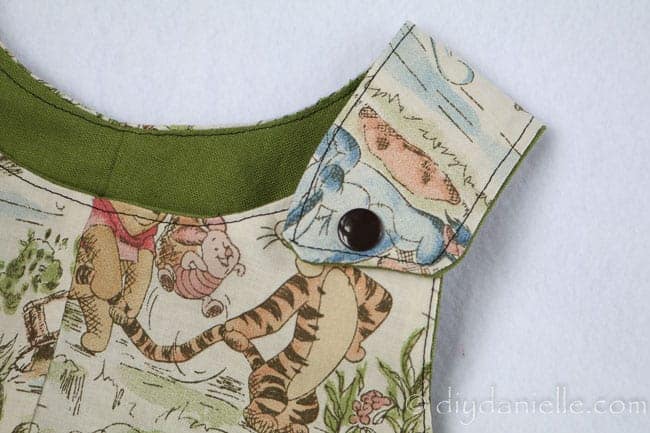 Treadle Sewing Machine
These are the old fashioned machines- no electricity and a foot pedal. I hear they sew through anything and everything. Don't get your finger under the needle. If you can figure out how to use them and service them yourself, they tend to be really reliable machines. But you may have difficulty finding lessons on the machine. I haven't used one, but my understanding is that they are straight stitch only.
Embroidery Machine
An embroidery machine uses designs that you buy or create on your computer to add embroidery to shirts and other products. These machines tend to be really expensive, but there is a lower-end machine, the Brother PE 770, that does it good job on a 5 by 7 hoop. It is not on scale with the machines that most people use to sell embroidered products; those machines can often cost $10,000 or more.
I used to own the PE 770, but I found that I didn't use it enough to justify keeping it. I found I wasn't committed to learning about what shirts and stabilizers to use in order to make my machine run well.
Some people love their embroidery machine, but I'd argue that machine embroidery is a completely different hobby than sewing. You don't control the machine so most of the work is in the computer design. I enjoy being able to manipulate the fabric myself. I also don't love the feel of embroidered fabric and prefer heat transfer vinyl with my Cricut Air 2.
If you LOVE the look of embroidery, you should definitely consider an embroidery machine. The 770 is a great intro machine to see if you like it before going with a higher end machine. If you want to sew as well, the Brother SE400 does both embroidery and sewing. I've heard good things about that machine but it can only embroider smaller designs.
Serger
A serger is used for knit/stretch fabrics and it creates the nice finish that you see on a lot of edges for store-bought clothing. It helps prevent fraying and it also cuts the fabric neatly as it serges.
Sergers have two needles, an upper looper, and a lower looper. Sergers also have a blade that cuts the fabric.
Sergers aren't a machine you can own as a stand-alone machine. If you want to sew clothing, you will want a serger at some point, but you can sew clothing without a serger. You cannot sew (in a traditional sense) with a serger. Sergers won't sew buttonholes, they won't hem pants, and they won't do a basic straight Stitch.
I've heard that serging woven fabrics isn't a good idea and that you should use a sewing machine instead, but that may apply more to clothing. These flannel wipes would be considered woven, but the serged edges are perfect for finishing them. I've also serged edges on fabrics that fray a lot. I think it's important to just by mindful of times you need to both serge and sew.
Some people do both on knits, as well, to reinforce seams that get a lot more wear and tear.
The one thing to note about a serger or coverstitch is that they are able to do more stitches per minute than a sewing machine. They seem really fast when you're using them.
I loved my Brother 1034D serger, but recently upgraded to a pre-loved Babylock Evolve machine and it can serge through a lot more layers which is nice.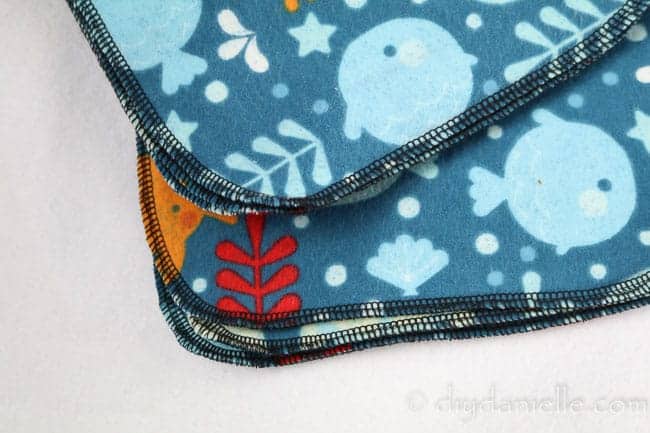 Example of serger stitching on flannel wipes.
If you get a serger, make sure to make yourself a serger mat.
Coverstitch Machine
The coverstitch machine is definitely an item that I enjoy having in my sewing room but isn't necessary. What it does is it gives the nice finish that you see on store-bought clothing as seen in the photo below.
It's convenient and fast to use for hemming clothing. It does not cut fabric.
I have a Brother 2340 CV which I think is great, but I also have a combo Babylock Evolve that does both Coverstitch and Serging. I don't use it for coverstitch because I don't want to rethread it between uses. I keep my Brother coverstitch machine, then serge with my Evolve. But I get the impression that my Evolve may be better for cover stitching a heavy duty project, but I just haven't had a need to use it yet.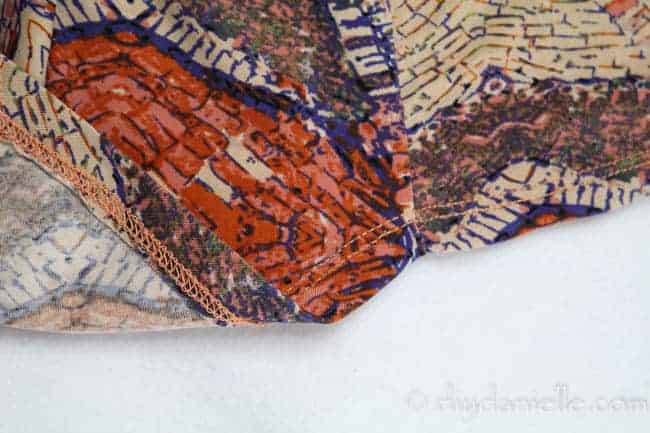 Tips for buying a sewing machine
Consider what you want to use your machine for and make a list. When you go to the store, ask the employee if the machine you want will do all of those things.
Figure out what your budget is ahead of time. Sometimes if you have a limited budget, you can still get a higher end machine used. If you get it used for a reasonable price at a dealer and it's been serviced, then that might be a great option.
If you're getting your first machine then I think it's a great idea to setup some lessons. Otherwise it's easy to get intimidated and put the machine in a closet for 10 years. You know, like I did. Knowing some basic things about sewing machines is a huge help to feel confident about using it.
When you look at your machine choices, check out the accessories as well. Some machines come with a lot of different feet- this will save you money if you would have bought those feet separately. For example, I know that my machines need to sew cloth diapers. Usually a walking foot is great for sewing PUL (polyurethane laminate). Some machines come with one standard, others do not. The walking foot through Brother is fairly reasonable, but the walking foot on my computerized machine was really expensive.
Make sure you get the right needles and bobbins for your machine and projects. When I got my PE 770, I kept having issues and finally called Brother. They immediately diagnosed my problem as 'wrong thread type' for my bobbin. I felt stupid, but I thought it was similar to using a regular machine.
Read your manual. Those things are gold. I never touched mine until I had an issue, then was all "Whoa imagine that… information… in the manual. This is really good information!" Haha. Whoops. Each machine is a little different- my Babylock Evolve serger/coverstitch machine is never supposed to be oiled. My Brother 1034D was supposed to be oiled every use (something I neglected for two years).
If I had a limited budget, I would go for a Brother sewing machine, serger, and coverstitch over one expensive sewing machine. I love owning all three because I enjoy making clothes. They speed things up and I wish I'd gotten them sooner. If sewing clothes is of interest to you, make sure to check out my post on how to measure yourself for sewing patterns.
My Final Choice for a Sewing Machine
After a quite walk through the store with the owner, I figured out what I wanted. He showed me a lot of fancy machines that had tons of awesome features- but I knew I didn't want to spend that much and I didn't have the patience to deal with a computerized machine.
I'm a 'they don't make them like they used to' kind of person and I wanted something that did what I needed, but that was fairly simple.
I found it in the Babylock Jazz. What makes me happy is that it is better at working with thicker items than my old Brother machine. When I went for my lesson on the Jazz a week later, I may have accidentally come home with a pre-owned Babylock Evolve (combo serger/coverstitch). They had one on sale that was pre-loved so I just couldn't pass it up!
New to sewing? Check out my Sewing 101 Guide!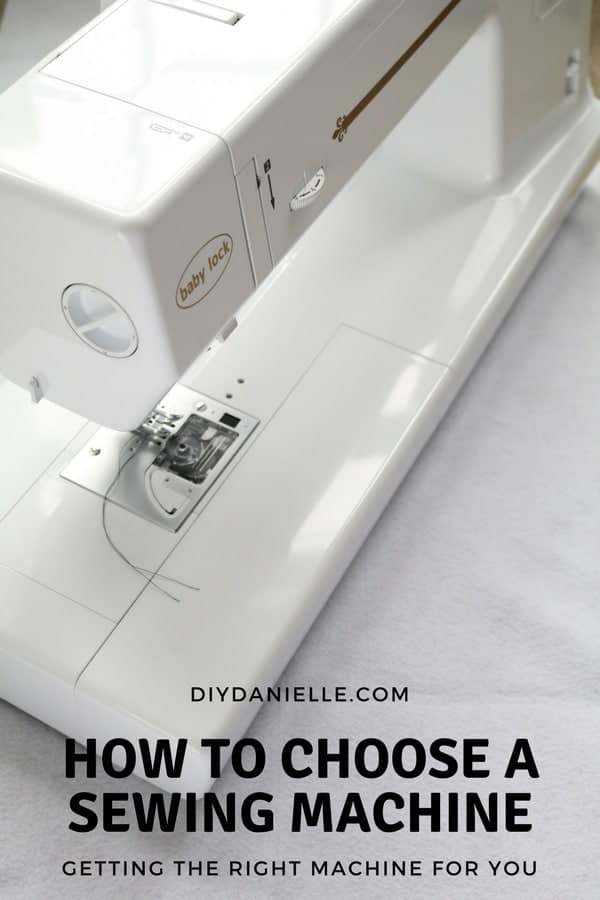 Google Web Story: Tips for Choosing the Right Sewing Machine