How to measure yourself for a perfect fit when sewing or purchasing clothing.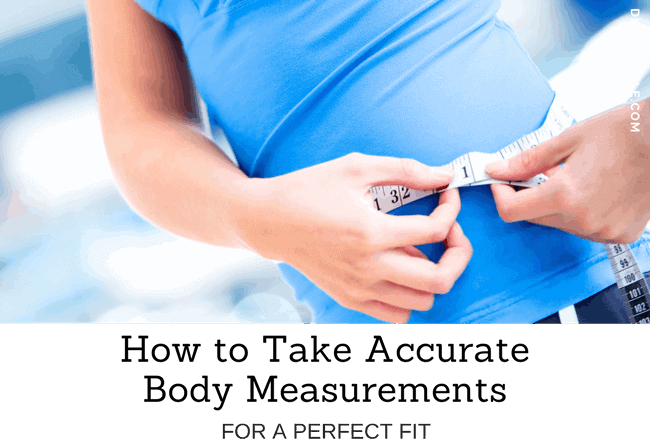 This tutorial includes affiliate links to products that might be useful. I receive a small commission off any sales, but this does not impact the price of your product.
One of the most important things to learn before you start sewing clothing is how to measure yourself and others accurately.
Incorrect measurements can lead to a poor fit in your handmade clothing, which can shake your confidence when it comes to sewing clothes.
You'll need a soft measuring tape and you ideally want to be naked or in your underthings. I prefer to measure my bust over my bra because I'm working off the assumption that I'll be wearing one. If you plan to skip the bra or you're measuring for a bra, you may want to do this naked.
When you are taking measurements, you don't want to suck in your belly or waist. Think of it this way- you want your clothes to fit all the time, not just when you aren't breathing. Use good posture when you're measuring yourself.
Don't get caught up in the numbers. How good you look has little to do with your size and a lot to do with how pretty and well fitted your clothes are. Sucking in your body while measuring might get you a 'nicer' number, but your clothes will either not fit or not look good. You may also find that you can make the clothes fit, but the fabric looks less attractive as it's being stretched too much.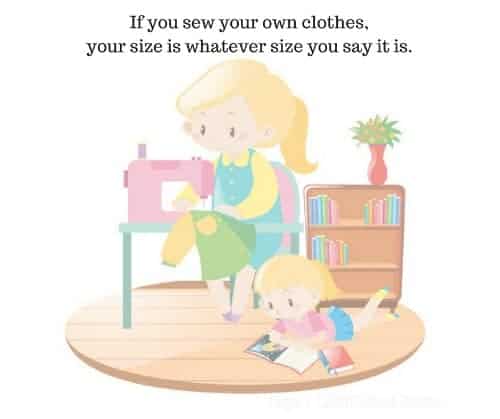 It's really helpful and more accurate if you have a helper assist you with measurements. Twisting and turning and leaning down to measure yourself can make your measurements less accurate.
When you're measuring yourself, make sure your measuring tape is parallel to the ground and not wonky, twisted, etc. for your waist, hip and bust measurements.
If you're measuring yourself alone, standing in front of a mirror can be helpful.
How tight should your measuring tape be to measure yourself?
First, it's important to remember that measuring tapes can stretch over time and with pressure. So you don't want to be using your measuring tape to Tarzan swing across your sewing room and you don't want to play tug of war with it either. If you have three little boys in your house like I do, these are all legitimate risks.
While they can stretch over time though, soft measuring tapes are ideal for taking body measurements. If you don't own one, you could use a non stretchy piece of string and then measure it using a ruler. This isn't as easy, however.
In terms of how tight to pull the measuring tape, think SNUG- not tight. You don't want it leaving marks on your skin because it's so tight. I like to think if it this way- if the clothes I wear are this tight, will I be comfortable? Hopefully the answer is yes.
I've read about these measuring tapes that change the tension for your measurements so they're always about the same tension. It's a neat idea and they're pretty affordable. I just purchased once so I'll let you know if it works.
Handy Reference Chart for How to Measure Yourself
I created this handy reference chart for how to measure yourself if you think it would be helpful. You can print it and hang it in your sewing room to reference. These are the basic measurements that you might need to take as a sewist, although there are a lot of different measurements that you might need for some patterns.
How to measure your waist
You should measure your waist around the smallest part of your midsection. If you're not sure where that is, put a belt on and tighten it so it's snug but not tight, move around, bend, and jump up and down. The belt should settle around your natural waist. Usually this is above your belly button and below your rib cage.
When taking this measurement, wrap your measuring tape around the area, look up, breathe out, then look down to see your measurement.
Some people may have heard that your waist should be measured around your belly button but that is not necessarily the case (although I imagine maybe some people's natural waists could fall there).
How to measure your hips
If you're like me, you might have thought that your hip measurement should be taken where the bones of your hip are. That is not, however, the case.
When you measure your hips, you need to measure around the fullest part of your butt. This ensures a good fit for your bum. Again, make sure your measuring tape is parallel to the ground. Where the bum of your pants gets a lot of wear and tear, you want to make sure this measurement is accurate so you don't pop a seam.
How to measure your inseam
This measurement will depend on what type of shoes you plan to wear with your pants. Don't forget this! If you measure for sneakers, your pants will be too short if you decide to wear heels. Even men are affected by this, depending on what type of shoes they wear (boots, sneakers, dress shoes). You can wear your shoes when you take your measurements to get a good idea of the inseam measurement you need for the pattern.
To measure your inseam, you need to measure from your crotch down to where you want your pant leg to end. For some patterns, this might be at the ankle. I like wearing bell bottoms with a chunky shoe (heck if I know what these are called) so I usually want my pant leg to barely graze the floor when I'm wearing my shoes.
How to measure your bust or chest
You need to measure your bust/chest around the biggest part of your chest. Make sure you're breathing while you measure and that your measuring tape is parallel with the ground.
Confusing Aspects of Fit
The most confusing part of measuring myself was realizing that all of my measurements didn't fit into one perfect size for a pattern. This is normal and it's the reason why handmade is better than ready-to-wear clothes in terms of fit. Once you learn how to grade your patterns to fit your measurements, you'll find you're happier with your clothing. Naturally, some folks fit better into the store bought sizes than others so everyone has different amounts of grading that they'll need to do for the perfect fit.
Most sewing pattern makers offer their own instructions on taking your measurements for their patterns, such as these detailed measurement guidelines from Patterns for Pirates, a favorite PDF pattern maker of mine. If you need additional measurements, their site is a great resource to check out. I have sewn with several of their patterns for my post partum wardrobe, as well as for some easy maternity shorts, and find the patterns and tutorials easy to understand.
If you're brand new to sewing, read up on this basic information about the hobby of sewing.
Please Pin This!