How to make a photo puzzle for grandparents, friends, family, and kids. These custom puzzles are perfect gifts and have up to 1500 pieces.
Last year, I struggled so hard to think of the perfect gift for my dad, father-in-law, and husband for Father's Day. They're so hard to buy for and I get tired of buying boring things like clothes. My father loves puzzles though so I started to look around for some fun puzzles to order and discovered that I could create large photo puzzles!
Honestly, puzzles are one of my favorite gifts. They are a great gift for the holidays, particularly as they encourage the family to come together and chat while everyone works as a team to complete the puzzle. As my kids get older, we've been tackling bigger puzzles and it's fun to get family helping to put them together.
---
This post may contain affiliate links which may earn me commissions should you click through them and take certain actions. As an affiliate for Amazon, Cricut, xTool, Home Depot, and other sites, I earn from qualifying purchases. Please DIY carefully. View my full legal disclosures here.
Please read the whole post so you don't miss any important information!
---
The main problem with gifting puzzles is trying to gift ones that family hasn't completed already. But I was excited to discover that they make LARGE photo puzzles now! I made a small photo puzzle before through another company and my kids LOVED it, but the largest size at the time was 100 puzzle pieces. I have a picture of the small photo puzzle I made in another post, Crafty Gifts for Grandparents. At this point though, even my kids prefer more complicated puzzles.
My favorite part about photo puzzles is that you KNOW they don't have that puzzle yet. Get professional photos taken each year, create a puzzle, put it together as a family, then you can frame it for the wall!
The photo puzzles sold by Ravensburger are 100-1500 pieces so you could make them as a gift for kids or adults. They even have some kid designs, such as Planes, that can go around the photo. Originally I wrote this blog post about making photo puzzles on the Ravensburger website, but they're unfortunately only allowing you to make them now in the store- and I'm not even sure if there's a store near me.
Here's the one I ordered for my husband through Ravensburger a few years ago.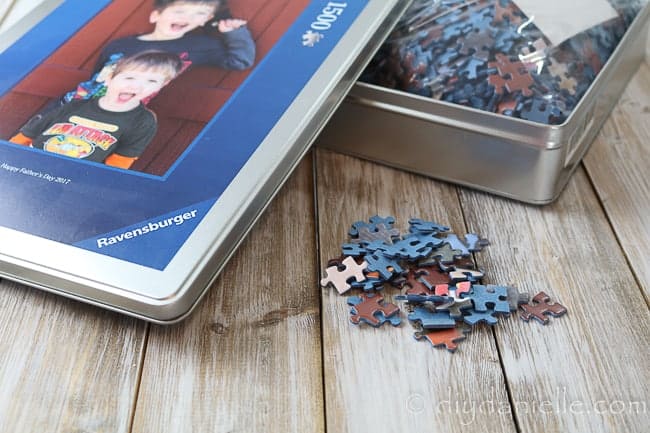 So this year, 2021, I was on the hunt for another company to make custom puzzles with and it looks like Walmart has started offering 1000 piece custom puzzles! WINNING!
While you could certainly make a whole puzzle yourself by hand, I'm going to show you how to make one online through Walmart!
How to Make a Custom Photo Puzzle on the Walmart Website
First, click on this link to go to the listing for the 1014 Piece Custom Puzzle. Make sure the 1014 piece puzzle is selected… you can make these in other sizes as well, but 1014 is the largest puzzle size that I see right now; this is a 20×30 puzzle. The nice thing is that the price is quite a bit lower than the Ravensburger version was a few years ago.
I chose the full photo design, but there's options to get puzzles with borders and collages too. These are all of the photo puzzle options available on Walmart's website.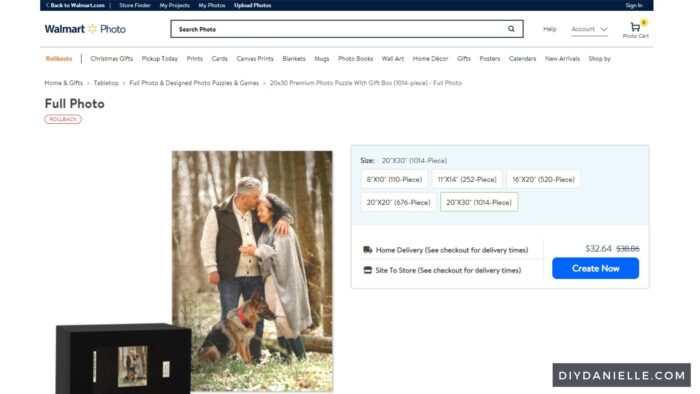 Once you click the puzzle size and "create now," you need to upload your photo. We get family photos done every year by my friend at Jody McKinley Photography. She's an amazing photographer in Maryland, and I love what she did with the photo I selected. It will make a great puzzle because of the duplication of the kids (and the similar color patterns).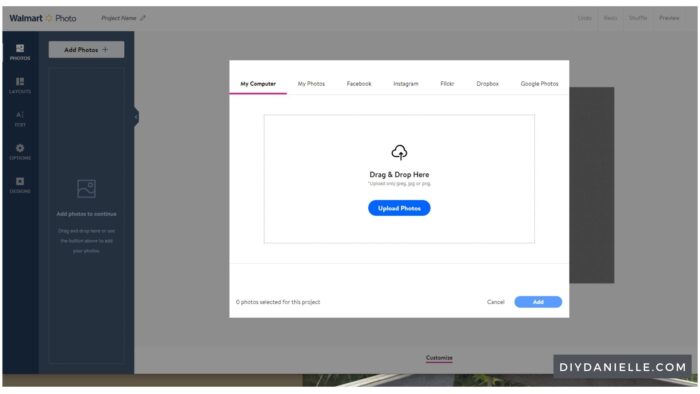 You can add text to your design. I added the year because I want to frame the puzzle once it's finished.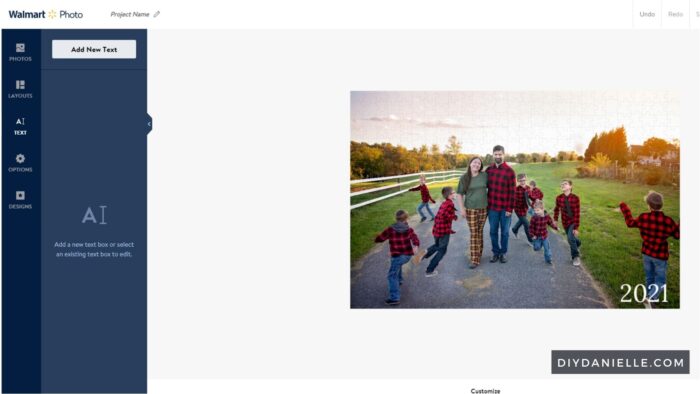 After you create it and are happy with the final design (don't forget to check for any spelling errors!), you can just check out the same way you check out with any Walmart order. They allow ship to home or ship to store. Overall it was SO easy and the price was excellent.
It only took me a few minutes to design this. I ordered on November 24 and it looks like it should be delivered by December 4th! That seems like a good turnaround.
Once I get this in, I'll update this blog post with photos of the final product! I'm pretty excited to see the final results.
Framing Your Custom Puzzle
Once this arrives and we complete the puzzle, I want to frame it. I was checking out some frame options on Amazon for puzzles and here are your options. Make sure to adjust the size if you opt for a different puzzle size!
You can also buy a 20 Sheets Puzzle Saver Kit. These kits help you transfer a puzzle to a normal frame or just to keep the puzzle together. You flip over your assembled puzzle with the back side up, stick the adhesive sheets to the back of the puzzle, press firmly, then you can flip it back over.
One thing I'd like to pick up this year as a gift is one of those puzzle saver mats with sorting trays or a folding puzzle table. It's nice to be able to keep the bigger puzzles organized so you don't lose pieces before finishing them.
Please share and pin this post! If you make this project, share it in our Stuff Mama Makes Facebook Group. We have regular giveaways for gift cards to craft stores. You can also tag me on Instagram @doityourselfdanielle; I love seeing everything you make!