How to make a photo puzzle for dad or grandpa for a Father's Day gift.

This post may contain affiliate links. Using these links helps support my blog. Thank you!
Last year, I struggled so hard to think of the perfect gift for my dad, father-in-law, and husband for Father's Day. They're so hard to buy for and I get tired of buying boring things like clothes. My father loves puzzles though so I started to look around for some fun puzzles to order and ended up on the Ravensburger website.
And… GAME CHANGER. I ran across photo puzzles! I made a small photo puzzle before and my kids LOVED it, but the big photo companies usually only do small puzzles (a small number of pieces) for photo puzzles.
I have a picture of the small photo puzzle I made in another post, Crafty Gifts for Grandparents. The grownup guys in my life like something more challenging than a 50 piece puzzle.
The photo puzzles sold by Ravensburger are 100-1500 pieces so you could make them as a gift for kids or adults. They even have some kid designs, such as Planes, that can go around the photo.
While you could certainly make a whole puzzle yourself by hand, I'm going to show you how to make one online through Ravensburger because it's easy and the product is gorgeous.
Here's the one I ordered for my husband.
Personalized Puzzle from Ravensburger
What I loved about these puzzles is the quality of them. The tin the puzzles come in is SOLID. It's the nicest puzzle container I've ever seen. The image quality on the front was excellent. While I probably could have glued a photo onto a plain puzzle, it would have been a lot of work and likely a lot of errors and imperfections. This looks like something you'd buy in the store- except it's your family and not some random photo of a castle. That makes it so much more fun for me.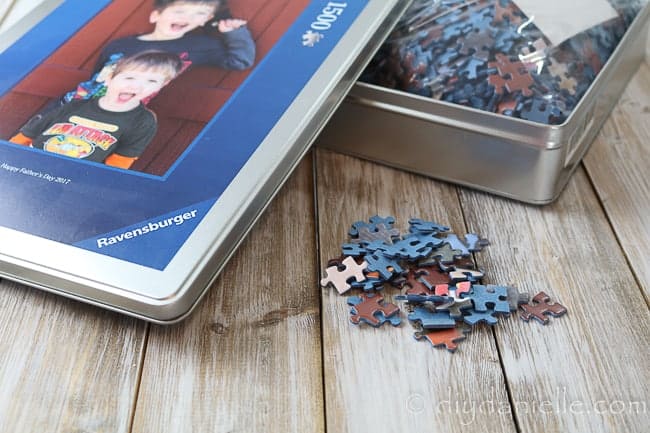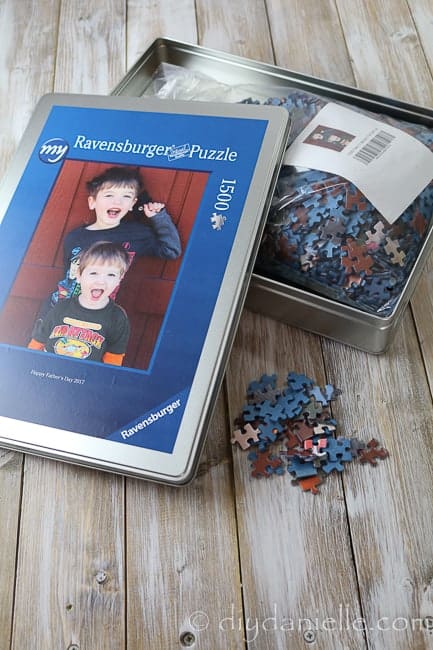 How to Make a Photo Puzzle on the Ravensburger Website
First you can click the 'order now' in the image below. Using my link helps support my blog which I really appreciate.


Making a customized puzzle on the website is really easy. You just go to the persoanlized puzzle sections, select your puzzle choice.
It'll pull up this…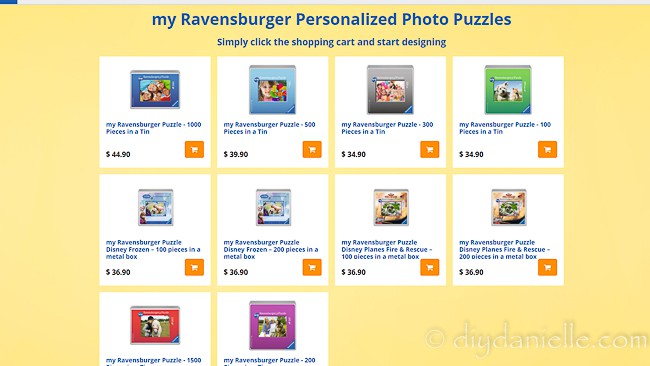 You'll be prompted for an image. You can upload from your computer or Facebook. I recommend using a really high quality photo from your computer. An image with poor quality won't produce as nice of a puzzle. When you upload photos to Facebook, I believe they lower the resolution and size so it won't take up tons of storage space and increase loading time.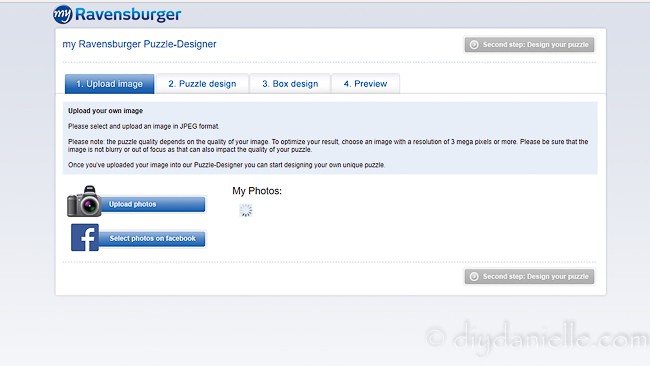 Here is the photo I selected. I have two choices- I can do the full image or do a collage of images. I also need to crop the photo properly in the bottom right. You can change the photo to portrait if your photo is longer top to bottom.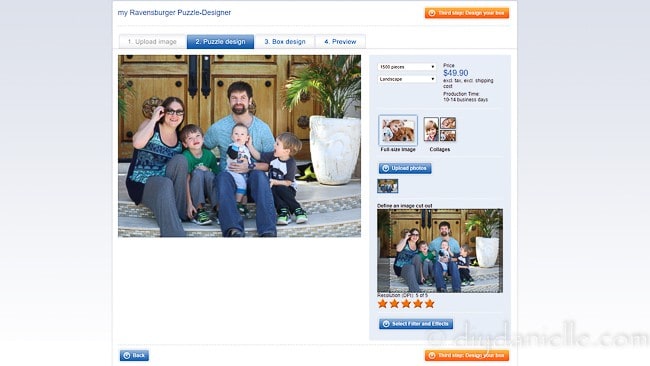 There's also a way to put filters and effects on your photo. You just click the button below the photo crop section on the bottom right.
I don't love the effects (there's not really many of them- some color adjustment and brightness/contract settings) so I would recommend using a photo editing program like Photoshop, Canva, or PicMonkey, then uploading it to the website. This would give you a lot more freedom.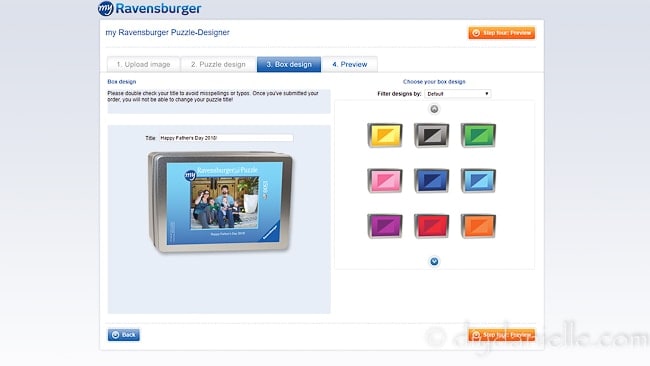 Finally you select the color and title for your box. Here I've written "Happy Father's Day 2018" and used one of the blues.

Click to the next screen, then add to cart. Then your puzzle will show up in your cart and you can enter any coupon codes etc. that you want to use for it.You can certainly pick out some other standard puzzles while you're at it. I thought the prices were really reasonable.
Need a Ravensburger coupon code? Try this one. I'm not sure if it applies to photo puzzles but it's certainly worth a shot (let me know in the comments if it works!)


MAKE SURE to order this early. Father's Day is June 17 this year (2018) so you probably should order it fairly early to make sure it's made in time. Customized takes longer than the store ones, roughly 10-14 business days.
Please pin this!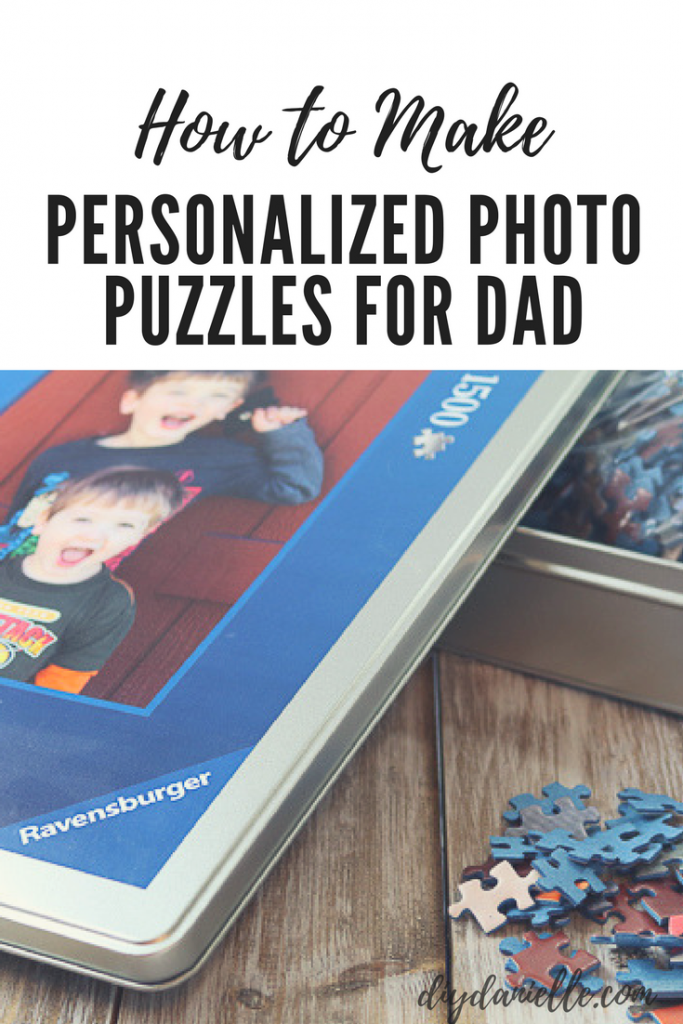 Thanks for taking the time to read this post! I really appreciate the time you've taken. Please share, like, and pin my post if you enjoyed it. Follow me on social media and subscribe to my email list to keep up to date on all of my latest projects!