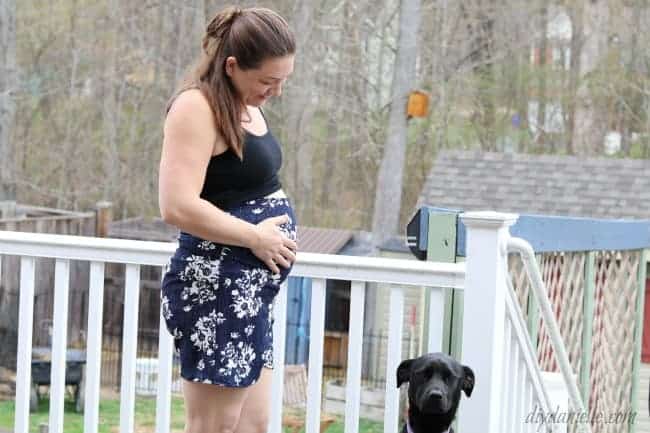 How to sew some easy maternity shorts for the summer months that will keep mama cool.
This post may contain affiliate links. Using these links helps support my blog. Thank you!
I loathe maternity clothes. This is baby #3 and I get huge so maternity clothes are unavoidable, but sometimes the fabrics used for the bands chafe. My third trimester for all three pregnancies has been in the full heat of summer so I am intimately familiar with the discomfort of it all. This pregnancy, I wanted to try to make my own maternity pants in hopes that I can tailor the clothing to be more comfortable, in particular the maternity band.
My major issue with shorts is that the jean shorts feel like they're falling off. The weight of the jean fabric just drags the shorts down and the thin band doesn't feel like it properly holds the shorts up. I always feel like I'm a few moments from loosing my pants. Yuck. As such, I opted for thin fabric for my shorts… not jean. I wanted something lightweight, but not sheer. I spent a lot of time shopping for fabric as a result.
Supplies
Supplies listed below may include affiliate links to the products.
Pattern: Straight Palazzo Pants (using the shorts length) from Patterns for Pirates
Sewing supplies
Fabric: I'm not sure about the red shorts, except that I used a thin performance fabric (swimsuit fabric, perhaps?) for the band. For the blue shorts, I used the same fabric for the band because it had a good four way stretch.
Tutorial
The patterns from
Patterns for Pirates
are really easy to figure out and sew. I like that the shorts pattern takes so little fabric (I used one yard for the XL) because it means that making shorts likely saves me money… not something I can always say for making pants.
I have not made a lot of clothes for myself. But I whipped up two pairs of shorts, two pairs of capris (I'll write a post on that later), and two tunic shirts in the same week after getting started. It's much easier than I anticipated and now that the fear is gone, I can see myself making a lot more clothing for myself. And they're so comfortable! Being able to choose the fabric means that I can pick lightweight fabrics that are friendly to mama in the summer heat. Post partum, I'll be able to roll the band down or just fix the band so they're not maternity shorts any more. The band height is just higher so all I'll need to do is remove the band, shorten it, and sew it back on. I'd be tempted, honestly, to not remove the band but just to cut a bit of it off at the top and serge it closed. Lazy, but I think it'd work.
The only thing I need to fix is that I need stretch thread for hemming the shorts (and my capris). My serger did a wonderful job, but non stretchy thread sewn on with my sewing machine doesn't seem to do very well with the hem… that's one way to learn about sewing clothes, the hard way!
I doubled-ish the height of the yoga band so it would work as a maternity panel. Some people do more or less, depending on their comfort level.
Here's a glimpse of the maternity band on the shorts… it's hard to see because I wore a black shirt, but it's shinier.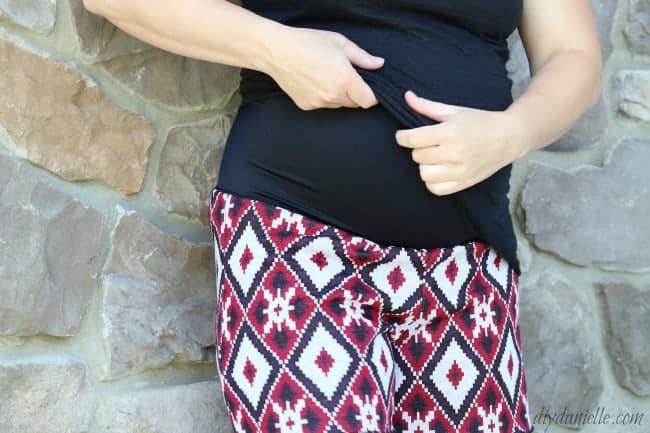 I love the length, drape, and comfort of these shorts. I definitely want to pick up some more fabric so I can make a few more pairs. They came together really fast and easy. Pinning the waistband on is the hardest part.
You do want a serger to make clothes. It makes it so much easier to sew stretch knits. If you don't have stretch thread for the hem, you can just leave the bottoms serged.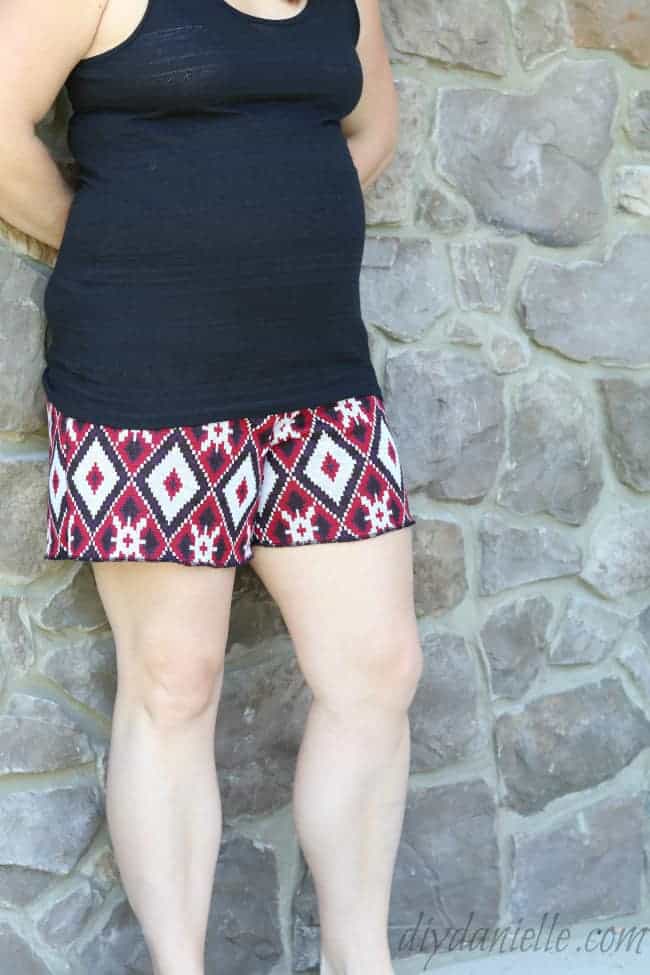 Love it? Pin it!

Thanks for taking the time to read this post! I really appreciate the time you've taken. Please share, like, and pin my post if you enjoyed it. Follow me on social media and subscribe to my email list to keep up to date on all of my latest projects!

Disclosure of Material Connection: Some of the links in the post above are "affiliate links." This means if you click on the link and purchase the item, I will receive an affiliate commission. Regardless, I only recommend products or services I use personally and believe will add value to my readers. I am disclosing this in accordance with the Federal Trade Commission's 16 CFR, Part 255: "Guides Concerning the Use of Endorsements and Testimonials in Advertising."