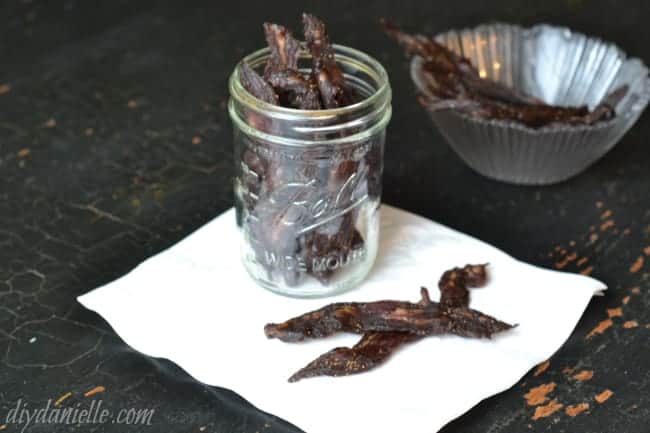 How to make hickory smoke beef jerky in a food dehydrator without making it too spicy.
This post may contain affiliate links. If you use one of these links to make a purchase, I may receive a commission on the sale. This does not impact your price for the product. Thank you!
I really loathe the big name brands for beef jerky. I wanted to like it so much… I mean it's meat. I love meat. Because it's against all logic that I haven't ever liked beef jerky, I keep trying it. Costco had a tasting for some that I loved so I decided that it wasn't the beef jerky that was the issue, but rather how it was prepared and preserved.
And we all know, fresh is better.
So I've been experimenting with beef jerky recipes and timing with my food dehydrator. I bought this dehydrator last year because, as usual, I produced way more tomatoes in my garden than I could eat. So I made sun dried tomatoes (yum!). I wanted to get more use out of it though and my friend Marie was an expert so she gave me some guidance. Check out her guide on drying food.
In this case, I used a hickory smoke marinade that was getting close to expiring so I wanted to use it up. It came out really well and smelled amazing. You can skip the cayenne pepper and reduce the regular pepper if you want it to be even less spicy.
Supplies Needed
Food Safety for Beef Jerky
Just for a little background information on safety, food dehydration, and beef jerky, check out this article from the USDA. The USDA is my go-to source for trying to figure out if I'm about to kill myself with my cooking. I would call this "required reading" so don't skip it.
Despite USDA reassurances, I'm still weird about food safety so I make a small amount of jerky, eat it within a week, then make more when I want it.
In the recipe, I mentioned dehydrating it at 160 degrees Fahrenheit. You can also heat it to 160 degrees Fahrenheit in your oven, then transfer it to the dehydrator to dehydrate at 130 degrees. My dehydrator doesn't go up to 160 degrees so that would be the process I would use.
Directions for Making Beef Jerky in the Dehydrator
I purchased a couple pounds of meat for this, cut off the fat, and cut it all into thin slices. Then I divided it up into three bags. Two bags were frozen for use later and the last was dehydrated immediately after marinating.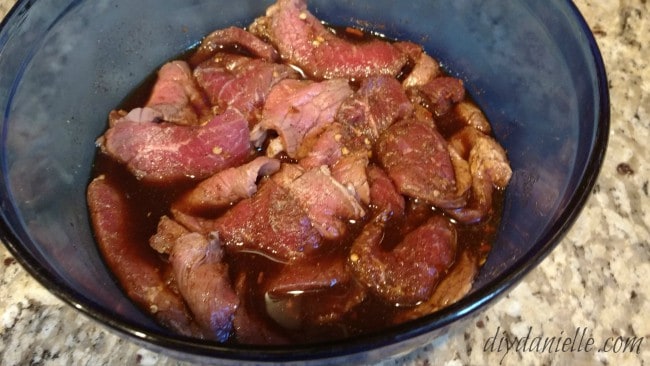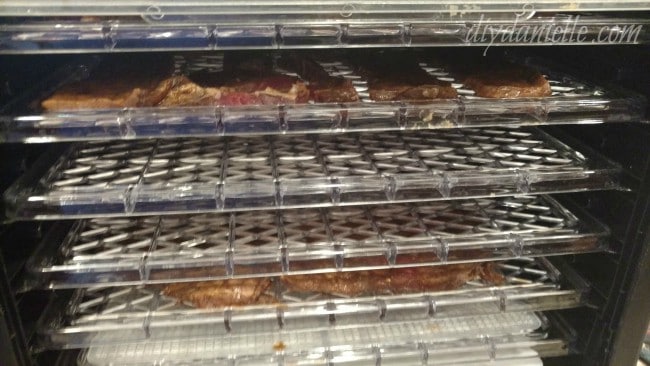 I mixed up my marinade with my meat, covered, then refrigerated for 24 hours before placing it in my dehydrator.

After it marinates and after heating to 160 F (per meat thermometer), you can dehydrate the meat. Lay the meat out in single layers on the racks in your dehydrator. Let dehydrate 4-8 hours. You don't want to overcook this… so it's good to check on it.

Once done, store in a sealed container or bag per USDA guidelines.
Recipe
Make your own beef jerky in a food dehydrator.
Ingredients
2 Tbsp Brown Sugar
1 Tsp Pepper
1/4 Tsp Kosher Salt
1 Tsp Onion Powder
1 Pinch Cayenne Pepper
1/4 Cup BBQ Sauce
Beef Round Steak
Instructions
Cut your beef round steak into thin slices, removing any fat. Ideally you want a cut of meat that doesn't have a lot of fat to begin with.
Mix up the other ingredients, then add meat. Let marinate in refrigerator for 12-24 hours.
Place the meat on the racks in the dehydrator, making sure not to overlap pieces. Cook at 160-180 degrees Fahrenheit for 4-8 hours, turning halfway through. Do not overcook.
Recommended Products
As an Amazon Associate and member of other affiliate programs, I earn from qualifying purchases.
Love it? Pin it!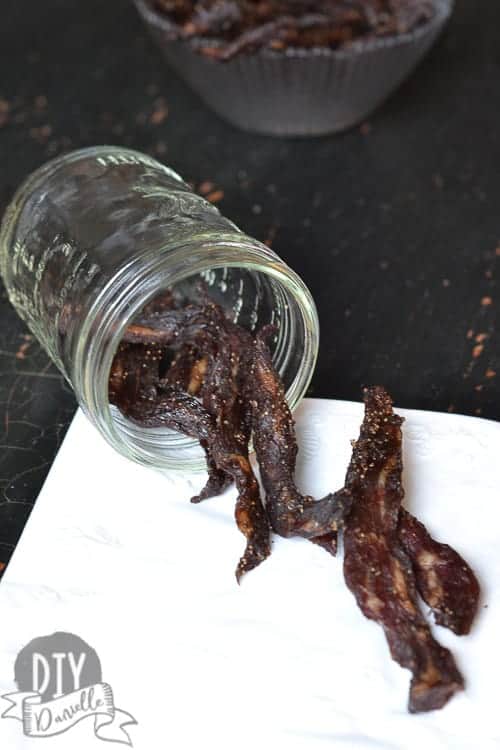 Thanks for taking the time to read this post! I really appreciate the time you've taken. Please share, like, and pin my post if you enjoyed it. Follow me on social media and subscribe to my email list to keep up to date on all of my latest projects!