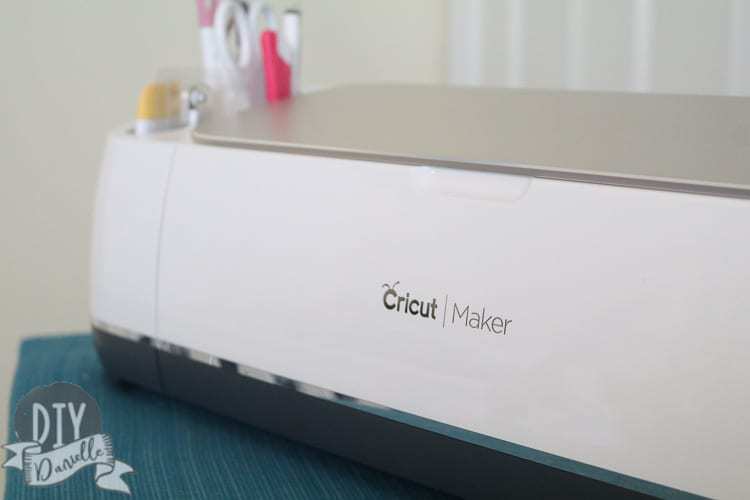 The Cricut Maker is the perfect machine for people who sew. It cuts fabric, vinyl, and iron on. You can make clothing, decals, and more!
Cricut Maker FAQ for Sewists
I received a Cricut Air 2 a year or two ago, but since the Maker came out I've been dying to give this new machine a try. While I love doing projects with my Air 2, it couldn't cut fabric or wood like the Maker… and honestly, a lot of my projects involve fabric or wood. So I've been compiling a list of things to make 'someday' when I got my hands on one.
AND TODAY IS THAT DAY! Cricut sent me a Maker to try out. I'll be sharing this Maker FAQ for Sewists with you, but I'll also have lots of posts coming with fun gifts I'm working on for Christmas! I CANNOT WAIT!
There are many types of cutting machines available, depending on your needs. The Cricut Maker is my top choice for fabric so far.
---
This is a sponsored conversation written by me on behalf of Cricut . The opinions and text are all mine. This post contains affiliate links. If you use the links to make a purchase, I may receive a commission for the sale. This does not affect the price of the product. Thank you.
---
Must Have Supplies for Your Cricut Maker
What you need for supplies really depends on if you buy one of the Cricut Maker bundles, or if you buy the machine as a stand alone. Personally, I love the bundles because it gives you a good amount of supplies to experiment with when you first get the machine. And the bundle is definitely the way to go if you're buying someone a Maker as a gift. It's nice if someone can start out with everything they need so they can play on Christmas. We're all still kids at heart, right? Plus for those of us who have children, you get a nice window of play time for yourself on Christmas because they're occupied with their goodies.
Click here to check the current price of the Cricut Maker! The latest Cricut Maker is the Cricut Maker 3 which I recommend over the first version simply because it has more bells and whistles. I particularly love the Smart Materials like the Smart Sticker Cardstock.
If you're looking for buying products individually, here are some 'must haves' for your Cricut Maker so you can try out the new features:
Double Scoring Wheel Tip
Fabric Mat, 12×24″ (I'd go big here and skip the 12×12 if you have to chose one)
Fabric Pen
Use the Discount Code DIYDANIELLE on cricut.com for 10% off any cutting machine or heatpress (no minimum). Excludes: materials/accessories/mystery boxes/etc. Applies to US/CA only, code expires 12/31/23.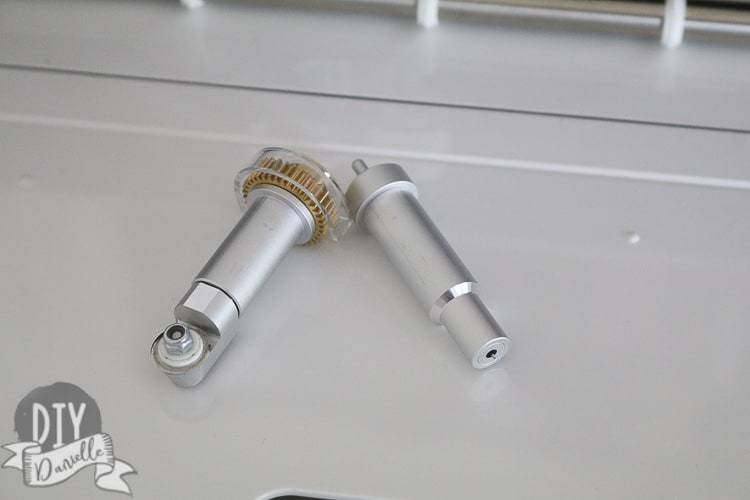 Extra supplies you might want if you don't have an earlier machine:
Basic Tools Set
Replacement blade or a deep cut blade
A Cutting Mat (there's different types for different projects- green is the regular mat, but the other colors are for different strength grips).
Cardstock if you want to cut paper.
Vinyl: Sampler to get started or Printable Vinyl
Iron On: Glitter, Multi or Printable Iron On
You can also sign up for Cricut Access™ Premium and get 50% off digital orders on Cricut.com and in Cricut Design Space™. Membership plans such as these cost a monthly fee and provide you with varying amounts of free fonts, images, and discounts on digital and physical purchases. The tooth fairy pillows you'll see below use a free project from Cricut Access. The Cricut Maker has a hidden tray to store some of your supplies in…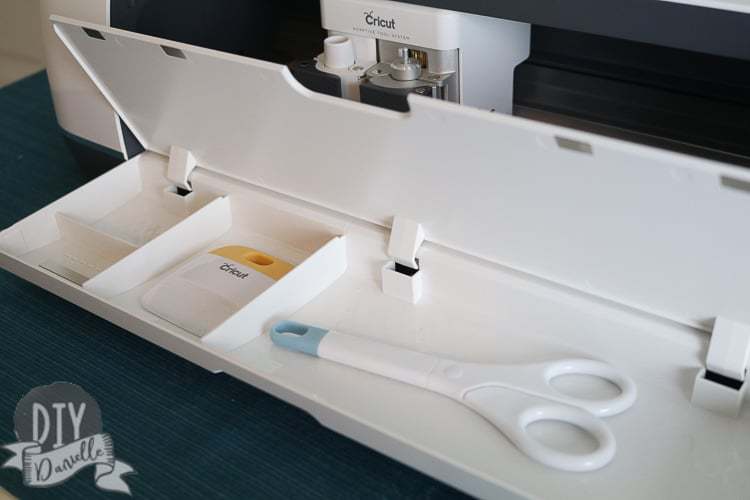 As well as spots on the top left of the machine to put your supplies. This is really convenient if you're prone to losing things. I'm trying to keep my weeding tool in there because I have a tendency to lose it. Whoops.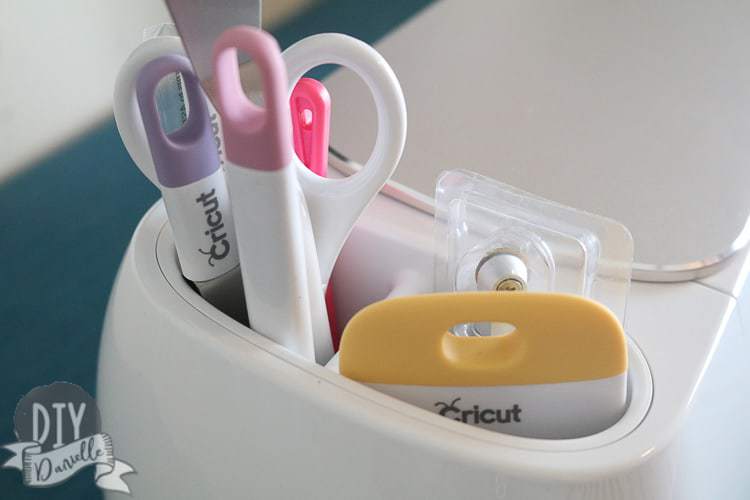 ---
Using the Cricut Maker as a Sewist
While you could use the old Cricut machines to cut fabric, provided you had a backing attached to the fabric, the Cricut Maker will SPOIL YOU FOREVER. The rotary blade and fabric mat allow you to cut a variety of fabric types without using any backing. I used mine to cut upholstery fabric, fleece, and felt. It cuts like butter! It was AMAZING.
Initially I was thinking that I could have cut the fabric just as easily myself, given that you do need to cut your fabric to fit your mat, then load it. I would say that IF you're cutting a bunch of 10×10″ squares, you should not dull your Maker rotary blade for this work. Use your regular cutting mat and rotary cutter.
Where the Maker will save the day is small and/or complex cuts. The Monster Tooth Fairy Pillows that I've been putting together would have taken me FOREVER to cut myself. I will also use the Maker to cut smaller rectangles of knit fabric for bands on shirts, underwear, and more. The mat will keep the knit fabric from curling while it's being cut and I often struggle to get the perfect size rectangles for neck bands and such.
For items like appliques, it's perfect for cutting out shapes that might be difficult to cut out by hand because of all the curves or the size of the image.
What types of fabric can I cut?
I didn't see a fabric type that was not listed. You can cut leather, fusible fabric, felt, flannel, fleece, bamboo, lace, cotton, knit, burlap, quilt batting, and more. The list is LONG, but you can see the entire materials list on the Cricut site. The list includes 'Chantilly Lace' which I thought was just a song… but apparently it's handmade bobbin lace. You learn something new every day!
Here's a close up view of the rotary cutter. The big part is the part that connects to the machine… the gears attach and allow the machine to make tight cuts… aweeesssome.
The barely visible thing at the bottom is the blade!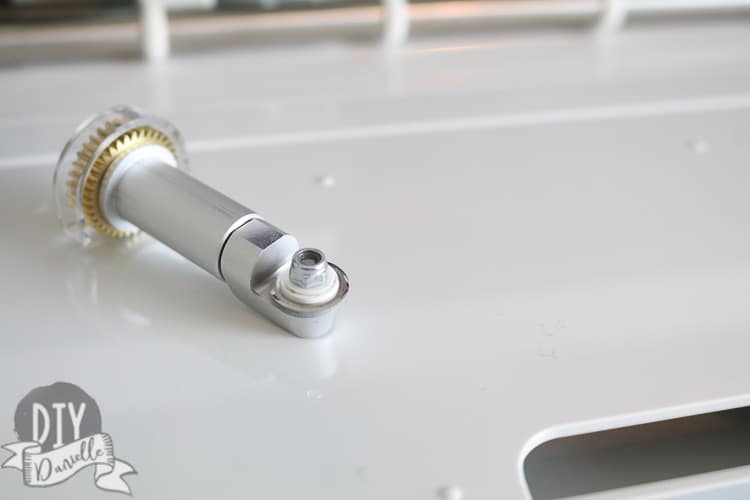 ---
What materials can I cut?
Other than essentially every fabric known to man, you can cut lots and lots of other materials. For example, there are multiple types of iron-on vinyl to embellish shirts and other items. There's premium permanent vinyl for projects like car decals and signs. There's regular vinyl for wall decals. You can cut your own window decals like I did for my Minecraft windows.
You can also cut chipboard, cardstock, and paper.
It won't be able to cut thick cuts of wood, but the ability to cut out balsa, basswood, etc. is super useful for small crafts. I am hoping to eventually make our guinea pigs a house using my Maker.
Sewing Patterns on Design Space
Cricut has partnered with Simplicity to offer some sewing patterns directly on Design Space. I love that I don't need to ever print or physically store those patterns… I can just cut them directly with my machine. That has the potential to save me a LOT of time AND paper!
Naturally, only smaller patterns are offered. But here are some fun patterns they have:
Doll clothing
Pet costumes
Baby clothing
Stuffed animals
Bibs
Hats
Hair Ribbons
Purses/Bags
Soft Ornaments
Felt Food
Oven Mitts
Travel Tags
Tooth Fairy Pillows
There's an almost overwhelming list to sort through.
While not EVERYTHING is offered on Design Space, you can create your own simple patterns. For example, if I need to cut 4 x 18″ rectangles of knit fabric for bands on underwear, I could EASILY create a rectangle in the software and have the Maker cut the bands out.
Once I'm done Christmas gifts, I'm going to give myself the gift of all new underwear (is this TMI?). I will cut the large pieces by hand, but the bands are THE WORST to cut. Except now I can cut out 10 pairs of underwear by hand while the Maker cuts out 10 waist bands and 20 leg bands. It will make things so much faster and the Maker can do the job I HATE. THAT is a huge win.
The other thing this would be perfect for is cutting out felt objects for a felt board. I always balked at making those felt Christmas trees for the kids because there was so much intricate cutting involved. But now I can easily pull up an image in Design Space and have my Maker do the hard work.
Will I use the machine enough to justify the price?
Um, absolutely. The Maker is great for making gifts, bumper stickers, and more. I tend to be a bit lazy about dragging out various machines for my projects so usually I work in batches. Some days, I pull out the Maker and print several projects at once. I've been amazed at how much I use this machine.
Currently, I have a whole batch of Christmas presents planned for the Maker. I like the versatility of The Maker vs. the Cricut Air 2 (the machine I owned before) because I can use it for anything from vinyl to wood to fabric. And the BEST part about using the Maker is that I can cut MANY of the same gift at once… without any extra effort on my part.
For example, Last year, I made matching bumper stickers for several of my friends, all from one piece of 12×12 permanent vinyl. This year, I'm making tooth fairy pillows for my sons and my three nephews. I was able to cut the fabric and iron-on for all six at once… it was fabulous.
I cut all of the following with my Maker for the tooth fairy pillows: Upholstery fabric (main body of the pillow), felt (black pocket), fleece (ears), glitter HTV (lettering on the back), and regular iron-on for the teeth, spots, eyes, and mouth.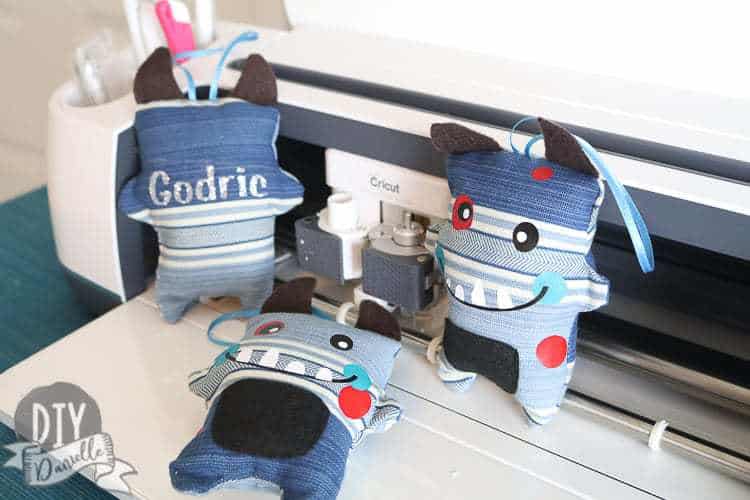 When it boils down to it, making one of an item vs. twelve doesn't involve much extra work if you're using the Cricut to do the cutting.
Here's the archive of all of the projects I've made with my Cricut. Make sure to flip through them for inspiration when you get started with your machine!
These are a few of my favorite projects:
Will it be easy for me to learn the software to create projects?
This has a lot to do with how tech savvy you are, but I believe that Cricut has developed their software to be easy to learn. If you aren't trying to do your own thing, a lot of the projects are simply a matter of putting the supplies on the mat, loading it into the machine, and pressing 'go.' Even if you want to make your own designs, it's still pretty easy to use.
Prior to getting my Cricut Air 2, I had a Silhouette machine and I find the Cricut software is much less complicated.
---
What kind of DIY projects can I make?
All. The. Things.
Really though, there are so many things you can create with the Maker. Think small scale… you can't create furniture with it, but you could make doll furniture, embellish furniture or create a stencil to help you update an old piece of furniture. You can make cards… I've seen some AMAZING cards and invitations made with the Cricut machines.
Signs and home decor are super easy. You can make appliques for embellishing your sewing projects. You can print an entire set of party decor items… this is perfect for the kids' birthdays! Hair ties. Jewelry. Key chains. Sleep masks. Puppets. Coasters.
Recently I've gotten into engraving Acrylic and Metal using my Cricut Maker! It's a lot of fun. Infusible Ink is a newer project, and it's Cricut's version of sublimation.
I have an entire Pinterest Board dedicated to Cricut project ideas if you want to be inspired.
---
Can I upload my own images? (e.g. SVGs, jpg, png)
YES! This is actually really easy. If you own any of the earlier Cricut machines, it's the same Design Space software that you're familiar with. One of the things that impressed me most about the Cricut software is how easy it is to upload an image and turn it into a proper file for making shirts or other items.
I show how to upload images to DesignSpace to make shirts in my post about our Geeky Gender Reveal. If you're interested in creating your own SVGs, I wrote a tutorial about how to create SVGs using Canva.
What makes the Maker different from other Cricut machines?
Honestly, the Cricut Air 2 is fabulous too. It was my first Cricut machine and it still works great. If you were never going to cut fabric or wood, then it might be an equally awesome machine to purchase.
That said, I always prefer to buy the top of the line machines when it comes to electronics. While you may pay a bit more for them, you get a longer life from them and you don't end up back at the store in 6 months upgrading. So when it comes down to it, you're SAVING money!
Cutting fabric and wood was a HUGE deal for me… it was something the other Cricut machines couldn't do. The Cricut Maker feels like something I'll find more useful for all of my projects, instead of something I use for special occasion projects. It's not just for making cute shirts anymore… it can be used for every day sewing and small woodworking projects too.
OH! And if you don't have a Cricut Maker yet, check out my review of the Cricut Maker 3. The new Cricut Maker machine cuts faster, wider, and longer designs. It also will cut Smart Materials without the mat! I wrote a post about how to use the Smart Sticker Cardstock which is AMAZING. The original Maker still works and does all of the same awesome things, but if you're just upgrading now then you may want to opt for the newer machine.
YouTube Cricut Maker Projects
If you're just getting started, check out these YouTube Cricut Maker Projects:
Do you have any other questions about the Cricut Maker? Leave a comment below and ask away!
This is a sponsored conversation written by me on behalf of Cricut . The opinions and text are all mine. Comments submitted may be displayed on other websites owned by the sponsoring brand.
Fabric Project Ideas for the Cricut Machine
Please share and pin this post! If you make this project, share it in our Stuff Mama Makes Facebook Group. We have regular giveaways for gift cards to craft stores. You can also tag me on Instagram @doityourselfdanielle; I love seeing everything you make!