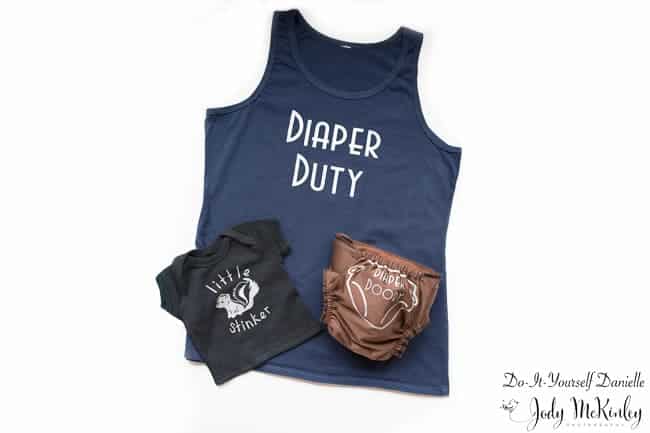 This diaper duty cloth diaper and shirt set would make the perfect shower gift for a cloth diapering family! Learn how to make it with the Cricut Explore Air 2 and get the free cut files.
This is a sponsored conversation written by me on behalf of Cricut. The opinions and text are all mine.
This post also contains affiliate links. If you make a purchase using these links, I may receive a commission for the purchase. Thank you.
This cute diaper and shirt set is the perfect project if you have a Cricut machine! Do you love this idea, but your friend doesn't cloth diaper? Instead of a pocket diaper (what I did), make a diaper cover that they can put over their disposable diapers to prevent blowouts!
Don't forget to make one for dad. Dads change diapers too! I didn't have a men's shirt or I would have made one!
Supplies for a Diaper Duty Set
Shirts (make sure to prewash before adding iron on vinyl) and PUL fabric for the diaper (and supplies to make a cloth diaper)
Cricut SportFlex Iron On Vinyl (or regular iron on vinyl, depending on what type of shirt you're applying it to)
Cricut Air 2 (my machine), or if you really want to get fancy, get the new Cricut Maker™
Cutting mat
Weeding tool
Iron or a Cricut EasyPress™ (If you're making a PUL diaper, please do not use a standard iron)
Diaper Duty Design Set: Get the Cut Files Here (and adjust to the size you need)
Use the Discount Code DIYDANIELLE on cricut.com for 10% off any cutting machine or heatpress (no minimum). Excludes: materials/accessories/mystery boxes/etc. Applies to US/CA only, code expires 12/31/23.
How to Make a Diaper Duty Gift Set
You'll need a shirt for mom, a shirt for dad, a shirt for baby, and fabric for your cloth diaper. First you need to start by cutting your iron on vinyl with your Cricut machine. I used Sportflex because that's what I had on hand that was the color I wanted, but I think this type of shirt could have used regular iron on. Sportflex is intended for tighter fit shirts that have a lot of stretch to them.
Make sure your set is printed as 'mirror' and that the correct side is face down on your cutting mat. Set your Cricut machine to the appropriate setting for the type of iron on vinyl you're using.
Once it prints the images, you can cut around each image so that you have a square for each shirt or diaper. Weed the excess iron on vinyl away.
Now use your heat press to apply the iron on vinyl to your shirt. The baby shirt below was actually a onesie that I converted to a t-shirt. It looks SO much cuter as a tee.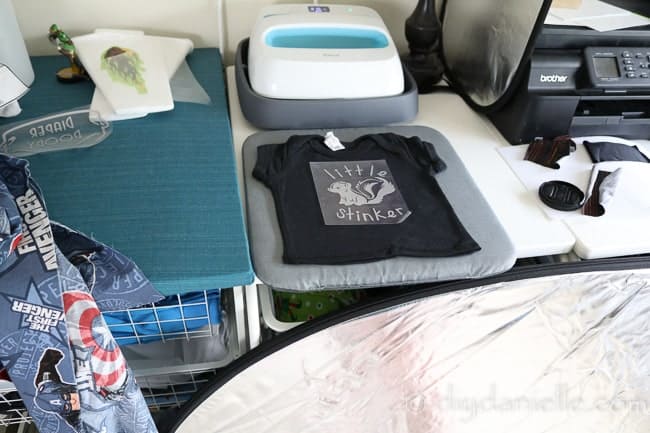 My Cricut EasyPress™ made this a lot easier. I always worry about my iron temperature when I'm pressing, but the EasyPress lets me set the temp.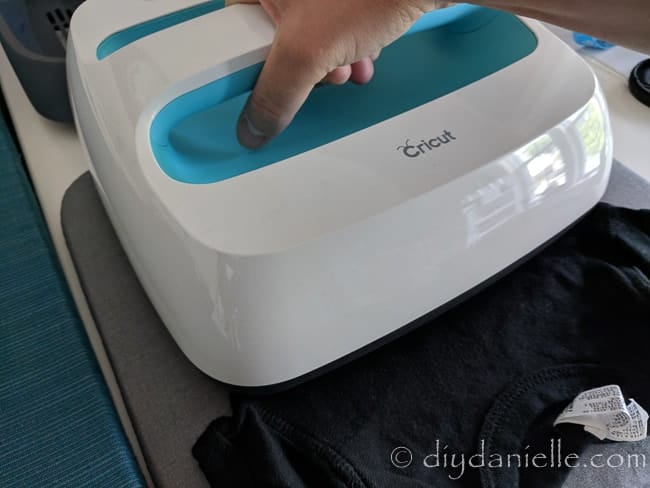 I applied my iron on to a cut of PUL (polyurethane laminate) to make this diaper. The nice thing about applying the iron on vinyl before you sew the diaper is that if the heat of pressing ruins your PUL, you haven't ruined the diaper- just a cut of fabric. I am currently working on a post about how to apply iron on to PUL so keep an eye out for it if you're interested in that.
Here's my cut of fabric below after being pressed. I have never been so nervous as I was pressing this, but I think a heat press is a necessity for ironing these because they allow you to set a temperature, unlike (most? all?) irons. You don't want your iron or heat press to get too hot or you can melt your fabric. The Cricut EasyPress™ allows me to set a specific temperature for the type of fabric, then I just carefully pressed and let cool in short increments. I was very careful.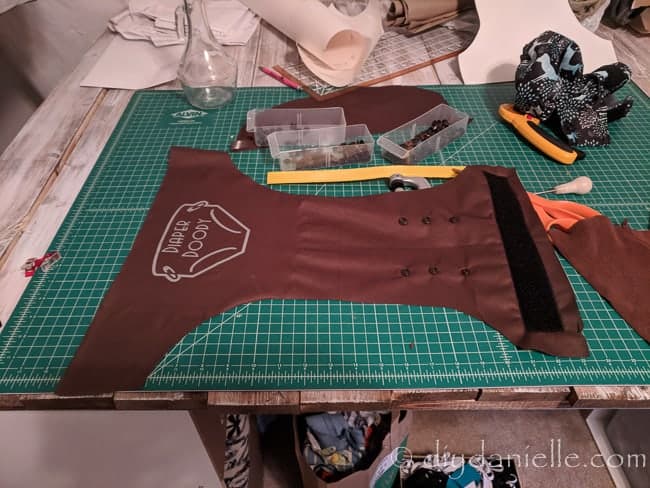 If you or the person you're making this diaper for don't use cloth diapers, consider doing this diaper as a diaper cover. Diaper covers are cloth diapers that have absorbency or a disposable diaper under them. They help contain blow outs and are easy to wipe if dirty.
Make sure to get my book, How to Sew, Use and Clean Cloth Diapers, if you want to sew your own cloth diapers. Don't forget to check out my post on Baby Shower Gifts for Cloth Diapering Families!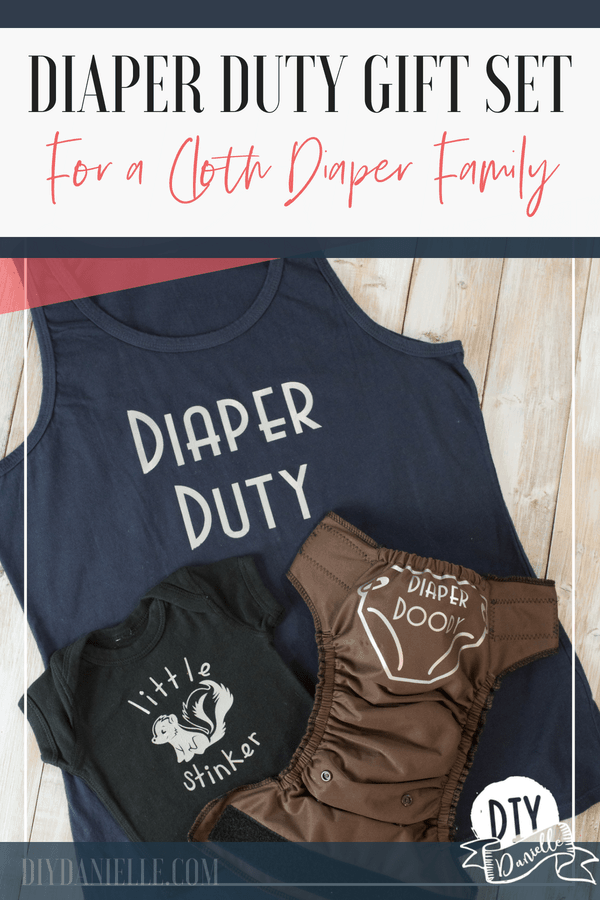 Please pin this!

Comments submitted may be displayed on other websites owned by the sponsoring brand.